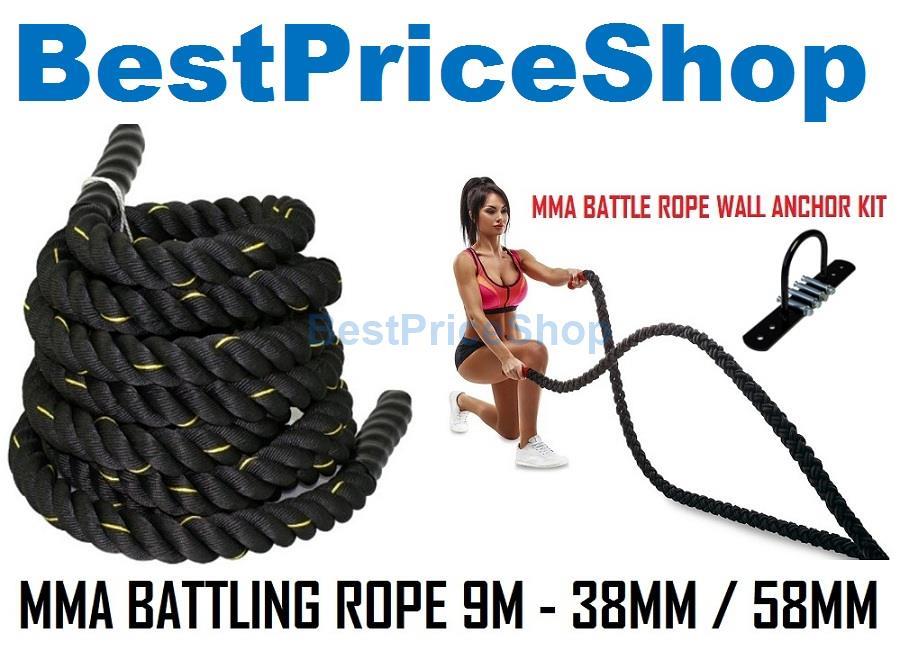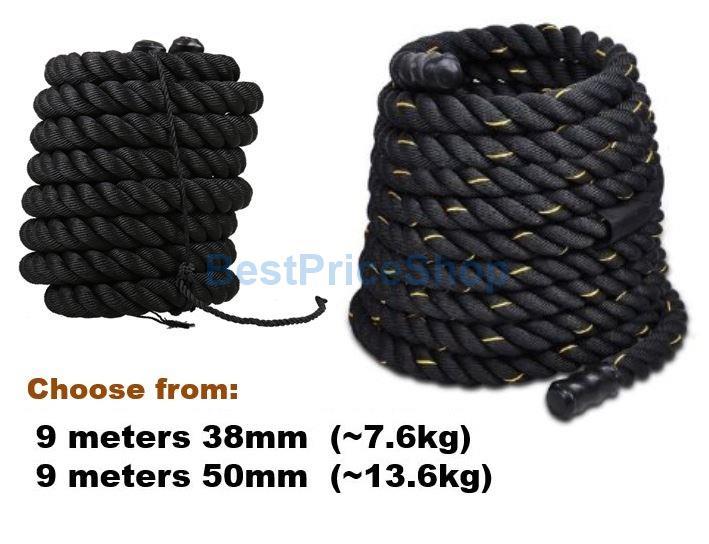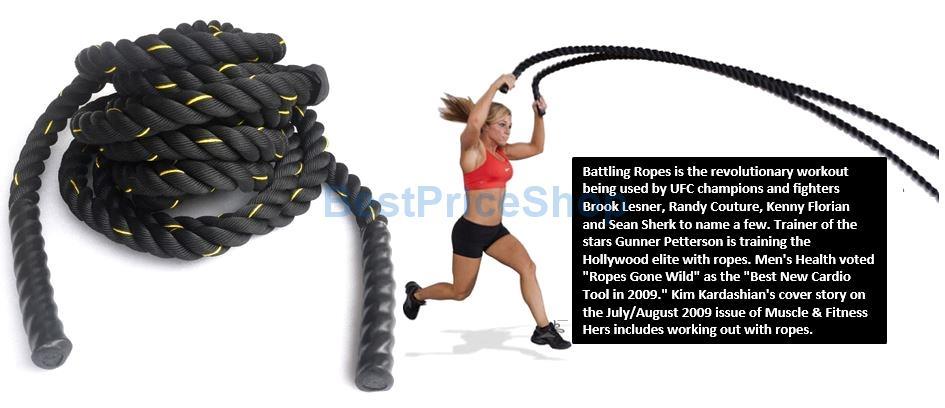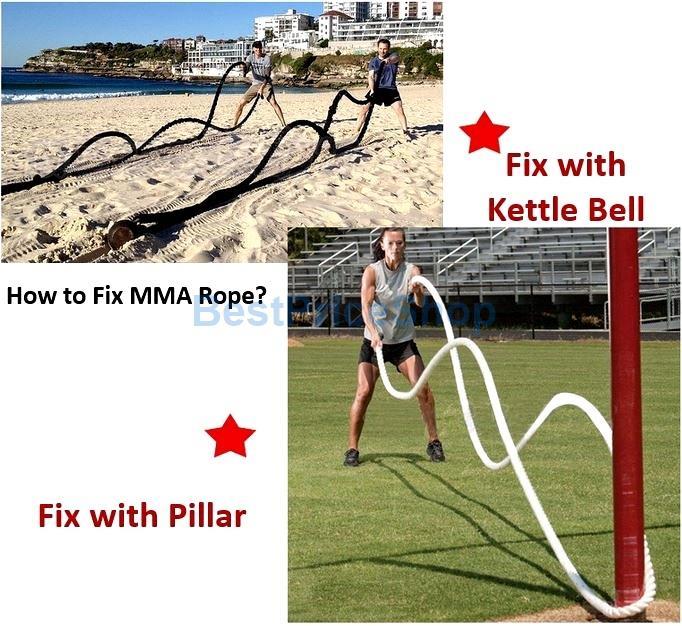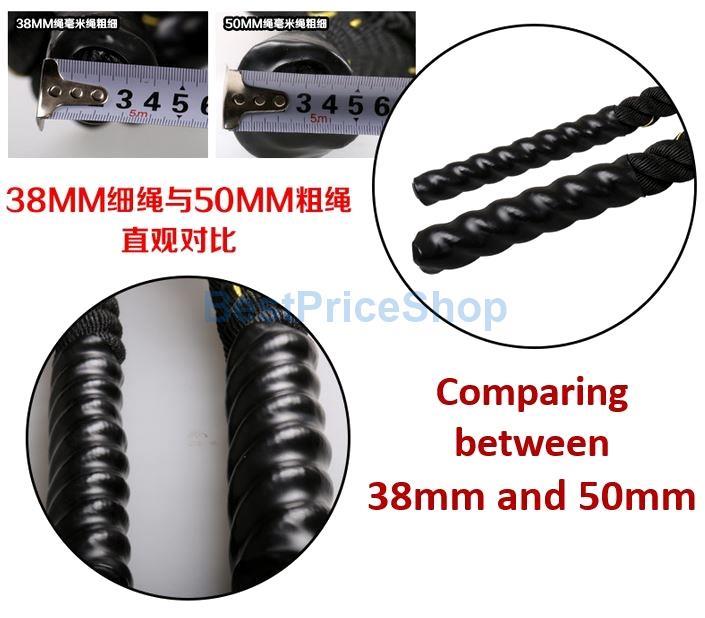 9meter 38mm / 12meter 50mm Professional Grade MMA Battling Training Power Muscle Rope Martial Art Workout Slimming
What is MMA Battling Rope?

Battling Ropes is the revolutionary workout being used by UFC champions and fighters Brook Lesner, Randy Couture, Kenny Florian and Sean Sherk to name a few. Trainer of the stars Gunner Petterson is training the Hollywood elite with ropes. Men's Health voted "Ropes Gone Wild" as the "Best New Cardio Tool in 2009." Kim Kardashian's cover story on the July/August 2009 issue of Muscle & Fitness Hers includes working out with ropes. The September issue of Muscle and Fitness also has an article on training with ropes.
Do i need it?

Are you ready to lose weight, get stronger and get in the best shape of your life? Then get ready for Battling Ropes your gains of strength, stamina, and power will be mind-blowing. Battling Ropes is a no impact, kick butt, fast and furious, high velocity, pure adrenal surge functional training workout! You have never experienced a cardio workout at this level. Anta's Fitness and Self Defense in Doral is the first studio in South Florida to get certified as an authorized Battling Ropes training center by it inventor John Brookfield. We have incorporated Battling Ropes to our XFT Functional Fitness Class to give you the ultimate body challenge workout.
Battling Ropes is a unique aerobic and anerobic training system done with 38mm to 50mm ropes that measure 9m to 15m in length with unique names such as Tsunami and the Wave. Regardless if you're handicapped, a sedentary coach potato, a novice or elite world-class athlete Battling Ropes will tax your entire system in a short time of 60 seconds or less. Your core will be absolutely trashed after 60 seconds of the power surge that the ropes demand. Battling Ropes will let you maintain power, strength and explosiveness over a greater period of time to enable you to perform at your highest level for a much longer time.
This workout will pump up your muscles, build your strength, while engaging your core and taxing your heart and lungs in minutes. It is great for men, women, kids, seniors, and athletes, those wanting to get fit, those that can not run and even on a person on a wheelchair. This is a high intensity, metabolic workout, no impact cardio, keeping you in shape as you rehabilitate injuries, while reaching maximum heart rate in minutes.
Who are using it?

Battling Ropes is being used by numerous football teams including the Tampa Bay Buccaneers, United States Olympic Wrestling Team, UFC fighters, Special Forces, Federal Agents, Olympians, College and Pro-Athletes. Battling Ropes creator John Brookfield is know as Mr Hands for having the strongest grip in the world, he is a Strongman and a world record holder.
Benefits of Battling Ropes Training:
No impact cardio workout

Intense core workout

Get in the best shape of your life while rehabbing injuries

Increase maximum heart rates in minutes

Increases power and speed, which equal velocity

Increases aerobic and anaerobic capacity

Increases your motivation and mental endurance

Increases power and strength

Increases athletic ability in men, women and children

Increases discipline in all levels of your life

Increases your bodies ability to burn fat
Product Specs:
Size Optional (38mm and 50mm Diam): 9m
Comes in black colour.

Material: 100% Poly Dacron, Wear Resistant and Durable

3-Strand Twisted PolyDac Strong Construction

3-Strand Twisted PolyDac Strong Construction

600D Oxford Waterproof Sleeve Protect the Rope from Friction and Fray

Heat Shrink Caps on the ends, Heavy and Apprised

Very effective to generate power, strength and increase cardio

Great for general fitness, MMA training, crossfit training and tug of war

Must add this to your regular training routines
What's in the box:
1 x MMA Battling Rope
(Choose your option)
Please Click The Link Below
MMA Rope 12m - 38mm / 58mm
MMA Rope 15m - 38mm / 58mm
"You can add MMA Rope Wall Hook"
Set up a fixed anchor point for battle rope training on any wall with this bracket kit. Handles the intense stress of heavy battle rope training. Can also be used to secure exercise bands and other rope training systems.

This kit includes 4 wall screws made of iron that can be used to secure the anchor to the wall.
Color: Black
STRONG AND STUDY BRACKET:

The bracket is pretty dang heavy an very well made by strong stainless steel & rugged welded steel handles for safe, reliable use

WORKOUT FREELY :

Suitable for Mounting to Walls & Floors .
HOME OR GYM USE :

Creates A Permanent Fixing Point for Suspension Training Straps, Crossfit Olympic Rings, Body Weight Strength Training Systems, Yoga Swings Hammocks, Boxing Equipment, Battle Ropes & Resistance Bands etc

..
5 Heart Thumping Battle Rope Exercises
Double Arm Waves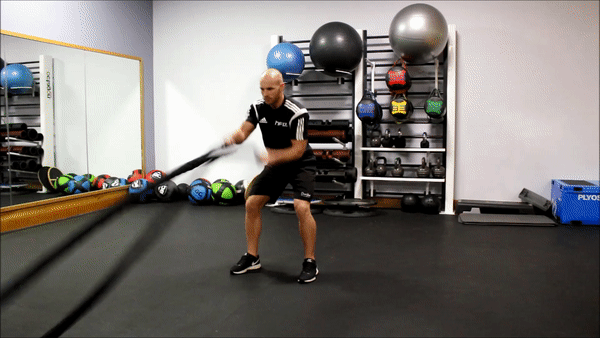 Adopt an athletic stance with the feet hip distance apart, the knees and hips soft and with the toes pointing towards the anchor point. Start with the rope at knee height, raising both arms up to approximately shoulder height. Lower the ropes back to the knees and repeat the action in a rhythmic and continuous nature.
Double Arm Slams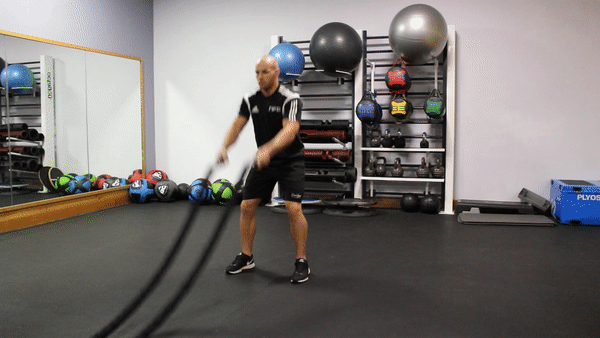 Adopt the same athletic stance as described above, ensuring that there is plenty of slack in the rope so that it does not feel like the rope is pulling you forwards. Start the movement with the arms by the side and the palms facing backwards. Extend the body into an upright posture while raising both arms to approximately shoulder height. At the end of the lifting phase, be sure to get up on to the toes. From the top of the movement, slam the ropes back towards the ground, allowing the arms to move back to the start position. Repeat the action in a rhythmically and continuously.
Snakes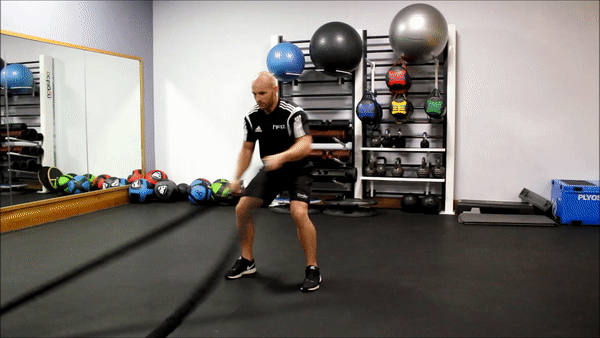 From the same athletic stance, place the hands together to the front of the body. Keeping the knee and hips soft throughout, initiate the movement by taking each arm out to the side and then bringing it back to the centre, creating a side-to-side waving action. Ensure that the movement originates from the shoulder and not the elbows or wrists. Again, perform this action continuously to create a slithering snake action in the rope.
Figure Eight Circles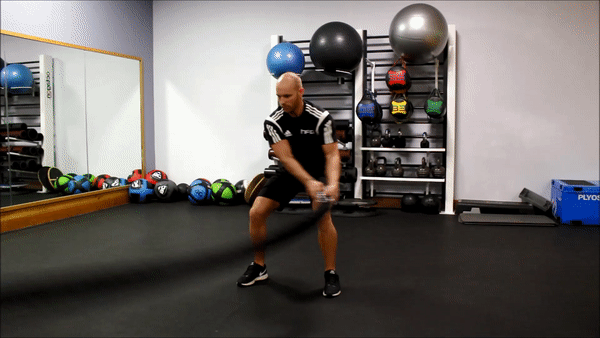 With the same set-up as all of the previous movements, place the hands and ropes together to the front of the body. Brace the abdominals, then begin by rotating the hands and ropes together to create a figure eight shape. Rotate the shoulders and the hips to take some of the load of the spine and be sure to keep the knees soft throughout.
Rainbows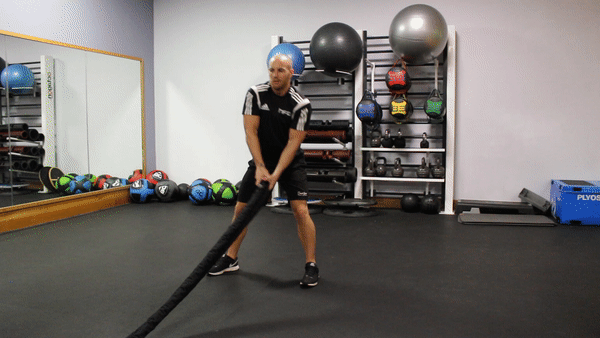 Start the exercise from the same athletic position but with the hands at head height and the elbows facing forwards. The hands should be under the ropes. Rotating from the hips and spine, explosively pivot the body while flipping the ropes up and over in the shape of a rainbow. Perform the action to the opposite site to create a continuous and rhythmic wavelike motion.
| | | |
| --- | --- | --- |
| Zone | Weight | Delivery Fee (RM) |
| West Malaysia | First 2.00 kg | 7.50 |
| | Additional 1.00 kg | 1.50 |
| East Malaysia | First 2.10 kg | 9.80 |
| | Additional 1.00 kg | 4.50 |