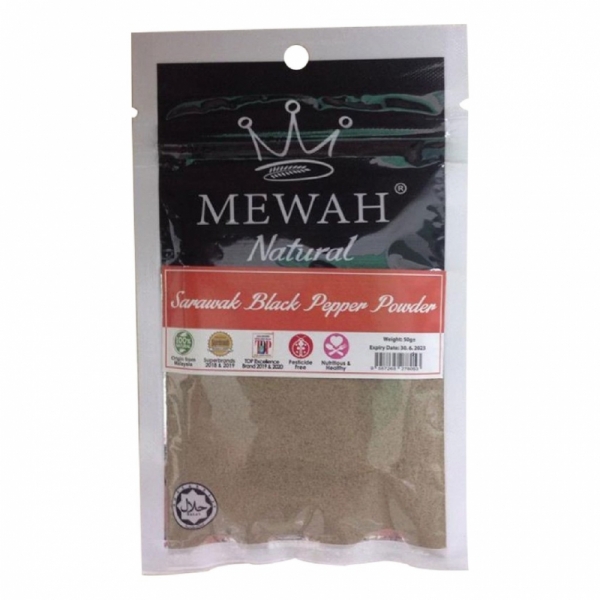 Origin: Local
Expiry Date: Between 9 to 15 months
Mewah Sarawak Black Pepper Powder 50g
Black pepper is one of the most commonly used spices worldwide. It's made by grinding peppercorns, which are dried berries from the vine Piper nigrum. It has a sharp and mildly spicy flavor that goes well with many dishes. But black pepper is more than just a kitchen staple. It has been deemed the "king of spices" and used in ancient Ayurvedic medicine for thousands of years due to its high concentration of potent, beneficial plant compounds.
Mewah Sarawak Black Pepper 50g is the powder of dried berries of the unripe fruit Piper nigrum.
Flavour and odour = Pungent, aromatic and characteristic with a fiery aftertaste
Appearance = Black, spherical dried berries with a wrinkled pitted surface
Origin = Sarawak, Malaysia
Characteristics = Pesticide Free, Nutritious and Healthy, Suitable for Vegan and Vegetarian, No additives, No Preservatives and No Artificial Colouring.
Recognition and Certification:
> Certified Halal by JAKIM
> Superbrands Malaysia 2018
> Superbrands Malaysia 2019
> TOP Asia Pacific Excellence Brand 2019
> TOP Asia Pacific Excellence Brand 2020
> TOP Asia Pacific Excellence Brand 2021
MEWAH is a heritage FMCG company established since 1984 to promote healthy eating and lifestyle through our premium quality 'Grains of Goodness' in Malaysia. We supply our products to Wholesalers, Distributors, Retailers, Hotel, Restaurants and Individual customers.
The MEWAH Brand Name is Symbolic of Family, Celebration of a Healthy Lifestyle and Products Fit for Royalty!
MEWAH stands for "wealth" in Bahasa Malaysia, our national language. The name encapsulates the brand's origin and core value: good health is the ultimate "wealth" we all aim to achieve for ourselves and our loved ones. Without health, abundance isn't possible. Hence MEWAH aim to elevate the love and appreciation of premium health grains by all, far and wide. For superheroes are not born, but grown with every new lesson, experience, and serving of pure-to-goodness grains they consume!
| Zone | Weight | Delivery Fee (RM) |
| --- | --- | --- |
| West Malaysia | First 1.00 kg | 4.80 |
| | Extra 1.00 kg | 2.00 |
| East Malaysia | First 1.00 kg | 13.00 |
| | Extra 1.00 kg | 9.00 |