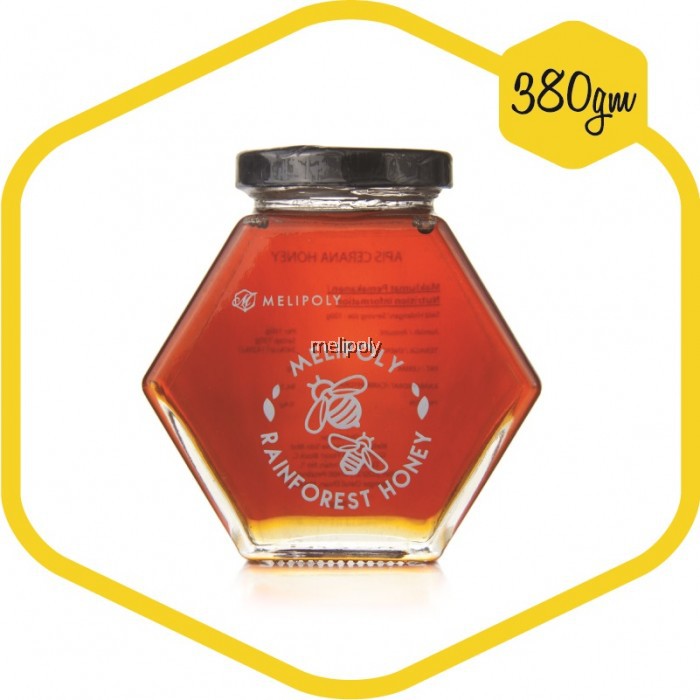 Size (length*width*height): 10cm x 5cm x 10cm
Origin: Local
Expiry Date: More than 15 months
Certifications: Halal Certified
[Details]
Brand: Melipoly
Type: Pentagon shape container
Weight: 380gm
Size (length*width*height): 10cm x 5cm x 10cm
[Highlight]
- Taste similar as caramel, suitable to mix with coffee or milk
- Best natural substitute for sugar
- Rich in antioxidants
- Strengthens immune system
- Improves digestion
- Relieves cough symptoms and throat irritation
- Helps to heal wounds and burns
- Enhances skin complexion
[Features]
- Malaysia's rainforest are rich in natural forage sources for bees
- The wild honey produced here is rich and full-bodied with smoky hints of caramel flavours
- They can range from a dark golden colour to a dark, reddish-brown colour.
- Dark honey is high in natural antioxidants.
- 100% raw honey made in a natural environment
- No sugar, additives, colouring, artificial flavours or preservatives
- It is unheated, unpasteurized and unprocessed honey
- Contains a broad range of nutrients
- Essential trace elements for various health benefits
[How to consume Melipoly Apis Cerana Honey?]
-Drink a cup of water + 2 tea spoons of honey
- Consume before breakfast or sleep
[Why choose Melipoly Honey?]
Melipoly was established in 2014 and we are one of the largest beekeepers in West Malaysia. We specialise in local honey bee and stingless bee species which do not require artificial support to survive or produce. Our main honey products are Malaysian forest bee (apis cerana) and stingless bee honeys. Our bee farms are located in the forest, away from pollution and pesticides. We have conducted voluntary testing and certified the purity of our honey using the highest international standards at the EU's premier testing institutes. Our continuing R&D work has discovered that our honey contains natural probiotics that are beneficial to our digestive and immune systems.
| Zone | Weight | Delivery Fee (RM) |
| --- | --- | --- |
| West Malaysia | First 1.00 kg | 4.80 |
| | Extra 1.00 kg | 2.00 |
| East Malaysia | First 1.00 kg | 13.00 |
| | Extra 1.00 kg | 9.00 |