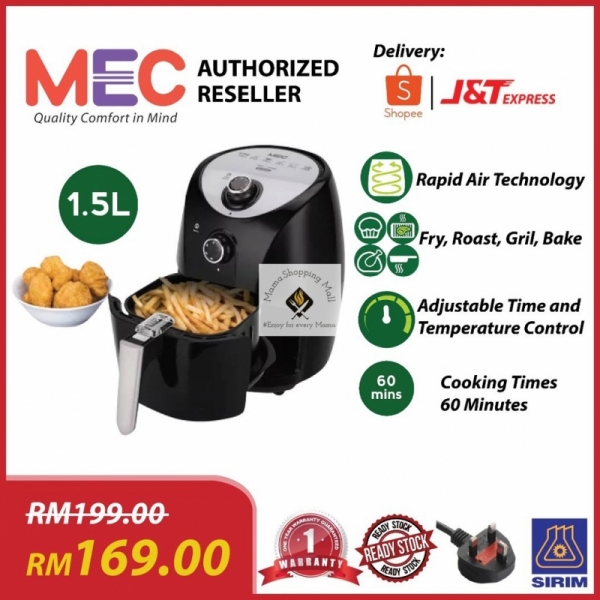 Size (length*width*height): 40cm x 35cm x 35cm
Warranty Period: 1 Year
Warranty Type: Local Manufacturer Warranty
Type: Air Fryer
The Mec 3.2L Air Fryer with Rapid Heatwave Technology for healthier cooking can be used to fry, grill, bake or roast using 80% less oil compared to conventional frying methods. It comes with an integrated air filter to minimize unpleasant cooking odors. For added safety and convenience, the Mec 3.2L Air Fryer is also equipped with a built-in auto shut-off function, a 60 minutes timer, a separate temperature control dial, LED power and temperature indicators and a basket and pan that are dishwasher safe.
【 ⁉️ WHY HAIER AIR FRYER ⁉️ 】
🍗 FUNCTIONS: Frying, Roasting, Grilling & Baking !!!
🍗 Can fit whole chicken
🍗 No oil more healthy (Low fat and cholesterol)
🍗 No need to preheat oil (Ready to use)
🍗 Save time (Set the timer. Beep! Beep! Your food is ready)
🍗 Food is more tasty and delicious
🍗 No smell and oily mess to clean up
【PRODUCT DESCRIPTION】
👍 Rapid heatwave technology
Rapid heatwave technology makes the hot air circulate very rapidly around the ingredients in the basket. This heats up the ingredients in the basket from all sides at once, making it a healthy, fast and easy method to prepare tasty food. Food prepared in the Haier Air Fryer is deliciously crispy on the outside, without being dry on the inside.
👍 Large Capacity
Mec 1.5L Air Fryer can accommodate up to 1.5 litre of ingredients, more than enough for everyday portions. The unit's generous 3.2 litre capacity consists of a deep and easy to clean body.
👍 Time and temperature control
Cook around your schedule courtesy of the Air-fryer's integrated timer that allows you to pre-set cooking times of up to 60 minutes. A fully adjustable temperature control gives you complete control over the temperature so you can pre-set the right heat for your food, all the way up to 200 degrees for crisp fries and wedges as well as meat, snacks and more.
👍 Healthier frying with air
Do you like to fry food at home, but dislike the downsides of a traditional fryer? Unhealthy results, hard to clean and nasty odors? Haier Air Fryer is the ideal solution. With the Haier Air Fryer, you can fry much more healthily… with air!
【SPECIFICATION】
✅ Brand: Mec
✅ Model: MAF 4380 / MAF 2580
✅ Technology: Rapid Heatwave Technology
✅ Rated Voltage: 220~240/120V,50/60Hz
✅ Rated Input Power: Max. 900w
✅ Basket Capacity: 3.2L / 1.5L
✅ Air Filter: Integrated
✅ Timer Function: 60 minutes
✅ Control Features: LED Power & Temperature Indicators
✅ Safety Features: Auto Shut-Off, Overheat Protection, Handle Button Cover
✅ Cleaning: Basket & Pan Dishwasher Safe
✅ Color: Black
✅ Warranty: 1 Year by Mec Malaysia
✅ Condition: Brand New in Original Sealed Box
#Mec #fryer #airfryer #healthy
| Zone | Weight | Delivery Fee (RM) |
| --- | --- | --- |
| West Malaysia | First 1.00 kg | 4.80 |
| | Extra 1.00 kg | 2.00 |
| East Malaysia | First 1.00 kg | 13.00 |
| | Extra 1.00 kg | 9.00 |