Product details of Mass Gainer Halal – Vital Mass 2kg/4.41lbs, 0g Sugar, with Whey Isolate & Tribulus – Fast Weight and Lean Muscle Gainer (Rich Chocolate) + 3-in-1 Pharmanutri Vital Whey Protein Shaker/Blender/Mixer 17oz/500ml (Black)
HALAL JAKIM Certified - MS1500:2009 1017-04/2018
Passed Halal Test - Porcine DNA Test / Lulus Ujian DNA Khinzir (Porcine) MS 2627:2017 (Jabatan Standard Malaysia)
Ultimate Nutrition For Lean Mass Gainer
No Side Effects / No Band Substance
Chocolate Flavour
59g of an Ultra-Premium Whey Protein Formula for Use Anytime, Day or Night
2kg, 20 servings (High Servings Per Tube)
12g BCAA 2.1.1 (L-Leucine, L-Isoleucine, L-Valine)
Enhanced with 5g Glutamine and 5g Creatine To Fuel Your Results
0g Sugar per Serving
Low Saturated Fat. 1g per serving
High Calories Gainer at 1149 Calories
Gluten Free
Power with Tribulus as natural testosterone booster
With Green Tea and Green Coffee as energy booster and build lean mass
Suitable used as Supplement to Build Lean Muscle, Sport Recovery Drink, Weight Gainer, use during Sizing Stage.
Solid drink and great taste
3-in-1 shaker with amazing black design and compartments for capsules, and powder.
3-in-1 shaker features a compartment for your capsules and also for your powder (2 servings).
The most complete and convenient shaker you will ever find.
You only need to bring this bottle and everything you will need in the gym will be in your 3-in-1 shaker.
Enough to prepare protein shake up to 17Oz or 500ml.
A must have all in one gym assistant.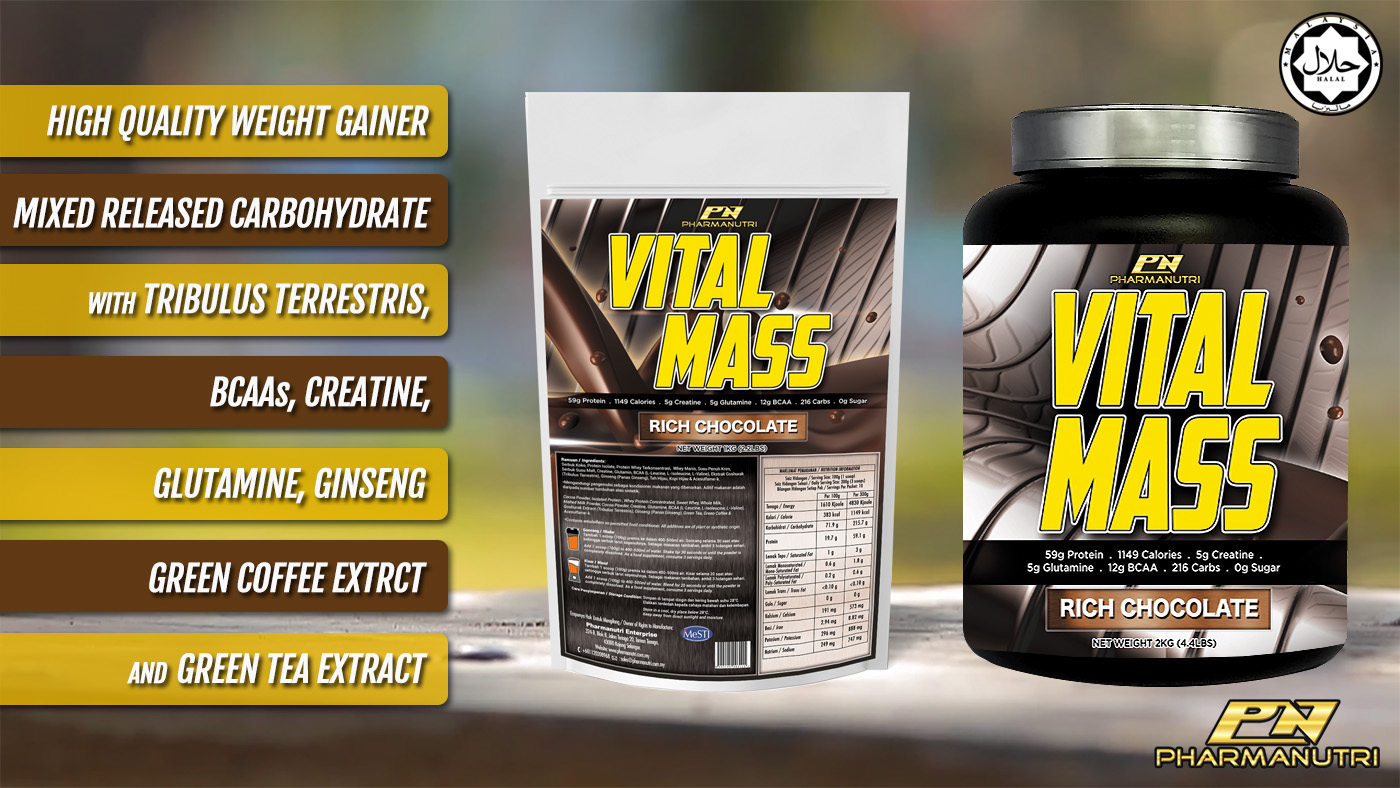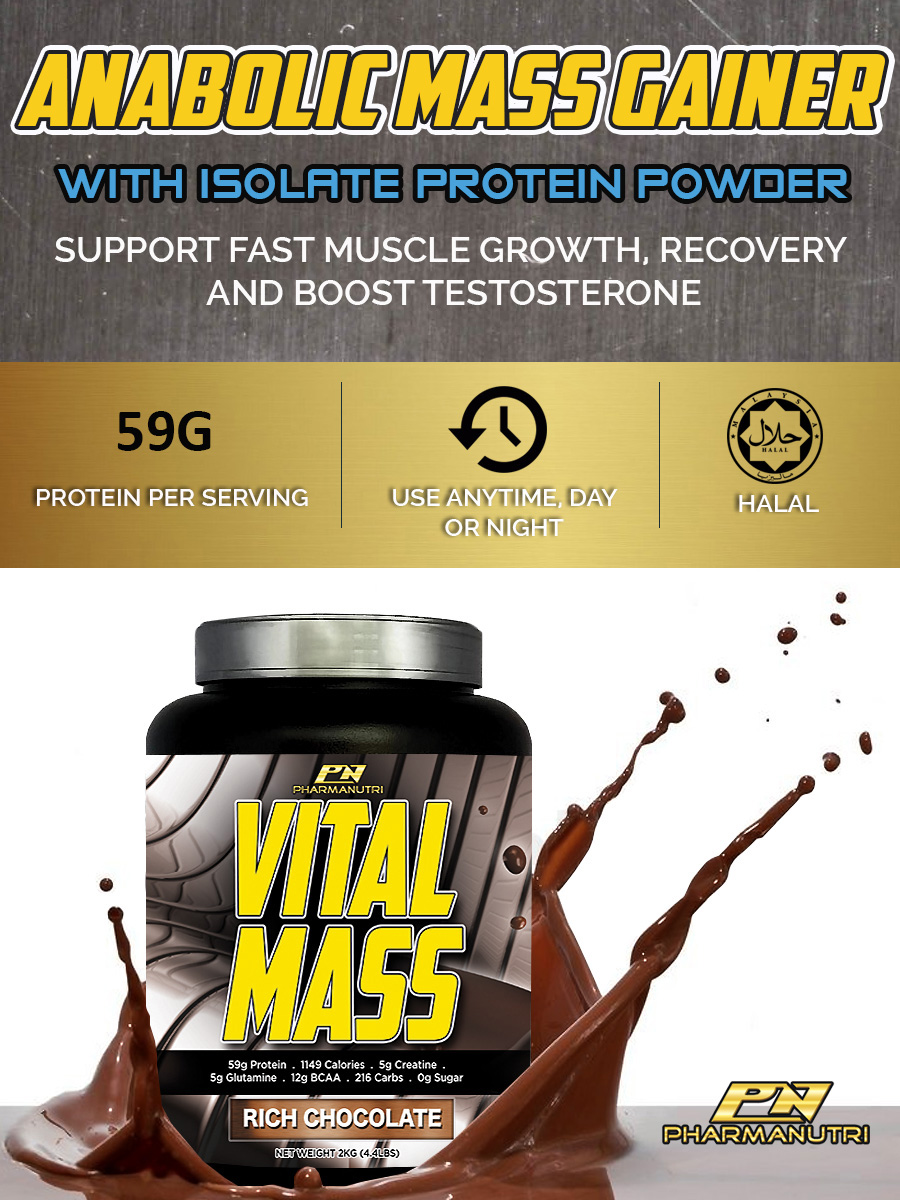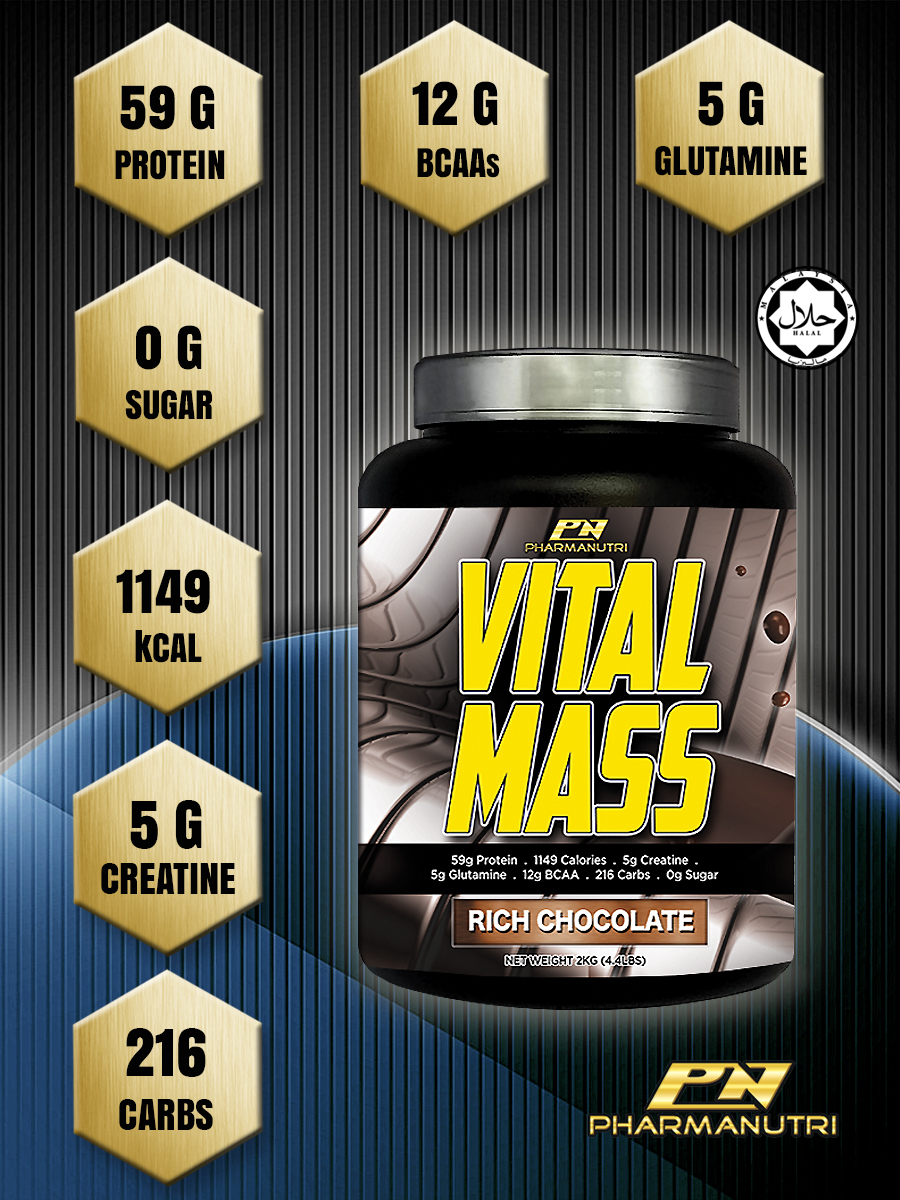 VITAL WHEY is Halal


VITAL MASS is Approved by KKM (Ministry Of Health Malaysia)

Lab Test Results
ULTRA-PREMIUM FORMULA
Vital Mass is an extremely powerful mass-cultivating support formula that was created with you, a hardcore active and athletic individual, in mind. Vital Mass has more of what you want and less of what you don't: more calories, more protein, more good fats, more taste, more fiber and 0g sugar. You want to gain, muscle mass that is, and the right way to do that is with large amounts of protein, which you will find in every scoop of Vital Mass, and by cutting fat intake. Rest assured we use only the finest whey protein available on the market. We don't skimp on things that are important and neither should you. Our Vital Mass Protein Complex has a top-notch amino acid profile and instantly mixes into a liquid with no blender required.
Large amounts of complex carbs have also been included in every serving since they are an essential part of building and fueling muscle expansion. These carbs are a large source of energy that will support your intensely hardcore weight training routines. We have also provided you with tribulus and ginseng, a special natural herbs that will aid in boosting your testosterone level to help build bigger and stronger muscle. Vital Mass is meant to be used together with a well-balanced diet and hardcore training routine.

THE TOP PERFORMANCE NUMBER 1 HALAL MASS GAINER THAT YOU CAN TRUST!


Halal-Certified
VITAL Mass protein are Halal-certified and no, we do not use gelatin (pig intestines) or crushed ants for unnecessary colouring. Stick to VITAL MASS for your choice of the best mass gainer in Malaysia!


Gluten-Free
A gluten-free diet has become a popular trend as of recently and are starting to line the shelves at grocery stores. A gluten-free diet can have a variety of health benefits, such as improving cholesterol levels, promoting digestive health, and increasing energy levels, if you have a gluten intolerance. By eating only gluten-free foods, you will also be eliminating unhealthy oils from your diet, as well as unhealthy carbohydrates found in bread products like doughnuts and pastries.


Affordable
We are consumers ourselves and we take in as much protein just as how you do. We are talking about the best price for a large tub of mass gainer in town. Say hello to the 60's price range in standard mass gainer. Now we can add more scoops to our daily nutrition requirements for that lean muscular growth. With high servings a tub, you can't go wrong with VITAL MASS.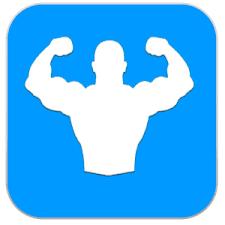 Main Ingredient - Whey Protein Isolate
We are talking about 59g of Protein at a few gulps! We use whey protein isolate as our main bulk ingredient for VITAL MASS because we want to pack the most protein in a single serving without any extra gimmicks! We want our users to make as much gains just as how we work hard be it in the gym, badminton hall, yoga or sports.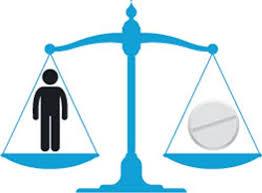 Mass Gainer Shake / Weight Gainer Shake
If you're looking for a complete shake that you can get on the go, look no further than VITAL MASS. VITAL MASS is pack with 59 grams of protein from protein isolate as prime source. Each full serving shake has 1149 calories, 0 grams sugar and 216 carbs making it an ideal mass gainer or weight gain shake.


RIDICULOUSLY DELICIOUS
Pharmanutri broke through the mass gainer flavour barrier once and for all with the introduction of VITAL MASS. Available in Rich Chocolate flavour, VITAL MASS mixed like a delicious milkshake and is designed for any individual who wants to supplement daily protein and calories intake to help reach their nutritional and physique goals.

PHARMANUTRI'S VITAL MASS VS SERIOUS MASS VS DYMATIZE MASS GAINER VS MESOTROPIN'S MASS GAINER COMPARISON TABEL: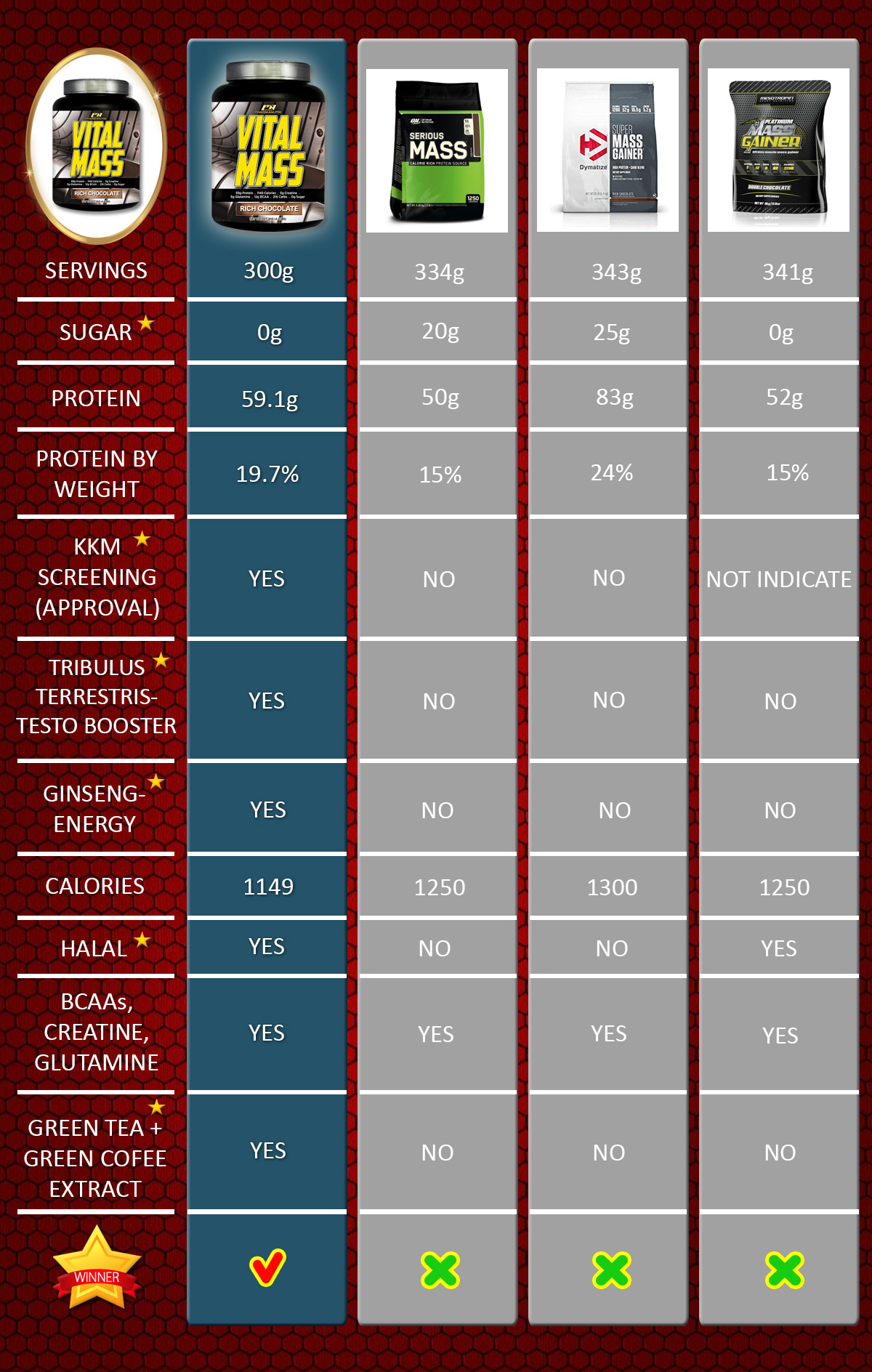 Serving Direction:
Frequently ask question for VITAL MASS:
1. What is Vital Mass?
Vital Mass is an anabolic mass gainer that help uses to build lean mass with add on booster from tribulus. People commonly use it as supplementation, alongside resistance exercise, to help improve muscle protein synthesis and promote the growth of lean muscle mass and at same time gain weight.
2. Why is Vital Mass so special?
Most Mass Gainer in market contain only sugar as their main ingredient. With Vital Mass, it is made from 0g sugar with support of natural herbs like tribulus, ginseng, green tea extract and green coffee extract to provide strength, fat burn, build lean mass and also boost user testosterone level. It also contains BCAA, glutamine and creatine to aid muscle building.

Benefits of Vital Mass Gainer:
- Lean muscle growth
- Fast muscle recovery
- Increase strength and performance
- Boost testosterone
- Gain weight
3. When is the best time to take Vital Mass?
Essentially, there are 4 periods that are optimal for protein intake.
a) The most important time is right after a workout. Your muscles are like a sponge and need instant nutrition for muscle recovery and growth.

b) Right before bed. You're about to sleep for 6 to 8 hours. That's a long time without protein. Could you imagine going throughout your day (when awake) not eating 6 to 8 hours?

c) Right upon waking. Same thing, you've just gone 6 to 8 hours without proper nutrition. Your body needs protein quick.

d) Half hour before a workout. This sets up the "anabolic window" before your workout and provides your muscles with adequate nutrition so that the effects of weight training (weight training breaks down muscle-called catabolic) are not as severe.
4. Can I use Vital Mass as Mass Gainer / Weight Gainer?
Yes. Most people use weight gainer as part of a weight-gain plan, and mass gainershakes can work in the same way. Instead of eating a regular meal, you drink a mass gainer shake, which contains very high calories than your meal would.
5. How long a bottle can last?
Vital Mass come in 2 series which is 1kg and 2kg packaging. 1kg packaging can serve up to 10 servings while 2kg serve up to 20 servings.
6. How long can you see results with Vital Mass?
For bodybuilding, with resistance training, you can see results as fast as 2 weeks whereby you will notice that your recovery duration is shorter, you had increase in some weight and your muscle become firmer. As for weight gain, users reported that using Vital Mass with no diet control, you may experience weight increase even from the first week of use.
7. Is there any side effect of using Vital Mass?
No there are no side effect and Vital Mass is free from any band substance and it is safe to you.
| | | |
| --- | --- | --- |
| Zone | Weight | Delivery Fee (RM) |
| West Malaysia | First 5.00 kg | 7.00 |
| | Additional 1.00 kg | 6.30 |