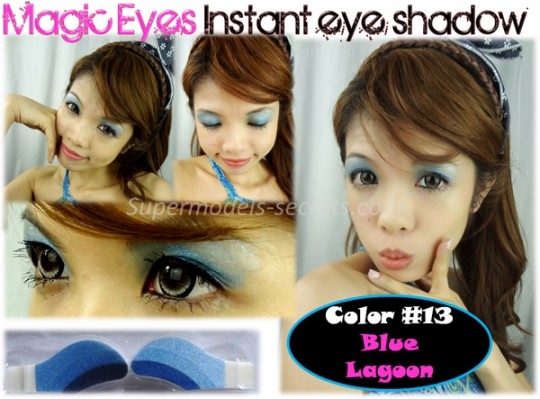 *Allowed to mix colors for every box purchased
Watch it in action (Pls click arrows to browse)
Demo on #11 Midnight Meadows, #02 Naturale, #07 Lovelylavender:
Demo on # 10 Tropical sunset and #13 CaribbeanBreeze (#13 carribean Breeze is no longer in stock)
10 Seconds & 3 simple steps to Beautiful Eyes!
Experience the world's fastest eyeshadow application with Magic Eyes instant eyeshadow!
Perfect for that last minute annual dinner you're attending when you're short of time. Great for work, parties, or a night out. Each pair contains 3 colour shades specially blended by professionals. Instant Eye Shadow that you can apply Anytime – Anywhere,and achieve a professional look in seconds!You have a formal dinner to attend after work and you have no time to seek professional help to get you made up. Why bother with such hassle?! Use Magic Eyes for the instant professional eyeshadow application! All you need is 3 simple steps in merely10 seconds. Just apply it on, give it a slide and blend! In just 10 seconds you should be ready to strut down the red carpet with this INSTANT magical eye shadow that offers incomparable staying power and a silky-fine finish. amazing combinations to choose from.
10 seconds to achieve the professional eyeshadow application
3 simple steps
5 amazing combination of shades
Long lasting & silky-fine finish
Great for travelling
How To Use?
Step 1: Apply
Important: Close your eyelid, then raise your eyebrow to give a flat surface for better application. Using both hands hold the Magic Eyes applicator on the base of the eyelid for approx 4 seconds.
Step 2: Slide
Then by applying comfortable pressure, slide the applicator across your eyelid in the appropriate direction to achieve a sharp look.
Step 3: Blend
To achieve a softer look, use the back of the applicator to blend or tone the applied area. [Tip: Any user error can easily be rectified by blending with the back of the applicator]
Video 1: Supermodels Secrets: Magic eyes color #10 & 13 demo
Video 2: Supermodels Secrets: Magic Eyes instant eyeshadow - All colors intro
Video 3: Supermodels Secrets: Magic Eyes instant eyeshadow tutorial (NaturaleBrowns) 10 secs Smokey eyes
Video 4: Magic Eyes instant eyeshadow tutorial - #11 Midnight Meadows
Video 5: Magic Eyes instant eyeshadow demo on BlueLagoon,, SummerMeadows & Lovelylavender
| Zone | Order Total (RM) | Delivery Fee (RM) |
| --- | --- | --- |
| MY | Flat Rate | FREE |