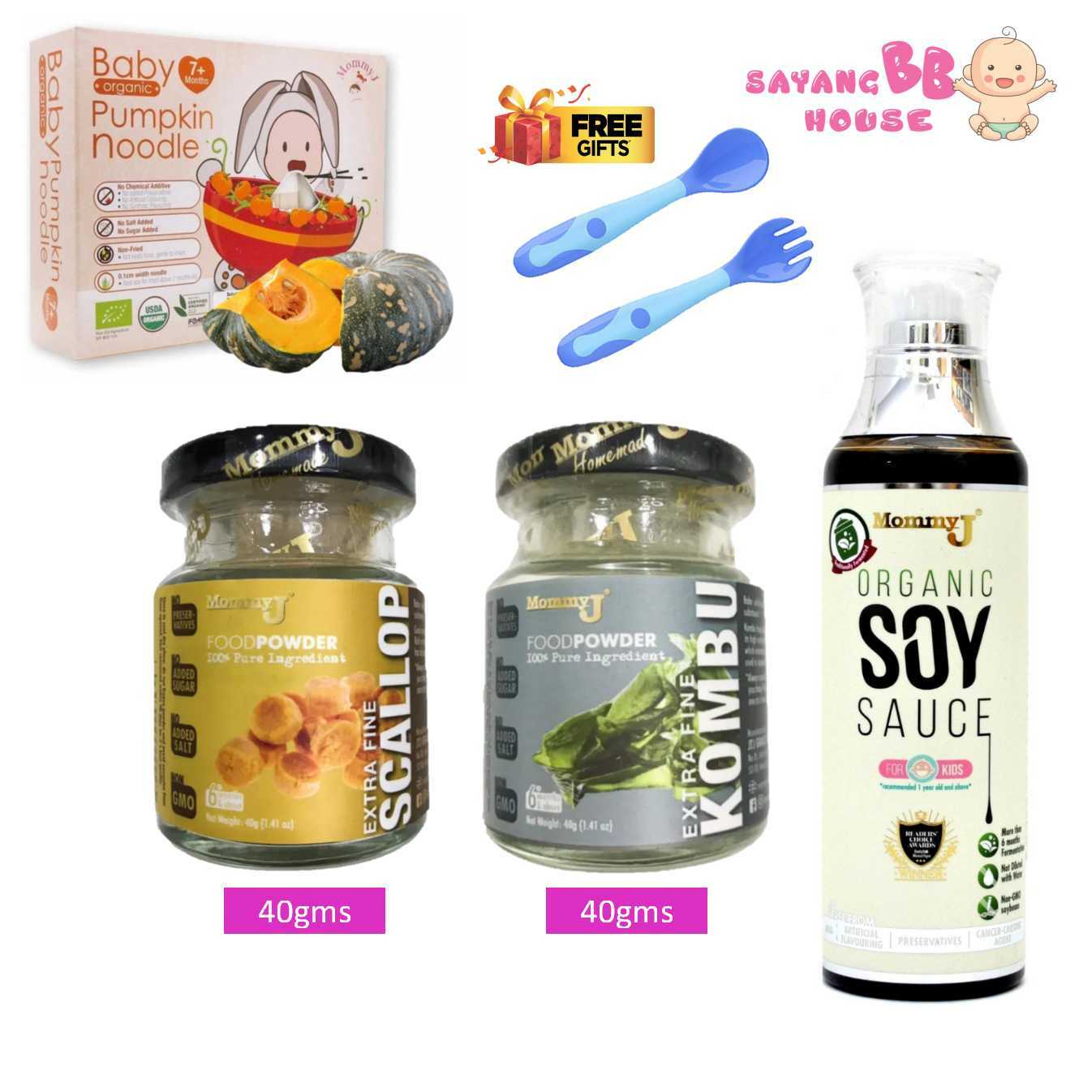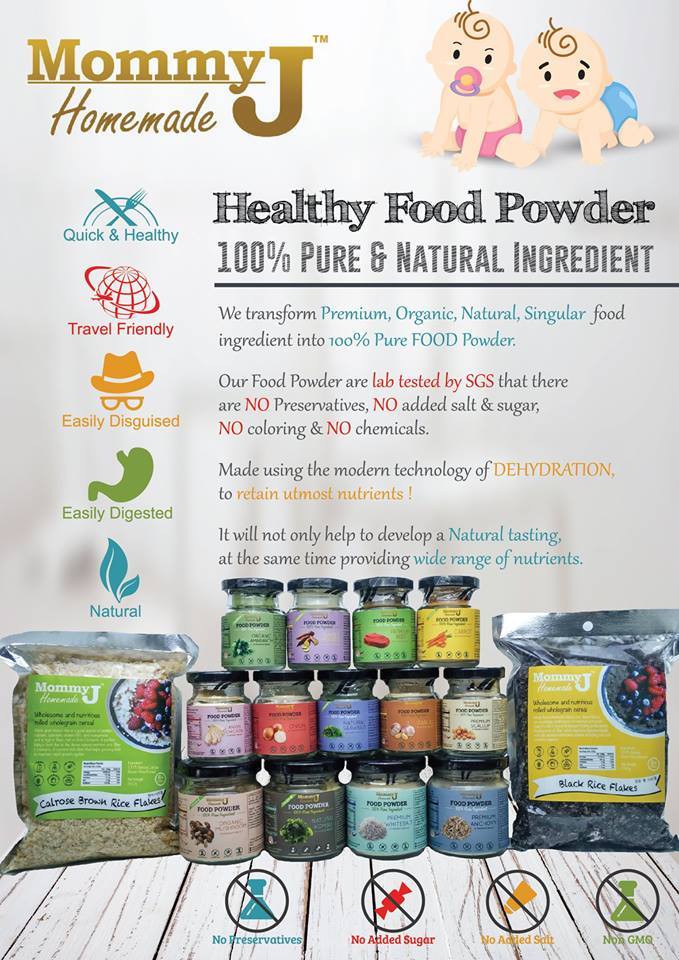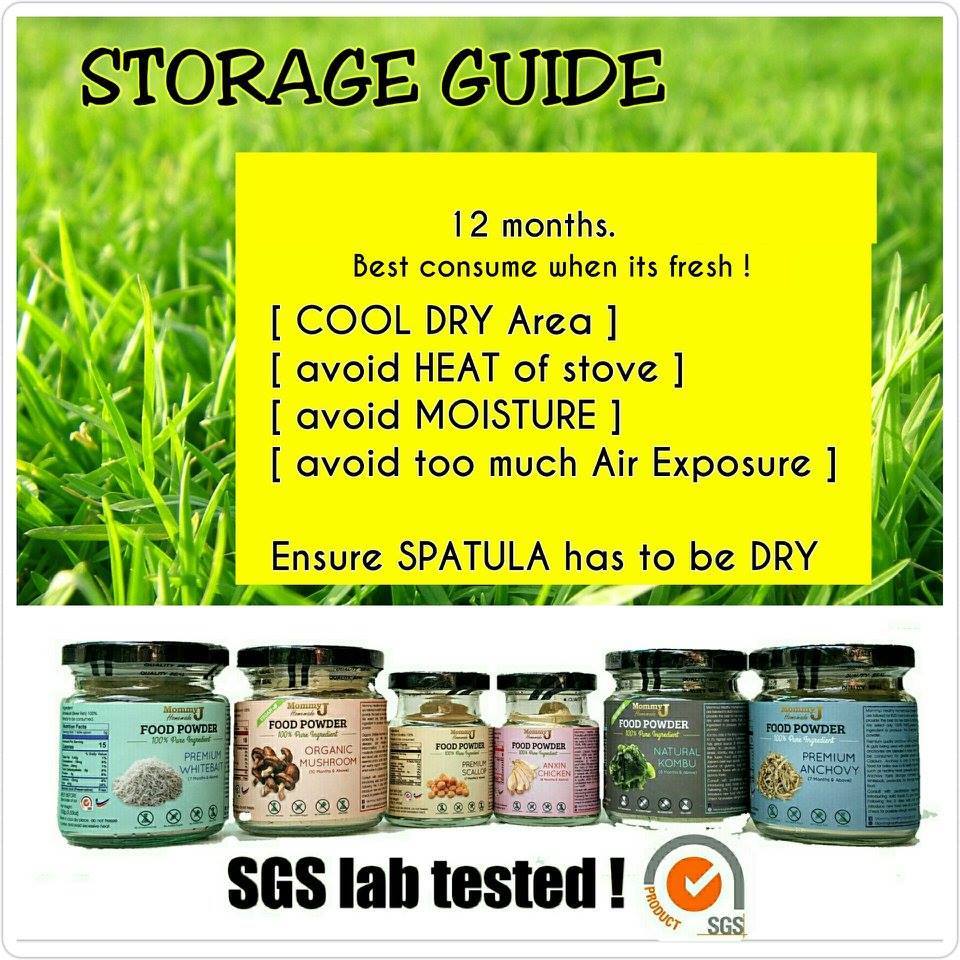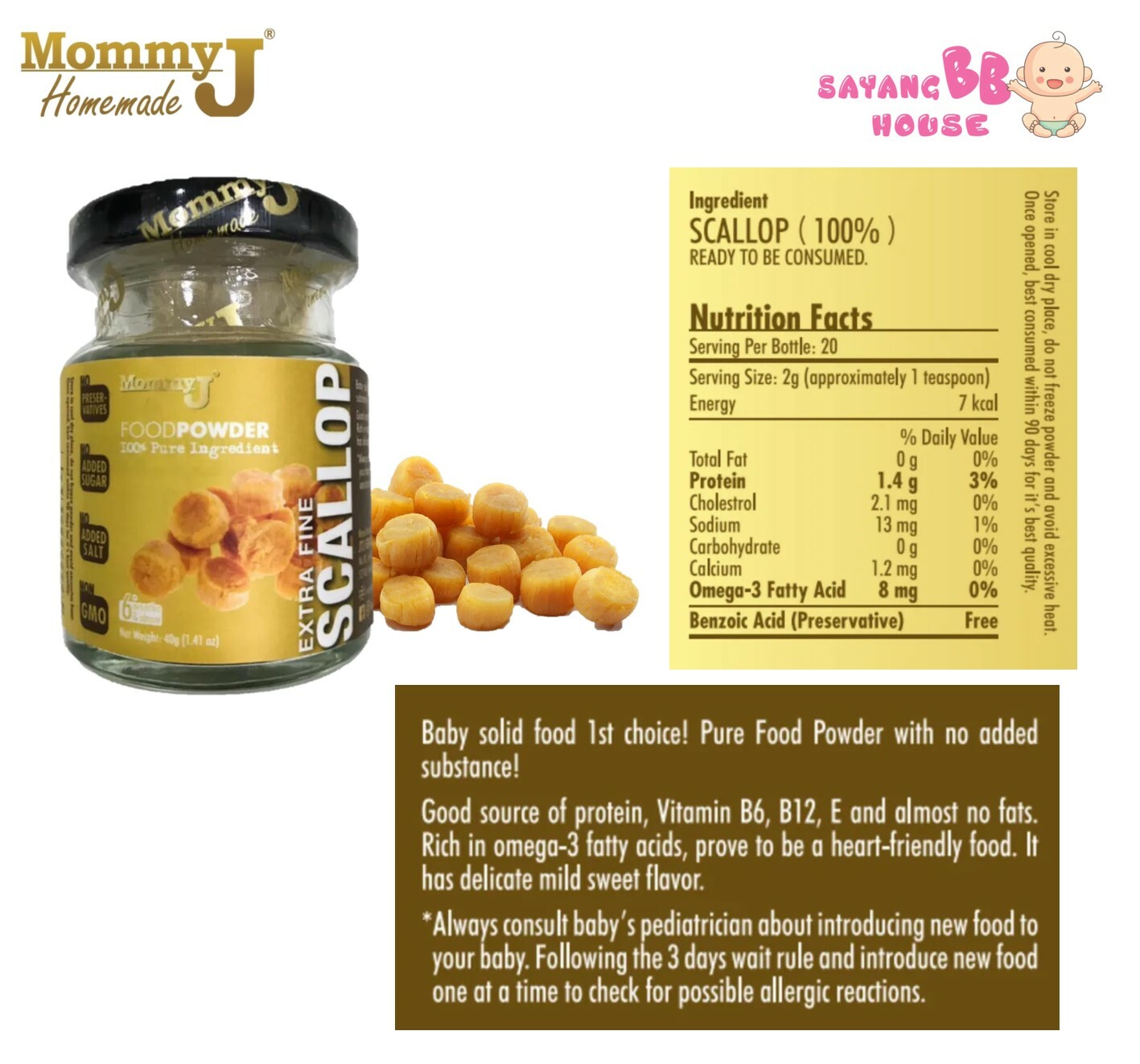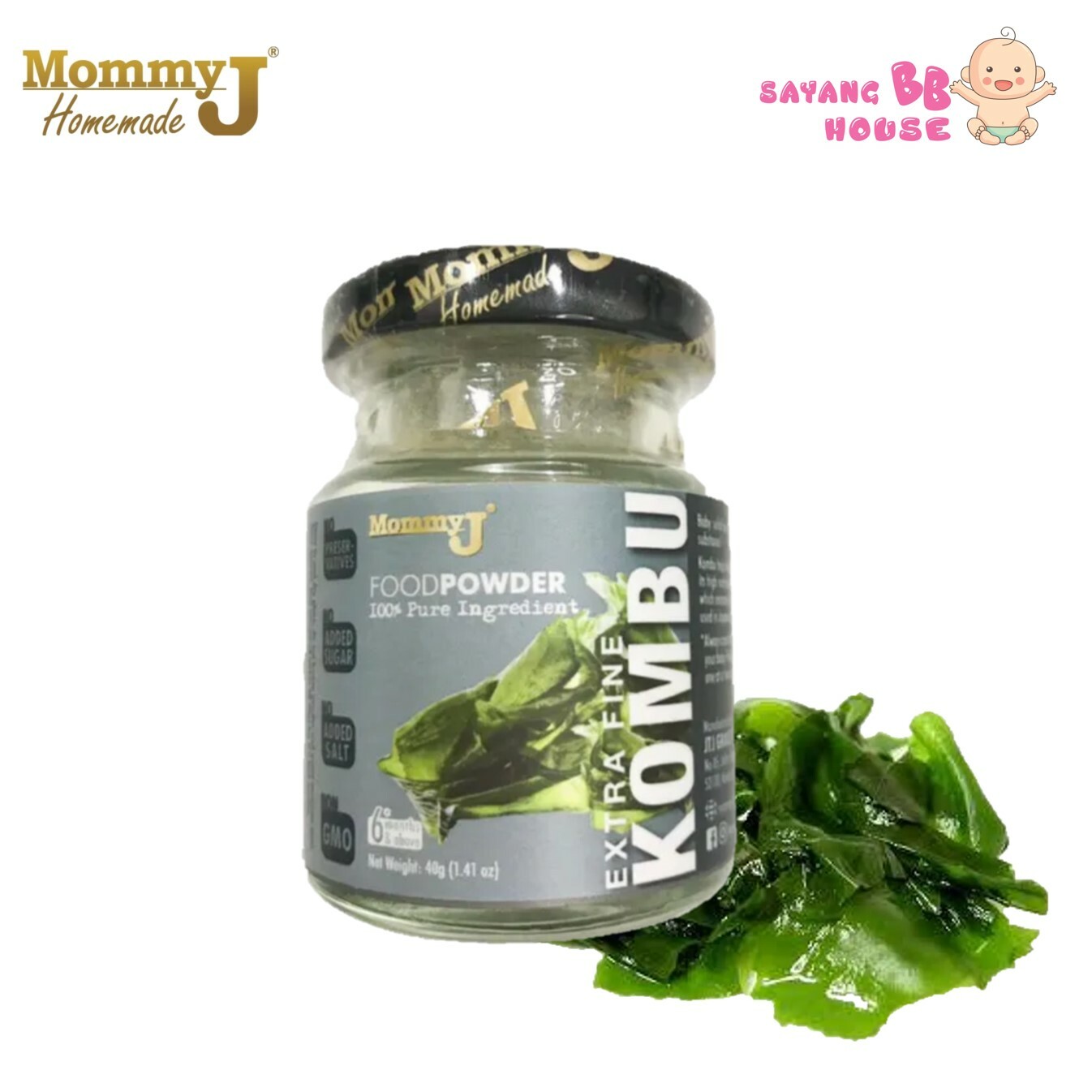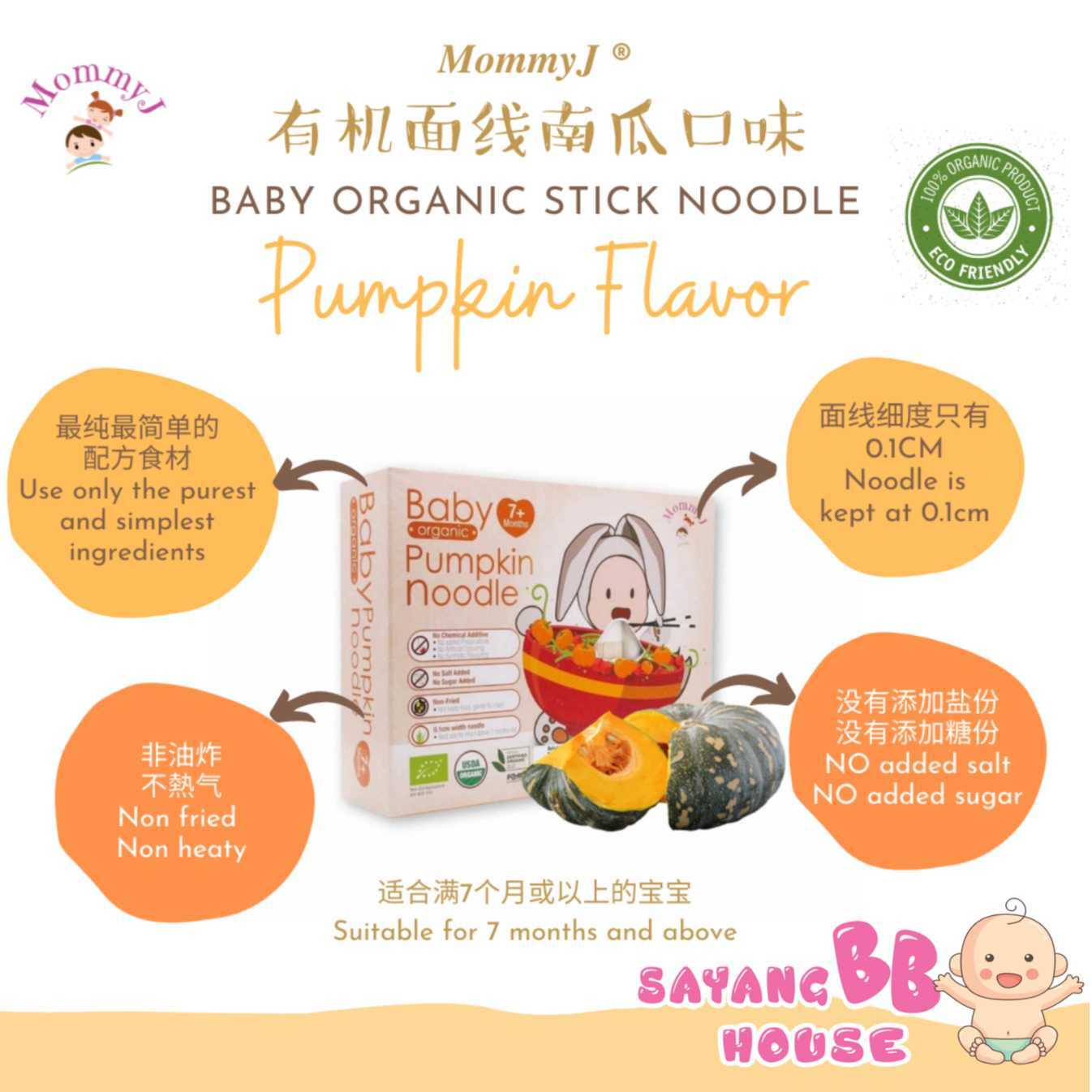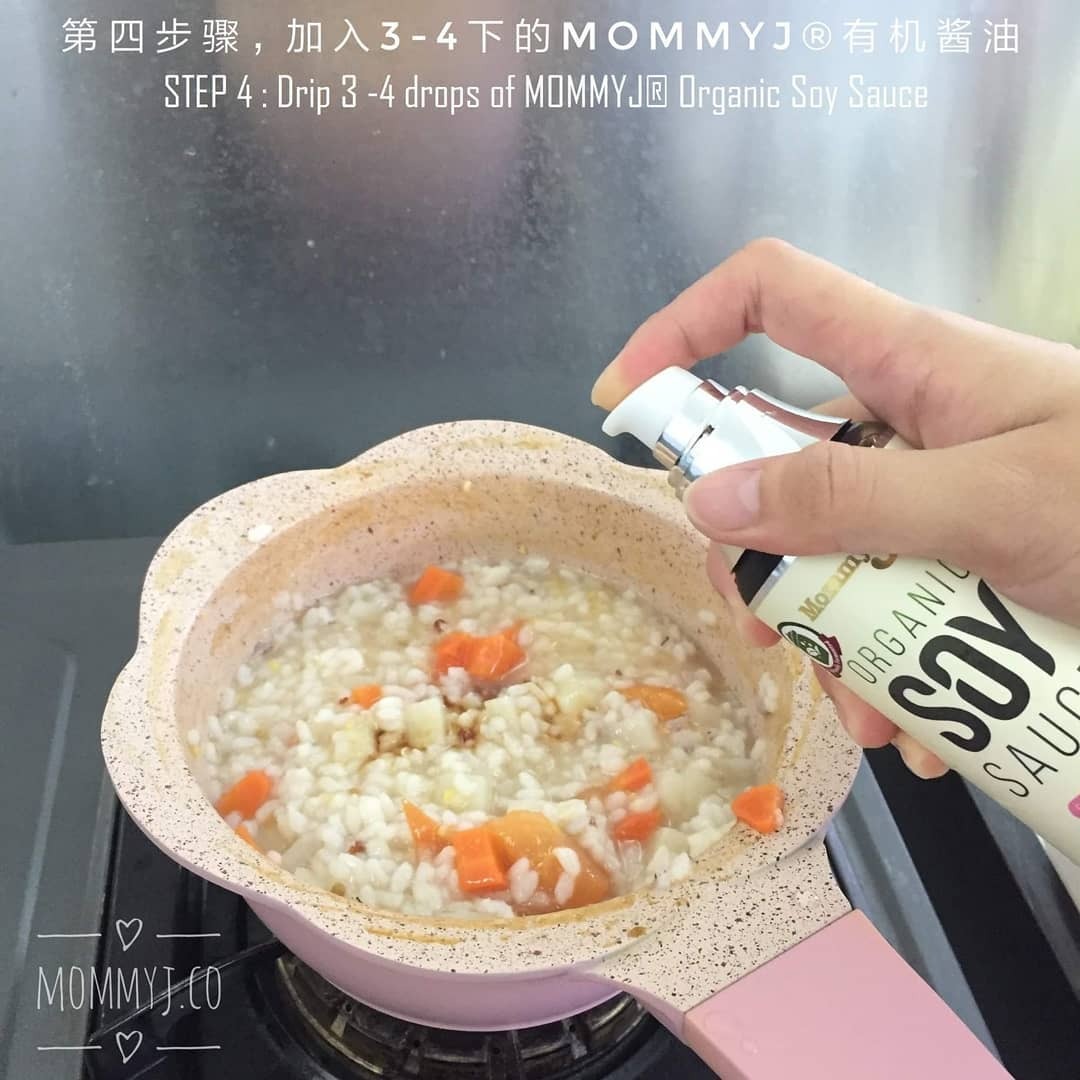 1/7
Kombu + Garlic + Mushroom + Anchovy ( Free Baby Spoon) Baby Food Powder MommyJ Homemade
Product Information
1. Kombu (Above 6 month) ( Exp : Jan 2023 )

- Kombu kelp is known as the King of seaweeds & Super Food with its high nutritional content.
- High in iodine, essential for thyroid functioning.
- Has a natural source of glutamic acid which enhances flavors with an umami taste (savory).

2. Scallop ( Exp : Dec 2022 )

Scallops are nutrient-dense, good source of protein, Vitamins B6, E and almost no fats. Rich in Omega-3 fatty acids helps in baby's brain & eyes development .
Scallops are prove to be a heart-friendly food as they lower triglyceride levels and reduce the risk of blood clots.

3. Soy Saurce (Exp: Oct 2022)
Our Organic Sauce comes with UNIQUE DISPENSE CONTROL feature to ensure children have an adequate sodium level. According Recommended Nutrient Intake of Malaysia 2017, maximum level sodium intake for children above 1-year-old is 1000mg per day. We recommended 3 drops of Mommy J Organic Soy Sauce to be added in every children's' meal which is about 59.6mg of sodium only(5.9% of daily consumption) The CHILDREN FRIENDLY SOY SAUCE not only allow the children to taste delicious meal, but also controlling the intake of sodium and eat comfortably and healthy. Stay safe and healthy with Mommy J.


4. Pumpkin Noddle ( Exp : Dec 2022 )
Ingredients: Use only the purest and simplest ingredients. There are only three types of ingredients: organic wheat flour, broccoli / tomato / pumpkin, and filtered water. Most of the noodles in the market contain salt as one of the ingredients; MommyJ Baby Organic Stick Noodle is absolutely with NO added salt.


⚖️Weight : 200g ( 5 bundles x 40g )


About MommyJ :
MommyJ Food Powder is a range of nutritious and ready to use food powders made from 100% PURE ingredients that can be easily included in little ones ` meal. Lending natural taste with a wide array of precious nutrients into little one's meal that is specially tailored for a busy parent to ease the preparation of a healthy meal!

???? Buddle Set A
1. Kombu (40g) Exp: Jan 2023
2. Scallop (40g) Exp : Jan 2023
3. Soy Saurce (220g) Exp: Dec 2022
4. Noodle Pumkin (200g) Exp : Jan 2023
Free Gift set : Fork & Spoon





Sayang BB House Online Store
No.36 Jalan BRP 6/13 Bukit Rahman Putra , Sungai Buloh
40160 , Selangor Malaysia.


Shipping Information
| Zone | Weight | Delivery Fee (RM) |
| --- | --- | --- |
| West Malaysia | First 1.00 kg | 7.80 |
| | Extra 1.00 kg | 1.50 |
| East Malaysia | First 1.00 kg | 15.00 |
| | Extra 1.00 kg | 10.00 |

Contact : 1300-300-300
Email : [email protected]
Tracking Link : https://www.tracking.my/poslaju
Tracking Link https: www.abxexpress.com.my/tracking.html
Email : [email protected]
Tell : 03-7711 668
Shipping Info Customer service
WhatsApp : 012-3965210
tracking link : https://www.tracking.my/