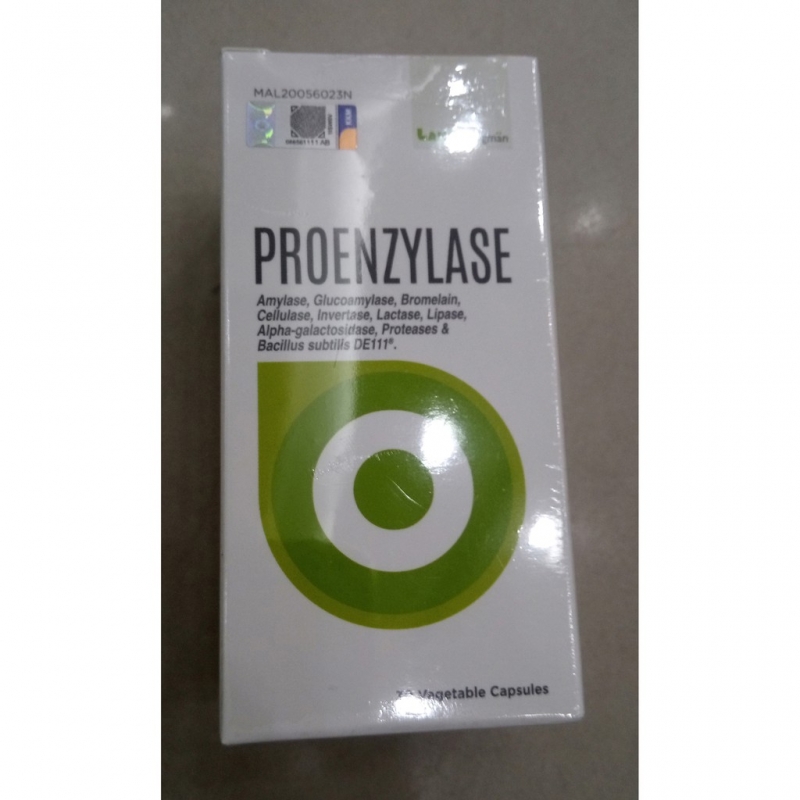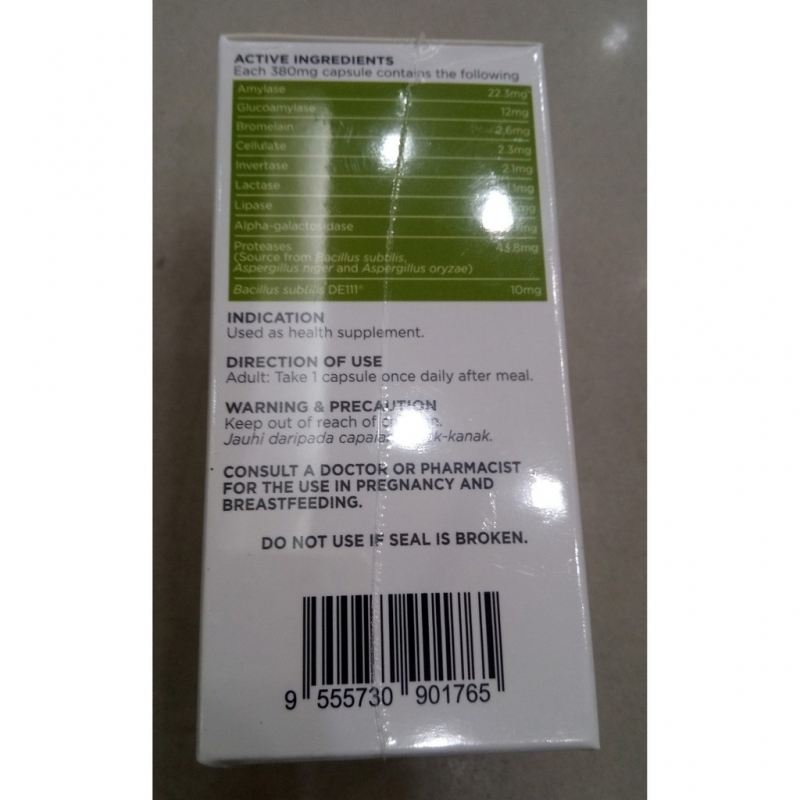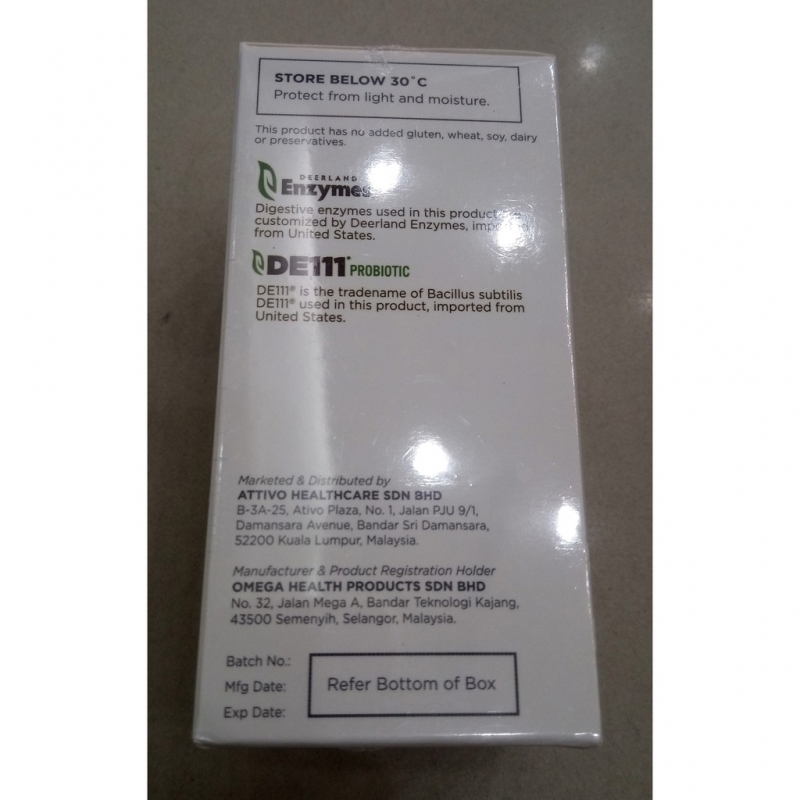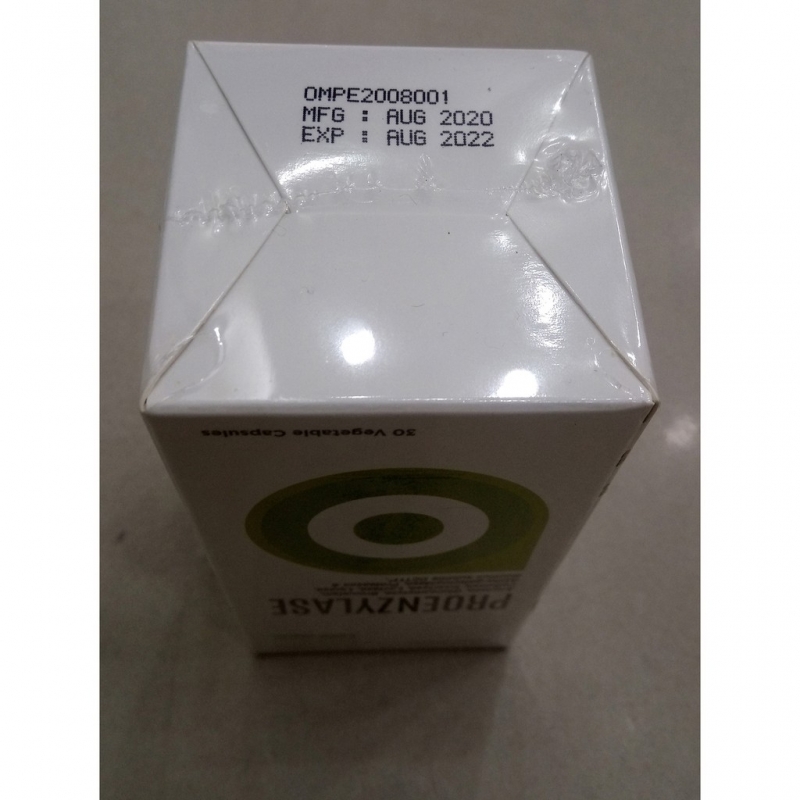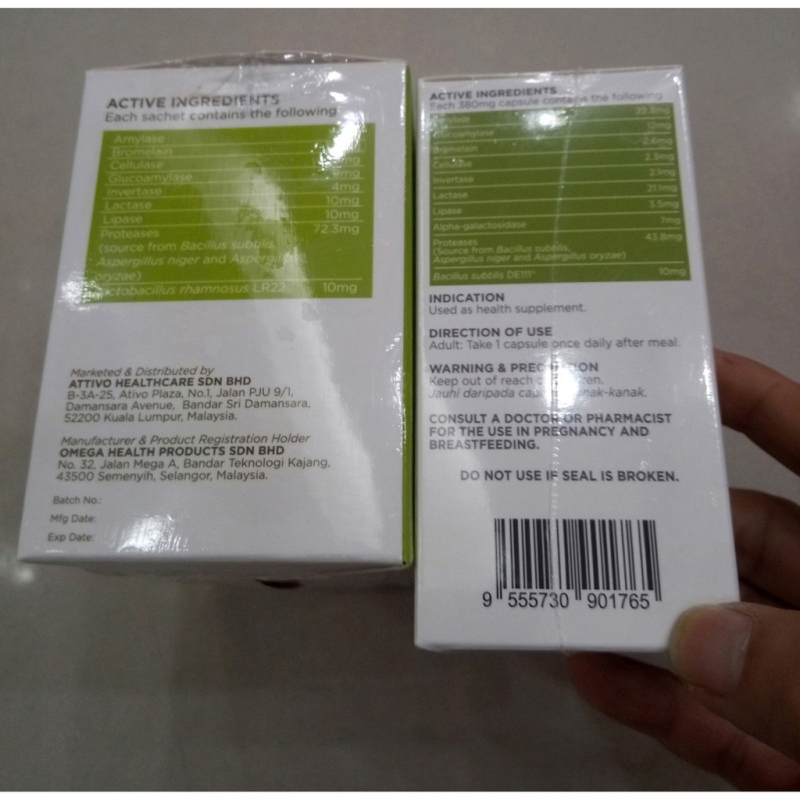 1/6
Lang Bragman Proenzylase Capsule 380mg, 30pcs - Supplementation Of Enzymes That Aid Digestive Health
Product Information
Size (length*width*height): 15cm x 20cm x 13cm
Expiry Date: Normal Expiry
Function: Intestinal Problems
Formulation: Capsules
Lang Bragman Proenzylase Capsule 380mg, 30pcs - Supplementation Of Enzymes That Aid Digestive Health
- SKU: PROENZYLASE-LANGBRAGMAN-380MG-30PCS
- Specification:
(01) Color: White
(02) Dimension: 54mm(W) x 54mm(D) x 109mm(H)
(03) MAL 20056023N
(04) 380mg Each capsule, 30pcs vegetable capsules in a bottle, packed in a box, simple air sealed.
(05) Proenzylase is a formulation, with 10 sources of plant based enzymes and a human-origin probiotic strains for the aid of digestive health.
(06) As a person ages the ability to digest and absorb nutrients decreases. Supplementation of enzymes can aid in this aspect.
(07) Active Ingredients : 10 Types plant based Enzymes.
(08) Amylase 22.3mg - Digest starchy food (carbohydrates) to provide energy sources for the body cells.
(09) Bromelain 2.6mg - Found in pineapple is a protease that digests proteins.
(10) Cellulase 2.3mg - An enzyme that helps to break down cellulose, the main structural component in plant fibers.
(11) Glucoamylase 12mg - Works synergistically with Amylase, Glucoamylase breaks down long chain starches and carbohydrates into their individual components.
(12) Invertase 2.1mg - Helps to break down sucrose (table sugar) into glucose and fructose which can then be absorbed by the body.
(13) Lactase 21.1mg - Helps break down lactose into glucose and galactose. Those with lactose intolerance don't produce enough of the enzyme lactase.
(14) Lipase 3.5mg - Helps break down fats into glycerol and fatty acids so that they are better dissolved and absorbed.
(15) Protease 43.8mg (A combination of 3 sources) - Your body cannot absorb whole proteins. Proteins are made up of amino acids which get broken down into amino acids by enzymes such as proteases.
(16) Bacillus subtilis DE111.
(17) PRODUCT HIGHLIGHTS :
- 10 types of botanical derived active enzymes
- Vegetarian-friendly
- No reported adverse effect
(18) DIRECTION OF USE :
- Adult: Take 1 capsule (380mg per capsule) once daily after meal.
(19) Malaysia READY stock.
(20) Please allow slight dimension difference due to different manual measurement.
(21) Package include: Capsule x 30pcs.
(22) Value Added Service: We are 100% guarantee that, OFFICIAL INVOICE will be issued and attached together with the purchase for customer's future claim purpose if have any. Please state clearly the billing party and delivery details. Bewared and put highly alert with the invoice documents attached in the packaging upon goods receiving. Hence, kindly feel hassle free with the purchase.
(23) For more details, please contact us.
#langbragmanproenzylase #proenzylase #enzylase #digestive #supplement
Shipping Information
| Zone | Weight | Delivery Fee (RM) |
| --- | --- | --- |
| West Malaysia | First 3.00 kg | 6.00 |
| | Extra 1.00 kg | 2.00 |
| East Malaysia | First 0.50 kg | 14.30 |
| | Extra 0.50 kg | 5.10 |