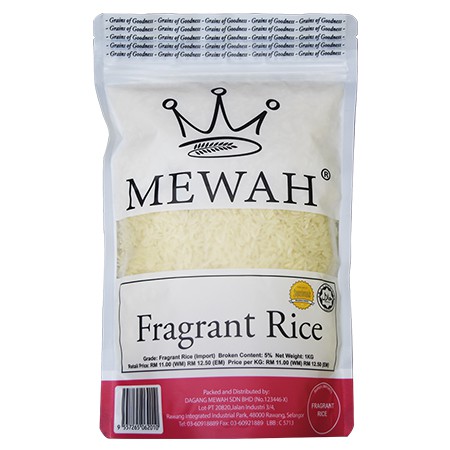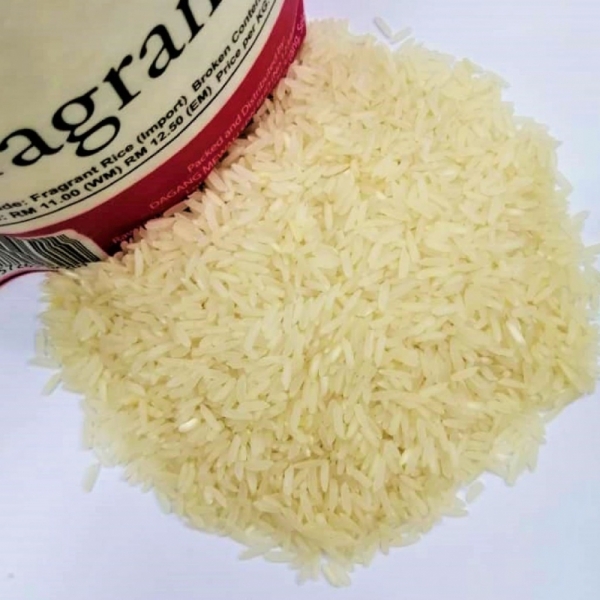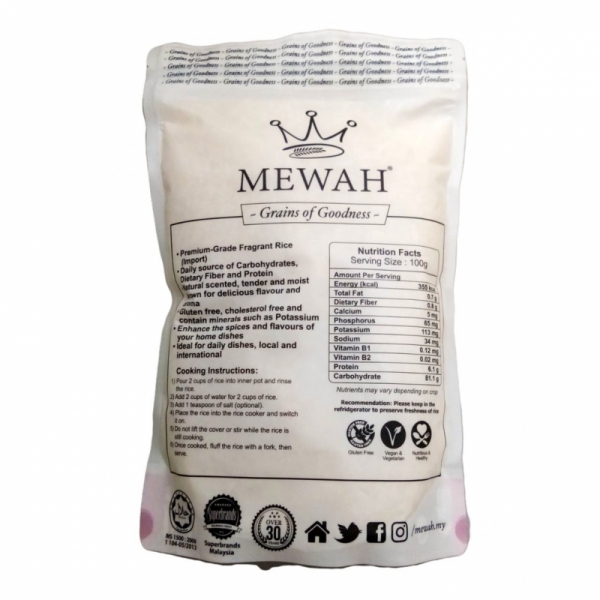 1/3
Mall

Mewah Fragrant Rice 1KG
Product Information
Size (length*width*height): 17cm x 8cm x 28cm
Origin: Local
Expiry Date: Between 9 to 15 months
Certifications: Halal Certified
Fragrant rice has got five millenniums worth of agricultural history in Thailand, so it's no wonder that the rice is considered the country's national pride! Also known as jasmine rice or Hom Mali, the aromatic long-grain rice is favored in Asian cooking and best served with spicy curries or savory meat dishes.
Our MEWAH imported Fragrant Rice is specially sourced from one of Thailand's top premium-grade crop producers. Here are some great benefits of adding the delicious goodness of MEWAH Fragrant Rice into your everyday diet:
- Daily source of Carbohydrates, Fiber and Protein
- Content minerals such as Iron and Sodium
- Gluten free, Cholesterol free and low in fat
- Naturally scented, known for its delicious flavour and aroma
- Tender and moist, with a soft and fluffy texture
- Enhances the spices and flavours of your home dishes
Recommendation: Please keep rice in the refrigerator to preserve its freshness
MEWAH is a heritage FMCG company established since 1984 to promote healthy eating and lifestyle through our premium quality 'Grains of Goodness' in Malaysia. We supply our products to Wholesalers, Distributors, Retailers, Hotel, Restaurants and Individual customers.
The MEWAH Brand Name is Symbolic of Family, Celebration of a Healthy Lifestyle and Products Fit for Royalty!
MEWAH stands for "wealth" in Bahasa Malaysia, our national language. The name encapsulates the brand's origin and core value: good health is the ultimate "wealth" we all aim to achieve for ourselves and our loved ones. Without health, abundance isn't possible. Hence MEWAH aim to elevate the love and appreciation of premium health grains by all, far and wide. For superheroes are not born, but grown with every new lesson, experience, and serving of pure-to-goodness grains they consume!
Shipping Information
| Zone | Weight | Delivery Fee (RM) |
| --- | --- | --- |
| West Malaysia | First 3.00 kg | 6.00 |
| | Extra 1.00 kg | 2.00 |
| East Malaysia | First 0.50 kg | 14.30 |
| | Extra 0.50 kg | 5.10 |