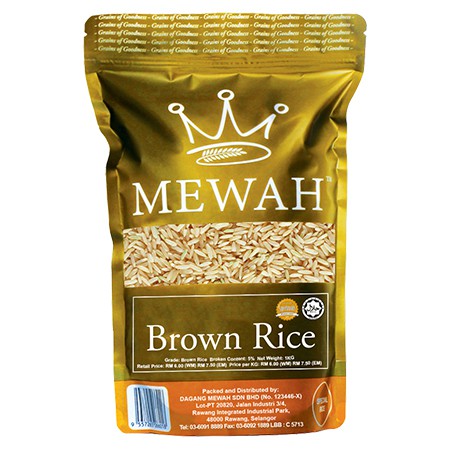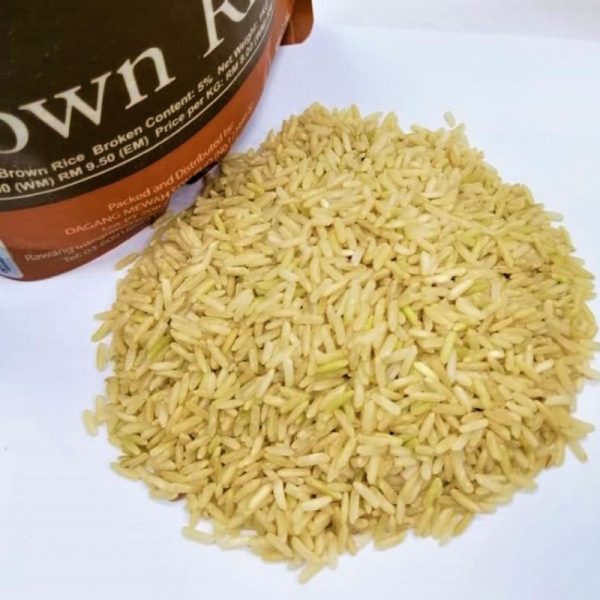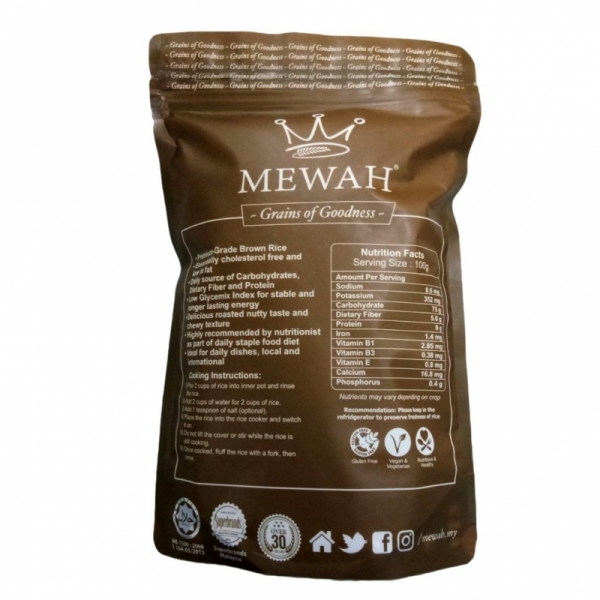 1/3
Mall

Mewah Brown Rice 1KG
Product Information
Size (length*width*height): 17cm x 8cm x 28cm
Expiry Date: Between 9 to 15 months
Certifications: Halal Certified
More and more health conscious families are switching over to the natural whole grain goodness of Brown Rice. Essentially, the process that produces this nutty-flavoured healthy rice removes the outermost layer, that is, the hull of the rice kernel, which helps protect and retain its rich nutritional value.
Historically and culturally ingrained in the lives of Asian and African households, Brown Rice is fast becoming a staple ingredient in the Western world. Our whole grain MEWAH Brown Rice is gluten-free and packed with these health-preserving benefits for your daily consumption:
- Daily source of Protein, Fibre and Carbohydrates
- Rich in minerals: Potassium and Calcium
- Low Glycemic Index for stable, longer lasting energy level
- Essentially cholesterol free and low in fat
- Mild, nutty flavour with fluffy and chewy texture
- Ideal for everyday meals or for special recipes
Recommendation: Please keep rice in the refrigerator to preserve its freshness
MEWAH is a heritage FMCG company established since 1984 to promote healthy eating and lifestyle through our premium quality 'Grains of Goodness' in Malaysia. We supply our products to Wholesalers, Distributors, Retailers, Hotel, Restaurants and Individual customers.
The MEWAH Brand Name is Symbolic of Family, Celebration of a Healthy Lifestyle and Products Fit for Royalty!
MEWAH stands for "wealth" in Bahasa Malaysia, our national language. The name encapsulates the brand's origin and core value: good health is the ultimate "wealth" we all aim to achieve for ourselves and our loved ones. Without health, abundance isn't possible. Hence MEWAH aim to elevate the love and appreciation of premium health grains by all, far and wide. For superheroes are not born, but grown with every new lesson, experience, and serving of pure-to-goodness grains they consume!
Shipping Information
| Zone | Weight | Delivery Fee (RM) |
| --- | --- | --- |
| West Malaysia | First 3.00 kg | 6.00 |
| | Extra 1.00 kg | 2.00 |
| East Malaysia | First 0.50 kg | 14.30 |
| | Extra 0.50 kg | 5.10 |