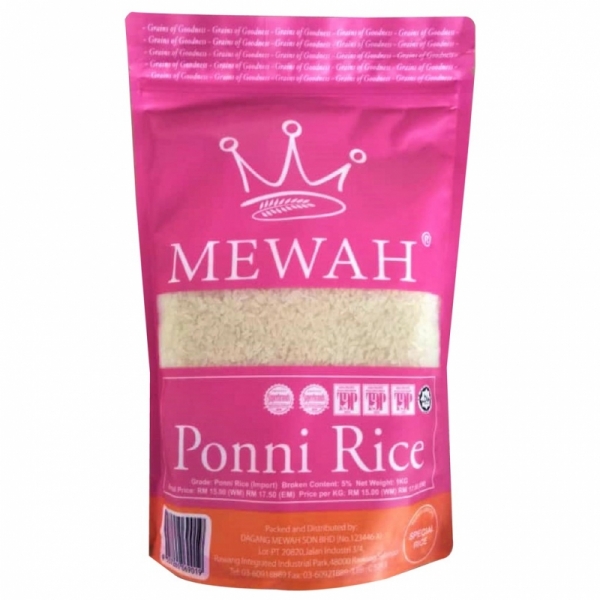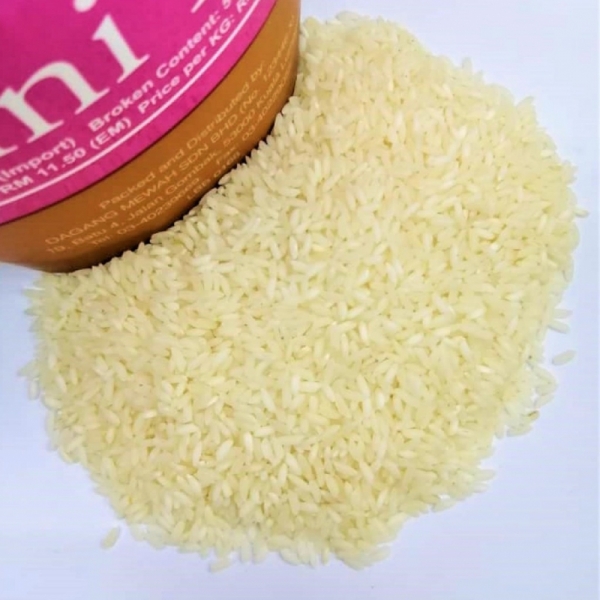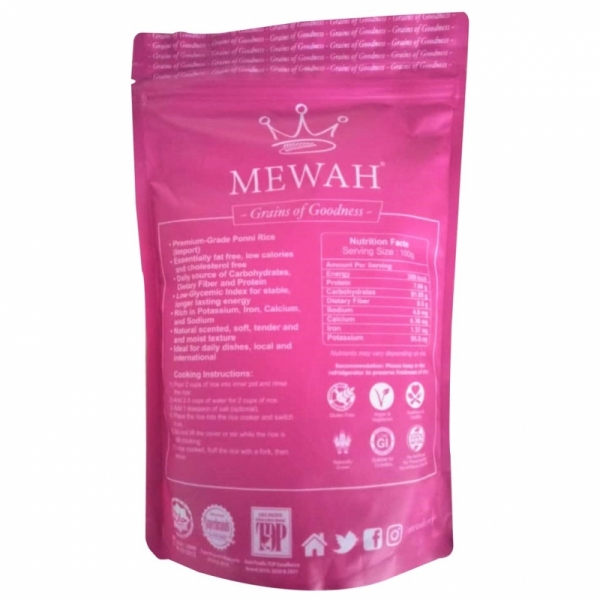 1/3
Mall

Mewah Ponni Rice 1KG
Product Information
Size (length*width*height): 17cm x 8cm x 28cm
Origin: Imported
Expiry Date: Between 9 to 15 months
Certifications: Halal Certified
Finely processed and specially imported from India, our MEWAH Ponni Rice is perfect for daily consumption, healthy, tasty and famously served with spicy curries and all your favourite comfort food!
Here are some benefits of adding the natural whole grain goodness of MEWAH Ponni Rice into your everyday diet:
- Imported India Premium Medium-grain hybrid Ponni Rice
- Gluten and Cholesterol Free
- Essentially GMO Free and Low in Fat
- High in Proteins and Potassium provides good source of energy
- Low Glycemic Index: Helps in lowering the impact of raised blood sugar and against diabetes
- Highly recommended by nutritionist as part of daily staple food diet
How To Cook Ponni Rice: Serves 4
> Pour 1 cup of rice into your pot and rinse the rice
> Add water: 2.5 to 3 times of rice
> Bring to a boil, stir, use minimum heat and let it simmer until the rice is cooked through
MEWAH is a heritage FMCG company established since 1984 to promote healthy eating and lifestyle through our premium quality 'Grains of Goodness' in Malaysia. We supply our products to Wholesalers, Distributors, Retailers, Hotel, Restaurants and Individual customers.
The MEWAH Brand Name is Symbolic of Family, Celebration of a Healthy Lifestyle and Products Fit for Royalty!
MEWAH stands for "wealth" in Bahasa Malaysia, our national language. The name encapsulates the brand's origin and core value: good health is the ultimate "wealth" we all aim to achieve for ourselves and our loved ones. Without health, abundance isn't possible. Hence MEWAH aim to elevate the love and appreciation of premium health grains by all, far and wide. For superheroes are not born, but grown with every new lesson, experience, and serving of pure-to-goodness grains they consume!
Shipping Information
| Zone | Weight | Delivery Fee (RM) |
| --- | --- | --- |
| West Malaysia | First 3.00 kg | 6.00 |
| | Extra 1.00 kg | 2.00 |
| East Malaysia | First 0.50 kg | 14.30 |
| | Extra 0.50 kg | 5.10 |