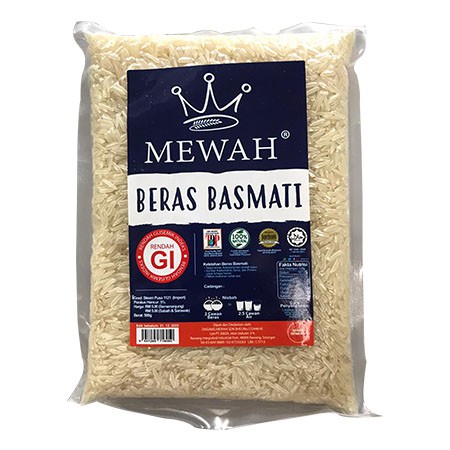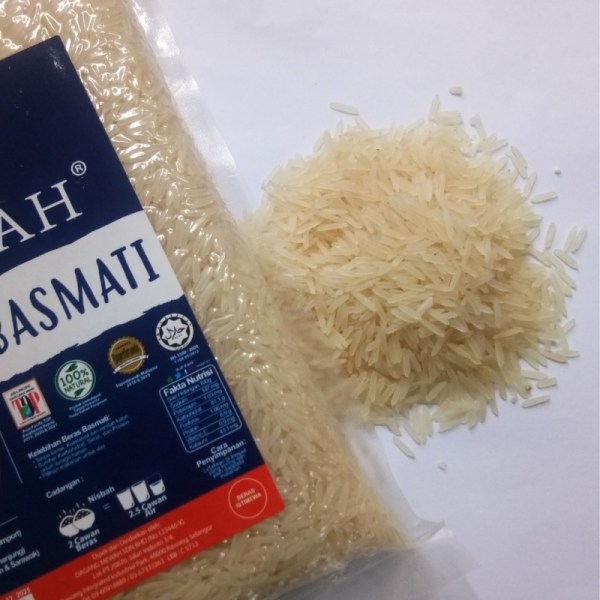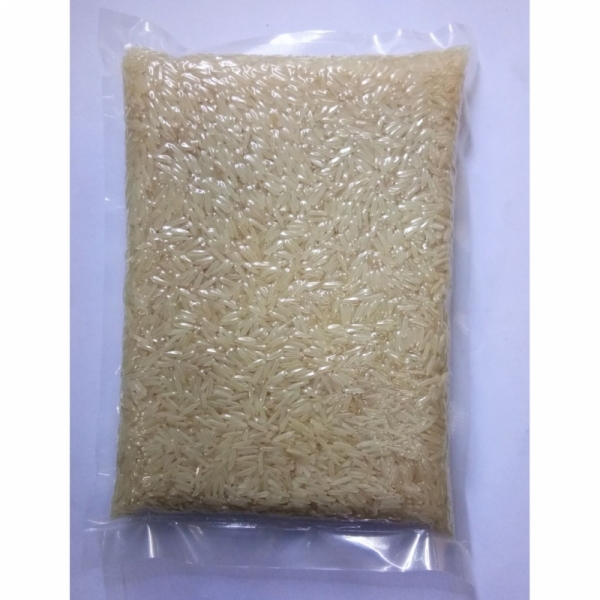 1/3
Mall

Mewah Beras Basmati 500g
Product Information
Expiry Date: More than 15 months
Mewah Beras Basmati 500g
Basmati's aroma is as exotic as its origins. Basmati comes from the Hindi or Sanskrit word: "vasmati", meaning "fragrant". The long-grain nutty-flavoured and fluffy-textured rice has been cultivated and cherished in India for thousands of years, and goes deliciously with curries and other favourite Asian dishes especially since it holds flavours so well!
Our MEWAH premium-grade Pusa 1121 Basmati Rice is imported from India and features extra-long grains of 8mm. Here are some great benefits of including MEWAH Basmati Rice into your everyday healthy diet:
- Low Glycemic Index for stable, longer lasting energy level.
- Essentially fat and cholesterol free, low in calories.
- Exotic aroma with a soft and fluffy texture.
- Can absorb and hold flavours well for tasty dish.
- Ideal for Briyani rice, pilaf and other daily home dishes.
- Rice is nourishing and easy to digest.
MEWAH® adalah sebuah syarikat warisan FMCG yang ditubuhkan sejak tahun 1984 untuk mempromosikan pemakanan dan gaya hidup sihat melalui "Grain of Goodness" yang berkualiti tinggi di Malaysia. MEWAH membekalkan produk kepada Pemborong, Pengedar, Peruncit, Hotel & Restoran.
Nama MEWAH merupakan simbolik kepada keluarga ideal, meraikan gaya hidup sihat dan produk untuk santapan diraja!
MEWAH membawa erti kekayaan. MEWAH melambangkan jenama dan nilai terasnya: kesihatan yang baik merupakan kemewahan yang disasarkan untuk diri sendiri dan mereka yang tersayang. Tanpa kesihatan yang baik, semuanya tidak dapat dicapai. Oleh itu, MEWAH ingin meningkatkan rasa cinta dan penghargaan terhadap makanan yang sihat kepada semua. Kanak-kanak perlu membesar dengan pelajaran, pengalaman dan pemakanan berkhasiat.
Shipping Information
| Zone | Weight | Delivery Fee (RM) |
| --- | --- | --- |
| West Malaysia | First 3.00 kg | 6.00 |
| | Extra 1.00 kg | 2.00 |
| East Malaysia | First 0.50 kg | 14.30 |
| | Extra 0.50 kg | 5.10 |