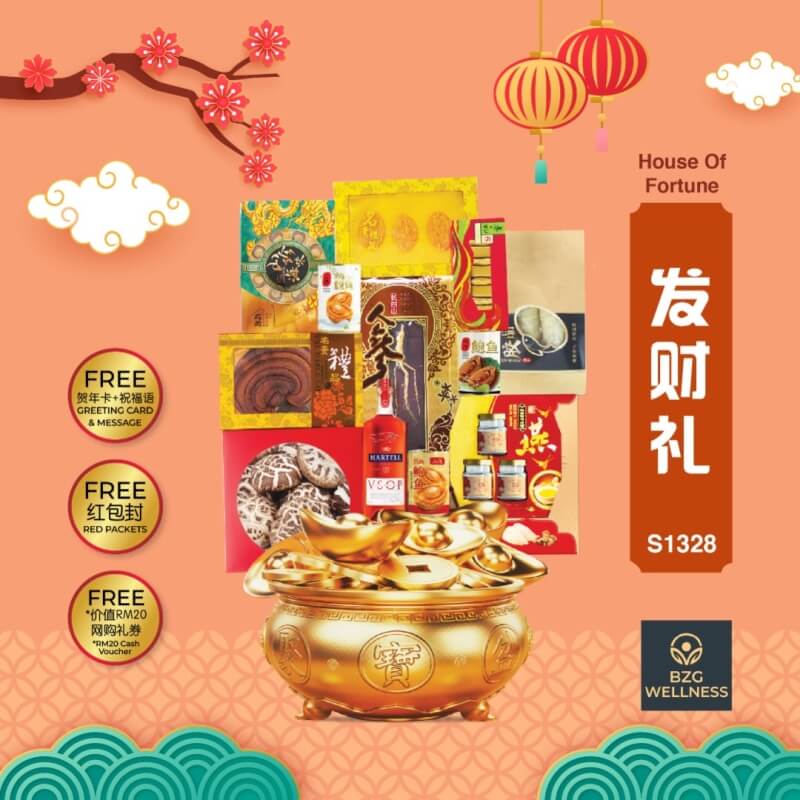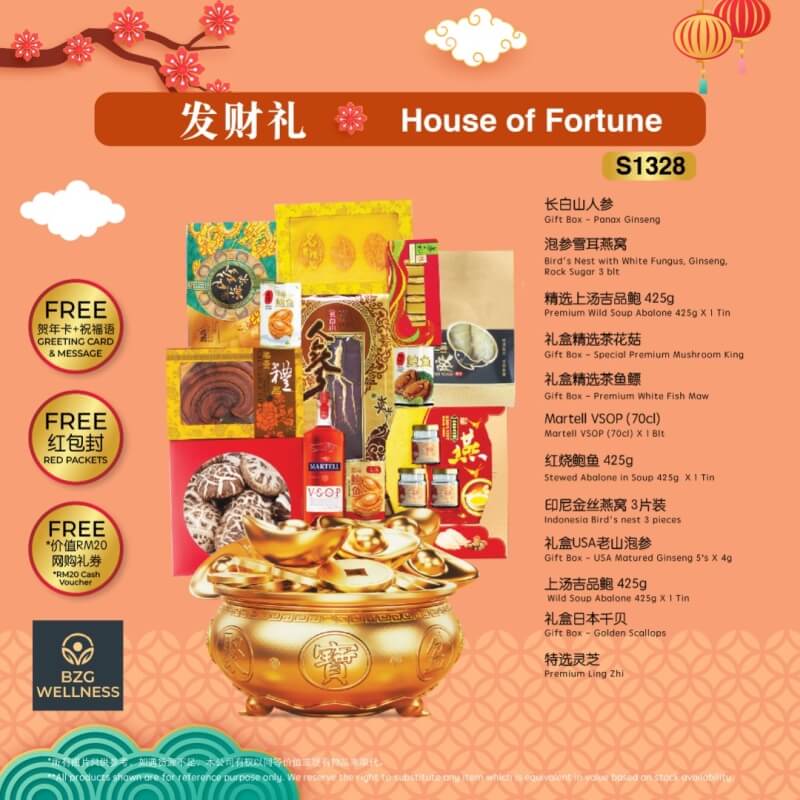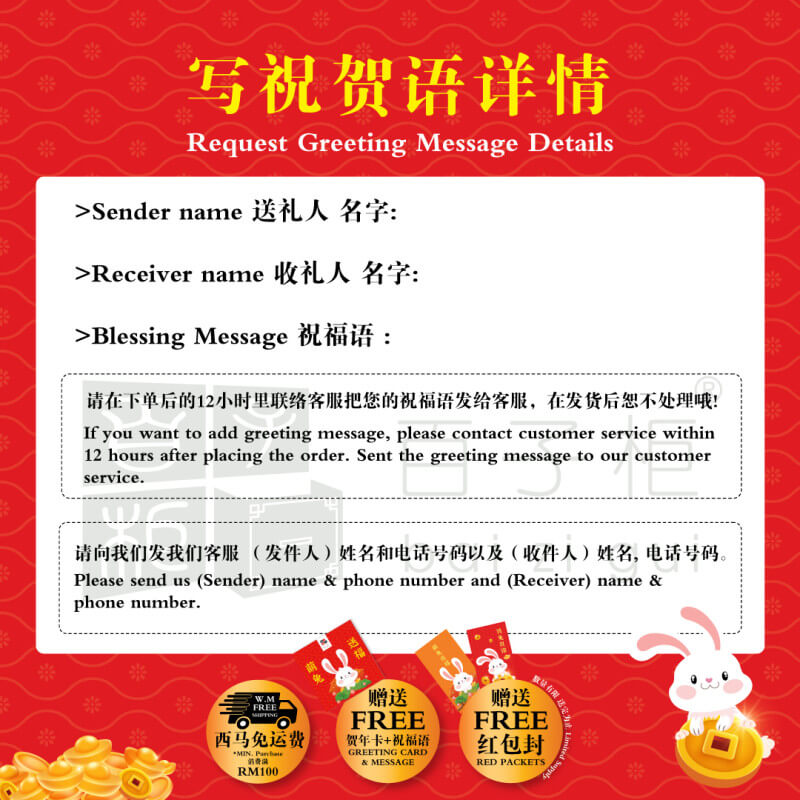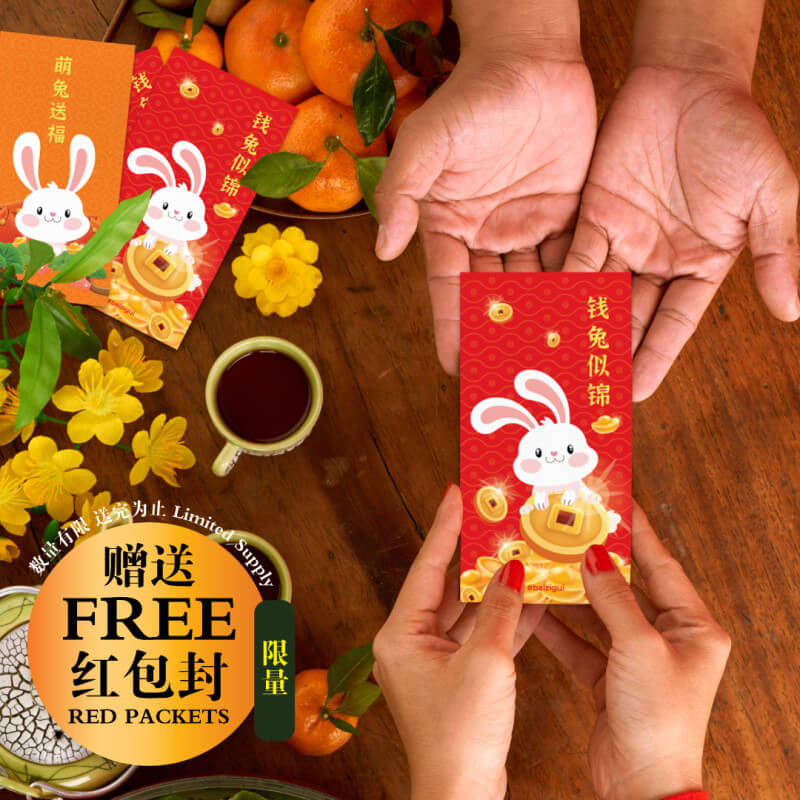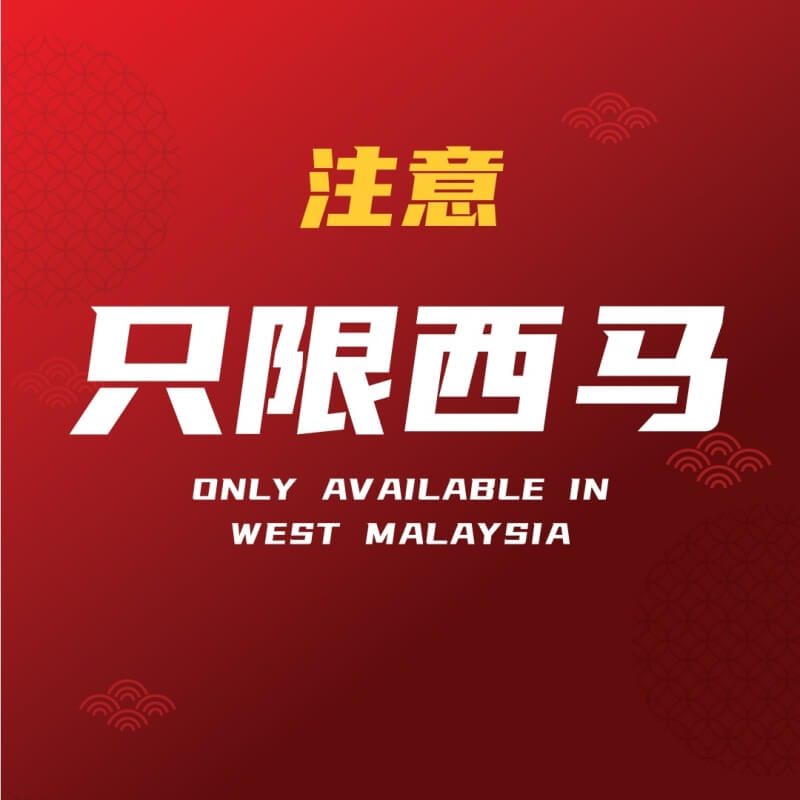 1/6
S1328 发财礼 House of Fortune | CNY Hamper
RM

1,328.00
RM 1,680.45
21%
Product Information
这款"发财礼"专注于养生保健品,适合送给商务伙伴、敬爱贵人长辈们,感谢他们这一年来的善待以及包容,千言万语尽诉贺卡中,只需把贺语发给百子柜客服,我们会负责把心意传递下去。
礼篮内包括有
Martell VSOP (70cl)
印尼金丝燕窝 3片装
礼盒USA老山泡参 5小包 X 4g
精选上汤吉品鲍 425g
红烧鲍鱼 425g
上汤吉品鲍 425g
礼盒精选茶鱼鳔
礼盒日本千贝
礼盒精选茶花菇
泡参雪耳燕窝 3 罐X 70ML
长白山人参
特选灵芝
现金礼券 RM20
包装费,饰品,兔贺年卡

Cautions 购买须知‼️
Available West Malaysia only
只限西马地区
🎈FREE 1 Limited Edition Year of Rabbit Red Packets and Cash Voucher RM20
🎈现在还附送精美红包封与价值RM20网购礼券
1. All products shown are for reference purpose only. We reserve the right to substitute any item which is equivalent in value based on stock availability. Please do not place order if you mind.
显示的所有产品或排法仅供参考。我们保留根据库存情况替换任何同等价值的物品的权利。为了避免延迟发货,若其中一个产品暂时短缺,我们会更换同等价值的产品哦。介意勿拍
2. Please make sure you attach the correct recipient information (Sender) name & phone number and (Receiver) name & phone number. If the delivery fail due to personal negligence, the customer shall be responsible for the additional charges for second delivery. We will make another arrangement as soon as possible.
请附上正确的资料(发件人 sender)姓名和电话号码以及(收件人 receiver)姓名, 电话号码。若因个人疏忽导致礼蓝没办法送到,客户需自行负责多一次的运费。我们会再另作安排。
3.If you want to add greeting message, please contact customer service within 12 hours after placing the order. Sent the greeting message to our customer service.
如要添加送礼贺词与送礼资料,请在下单后的12小时里联络客服,可在这里信息或者信息客服热线 OI294I99O9 ,在发货后恕不处理哦!
⭐️收礼人名字 Receiver name / To
⭐️祝福语 Blessing Message
⭐️送礼人名字 Sender name / From
4.The hamper is arranged by us to ensure the safe delivery of the hamper.
礼蓝是由我们安排的运输寄送,以确保礼蓝安全送到。
5.For delivery to special location & outskirt location, for example (Genting Highland, Langkawi, Cameron, Island- island) please contact us before placed order.
如需送货到特殊地点和偏远郊区,例如(云顶高原,兰卡威Langkawi,Cameron, 岛),请在下订单前与我们联系。
6.To ensure the hamper comes in perfect condition, all hampers are prepare follow order sequence. For urgent orders, please contact customer service. For outstation order might take time to reached, advice to place order earlier.
每个礼蓝都是依据订单次序准备,以确保所有的礼品都完好无缺。请提早下单,急单请先信息客服。
7.After placing the order, please do not cancel the order without authorization, because the customer service will help you arrange the greeting and hamper matters as soon as possible. Convenient for others and for yourself. grateful.
下单后,请不要擅自删除订单,因为客服会第一时间帮您安排礼蓝的事项。方便别人,方便自己。感恩
8.For self pickup, Please contact Us in shopee or WApp Us OI294I99O9.
要自取,请联系客服 外州的礼蓝交给运输后,会拍照给您。请耐心等待
👉若要订购大数量礼篮,请PM小编,给你讨个吉利
Shipping Information
| Zone | Weight | Delivery Fee (RM) |
| --- | --- | --- |
| West Malaysia | First 3.00 kg | 6.00 |
| | Extra 1.00 kg | 2.00 |
| East Malaysia | First 0.50 kg | 14.30 |
| | Extra 0.50 kg | 5.10 |