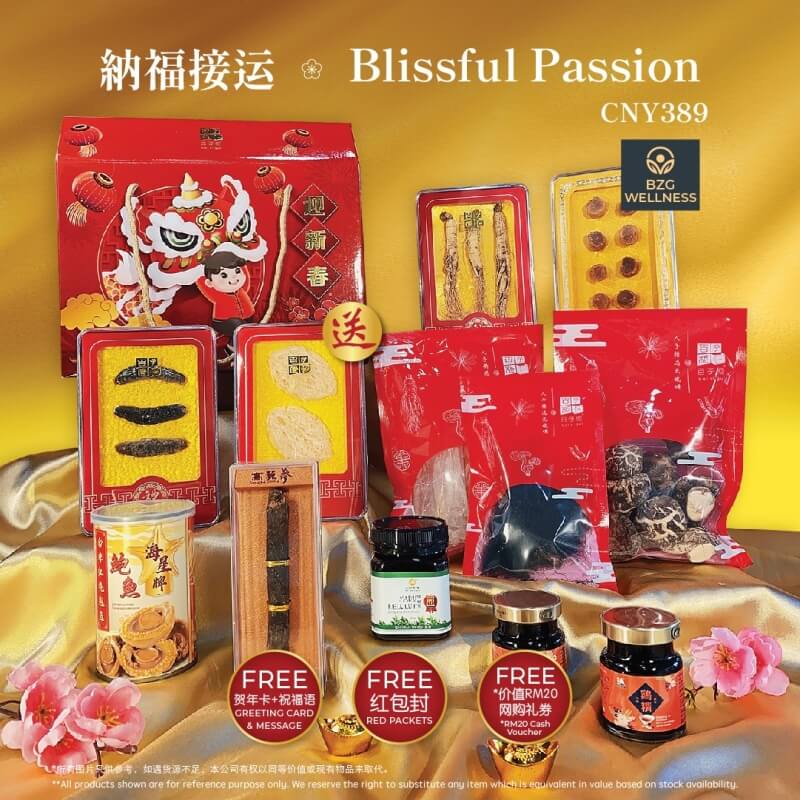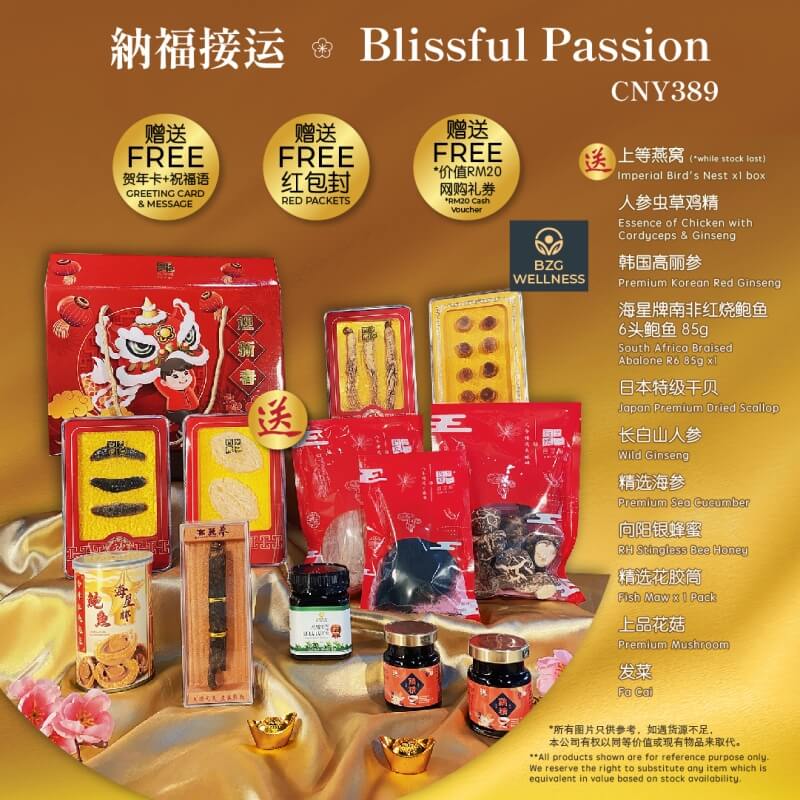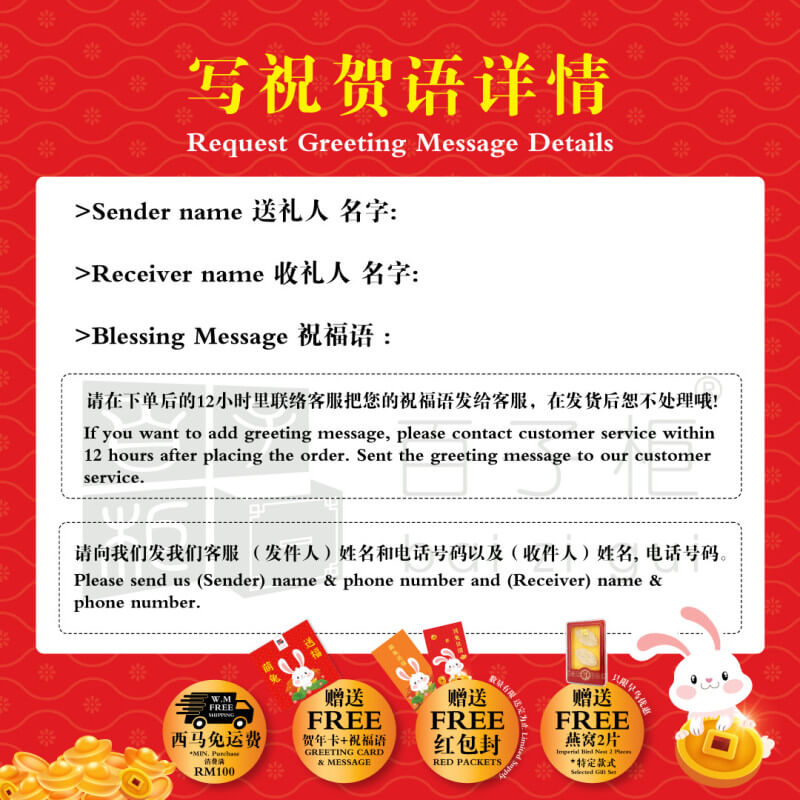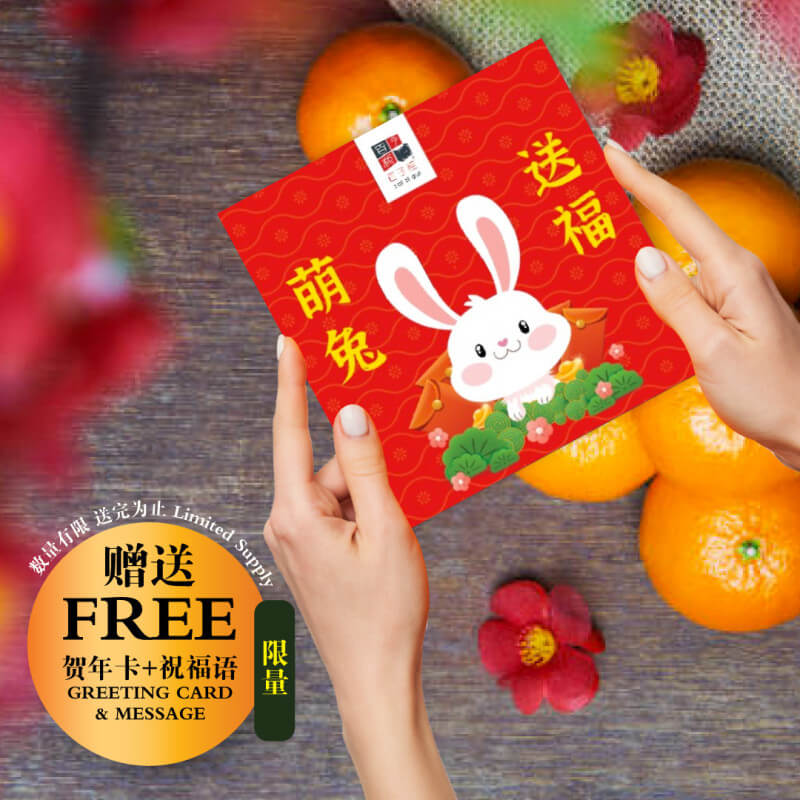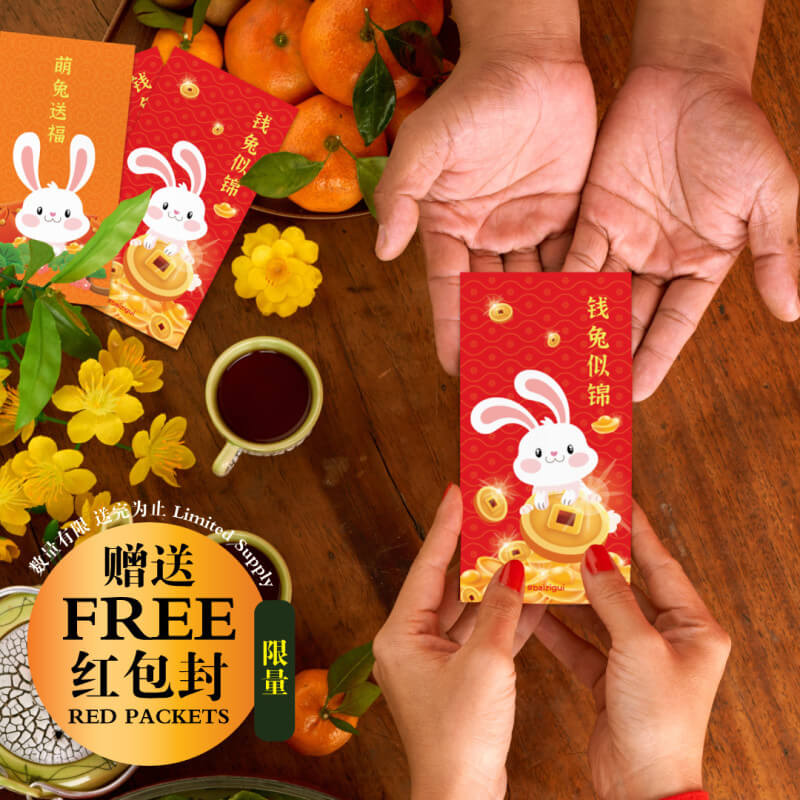 1/5
纳福接运 Blissful Passion CNY389
Product Information
*Important: All Gift Box (Delivery Outstation) placed from 14/1/2023, will receive the goods during Chinese New Year period. We will try our best to ship out as soon as possible, but Gift Box reached depends on courier. Urgent order is NOT available or else you can check with customer service the ready stock.
*注意:从14/1/2023起下单的礼盒 (运送Klang Valley 以外),我们不保证在新年前期间收到货品。是依据 Courier 运送时间。不接急单。

真挚的感情,都值得一份"礼"。 百子柜为您精心挑选多种补品及健康食品汇集于精美礼盒中,大方得体、健康实在。
这款"纳福接运"豪华大气适合送给商务伙伴、敬爱贵人长辈们,感谢他们这一年来的善待以及包容,千言万语尽诉贺卡中,只需把贺语发给百子柜客服,我们会负责把心意传递下去。
Baizigui is preparing you a splendid gift with well-packed nutritious and healthy food products. The Blissful Passion is an ideal present for your beloved Business partners and family members sure to bring about good health to them in the new year!
Gift box also comes with a complimentary gift card on which to write a personalized message, showing your care, love and gratitude towards your love one. It is an unique gift for someone special to remember great moments during New Year!
人参虫草鸡精 70g X 2罐
Essence of Chicken with Cordyceps & Ginseng 70g X 2 Bottles
日本特级干贝 X 1盒
Japan Premium Dried Scallop X 1 Box
精选海参 X 1 盒
Premium Sea Cucumber X 1 Pack
精选花胶筒 45g X 1包
Fish Maw 45g X 1 Pack
上品花菇 80g X 1 包
Premium Mushroom 80g X 1 Pack
发菜 10g X 1 包
Fa Choi 10g X 1 Pack
长白山人参 X 1 盒
Wild Ginseng X 1 Box
海星牌南非红烧6头鲍鱼 85g X 1罐
South Africa Braised Abalone Canned R6 85g X 1 Bottle
上等燕窝 2片 X 1盒
Imperial Bird's Nest 2pcs X 1 Box
韩国高丽参 X 1 盒
Premium Korean Red Ginseng X 1 Box
向阳银蜂蜜 250g X 1罐
RH Stingless Bee Honey 250g X 1 Bottle
精美盒子和包装
Premium Gift Box and Packaging
兔贺年卡
Greeting Card
总价值 Total RM577.30
FREE Red packet & RM20 cash voucher for every purchase !
现在还附送精美红包封与价值RM20网购礼券
注意事项 Cautions:
*All products shown are for reference purpose only. We reserve the right to substitute any item which is equivalent in value based on stock availability.
* 显示的所有产品仅供参考。我们保留根据库存情况替换任何同等价值的物品的权利。
*Please send us (Sender) name & phone number and (Receiver) name & phone number.
*请向我们发我们客服 (发件人)姓名和电话号码以及(收件人)姓名, 电话号码。
If you want to add greeting message, please contact customer service within 12 hours after placing the order. Sent the greeting message to our customer service.
请在下单后的12小时里联络客服把您的祝福语发给客服,在发货后恕不处理哦!
>Sender name 送礼人 名字
>Receiver name 收礼人 名字
>Blessing Message 祝福语 :
Shipping Information
| Zone | Weight | Delivery Fee (RM) |
| --- | --- | --- |
| West Malaysia | First 3.00 kg | 6.00 |
| | Extra 1.00 kg | 2.00 |
| East Malaysia | First 0.50 kg | 14.30 |
| | Extra 0.50 kg | 5.10 |