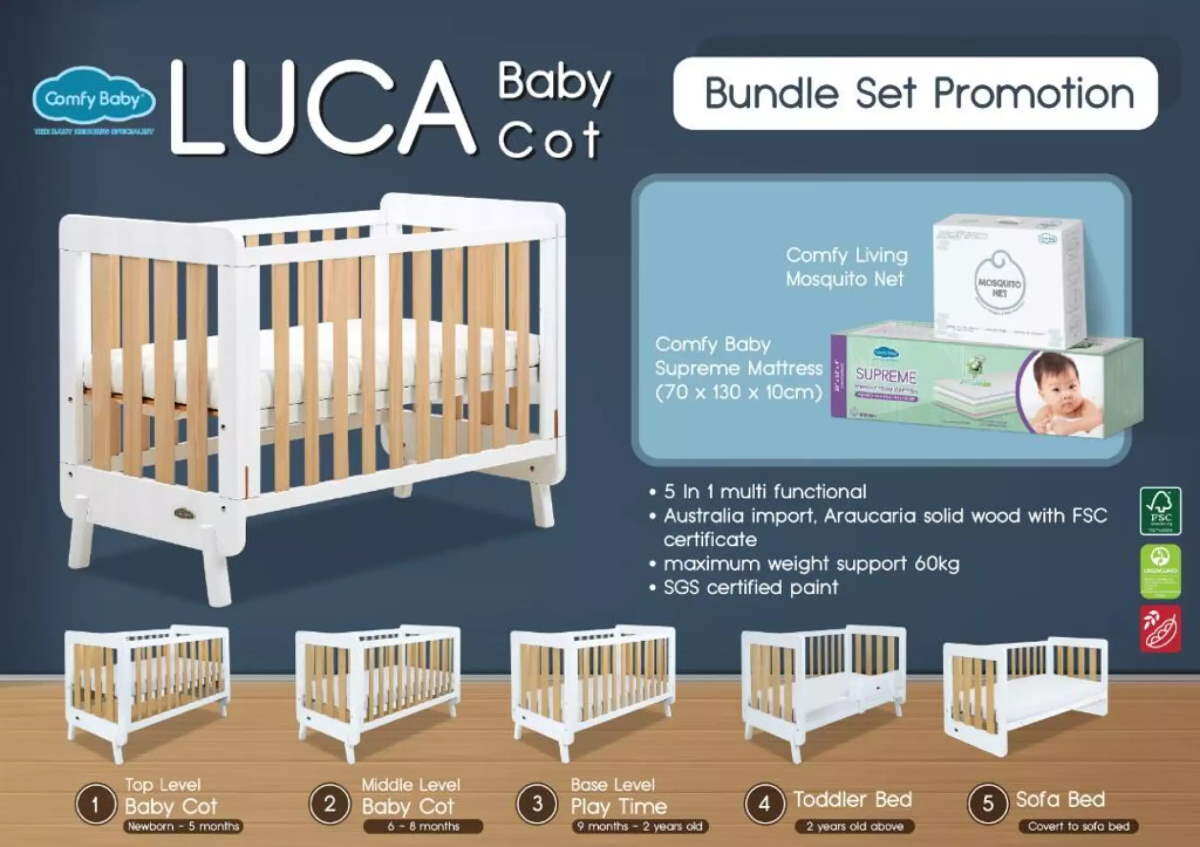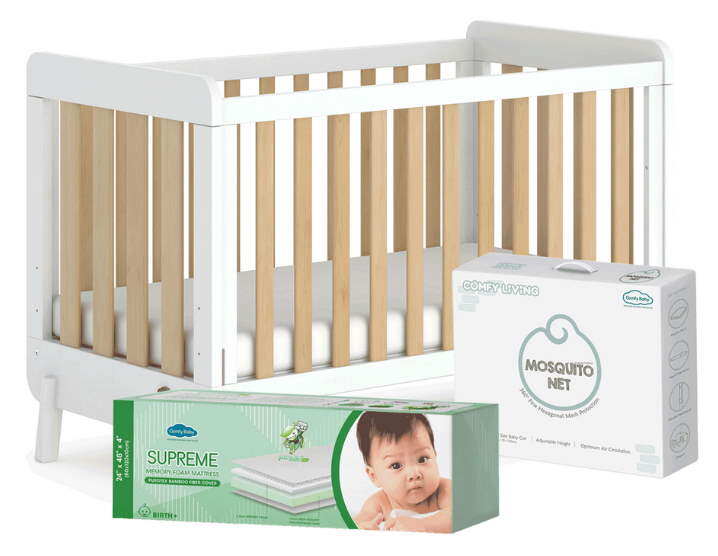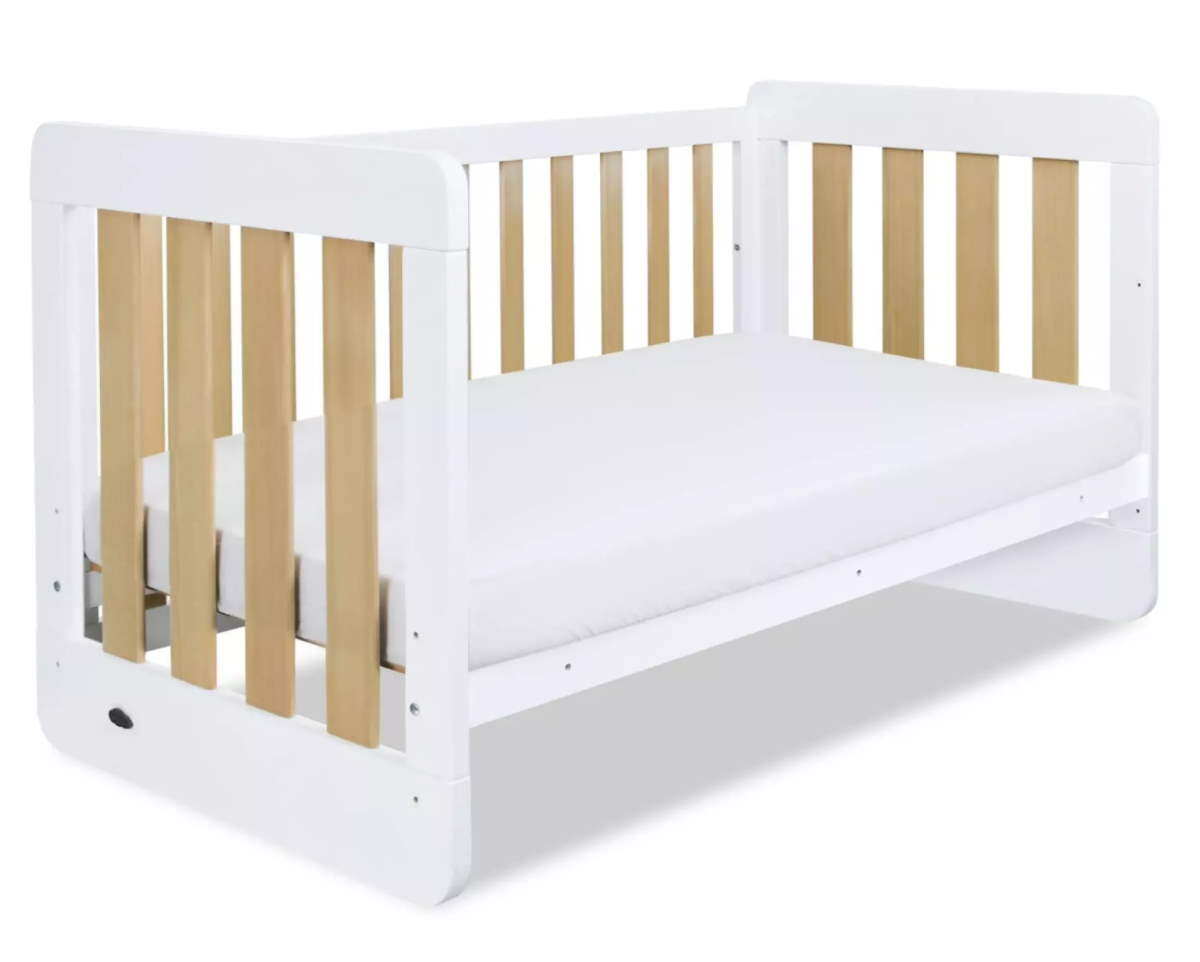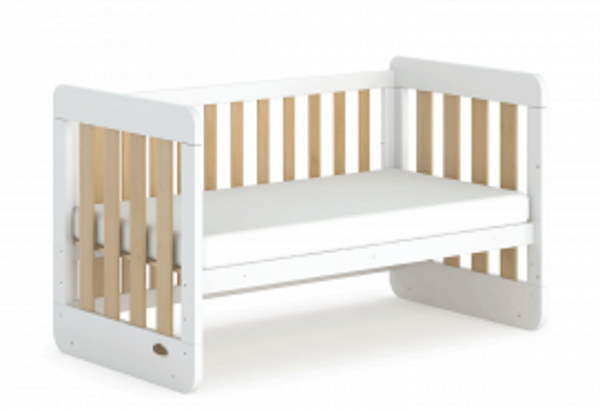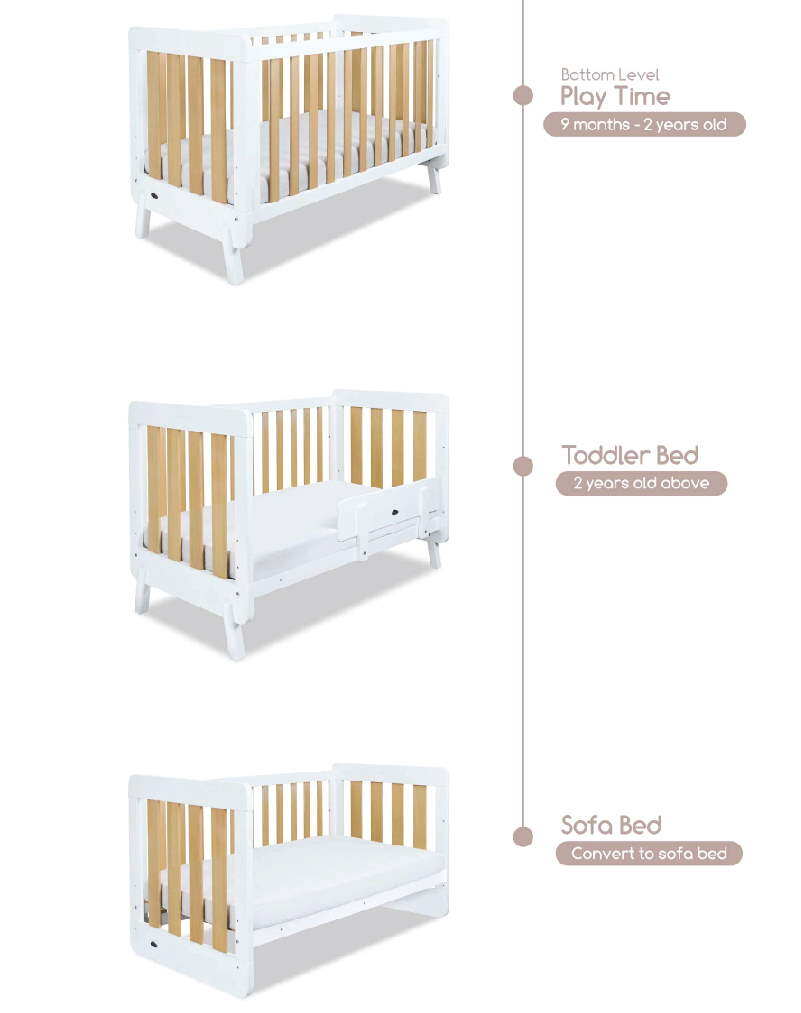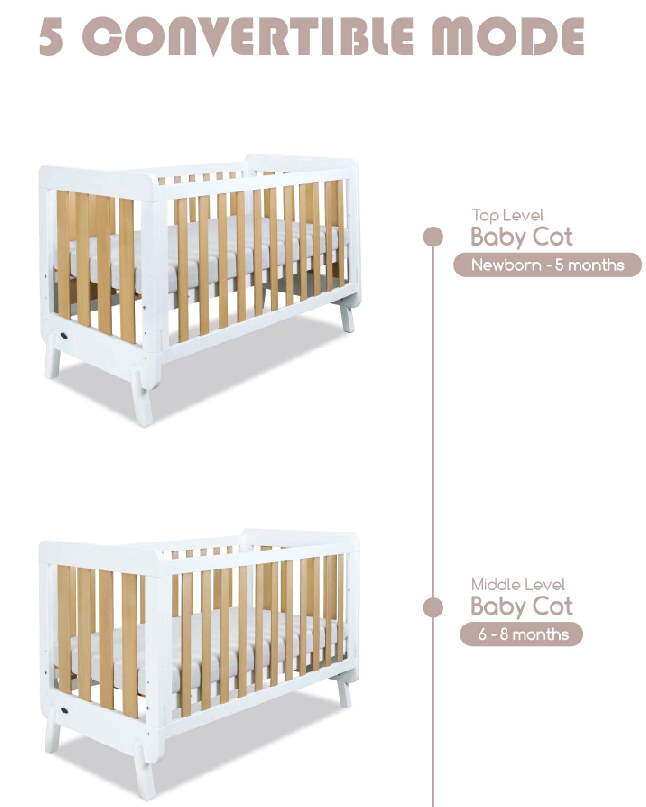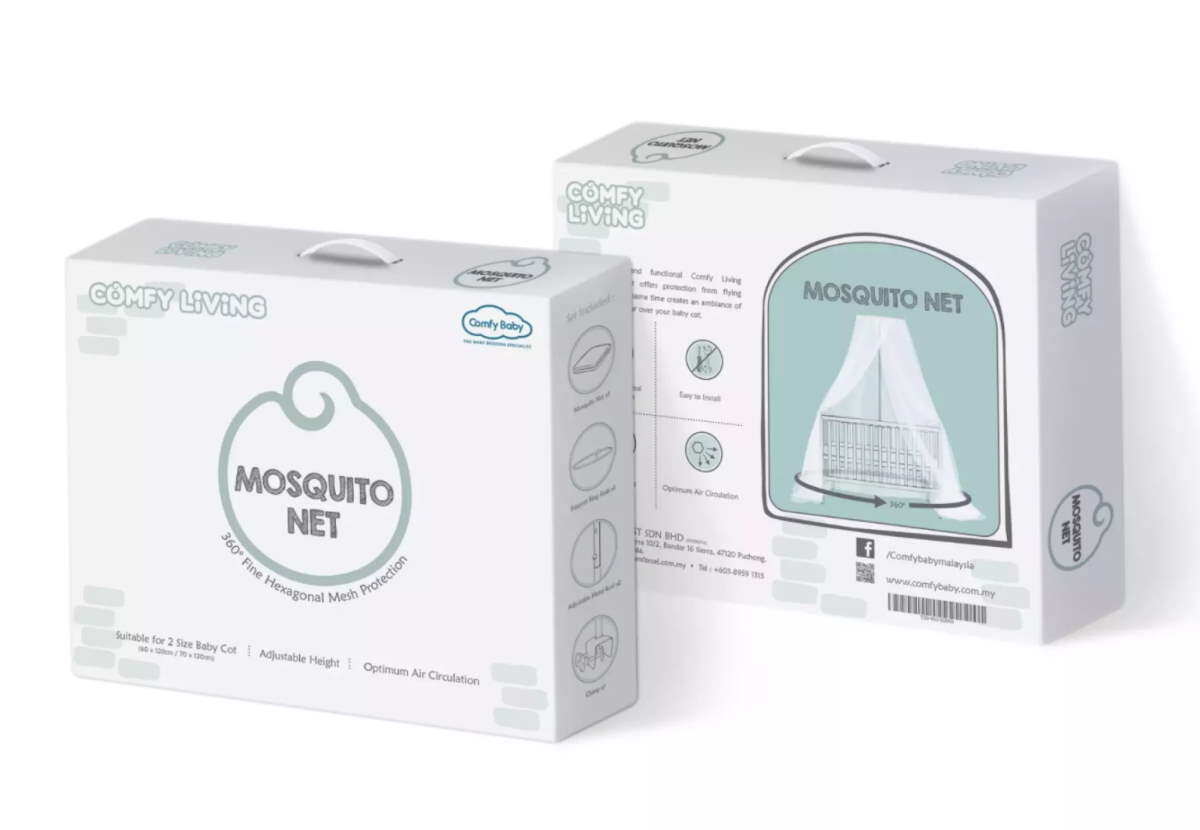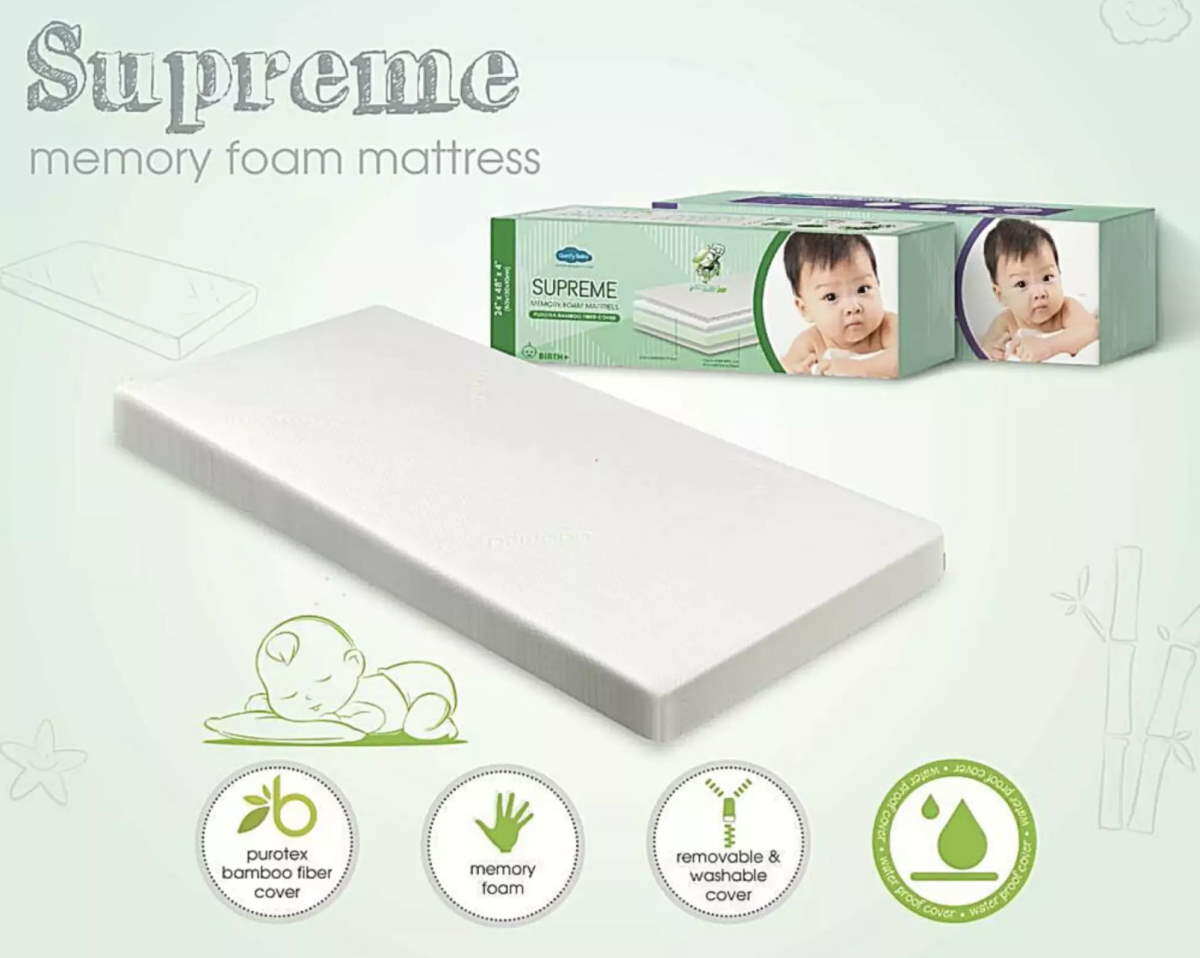 1/8
Comfy Baby: 5-in-1 Luca Baby Cot Bundle Set
RM

1,450.00
RM 2,099.00
31%
Product Information
Comfy Baby Luca Baby Cot Bundle Set - Convertible Baby Cot
This Bundle set includes:-
1 x Comfy Baby Luca 5-in-1 Baby Cot @ RM1,399.00
1 xComfy Baby Purotex Supreme Mattress (70 x 130cm) @RM329.00
1 xComfy Living Mosquito [email protected]
Comfy Baby Luca 5-in-1 Baby Cot
Arauacaria Solid Wood

SGS & GreenGuard Certified Paint

Maximum support up to 60kg

3 Base Height Level

Modern Design suitable for all design of the room

Single hand drop side

SGS certified paint - safe &odorless
This baby cot can be in the following conversion:-
1. Baby Cot - Top Level - Newborn to approx.5 months
2. Baby Cot - middle level - 6 - 8 months
3. Base Level - Playtime - 9 months to 2 years
4. Toddler Bed - 2 years and above
5. Sofa Bed
Note: Baby Cot Bed Guard is not included. Sold separatelyat RM99.00.
Comfy Baby Purotex Supreme Mattress (70 x 130cm)
Comfy Baby memory foam mattress provides anatomical support in combination with the unique pressure relieving properties that mold to your shape, provide unrivaled comfort and support. The pressure relieving material of Comfy Baby provides maximum comfort to the neck area, allowing proper support to the vertebrae of the neck.
Memory Foam

Removable and washable cover

Superior Pressure Relieving

Hypo-allergenic

Waterproof Bamboo Cover

Natural Bamboo Fiber Cover
Environmental Friendly The Bamboo fiber goes through a complete process from the Bamboo itself to be the Bamboo yarn which adopt green process which passes the international standard of ISO 9001 and ISO 14000
Natural Anti Bacteria Bamboo processes a special property which resists the infestation by fungi and harmful bacteria
Feeling Cool The cross section of Bamboo fibers is filled with micro gaps and micro holes which allow it to absorb and evaporate human sweat. Therefore, ensuring the Bamboo fabric always feel cool and fresh.
COMFY BABY product bearing the OEKO-TEX label are free of concentrations of harmful substances that could pose a threat to health. After all, we spend about a third of our lives in bed. It's a time that should naturally be as revitalizing and healthy as possible.
We are in close contact with textiles throughout our lives - day and night. We wear them next to our skin, sleep in textile products, dry ourselves with them, use them to decorate our homes and for much more. Isn't it good to know that textiles - whether they're made of natural or synthetic material - are free of substances that could harm our health? When you're out shopping, look for the sign of safety and transparency, the label that says "Confidence in Textiles - tested for harmful substances according to OEKO-TEXStandard 100.
Packing: 1 unit / box
Warranty: 3 Years (For Mattress Recovery)
Comfy Living Mosquito Net
Highlight
360 degree Fine Hexagonal Mesh Protection

Adjustable Height

Optimum Air Ventilation

Easy Assembly
Decorative and functional Comfy Living Mosquito Net offers protection from flying insects, at the same time creates an ambiance of sheer splendorover your baby cot.
Size : suitable for 2 sizes cot (60 x 120cm & 70 x 130cm)
Color : White
Features : 360 degree Fine Hexagonal Mesh Protection, Adjustable Height, Optimum Air Ventilation, Easy Assembly
Shipping Information
| Zone | Order Total (RM) | Delivery Fee (RM) |
| --- | --- | --- |
| West Malaysia | Flat Rate | FREE Shipping |
| Zone | Weight | Delivery Fee (RM) |
| --- | --- | --- |
| East Malaysia | First 1.00 kg | 20.00 |
| | Extra 1.00 kg | 15.00 |