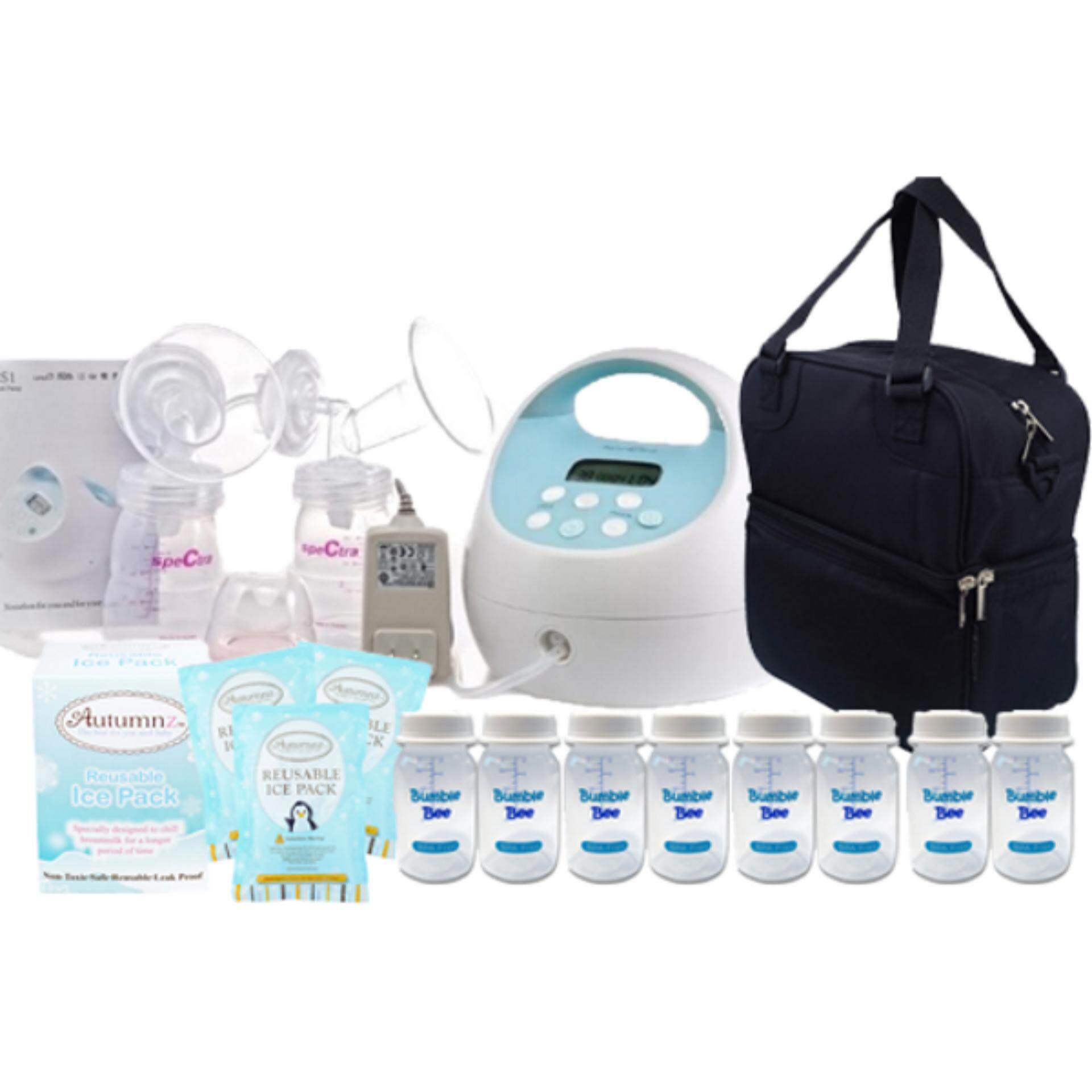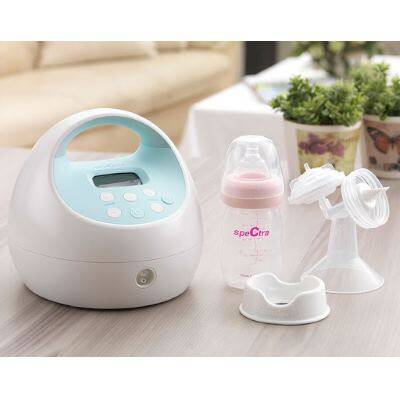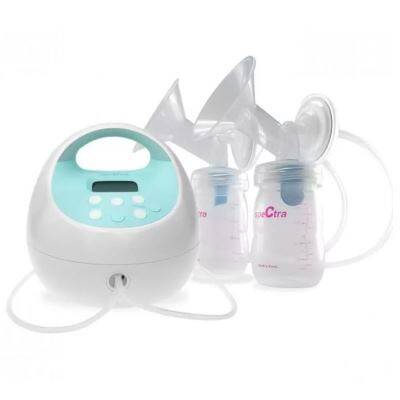 1/4
Spectra S1 Electric Double Breastpump PACKAGE
Product Information
Spectra: Spectra S1 Electric Breastpump + Premium Breast Shield Set + Spectra Wide Neck Storage Bottle - 1pc + Autumnz Posh Cooler Bag + Autumnz Reusable Ice Pack - 3pcs + Bumble Bee 8pcs Breastmilk Storage Bottles PACKAGE
This package includes the following :-
1 unit Spectra S1 Electric Breast pump

1 set Spectra Premium Breast Shield Set ( Extra for double pumping )

1 unit Spectra Wide Neck Bottle

1 unit Autumnz Posh Cooler Bag ( Cannot fit Spectra S1, solely for storage use only )

3pcsAUTUMNZReusable Ice Pack

8pcs Bumble Bee Breastmilk Storage Bottles (BPA Free)
1) Spectra S1 Electric Breastpump
Finally the Spectra S1 Hospital Grade Double Electric Breastpump with inbuilt rechargeable battery is available. Providing all the features of the S2, with the addition of an inbuilt rechargeable battery. This means that you are now able to benefit from the efficiency, power & performance of a hospital grade breastpump, without compromising on portability.
Super quiet

Closed system - hygienic for you & baby

Night light - 2 Level

Timer - 30 Minutes

Timer Display

Everything you need for double pumping (additional breast shield purchase separately)

Powerful, adjustable suction

Massage mode & fully adjustable program to best suit your body

Inbuilt rechargeable battery

12 Suction Levels

5 Cycle Levels

Back-flow protection

Vacuum Range : 0 ~ 300mmHg

Cycle Length : 38 - 54 RPM

Vacuum range 0 ~ 300 mmHg

Cycle length 38-54 RPM

Weight : 2kgs

Battery Information : 3 LED Bar Battery Indicator on Display - Approx 3 hours expression, 1 LED Bar Battery Indicator on Display - Approx 1 hour expression
Warranty: 1 Year Limited Warranty
2) Spectra Premium Breast Shield Set
Improve efficiency when expressing by pumping from each side, or just have an extra breast shield spare. This BPA free breast shield set includes:
Flange

Tubing

Valve

Backflow protector
3) Autumnz Posh Cooler Bag
Thisspace savercooler bagisthoughtfully designed to be flexible enough for both work and outing purposes.With the aim of all-in-one (store bottles/storage bags and breastpumps in one single cooler bag), this bag suits the needs of breastfeeding mothers who are after a compact yet sleek combo.
Carry your breastmilk in style by using the 2-way carryingmethod that his bag allows -hand carry,shoulder sling
A well-structured bag that is truly functional. Definitelya great companionas you embark on yourbreastfeeding journey. A small investment that goes a long way.
Features:
Holds up to8 standard neck bottles measuring 5 oz

Holdsup to8 bags of filled AutumnzDouble Ziplock Breastmilk Storage Bags (7oz each)

2 separate compartments -bottom compartment to store your breastmilk, ice gel and the top compartment to store your breastpump*

Spacious room to fitAutumnz MARVEL,MedelaSwing,Medela Harmony,Medela Mini Electric,Medela Manual,Avent Isis Manual,Avent Isis Uno

Wide opening when unzipped giving easy and spacious access to the interior

Fully insulated inner (with padding) to keep breastmilk cooler for a longer time

High quality waterproof and dirt-resistant outer layer making it durable and easily maintained (wipe with a damp cloth)

Durable zippers withstylish bucklesthat givea touch of sophistication

Comes with a sturdy hand carry handle- for hand carry

Comes witha detachable and adjustable shoulder sling strap - or adjust to the smallest setting for hand sling

Comes with a handy and spacious zippered back pocket for storing your bits and bobs securely

Size -24cm (W) x 27cm (H) x13cm (D)

Tested to keep breastmilkchilled for up to 14 hours (under normal room temperature)with 3 pcs of Autumnz ReusableIce Pack
* Advised to keep electric breastpumps separate from milk, i.e. in the 2 separate compartments available to avoid unnecessary contact with liquid.
4) Autumnz Reusable Ice Pack ( 3pk )
Autumnz Reusable Ice Pack is specially designed to chill breastmilk for a longer period of time - a great solution for breastmilk storage when you are out and about
Features:
Safe, non-toxic, reusable, leak proof, durable

Tested tostore breastmilk up to14 hourswhen used with Autumnz Cooler Bag/AutumnzCooler Tote

Generously sizedat 310g per piece (i.e. much bigger than most standard ice pack inthe marketandcompactly packedwithgenerous amount of gel content) to enable longer preservation of cool temperature to keep breastmilk fresh

Great to be used with cooler bags, cooler box
BUYING TIPS:Tohelp you get the right ice pack that will preserve cool temperature for a long period of time, consider the following:
Weight ofgel content per ice pack
-The heavier, the better. For warm tropical climate, it is recommended to pick one with more than 300g of gel in each pack
-For the same total volume of gel, better to have them packed in bigger sized packs rather than smaller sized packs. E.g.for a total of900g of gel, consider the following:

3packs of 300g each-MORE Effective

5 packs of 180g each - LESS Effective
Directions:
Place ice pack flat in freezer for 8 hours prior to each use

When used in acooler bagor cooler box, place the ice pack on top or side of items to be cooled

Foroptimum results, place 2 to 3 pcs of ice pack to keep breastmilk chilled at ideal temperature for a longer period.
Recommended Use:
To chill breastmilk

To chill food and drink (e.g. picnics at the park; long road trips)

To reduce injury swelling

Temporary relief of headache or fever
Warnings:
This item is for cool use only. Do not place in microwave oven or other heating elements

When used on children, adult supervision is required at all times

Keep away from children when not in use

Discontinue use and discard pack when punctured
5) Bumble Bee 8pcs Breastmilk Storage Bottles
Features
Safe & Non toxic (BPA freeand Phthalates Free)

US FDA approved material for safe storage

Made of 100% food grade polypropylene (PP) for safe & longer storage

Compatible with most standard breastpumps (Medela, Spectra, Ameda, etc)? can pump directly into the bottle

Embossed ounce/ml markings for durability
Set includes:
8 x 5oz PP Breastmilk Storage Bottles
Shipping Information
| Zone | Order Total (RM) | Delivery Fee (RM) |
| --- | --- | --- |
| West Malaysia | Flat Rate | FREE Shipping |
| Zone | Weight | Delivery Fee (RM) |
| --- | --- | --- |
| East Malaysia | First 1.00 kg | 20.00 |
| | Extra 1.00 kg | 15.00 |