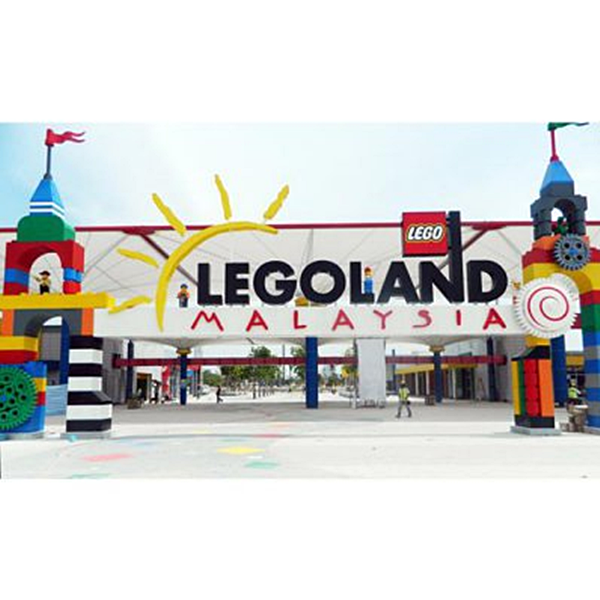 Validity Period
01/Jan/2018 - 31/Mar/2018
Terms and Conditions
- Please present the redemption voucher at LEGOLAND MALAYSIA ticket Counter in exchange for your admission ticket.
- Purchase's e-Voucher & Code are not considering CONFIRMATION.
- All bookings are strictly non-transferable / non-refundable / non-changeable.
- Lead travelling party holding the confirmation voucher must present a valid photo ID/Passport for this exchange.
- There will be no refund for unused admission ticket, Bus transfer or any other added benefits either in part or full.
- All printed tickets are non-transferable
- Loss of ticket will be solely under the full responsibility of the passenger.
- It is passenger's responsibility to check carefully for any errors made in the booking details, flight itineraries and travel vouchers immediately upon getting them.
- Prices are subject to surcharges during Peak season and Holiday season.
- iCosmos Enterprise staff provides advisory information but do not undertake any responsibility whatsoever for any changes of information.
- Prices and ticketing conditions are subject to change without prior notice before issuance of travel voucher.
- iCosmos Enterprise reserves the right to cancel any bookings
- Any amendment after travel vouchers have been issued will be considered as a cancellation of the existing booking. Cancellation charges will be applied accordingly.
- As a customer, you agree to accept email as a means of communication and delivery of Travel vouchers and confirmation of your booking. In doing so, you agree not to hold iCosmos Enterprise liable for any non-receipt of travel voucher or email confirmation.
- Tickets are not to be used for touting purpose.
- This Voucher is valid on the date of visit as stated
- Child: 3-11 years old, Adult:12-59 years old, Senior Citizen: above 60 years.
Redemption Instructions
VERY IMPORTANT (MUST READ):
Redemption of E-Voucher must be made with iCosmos Enterprise by email at-least 2 working days prior to your travelling date.

STEP 1:
- SMS/WhatsApp iCosmos Enterprise at +6012-3243498 to confirm ticket availability for your travelling date before purchase.

STEP 2:
- Make purchase at Youbeli.com .
- You will then receive Verification Codes and Order No through email.

STEP 3:
- Email the following details to icosmosenterprise@gmail.com to receive your official Legoland Theme Park E-voucher:

* Full Name as in IC/Passport (***Only Lead Traveller)
* Gender
* NRIC / Passport No.
* Nationality
* Contact No.
* Email
* Travelling Date to Legoland Theme Park
* No. of Adults
* No. of Children
* All Children's Age
* Order Number
* All Verification Codes

Step 4:
- iCosmos Enterprise Team will verify the info provided on Step 3 and process the E-Voucher within 2 working days (normally within 12 hours) and EMAIL the E-Voucher to the lead traveler.
- Lead Traveler to PRINT OUT the E-Voucher (PDF File)

STEP 5:
- Lead traveler redeems the admission tickets at the Legoland Theme Park ticketing counter by using the printed E-Voucher.
- Enjoy and have fun!

Note:
*** Lead Traveller is the person (representative) that will redeem the ticket(s) using the e-voucher at the Legoland counter. Only need Lead Traveller's info. Do not need all travellers's info.
*** Order Number is located at Order Details
*** You will receive different separate emails with different verification codes based on the number of pax. Example: 5 tickets will have 5 separate emails with 5 different verification codes. Kindly provide all codes to us.
*** You will receive confirmation email with your E-voucher (PDF file) within 2 working days (normally within 12 hours) once the above information in Step 3 is sent to our email
*** Printed iCosmos Enterprise e-Voucher is to be presented for verification purposes to claim your Admission Ticket at Legoland Theme Park counter.
Outlet Locations
iCosmos Enterprise
5-5, Jalan 22/44,
Sect 22, Taman Aman,
Petaling Jaya, Selangor, Malaysia.

Office Working Hour: 9am to 9pm Daily.

+6012-3243498 (Call/SMS/WhatsApp)
icosmosenterprise@gmail.com
http://icosmosenterprise.com/product/legolandmalaysiaticket/
GST Applicable
Exempted Rate

----------------------------------------------------------------------------------------------------------------------------------------
Hooray! Finally Holiday Promotion 2016 is here!
Now you can grab your Legoland Theme Park Admission Ticket with great discount!
This is the best reason to celebrate your holiday with joy with family and friends!
LEGOLAND® Malaysia Theme Park Admission Ticket (JHB) (One-day pass)
* This is not inclusive of Water Theme Park.
* This is not inclusive of meal voucher.
* Free admission for 3 years old and below.
* VERY Important: Please only purchase the voucher and provide the necessary info at least 2 days before your travelling dates. Do SMS/WhatsApp 012-3243498 to check for tickets availability of your travelling dates before purchase. Refer "Redemption Instruction" for more information. Failure to do so will result in no e-voucher redemption.
*** E-Vouchers can be purchased by Malaysian and non-Malaysian. Same rate applies.
*** E-Vouchers can be used for Saturday, Sunday, Public Holiday and School Holiday.
*** Lead traveler's name and date of travel will be printed on the E-Voucher. Once E-Voucher is issued by iCosmos Enterprise, no amendment is allowed.
*** After received your Verification Codes and Order No. in your email after purchase, kindly email those info along with your personal details ASAP to icosmosenterprise@gmail.com in order to redeem your E-Voucher from iCosmos Enterprise. Refer Redemption Instruction Step 3 for more details . This info must be sent AT LEAST 2 working days prior to your travelling date . E.g. If you are travelling on 5th Jan 2018, it must be sent latest by 3rd Jan 2016.
*** Exact 1 date of travel need to be chosen. This date will be printed on the E-Voucher. This is not an open date E-Voucher. Only can choose one date of travel between 1st Jan 2018 to 31st Mar 2018.
*** Only E-Voucher issued by iCosmos Enterprise is accepted by Legoland for admission. DO NOT USE the 11street Verification Codes or Order No. to gain access to Legoland - no admission is allowed.
*** Lead Traveller to bring your Identification Card (IC) or Passport and the printed E-Voucher by iCosmos Enterprise for verification purposes during admission ticket redemption at the Legoland ticketing counter.
EXPERIENCE THE FUN, ACTION & ADVENTURE!
Welcome to a wonderful world where the fun is build! For kids and families, LEGOLAND® Malaysia is the most joyful place on earth. The 6th LEGOLAND® Park to be built in the world and the very first in Asia, it's the ultimate place to push the boundaries of your imagination. Enjoy the thrills and spills of LEGO® experiences in a magical, fantastical park where everyone in the family become a hero!
Featuring 7 themed areas with more than 40 interactive rides, shows and attractions, you can drive, fly, build and climb your way through 76 acres of adventure! It's non-stop fun with heart pumping acting to live stunts and huge LEGO® Models Spectacular!
LEGO® NINJAGO & THE REALM OF SHADOWS *** NEW *** COMING IN NOV 2016
Enter the world of Ninjago and join the courageous Ninjas – Kai, Nya and friends– on a mission to protect Bandit, a YinYang Dragon who will one day fully grow into a powerful Light Dragon. The evil Clouse and his Shadow Minions want to steal it and plunge Ninjago into the Realm of Shadows. Will they succeed? Be one of the first in the world to find out at the fully air-
conditioned LEGO City Stage!
The centrepiece is
MINILAND
, where Asian landmarks have been recreated using more than 30 million LEGO bricks. It's an interactive world on a scale of 1:20,
where people, trains and aeroplanes come to life at the touch of a button.
Everyday is a family fun day out with awesome adventures aplenty starting from The Beginning to the most amazing journey through LEGO
®
Technic, LEGO Kingdoms, Imagination, Land of Adventure, LEGO City and MINILAND. Heroes face brick-tastic challenges, rides, games and activities to emerge victorious at the end of each day.
Operation Hours:
LEGOLAND® Malaysia Resort is open everyday in 2016 from 10 am until 6 pm. Longer opening hours apply on weekends*, during school and public holidays.
- Free admission for child 3 years old and below. Proof of below 3 years old will be asked to verify child's age.
Wait no more! With so many goodies in store for you, book your ticket today and enjoy unforgettable moment with your friends and family!
Transform your dreams into reality!
For any other details, kindly do not hesitate to contact iCosmos Enterprise at
+6012-3243498 (Call/SMS/WhatsApp)
icosmosenterprise@gmail.com
http://icosmosenterprise.com/product/legolandmalaysiaticket/
~~~ Your Travelling Needs Is Our Top Priority ~~~
| Zone | Order Total (RM) | Delivery Fee (RM) |
| --- | --- | --- |
| MY | Flat Rate | FREE |