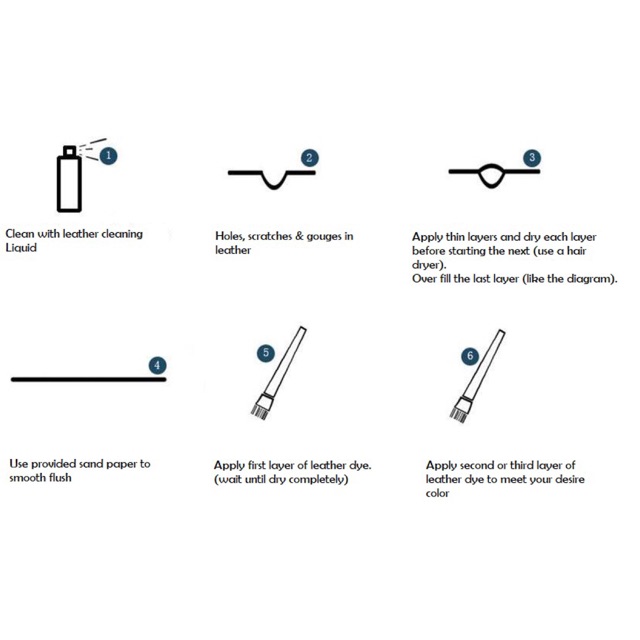 Size (length*width*height): 10cm x 10cm x 10cm
Leather repairment paste
This paste can be used to repair or hides (scars, bites, tears etc). Comes in 10ml and Complete with applicator.
Applied correctly it becomes a part of the leather, and creases and stretches in exactly the same way. A very fine paste making it easier to use and get a perfect result.
After using apply one of our leather dye and topcoat to seal, colour and protect the repair.
Langkah 1: Sediakan apa yang anda perlukan
1. Pewarna kulit
2. Kulit
3. Sesuatu untuk menyapu pewarna (sekeping baju t-shirt yang bersih, q-tip, bola bulu (wool ball), span)
4. Topcoat kulit / sealant
5. Kertas tuala/kitchen towel untuk pembersihan
6. Sarung tangan
Langkah 2: Bersihkan kulit dahulu
1. Keluarkan kotoran, gris dan kotoran dari liang kulit dengan menggunakan sabun dan campuran air yang sangat cair. Sekitar 1 drop sabun pinggan dengan 300 ml air. Goncang sampai rata.
2. Tuangkan campuran ke atas tuala kertas dan gosok kulit dengan lembut dan biarkan sehingga kering.
Langkah 2a: Glu kulit yang tanggal
Langkah 2b: Guna paste untuk tampal lubang. (ikut arahan dalam gambar)
Langkah 3: Sapukan pewarna kulit
1. Pastikan permukaan kulit kering.
2. Sapukan pewarna dengan span atau kain lembut.
3. Jika memerlukan tepu warna lebih tinggi, sapukan lapisan sekalai lagi selepas lapisan pertama kering. Pastikan lapisan pertama betul-betul kering sepenuhnya untuk mengelakkan warna tidak rata.
4. Ulang 3. sehingga warna yang dikehendaki dicapai (biasanya 2-4 lapisan untuk hasil yang memuaskan).
Langkah 4: Kemasan
1. Sapukan topcoat/ sealant selepas pewarna benar-benar kering.
2. Tanpa topcoat/ sealant, pengguna berisiko memindahkan pewarna ke pakaian mereka.
**Topcoat/ sealant juga digunakan untuk peningkatan warna, anti-fouling, anti-lembap, anti-pecah, dan anti-retak.
3. Dengan atau tanpa topcoat / sealant, gunakan kain bersih untuk menggosok pewarna yang berlebihan dan untuk merendahkan risiko kulit memindah warna.
4. Tunggu sekurang-kurangnya 3 hari / sehingga kulit betul-betul kering sebelum digunakan.
** Sila ambil perhatian jika anda memutuskan untuk tidak menggunakan topcoat/ sealant, ada risiko pemindahan warna.
** Masa untuk kulit betul-betul kering tidak sama sebab faktor-faktor seperti cuaca, kelembapan tempat kerja dan keluasan permukaan kulit.
** Produk yang dijual kami bersifat DIY, jadi maafkan kami sekiranya kualiti produk terakhir tidak mencapai kepuaasan anda.
| Zone | Weight | Delivery Fee (RM) |
| --- | --- | --- |
| West Malaysia | First 1.00 kg | 6.00 |
| | Extra 1.00 kg | 1.00 |
| East Malaysia | First 1.00 kg | 9.00 |
| | Extra 1.00 kg | 1.00 |