ISBN: 9789670745879
Book Title: Kokko & May Comics Collection 12
Series: Ge Mei Lia-Kokko & May Comics Collection
Author: Eddie See
Binding Type: Soft Cover, Coloured Printed, 160 pages


Synopsis:
Kokko & May Comics Collection
Kokko & May is a delightful comic series which is specially designed for young children as well as adults. Each comics collection consists of 9 stories about two main characters, Kokko and his younger sister, May. This collection makes you laugh and it promotes positive thinking among the readers.
Kokko and May Comics Collection 12 includes these stories:
1. Pround of You
2. Develop Your Potential
3. Good Morning, Students!
4. Rag Doll
5. Indecisiveness
6. Mother's Day Gift
7. Fire
8. Chinese New Year Part 1
9. Chinese New Year Part ​2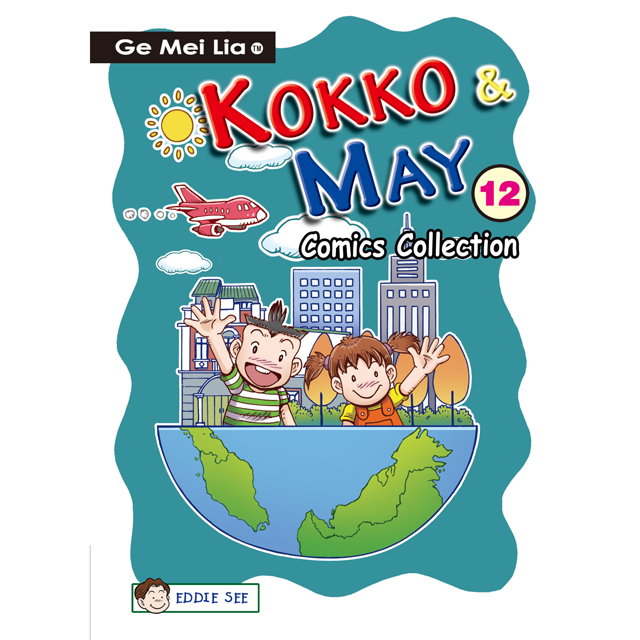 | Zone | Weight | Delivery Fee (RM) |
| --- | --- | --- |
| West Malaysia | First 1.00 kg | 4.80 |
| | Extra 1.00 kg | 2.00 |
| East Malaysia | First 0.50 kg | 14.30 |
| | Extra 0.50 kg | 5.10 |
| Australia, New Zealand | First 1.00 kg | 159.77 |
| | Extra 0.50 kg | 52.65 |
| Austria, Denmark, Finland, Ireland, Switzerland, Russia | First 1.00 kg | 157.78 |
| | Extra 0.50 kg | 34.31 |
| Brunei, Cambodia, Laos, Mongolia | First 1.00 kg | 175.10 |
| | Extra 0.50 kg | 87.14 |
| Belgium,France, Germany, Netherlands, Spain, U.K | First 1.00 kg | 150.94 |
| | Extra 0.50 kg | 30.46 |
| China | First 1.00 kg | 96.44 |
| | Extra 0.50 kg | 25.35 |
| Bangladesh, Brazil, Iraq, Pakistan, Qatar, S.Arabia, UAE, Sri Lanka | First 1.00 kg | 118.52 |
| | Extra 0.50 kg | 24.96 |
| South Africa | First 1.00 kg | 118.52 |
| | Extra 0.50 kg | 24.96 |
| Philippines | First 1.00 kg | 91.42 |
| | Extra 0.50 kg | 15.29 |
| Canada, United States, Mexico | First 0.50 kg | 52.55 |
| | Extra 0.50 kg | 35.90 |
| Hong Kong | First 1.00 kg | 80.63 |
| | Extra 0.50 kg | 29.06 |
| India | First 1.00 kg | 113.30 |
| | Extra 0.50 kg | 22.28 |
| Indonesia | First 1.00 kg | 107.35 |
| | Extra 0.50 kg | 24.87 |
| Japan | First 1.00 kg | 112.97 |
| | Extra 0.50 kg | 35.03 |
| Macau | First 1.00 kg | 92.93 |
| | Extra 0.50 kg | 13.82 |
| Singapore | First 1.00 kg | 74.75 |
| | Extra 0.50 kg | 21.49 |
| Taiwan | First 1.00 kg | 94.42 |
| | Extra 0.50 kg | 34.76 |
| Thailand | First 1.00 kg | 94.10 |
| | Extra 0.50 kg | 28.25 |
| Vietnam | First 1.00 kg | 98.94 |
| | Extra 0.50 kg | 14.34 |