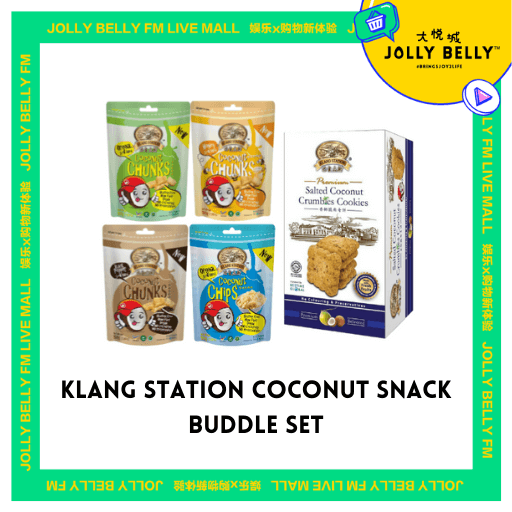 Klang Station Coconut Snack Bundle Set

Package include:
Coconut Chunks Original x1

Coconut Chunks Honey x1

Coconut Chunks Black Pepper x1

Coconut Chips Original x1

Salted Coconut Crumbles Cookies x1


Hygiene and HACCP control facility
Slow baked

Low temperature

No added addictive

No added coloring

No MSG

No artificial flavouring

Klang Station™ Coconut Chunks are made from stringent quality selection of fresh and mature coconuts. The flesh (or kernel/meat) is cut into pieces and go through a slow bake low temperature process.

Klang Station™ Coconut Chips is coconut slices and it is good in natural coconut aroma, texture, crispy and crunchy characteristic, ready to eat as snacks or mixed with cereals, granola, nuts and fruits for a healthy diet. It is very yummy as topping for ice-cream.

Do enjoy our KLANG STATION Salted Coconut Crumble Cookies at home or on the move, be it leisure time, breakfast or tea time.
It is made from fresh coconut kernel/meat and the coconut crumbles is mixed into the cookies to bring out the goodness of cookies and coconut.
The product comes in -
individual aluminum foil pack

each box consist 15 packs

paper box with enforced and double wall design for better cookies protection

Coconut flesh is known for their high fiber content. Among some of the coconut benefits are improving good cholesterol level (HDL), improve digestion and absorption of nutrients, vitamins and minerals. It is also a source of quick energy and enhances physical and athletic performance, and many many more… enjoy your day with Klang Station™ healthy and delicious coconut snack. It is also gluten free and nut free.

It can be used as ingredient in the institutional (horeca), bakery and confectionery industries, etc. The coconut chunks come in many flavour such as original, honey, black pepper and many more.

No more waiting, grab yours and enjoy!
| Zone | Weight | Delivery Fee (RM) |
| --- | --- | --- |
| West Malaysia | First 1.00 kg | 4.80 |
| | Extra 1.00 kg | 2.00 |
| East Malaysia | First 0.50 kg | 14.30 |
| | Extra 0.50 kg | 5.10 |
| Australia, New Zealand | First 1.00 kg | 142.27 |
| | Extra 0.50 kg | 45.38 |
| Austria, Denmark, Finland, Ireland, Switzerland, Russia | First 1.00 kg | 145.44 |
| | Extra 0.50 kg | 19.75 |
| Brunei, Cambodia, Laos, Mongolia | First 1.00 kg | 162.64 |
| | Extra 0.50 kg | 80.93 |
| Belgium,France, Germany, Netherlands, Spain, U.K | First 0.50 kg | 56.79 |
| | Extra 0.50 kg | 22.41 |
| China | First 1.00 kg | 89.58 |
| | Extra 0.50 kg | 23.55 |
| Bangladesh, Brazil, Iraq, Pakistan, Qatar, S.Arabia, UAE, Sri Lanka | First 1.00 kg | 108.97 |
| | Extra 0.50 kg | 15.79 |
| South Africa | First 1.00 kg | 108.97 |
| | Extra 0.50 kg | 15.79 |
| Philippines | First 1.00 kg | 84.92 |
| | Extra 0.50 kg | 14.20 |
| Canada, United States, Mexico | First 0.50 kg | 52.55 |
| | Extra 0.50 kg | 33.34 |
| Hong Kong | First 1.00 kg | 74.90 |
| | Extra 0.50 kg | 26.99 |
| India | First 1.00 kg | 105.24 |
| | Extra 0.50 kg | 17.68 |
| Indonesia | First 1.00 kg | 99.71 |
| | Extra 0.50 kg | 23.10 |
| Japan | First 1.00 kg | 104.93 |
| | Extra 0.50 kg | 32.54 |
| Macau | First 1.00 kg | 86.32 |
| | Extra 0.50 kg | 12.83 |
| Singapore | First 1.00 kg | 69.43 |
| | Extra 0.50 kg | 19.96 |
| Taiwan | First 1.00 kg | 87.71 |
| | Extra 0.50 kg | 32.29 |
| Thailand | First 1.00 kg | 87.41 |
| | Extra 0.50 kg | 26.24 |
| Vietnam | First 1.00 kg | 91.90 |
| | Extra 0.50 kg | 2.59 |