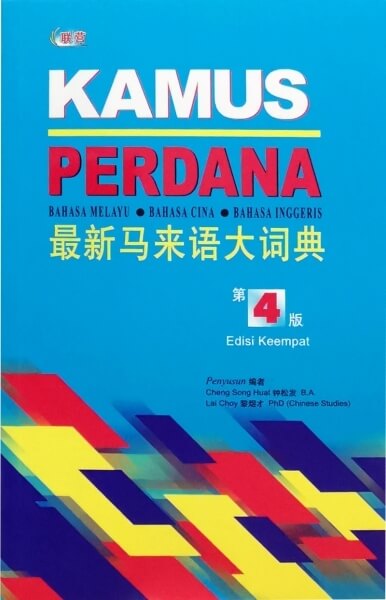 ISBN: 9789830111926(平装版)
ISBN: 9789830111919(精装版)
书名:Kamus Perdana 最新马来语大词典 (Edisi Keempat 第4版)
系列:联营词典系列
编者:钟松发、黎煜才
装订:平装/精装,双色 (蓝黑),2008页

编者简介:
钟松发
马来研究学系毕业,从事新闻事业30年,其中任马来报副总编辑及华文报总编辑与总经理多年,为我国著名报人。
60年代开始活跃于马来文坛,以 Kelana C.M. 及 M.Taufik 等笔名从事书评及小说创作或翻译,并撰写时事、政治论文,作品刊于各马来报章杂志。也在华文报章以柯娜等笔名发表专栏文字。
已出版各类书籍数十种,包括《普及词典》(Kamus Am)及多本学生字典。
积极推动国际华文书法交流与发展,并于1987年促成中国第一个杂技团来我国公开演出,为四慈善机构筹获义款一百二十万令吉。
曾在第三电视台服务,并为国家资讯政策的成员。

黎煜才
1941年出生于吉隆坡,吉隆坡日间师训学院毕业,在中小学任华文、马来文等导师36年 (并任副校长),获服务优越奖。1979年获理科大学学士学位,2011年获马来亚大学中文系硕士学位,2017年获拉曼大学中文系博士学位。1996年自学校退休后,出任出版社总编辑达20年。
课余以碧澄等笔名撰写电台广播剧、教育电台话稿,进行文艺创作与翻译,编写中小学作业簿、参考书、工具书和课本。为各报写专栏文章。已出版文艺书籍80余种,课本有小学道德教育、地方研究、中学华文等。也以马来文写作,其马来文短篇小说集《南渡》已于1997年由国家语文出版局出版。已将马来古典作品《文西阿都拉吉兰丹游记》等译为中文,又将冰心的《繁星》、鲁迅的《祝福》、《中国四大发明》等译为马来文。曾获颁多项文学奖,包括第15届马华文学奖。
所编双语或三语词典约40种,除Kamus Perdana 外,Kamus Kembangan、Kamus Idaman Poket 和Kamus Titian Bahasa 等都广受社会欢迎。

特点简介 Features:
- 收录36 200余个字头、23 000余个派生词和25 100余个合成词
- 新增共2460个新词
- 涵盖各学科与领域的最新实用词汇
- 字词根据其词性排列,检查便利
- 字词的马来文释义以其同义词为主,并在括弧内列出其反义词
- 附适当例句
- 印度尼西亚字词有特别注明
- 所有字词都以马、华、英三语释义

- Terkandung sekitar 36200 entri kosa kata, 23000 kata berimbuhan, dan 25100 kata majmuk.
- Entri kosa kata meliputi istilan-istilah terbaharu dalam pelbagai subjek dan bidang.
- Kata masukan disusun mengikuti golongan kata seperti kata nama, kata kerja, kata adjektif, dan sebagainya yang mudah untuk disemak.
- Takrif kata entri kosa kata dan kata berimbuhan dalam bahasa Melayu seboleh-bolehnya diberi dalam kata seertinya, kata lawannya juga diberikan.
- Ayat contoh yang munasabah diselitkan supaya pengguna dapat memahami erti dan cara penggunaan sesuatu kata masukan dengan lebih mendalam.
- Kata-Kata yang biasa digunakan oleh orang Indonesia ditandakan untuk mebolehkan pengguna menbezakannya.
- Segala takrif kata diberi dalam tiga bahasa iaitu bahasa Melayu, bahasa Cina, dan bahasa Inggeris yang cukup bermanfaat kepada pengguna.

- Approximately 36 200 vocabulary entries, 23 000 derivatives and 25 100 compound word.
- Vocabulary entries include latest terms in various subjects and fields.
- Entries are arranged according to parts of speech: noun, verb, adjective, etc. so that it is easy to check.
- The meanings of the vocabulary entry and the derivative in Malay are given similar meanings as far as possible, as well as their opposites.
- Model sentences that are appropriate are included which help user understand the entries in context and how to use them more accurately.
- Words that are usually used by Indonesians are marked to enable users to differentiate them from Malay words.
- The meanings are given in three languages (Malay, Chinese and English) and they are really useful to users.
| Zone | Weight | Delivery Fee (RM) |
| --- | --- | --- |
| West Malaysia | First 1.00 kg | 4.80 |
| | Extra 1.00 kg | 2.00 |
| East Malaysia | First 1.00 kg | 13.00 |
| | Extra 1.00 kg | 9.00 |
| Australia, New Zealand | First 0.50 kg | 56.56 |
| | Extra 1.00 kg | 48.10 |
| Austria, Denmark, Finland,Mexico,Ireland, Switzerland | First 0.50 kg | 58.82 |
| | Extra 1.00 kg | 40.91 |
| Brunei, Cambodia, Laos | First 0.50 kg | 51.01 |
| | Extra 1.00 kg | 51.98 |
| Belgium,France, Germany, Netherlands, Spain, U.K | First 0.50 kg | 64.19 |
| | Extra 1.00 kg | 36.71 |
| China | First 0.50 kg | 42.18 |
| | Extra 1.00 kg | 33.78 |
| Bangladesh,Brazil,Iraq, Pakistan,Qatar, Russia, S.Arabia, UAE | First 0.50 kg | 59.32 |
| | Extra 1.00 kg | 43.21 |
| Ghana, Mongolia,South Africa | First 0.50 kg | 70.68 |
| | Extra 1.00 kg | 61.37 |
| Philippines | First 0.50 kg | 44.79 |
| | Extra 1.00 kg | 33.86 |
| Canada, United States | First 0.50 kg | 52.55 |
| | Extra 1.00 kg | 43.09 |
| Hong Kong | First 0.50 kg | 31.95 |
| | Extra 1.00 kg | 28.42 |
| India | First 0.50 kg | 51.01 |
| | Extra 1.00 kg | 40.15 |
| Indonesia | First 0.50 kg | 51.38 |
| | Extra 1.00 kg | 42.37 |
| Japan | First 0.50 kg | 45.74 |
| | Extra 1.00 kg | 39.48 |
| Macau | First 0.50 kg | 55.46 |
| | Extra 1.00 kg | 38.50 |
| Singapore | First 0.50 kg | 32.83 |
| | Extra 1.00 kg | 26.99 |
| Taiwan | First 0.50 kg | 36.17 |
| | Extra 1.00 kg | 33.20 |
| Thailand | First 0.50 kg | 39.41 |
| | Extra 1.00 kg | 31.73 |
| Vietnam | First 0.50 kg | 60.55 |
| | Extra 1.00 kg | 39.82 |
Self Pickup Point
Description (RM)
Delivery Fee (RM)
Self Pickup Point
United Publishing House (M) Sdn. Bhd.
Lot 3-055, 3rd Floor, Endah Parade Shopping Mall
1, Jalan 1/149E, Taman Sri Endah,
57000 Bandar Baru Sri Petaling, Kuala Lumpur.
Monday~Friday 9am~6pm
0.00