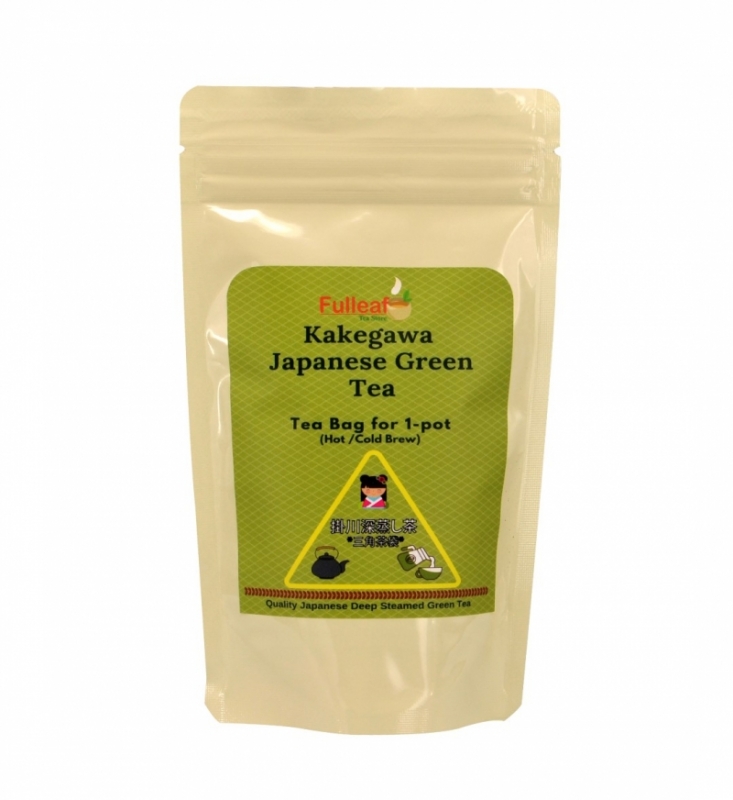 Feature:
Kakegawa is famous as the high quality best production center for green tea. Our Farmer in Kakegawa specialty in produce Deep Steamed Green Tea.
Fragrance 香 3 / 5 Astringency 涩 2 / 5 Bitterness 苦 2 / 5 Sweetness 甘 4 / 5 Greenness 青 4 / 5
Product Description:
Specialty Kakegawa Deep Steamed Tea Deep steamed tea known in Japanese as "Fukamushi-Cha" During processing cause tea leaves to lose their leaf shape. That makes this tea appear finer than others.The tea will be good for your health because of rich of Catechin and the tea easily seeps into the tea. The taste is less astringent and smooth.Catechin a kind of plant polyphenols epigallocatechin gallate and (EGCg). This is the power of the antioxidant element in our body. The benefit of the Catechin is wonderful and the health effect to our body. The keys to tea's health benefits. Some studies suggest drinking three cups each day to cut heart disease risk. Kakegawa in Japan produces much green tea in a year. Deep steamed green tea is the popular drink in Kakagewa. Japan, this tea is winning 11 years of the local prize because of the quality and reasonable price. We wish to deliver the daily health and beauty to everyone from the tea.
How to Prepare:
Tea bag for 1 -pot make you easy for tea brewing in quickly and enjoy the whole day. Great to enjoy the tea with friends and family or serving guest or person in the office.
Hot Brew -
Use 1 tea bag per 800ml water. Pour on boiling water (70C to 80C) and brew for 2-minutes
Cold Brew -
Use 1 tea bag per 1L water. Pour in room temperature water and keep to fridge for 2-3 hour. Take out and shake it ready to serve.
Products Information
Products name: Kakegawa Deep Steamed Green Tea leaves • Material: tea leaves • Packaging: Aluminum bag • Content: 15tea bag x 5g (75g) • Original Place: Kakegawa, Shizuoka Prefecture, Japan • Shelf Life: 365days • Storage: Avoid high temperature and humid place
About the Tea Plant
【Direct Production from Tea Plant】
We carefully select high-quality tea leaves from tea farmer, select a good tea factory for further processing become final packaging. We imported it from Japan and make sure all the process is complying with and until shipping to each customer.
【Safe tea because of the production area】
Our tea farmer has set up our own control standards that are strict than the standards for the use of pesticides, and comply with the entire production area.
【Fertilization considering the natural environment】
Our tea farmer uses the fertilizer with consideration of the natural environment. They are committed to agriculture that protects the nature of the area and, in turn, protects the lives of all of you.
Storage:
All tea bag storage in this package with re-sealable lock, super easy ideal for storing the tea bags. The aluminum ziplock bag imported from Japan and food safe grade material, the food safe of your tea bag in the bag and make sure zip after use.
掛川深蒸煎茶
深蒸绿茶的制作方法和煎茶相同, 只不过蒸菁的时间比煎茶较长大约60~120秒左右。 这制作方法是在昭和30年代大约西元1945年的时期开始于静岡县的日本。深蒸绿茶的制作属于比较新的制茶方式。蒸菁时间特别长, 这听起来像一个简单的程序,但实际上它需要高超的技术和知识,大多数日本的茶叶公司是无法做到这一点。 静岡县挂川的茶园处于低海拔拥有较强太阳的山区所以种出的茶叶具有较高的儿茶素同时涩味略重味,需要深蒸的过程能帮助达到控制涩味, 所以深蒸绿茶涩味比其他的绿茶略少和爽口好喝。 制作深蒸茶时会使茶叶失去他们的"叶形", 由于蒸菁的时间交长, 茶叶的纤维遭到破坏。 所以深蒸茶比起一般的煎茶来的细且粉末,汤色会呈现深绿色。 深蒸煎茶能够抑制茶汤涩味的浓厚味道是它的特征。因为深蒸茶细且粉末能让儿茶素及维生素更容易渗透成茶和喝进肚子里。儿茶素有利于我们的健康能帮助我们的身体抗氧化。 在日本静岡县, 喝深蒸煎茶是他们的习惯了。这习惯使得他们远离疾病和癌症,身体得到保健的效果长寿的秘诀。静岡县挂川的茶农每年会盛产的茶会制作成深蒸绿茶茶袋便装 。 从新芽到秋天的茶叶,他们都会用茶叶制作成深蒸煎茶。深蒸绿茶在日本静岡县属于每日饮的茶,有利健康和能代替水。 挂川在日本产生许多绿茶。深蒸绿茶在日本属流行,这茶有好的品质,合理的价格,在当地持续10年连续得到静冈县生产奖赏。我们希望为客户提供日常的健康和美丽一切从深蒸茶开始。
Specification:
| | |
| --- | --- |
| Best Before: | December 2018 |
| Content: | 15 tea bags x 5g |
| Zone | Order Total (RM) | Delivery Fee (RM) |
| --- | --- | --- |
| West Malaysia | Below 88.00 | 6.00 |
| | Above 88.00 | FREE |
| East Malaysia | Below 108.00 | 10.00 |
| | Above 108.00 | FREE |
Courier services will be arranged by store owner.
Pos Laju: www.poslaju.com.my
Pos Laju Hotline: 1-300-300-300
** Delivery is only within Malaysia.
** All Prices are quoted in Malaysia Ringgit (RM)