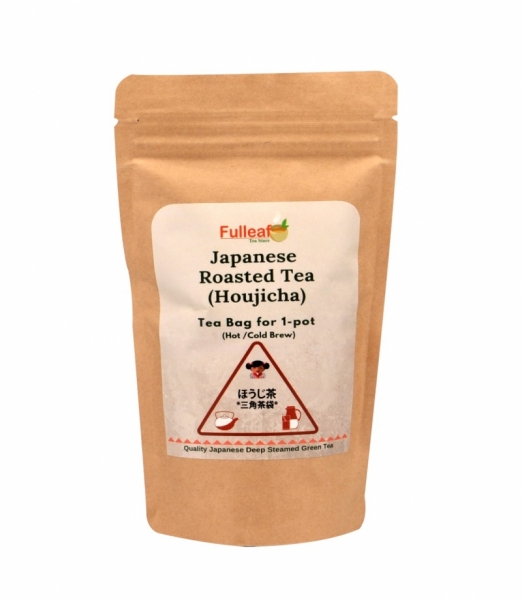 Feature:
Low Caffeine Tea, popular in Japan, strong of the roasted taste, good taste.
Fragrance 香 4 / 5
Astringency 涩 1 / 5
Bitterness 苦 1 / 5
Sweetness 甘 2 / 5
Greenness 青 0 / 5
Product Description:
Roasted tea is a Japanese Tea that uses tea stem send to roasting process to ensure the tea being roasting and come out the brown color. Use the authentic tea process in Kakegawa and this city every year produce a lot of safe tea leaf and stem use to roasting. Roasted tea low caffeine than ordinary tea, it is a body-friendly tea. Hojicha is a popular tea to serve during the evening meal or after, before going to sleep, and even preferred for children and the elderly. Please drink with hot water in a short time. In addition, it is recommended for refreshing taste even if it is extracted for several hours with cold water and you drink it.
Products Information
• Material: tea leaves • Packaging: Aluminum bag • Content: 15tea bag x 5g (75g) • Original Place: Kakegawa, Shizuoka Prefecture, Japan • Shelf Life: 365 days • Storage: Avoid high temperature and humid place
How to Prepare:
Tea bag for 1 -pot make you easy for tea brewing in quickly and enjoy the whole day. Great to enjoy the tea with friends and family or serving guest or person in the office. Hot Brew - Use 1 tea bag per 800ml water. Pour on boiling water (70C to 80C) and brew for 2-minutes Cold Brew - Use 1 tea bag per 1L water. Pour in room temperature water and keep to fridge for 2-3 hour. Take out and shake it ready to serve.
~About tea plant~
【Direct Production from Tea Plant】
We carefully select high-quality tea leaves from tea farmer, select a good tea factory for further processing become final packaging. We imported it from Japan and make sure all the process is complying with and until shipping to each customer.
【Safe tea because of the production area】
Our tea farmer has set up our own control standards that are strict than the standards for the use of pesticides, and comply with the entire production area.
【Fertilization considering the natural environment】
Our tea farmer uses the fertilizer with consideration of the natural environment. They are committed to agriculture that protects the nature of the area and, in turn, protects the lives of all of you. 焙茶即用火烘製茶叶,为製茶技术的一种。目的是进一步去除茶叶中所含水分,提高香味品质,提高保存效果等。烘焙是製作包种茶的重要步骤之一。 茶叶经过烘焙程序後,其中苦涩来源的单宁酸(儿茶素等)会受到破坏,因而有抑制苦涩味的作用,比起其他茶种口感较为清爽。咖啡因含量较少,对胃脏的负担也轻,不论是小孩、老年人、病人都可以放心饮用。
Specification:
| | |
| --- | --- |
| Best Before: | Jan 2019 |
| Content: | 15 tea bags x 5g |
| Zone | Order Total (RM) | Delivery Fee (RM) |
| --- | --- | --- |
| West Malaysia | Below 88.00 | 6.00 |
| | Above 88.00 | FREE |
| East Malaysia | Below 108.00 | 10.00 |
| | Above 108.00 | FREE |
Courier services will be arranged by store owner.
Pos Laju: www.poslaju.com.my
Pos Laju Hotline: 1-300-300-300
** Delivery is only within Malaysia.
** All Prices are quoted in Malaysia Ringgit (RM)