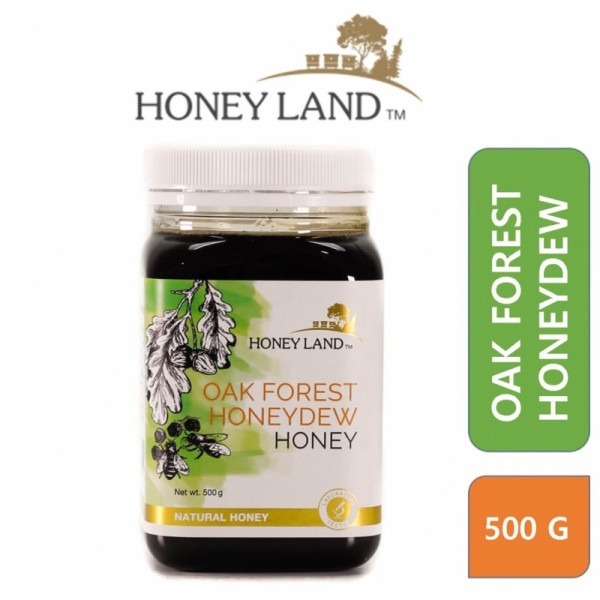 Expiry Date: More than 15 months
Honey Land™ Oak Forest Honey is 100% pure raw honey , and is not subjected to heat treatment, thus ensuring all of its properties are intact. The honey is collected in an uncontaminated zone, and our beekeepers do not use synthetic chemicals or pesticides during the management and care of the bees, resulting in safe and high quality honey.
Region : Bulgaria
Price range : Mid, mid-high, high, exclusive
Colour : Dark
Crystallization : Very slow (hard crystallization, because of its high glucose content)
Taste : Earthy (woody and warm)
Sweetness : Medium
Most suitable for: Use the same way as Manuka honey
Honeydew honey or Forest honey is a type of honey made not from blossom nectar but from honeydew excreted by plant sucking insects such as aphids. It is usually produced from trees, both conifers and deciduous, although it may also produced from grasses and plants.
While the composition of honeydew honey varies by the type of insect and plant, just as the composition of blossom honey varies by the type of blossom, there are some common differences. In general, honeydew honey is higher in minerals and amino acids as well as higher molecular weight sugars in particular, melezitose and raffinose.
Oligosaccharides are prebiotics that have a beneficial effect on bacteria in the digestive system.
Honeydew honey has very high antibacterial potency of both types: peroxide and non peroxide its antioxidant power is especially high. It has also high prebiotic activity. Honeydew honeys contain more oligosaccharides and have a stronger prebiotic activity than blossom honeys. Which contribute a lot to treating constipation.
Honeydew honey is famous for its gastroprotective activity: the explanations of all the good digestive benefits of honeydew honey are various and they all show that honey has different components that work synergistically and result in therapeutic properties
| Zone | Weight | Delivery Fee (RM) |
| --- | --- | --- |
| West Malaysia | First 1.00 kg | 4.80 |
| | Extra 1.00 kg | 2.00 |
| East Malaysia | First 1.00 kg | 13.00 |
| | Extra 1.00 kg | 9.00 |
Delivery Information:
Our standard courier / delivery duration is 3 to 5 working days.
All orders must be placed before 12.00 p.m. local time to ensure that your order is processed within the same day. Do note that certain items may not be deliverable within the specified delivery time frame due to stock unavailability.
When will my order ship?
Orders are processed and shipped 9:30 a.m.- 4 p.m. Monday through Friday. Orders placed after 12 p.m. are processed the next business day. Orders placed on Saturday and Sunday will begin processing on Monday. All standard Malaysia Public Holidays apply.
How long will it take to arrive?
When shipping by ground methods, shipping time will vary based on the "ship to" destination. We work with a secure and trusted courier service in order to ensure your order is delivered on time and in perfect condition. However, in cases of unforeseen circumstances, we will engage alternative courier services. Please allow 3-7 business days for ground shipments. To ensure there are no delivery delays please review your address and advise us immediately if you notice an error. Once a parcel has been dispatched we are unable to rectify any mistakes in the delivery address. It is Honeyland Company's policy not to replace items that are lost because an incorrect address was supplied.
How much does HoneyLand charge for shipping?
We extend our discounted carrier rates to our customers. Simply enter your shipping address and our shopping cart will automatically calculate the rate for you.
Can I ship to a P.O. Box?
We do not ship to P.O. Box.
Does HoneyLand Ship to East Malaysia?
Yes, we ship to East Malaysia. Please note: Delivery time may be longer than expected.
Do You Accept Return & Refund?
We are committed to your satisfaction and will make every effort to ship your order accurately. In the event that there is a manufacturing defect or our team had shipped an item that does not match the order, you may return unopened product for replacement within 5 days from item receipt. For these cases, we will bear the return shipping fee. Gift-with-purchase items are not eligible for return, replacement, credit or refund. All Shipping charges are not refundable.
How do I return an order?
Get in touch with our Customer Service representative via e-mail at orders@bulgarianhoney.com.my to arrange a return request to Honeyland Headquarters. Please include your order details along with photos of the products in the e-mail for the verification and quality inspection purposes.
After receiving and inspecting the condition of your returned item(s), we will process your replacement or refund request. Please allow at least 5 days from receipt of your item(s) to process your request. Refunds may take 1 to 2 billing cycles to appear on your credit card statement, depending on your credit card company. We will notify you by email when your return has been processed.
If your purchase was made at one of our retail locations, please contact our Customer Experience team by email orders@honeyland.com.my.
Purchases made from entities other than honeyland Company are not eligible for replacement, credit or refund. Please contact the retailer where the Honeyland item was purchased and inquire about their exchange or return policy.
If you have questions concerning your return, please email us at orders@bulgarianhoney.com.my