Size (length*width*height): 33cm x 16cm x 7cm
What's in the box:
1 SET OF 2 PCS X  REAR UPPER CAMBER KIT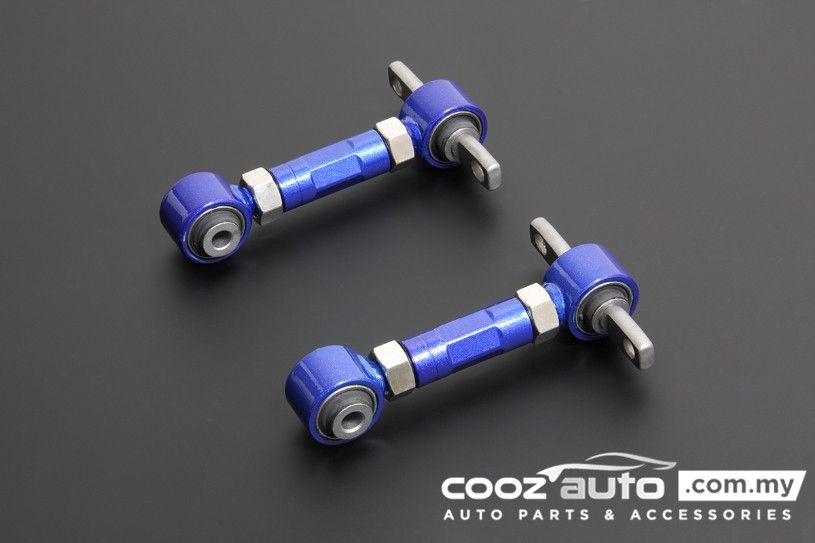 | | |
| --- | --- |
| ITEMS: |  HARDRACE REAR UPPER CAMBER KIT |
| SUITABLE FOR:  | HONDA CR-V RD1-3 1997-2001 / CRX EF6-8   |
| PRODUCT CODE: | HR7559 |
| MADE IN: | TAIWAN |
| PACKAGES:  | 2PCS/SET (HARDEN RUBBER) |
ABOUT HARDRACE :    
HARDRACE was founded in 1998, specialized in designing, manufacturing and marketing reinforced chassis parts for racing and street car. Enthusiasm of high speed and precise control lead us to the area of reinforced chassis parts. Stand on the passion of innovation and insistence of quality, HARDRACE provides the finest products to the customers by using the latest raw material and technology from harden bushings to anti-dust pillow ball suspension arms. Professional driver tests all of our new products at the track under extreme condition. 
REAR UPPER CAMBER KIT DESCRIPTION:       
HARDRACE camber kit reduces tire wear and increase tire durable. Made with superior quality bushing, provide advanced stability and accurate response steering, especially during high speed driving and cornering.
FEATURES & BENEFITS:
HellaFlush Style
One-piece design
Camber adjustment
ED process and painting for extended control arm life
​VEHICLE APPLICATIONS:
HONDA 1ST CR-V RD1-RD3 1997-2001 
HONDA CRX 2ND EF6/7/8 
HARDRACE PRODUCT DESCRIPTION:       
HARDRACE ALIGNMENT ARMS
The first benefit to fitting the Hardrace alignment arms is that they come with either an uprated bush or a rose joint. These uprated components minimise the movement in the arm in comparison to the standard items. You can improve the cars steering response and reaction to input by minimising or eliminating the play that exists in the original soft bushes.
HARDRACE CAMBER KITS
HARDRACE camber kits made chassis alignment more accurate, the arm of camber kit series include elevation angle, inclination angle and beam angle products, wtc.
reduces tire wear and increase durable.
made with harden rubber bushing
provide advanced stability 
HARDRACE REAR TOE
Hardrace adjustable rear toe arms allow you to set the rear toe as required, be it toe in to generate heat more quickly and increase turn in stability or toe out to make the car more nervous and quicker to change direction for drifting or tight circuit work. Note that adjusting camber and castor also effects toe so you need the ability to reset toe if you go for camber adjustable arms.
HARDRACE LOWER ARM
Hardrace Control Arm made with aluminium alloy and compound with pillow ball bushing. A good control arm can regulate the movement of wheels quickly each time you tuen or corner.
HARDRACE SUSPENSION MOUNT / BUSHING
Hardrace use an uprated rubber compound rather than polyurethane to minimise noise and vibration transmission.
Hardness is 150% higher than OE rubber bushings.

Solid steering response and driving suspension feel.

Resist side inclined while cornering at high speed 

Made with high strength and anti-crack rubber material.
HARDRACE ENGINE MOUNTS
The Hardrace engine and gearbox mounts are designed to reduce engine and gearbox movement to an absolute minimum whilst still isolating the cabin from excessive noise and vibration.
Hardness rubber mounts create more strength than OE rubber mounts.
Compound with high anti-vibration and durometer rubber material.
CUSTOMER ARE ADVISED TO CONTACT US FOR CHECKING STOCK AVAILABILITY 
CONTACT US FOR COMBINED SHIPPING DISCOUNT. TERMS AND CONDITION APPLIED
FOR SELF COLLECTION, SMALL AMOUNT OF DEPOSIT WILL BE REQUIRED AND WE WILL INFORM YOU THE COLLECTION DATE
| | | |
| --- | --- | --- |
| Zone | Weight | Delivery Fee (RM) |
| West Malaysia | First 1.00 kg | 9.50 |
| | Additional 0.50 kg | 3.00 |
| East Malaysia | First 1.00 kg | 15.00 |
| | Additional 0.50 kg | 6.00 |