Product details of HIMALAYA TAGARA Relaxes the mind and promotes sleep.
Himalaya Tagara 60caps (Valeriana Wallichi) Relaxes the mind and promotes sleep.100% ORIGINAL PRODUCT,TOP RATED SELLER NEW PACK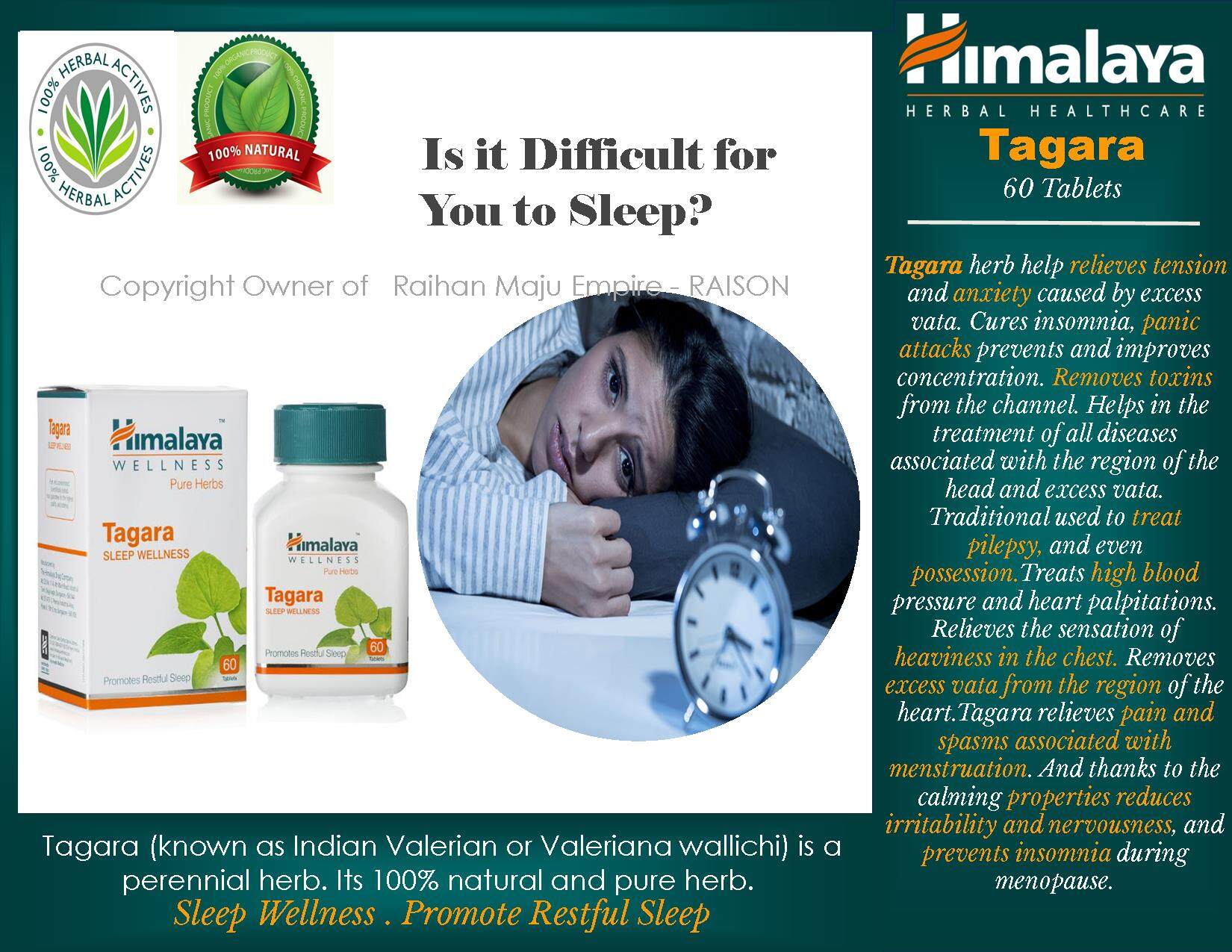 Himalaya Pure Herb Tagara : "Treat insomnia." 60 tablets Himalaya Tagara herb is bitter, sweet, pungent and astringent in taste, and alleviates the vata, pitta and kapha doshas. The herb is considered to be beneficial for eyes, central nervous system, is an anti-toxin and antiepileptic, alleviates diseases of head, and is useful in hysteria. It is an analgesic, antiepileptic, and reduces blood pressure. Tagara is a particularly useful herb for those suffering from insomnia, as it helps the patient to fall asleep quickly and allows them to wake up without feeling stupefied. The extract of the herb reduces brain and spinal cord irritability and is considered a good remedy for those suffering from restlessness, and stress-related anxiety, without impairing the ability to concentrate, providing a feeling of calmness. Tagara herb help relieves tension and anxiety caused by excess vata. Cures insomnia, panic attacks prevents and improves concentration. Removes toxins from the channel. Helps in the treatment of all diseases associated with the region of the head and excess vata. Traditional used to treat epilepsy, and even possession.Treats high blood pressure and heart palpitations. Relieves the sensation of heaviness in the chest. Removes excess vata from the region of the heart.Tagara relieves pain and spasms associated with menstruation. And thanks to the calming properties reduces irritability and nervousness, and prevents insomnia during menopause. "Himalaya Himalaya Tagara is Anti-stress herbal supplement." Benefits of Tagara : 1. Tagara is very good for relaxation. 2. Tagara is basically used for insomnia and sleep disorders. 3. Tagara helps fight the states of anxiety, fear and nervousness. 4. Tagara is good for digestive system. 5. Tagara is good for female reprodution system. Key ingredients in Tagara : Tagara (known as Indian Valerian or Valeriana wallichi) is a perennial herb. Its 100% natural and pure herb. Dosage of Tagara : 1 Tablet Twice a day Take one Tagara capsules twice a day after meals. *Since the product is in the capsule form, some children below 14 years may have difficulty to swallow, so it is recommended only at the age of 14 years and above. Side Effects of Tagara : Tagara is not known to have any side effects if taken as per the prescribed dosage. The use of natural products provides progressive but long-lasting therapeutic effect. Note: Validity is of three years from date of manufacture visible on the package.
| Zone | Weight | Delivery Fee (RM) |
| --- | --- | --- |
| West Malaysia | First 1.00 kg | 8.00 |
| East Malaysia | First 1.00 kg | 12.00 |