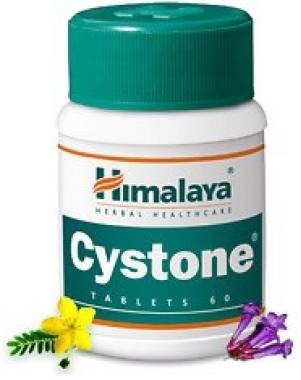 HIMALAYA CYSTONE KIDNEY STONE TREATMENT TABLET 60s | ORIGINAL Ubat Batu Karang
ORIGINAL HIMALAYA PRODUCT | PACKAGING AS IN INDIA
- Himalaya is a leading global herbal health and personal care organization with close to 500 products in over 100 countries.

~ BALANCES pH OF URINE:
It manages the production and composition of urine, thereby balancing its pH, which is often a cause for UTI's and the burning sensation while emptying your bladder.

~HELPS REDUCE STONE FORMATION:
Cystone works by managing the concentration of calcium salts in the blood, which contributes to the formation of stones, and aids in breaking them down and expelling them from the body. It does this by acting on mucin, the sticky substance which binds the particles together to form stones.

~NATURAL DIURETIC:
Cystone naturally increases the excretion of excess water from the body, thereby increasing urine production and reducing bloating. This reduces the chances of you catching repeat urinary infections.

~ALL NATURAL SUPPLEMENT:
As it is made of natural ingredients based on Ayurveda, Cystone does not exhibit any side effects as long as the recommended dose and use is not exceeded.

Himalaya Cystone Ubat Batu Karang berfungsi dengan mengurus kepekatan garam kalsium dalam darah, yang menyumbang kepada pembentukan batu, dan membantu memecahkannya dan mengeluarkannya dari badan. Ia melakukan ini dengan bertindak pada mucin, bahan melekit yang mengikat partikel untuk membentuk batu karang

Helps To Flush The Urinary Tract Safely And Gently.Maintains Normal Urine Composition. Promotes Normal Kidney Health. Promotes Normal Urinary Tract

Himalaya Cystone Tablets used for the prevention and treatment of adult and pediatric urolithiasis, including calcium oxalate stones, calcium and phosphate stones and uric acid and urate bladder stones.
| Zone | Weight | Delivery Fee (RM) |
| --- | --- | --- |
| West Malaysia | First 1.00 kg | 4.80 |
| | Extra 1.00 kg | 2.00 |
| East Malaysia | First 1.00 kg | 13.00 |
| | Extra 1.00 kg | 9.00 |