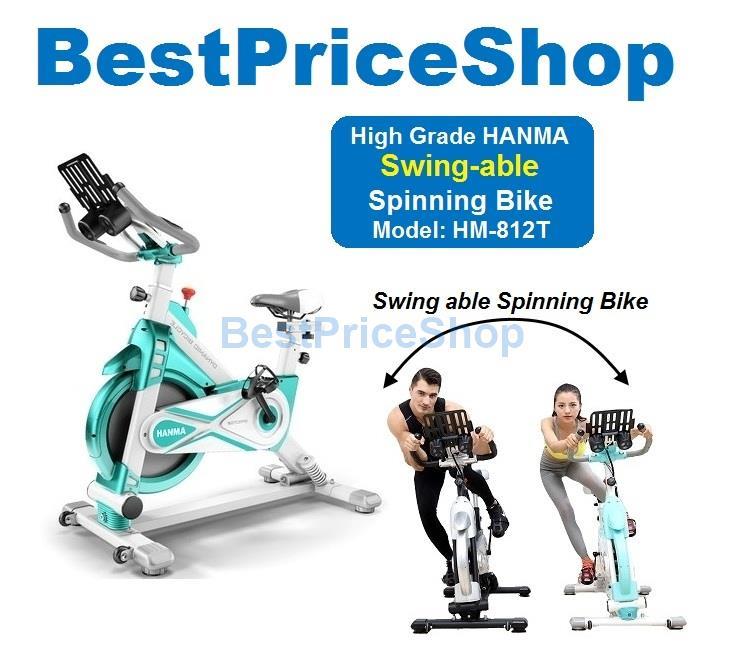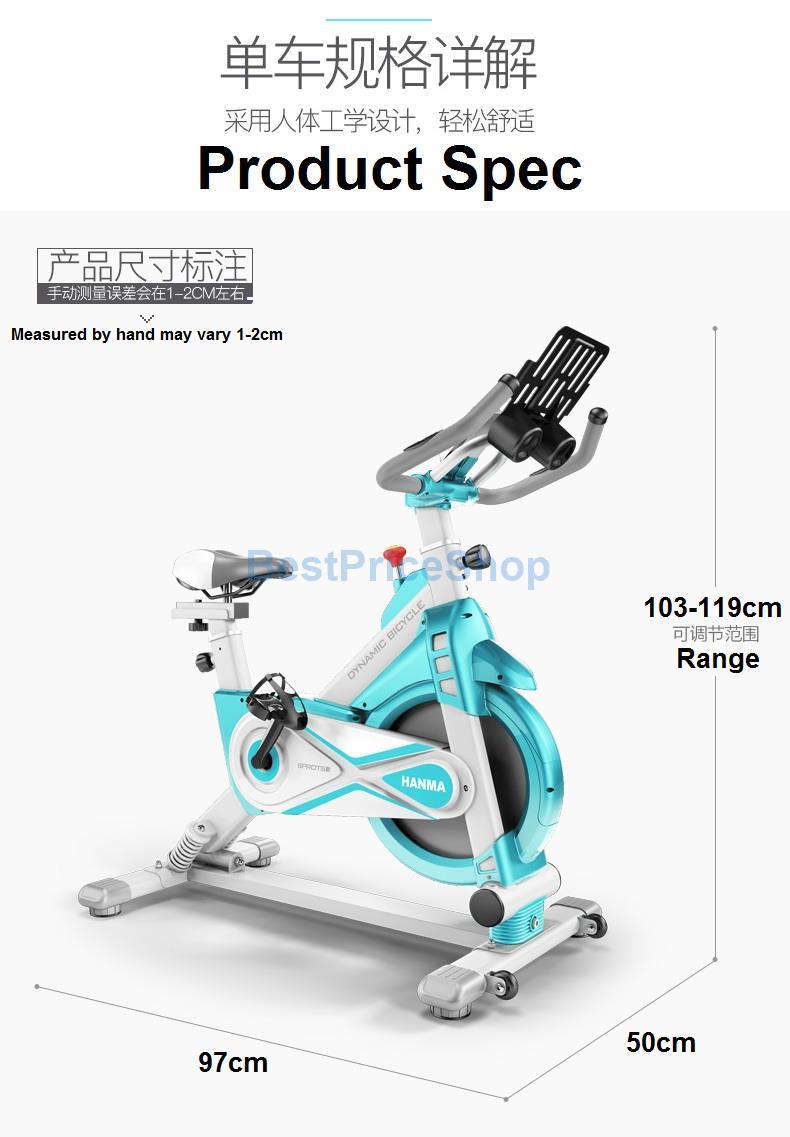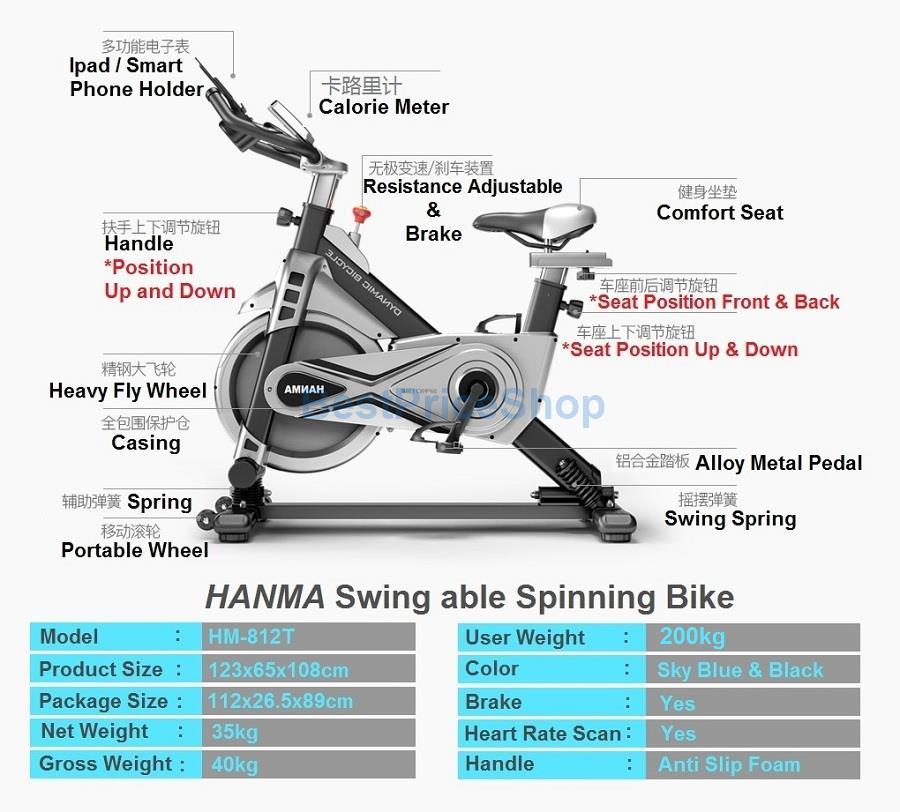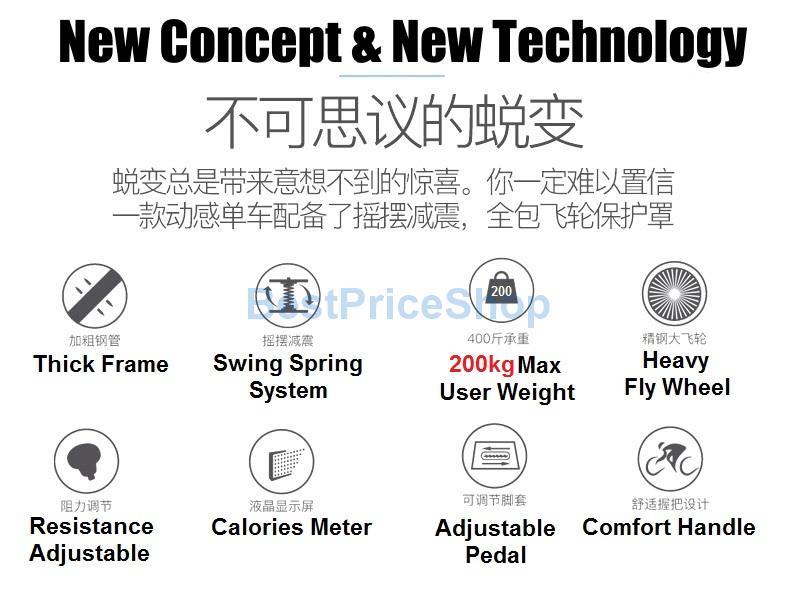 Swing Able - Real Spinning Experience
HM-812T Top Specs Swing Able Gym Iron Spinning Bicycle
Exercise Bike Fast Slim Fast Fat Burning
How to Get the Best Indoor Spinning Bicycle Workout
Hit the Right Height
"The biggest mistake people make is to set the bike seat too low," Uresti says. When pedaling, the leg should be bent about 25 degrees at the bottom of the rotation. "This relieves your quads from doing all the work."
Get Up, Stand Up
When doing fast-paced runs, stay seated. To add intensity, lift your butt off the saddle for a few seconds. For hill climbs and slow jogs with heavy resistance, stand up and hold the front of the handlebars, keeping hips over the saddle to work your core, legs, and butt.
Move to the Music
Good music can make any ride better, as long as you match your pedal stroke to the beat. "Keep pace first, then add resistance," Uresti advises. Try riding to your favorite song: Pedal fast enough to stay with the beat, then add a quarter turn of resistance every 30 seconds, five times in all.
Don't Ignore Your Upper Body
Why should your legs and butt have all the fun? Adding some targeted strength moves for your arms, chest, back, and shoulders transforms your ride into a total-body workout. Keep your pedal speed at a moderate pace, using enough resistance to slow down but not so much that you can't move your legs without also wiggling the rest of your body. Do two sets of 20 reps of each move, using two- to three-pound weights.
Reverse Biceps Curl
Hold a weight in each hand, elbows bent at shoulder level, weights in front of face, palms out. Bend elbows to straighten arms parallel to floor. Repeat.
Triceps Pull Down
Hold a weight in each hand and extend arms overhead, palms facing in. Bend elbows, lowering weights behind head, then extend arms overhead and lower elbows to chest height (weights in front of face). Return to start and repeat.
The highest specs and quality in HANMA Series
Product Features:
Efficient Healthy Losing Weight Exercise
Max User Weight -

up to 200Kg

Swing Function

- Exercise Bike Revolution

Special Spring Damping System - Shock Absorption

Big Stainless Steel Flywheel

Covered Flywheel & Belt

- Safety Guaranteed
Cost Effective & Ergonomic Design
Adjustable Handle / Seat Height
Super

Thick Body Frame

Added

Ipad Holder

- More fun during exersice

V-lock Groove Design - Ensure handle fixed tight

Improved Seat Design - Stronger Design
Comfortable Cushion
Add

4 Adjustable Base Height Screw Against Un-flat Floor

Stronger Automative

7 Groove Belt

Long Life

Aluminium Foot Pedal

Great for relaxation after whole day work
Release tension and tire after whole day working in office
Exercise your muscles and keep your body fit
Suitable to use at home, office & etc
Specifications:
Model:

HM-812T

Rotation: Belt
Electronic Meter

Scan (SCAN)
Timer (TMR)
Speed (SPD)
Distance (DIST)
Calorie (CAL)
Pulse (PULSE)

Color Choose From:
Package Include:
1 Complete Set Swing able Spinning Bike with

English Instruction Manual
Swing Able - Real Spinning Experience
| | | |
| --- | --- | --- |
| Zone | Weight | Delivery Fee (RM) |
| West Malaysia | First 2.00 kg | 7.50 |
| | Additional 1.00 kg | 1.50 |
| East Malaysia | First 2.10 kg | 9.80 |
| | Additional 1.00 kg | 4.50 |