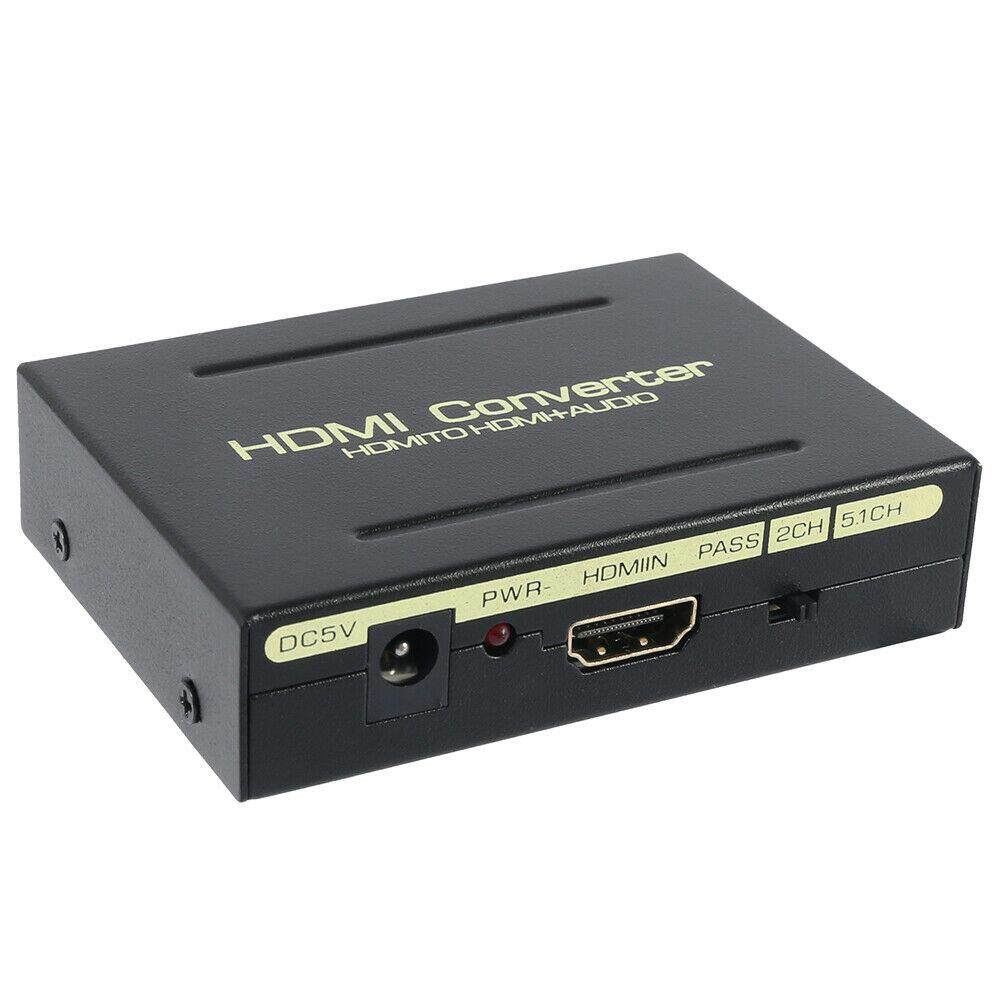 Description:
Item type:Converter
This is a high-performance, versatile HD audio extractor that extracts audio signals to the amplifier system. This results in an audio effect that is difficult to achieve with TV speakers.
Specification:
Name: audio splitter
Colour: Black
Support resolution: 1080p@50/60Hz/1080i/720p/1576i/480p/480i
Support video color format: 24bits/deep color 30bit, 36bit
Audio output: L/R+ fiber
Maximum bandwidth: 340MHz
Maximum transfer rate: 10.2Gbps
Input / Output TMDS signal: 0.5-1.5Volts p-p (TTL)
Input / Output DDC Signal: 5Volts p-p (TTL)
Input cable distance: <=7m AWG26 standard cable HDMI
Output cable distance: <=8m AWG26 standard cable HDMI
Maximum operating current: 500mA
Power format: Input: AC (50/60Hz) 100V-240V; Output: DC5V/1A
Operating temperature range: (-15 to +55 C)
Moderate range of work: 5 to 90% RH (no condensation)
Dimensions (length x width x height): 84.5 x 61.8 x 21 (mm)
Package Include:
1 x Converter
1 x 5V USB power cable
1 x English manual
Note:
The colors deviation might differ due to different monitor settings.
| Zone | Weight | Delivery Fee (RM) |
| --- | --- | --- |
| West Malaysia | First 2.00 kg | 7.00 |
| | Extra 1.00 kg | 1.00 |
| East Malaysia | First 1.00 kg | 12.00 |
| | Extra 1.00 kg | 2.00 |
| Australia, New Zealand | First 1.00 kg | 142.27 |
| | Extra 0.50 kg | 45.38 |
| Austria, Denmark, Finland, Ireland, Switzerland, Russia | First 1.00 kg | 145.44 |
| | Extra 0.50 kg | 19.75 |
| Brunei, Cambodia, Laos, Mongolia | First 1.00 kg | 162.64 |
| | Extra 0.50 kg | 80.93 |
| Belgium,France, Germany, Netherlands, Spain, U.K | First 1.00 kg | 139.08 |
| | Extra 0.50 kg | 22.41 |
| China | First 1.00 kg | 89.58 |
| | Extra 0.50 kg | 23.55 |
| Bangladesh, Brazil, Iraq, Pakistan, Qatar, S.Arabia, UAE, Sri Lanka | First 1.00 kg | 108.97 |
| | Extra 0.50 kg | 15.79 |
| South Africa | First 1.00 kg | 108.97 |
| | Extra 0.50 kg | 15.79 |
| Philippines | First 1.00 kg | 84.92 |
| | Extra 0.50 kg | 14.20 |
| Canada, United States, Mexico | First 1.00 kg | 151.01 |
| | Extra 0.50 kg | 33.34 |
| Hong Kong | First 1.00 kg | 74.90 |
| | Extra 0.50 kg | 26.99 |
| India | First 1.00 kg | 105.24 |
| | Extra 0.50 kg | 17.68 |
| Indonesia | First 1.00 kg | 99.71 |
| | Extra 0.50 kg | 23.10 |
| Japan | First 1.00 kg | 104.93 |
| | Extra 0.50 kg | 32.54 |
| Macau | First 1.00 kg | 86.32 |
| | Extra 0.50 kg | 12.83 |
| Singapore | First 1.00 kg | 69.43 |
| | Extra 0.50 kg | 19.96 |
| Taiwan | First 1.00 kg | 87.71 |
| | Extra 0.50 kg | 32.29 |
| Thailand | First 1.00 kg | 87.41 |
| | Extra 0.50 kg | 26.24 |
| Vietnam | First 1.00 kg | 91.90 |
| | Extra 0.50 kg | 2.59 |