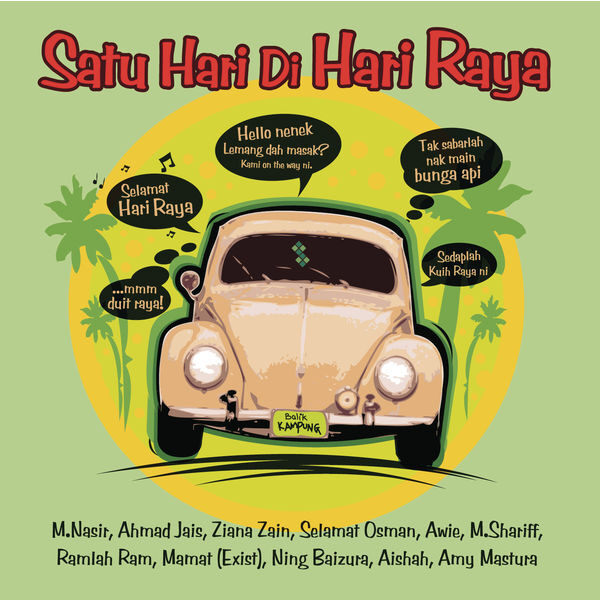 What's in the box:
1 x Hari Raya Album - Satu Hari Di Hari Raya CD M.Nasir Ahmad Jais Ziana Zain M.Shariff Ramlah Ram Ning Baizura Aishah
1. Takbir
2. Satu hari Di hari Raya - M.Nasir
3. Sejarah Cinta Di Pagi Raya - Ahmad Jais
4. Indah Di Hari Raya - Ziana Zain
5. Ku Pohon Restu Ayah Dan Bonda - mamat (Exist)
6. Satu Syawal - Ahmad Jais
7. Halaman Asmara - Ziana Zain & Awie
8. Dendang Perantau
9. Warna Warni Aidilfitri - Nyanyian Ramai
10. Hari Raya Hari Bahagia - Ramlah Ram
11. Pulanglah - Aishah
12. Cahaya Aidilfitri - Ramlah Ram
13. Manusia Miskin Dan Kaya - M.Shariff
14. Setahun Sekali - Amy Mastura
15. Joget Aidilfitri - Ning Baizura
16. Dari Jauh Ku Pohon Maaf - Ahmad Jais
17. Selamat Hari Raya - M.Shariff
18. Selamat Hari Raya - Nyanyian Ramai

- 100% Brand New And Sealed unless otherwise stated.
- Locally pressed items are produced by govt certified licensed manufacturer with hologram sticker and b-cert(DVD).
- Imported items are new and sealed with limited quantity in hand.
Remarks : All orders are on first come first serve basis as we sell on multiple marketplaces locally as well as internationally, therefore, order may subject to cancellation (refund will be made) or waiting for replenishment when stock has become unavailable.
| Zone | Weight | Delivery Fee (RM) |
| --- | --- | --- |
| West Malaysia | First 0.50 kg | 8.00 |
| | Extra 0.50 kg | 2.00 |
| East Malaysia | First 0.50 kg | 13.00 |
| | Extra 0.50 kg | 3.00 |
| Hong Kong | First 0.60 kg | 50.00 |
| | Extra 0.10 kg | 5.00 |