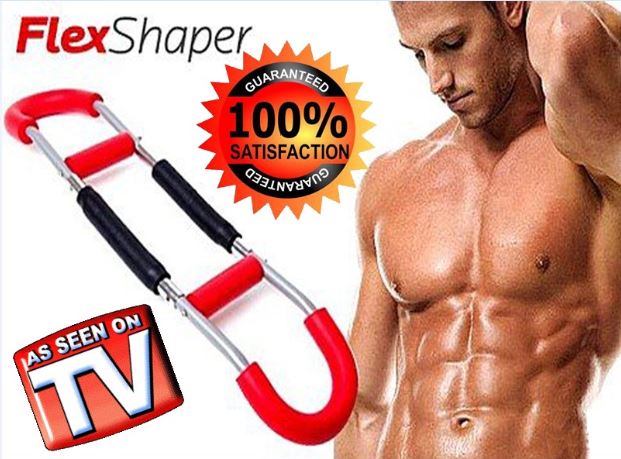 Product Features:
- Tone arms with defined biceps and shoulders
- Target inner thighs for sleek sexy legs
- Strengthen back and lift chest
- Dual action spring technology provides resistance when your muscles flexes or lengthens
- Light, compact and portable makes it the perfect travel exercise gadget
- No complicated heavy workout machines to handle
- No risk of injury from dropping heavy weights
- No impact on joints and spine
- The Bendy Shaper is a lightweight, portable training tool that tones and shapes your entire body
- Builds lean muscles – No Bulking
- Complete workout video
- No need for a gym membership
- Folds for easy storage
- Uses resistance training – No Weights
- Works back, triceps, biceps, even thighs
- The Bendy Shaper delivers resistance training with aerobic exercise for use by any age group, gender or fitness level to help you achieve your weight loss and muscle tone goals
Why spend a fortune on a gym membership you are never going to use when you can work out in the comfort of your own home. The Flex Shaper can be used for resistance training and aerobic exercise; it targets your arms, legs and even your back and chest area. Its dual action technology provides resistance when your muscles flexes or lengthens
If you had one too many pieces of cake this holiday season, no worries! Now you can get trimmed and toned with the Flex Shaper! Burn off those extra calories and sculp rock hard muscle with a few simple moves! The portable, lightweight training device uses resistance training to work your muscles and burn fat. Use it on your back, triceps, biceps and even thighs to reveal fit, toned bodies just in time for the new year.
Power Arm OFFER

Add only RM40 to get 1 set of Shake Weight Men
| | | |
| --- | --- | --- |
| Zone | Weight | Delivery Fee (RM) |
| WM | First 2.00 kg | 7.50 |
| WM | Additional 1.00 kg | 1.50 |
| EM | First 2.10 kg | 9.80 |
| EM | Additional 1.00 kg | 4.50 |