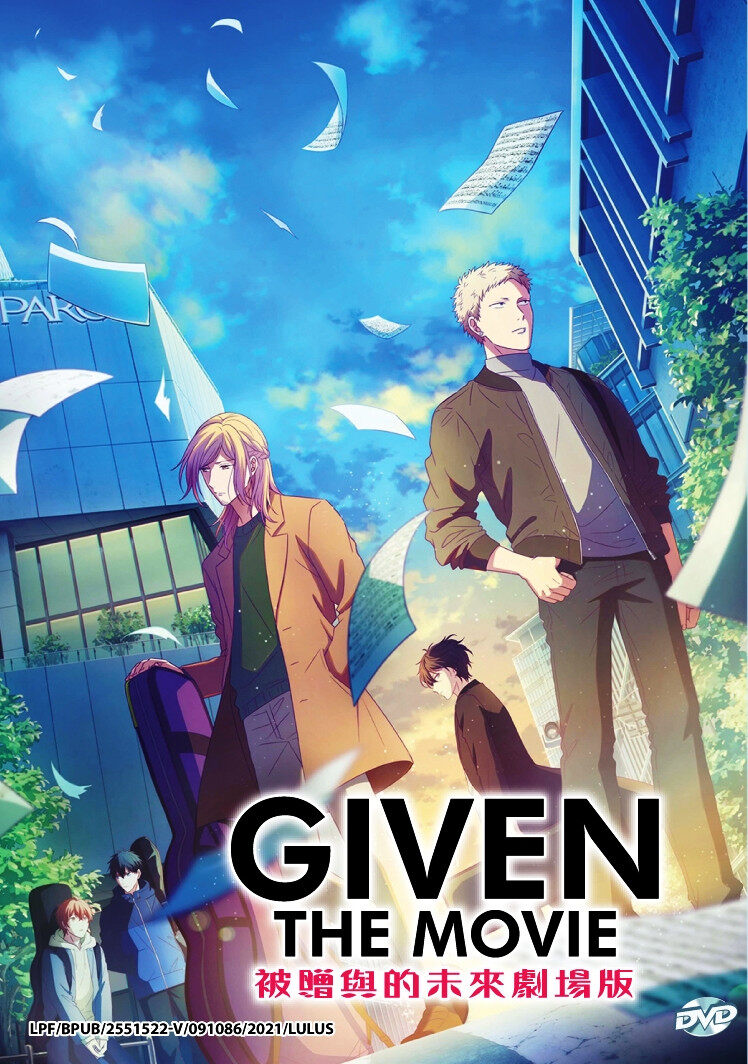 What's in the box:
1 x Given The Movie 被贈與的未來 劇場版 Japanese Anime DVD
High school student Ritsuka Uenoyama is shocked when he hears Mafuyu Sato's singing voice. He and his other bandmates, Haruki Nakayama and Akihiko Kaji, then welcome him into their band as a vocalist. After Mafuyu joins, their first live performance is a huge success, and they make their official debut as the band "Given".
In the midst of all this, Ritsuka realizes that he has feelings for Mafuyu and they start seeing each other. Meanwhile, Haruki secretly has had feelings for Akihiko for years, but Akihiko was still in a relationship with his roommate, the violinist Ugetsu Murata. Haruki, Akihiko, and Ugetsu's love clashes on the big screen and starts to move forward.
高中生上山立夏熱愛演奏吉他,與春樹和秋彥合組一個小樂隊。某個午休,他意外幫佐藤真冬修好吉他弦後,被真冬拜託教吉他,而後又在聽到真冬的歌聲後邀請他加入樂隊。立夏在相處的過程中漸漸喜歡上真冬,真冬有一個彼此互相喜歡並支持的青梅竹馬,但那個人卻自殺了,因那個人喜歡吉他,真冬才一直很想學。那個人沒有做到的事,沒有堅持的陪伴,立夏都幫他實現了,真冬也開始慢慢喜歡上立夏。另外一對CP春樹和秋彥,春樹一直默默地喜歡著秋彥,為他留著長髮,但秋彥卻與極具音樂才華的小提琴家雨月同居在一起。動畫影集以高中生的真冬與立夏兩人間悲傷恬淡的愛情為主軸,首部劇場版則為大人組三人的春樹、秋彦、雨月,熾熱的三角戀拉開序幕。

Pelajar sekolah tinggi Ritsuka Uenoyama terkejut bila dia dengar nyanyia Mafuyu Sato. Kemudian dia dan rakan pancaragamnya, Haruki Nakayama dan Akihiko Kaji, menjemput Mafuyu menyertai untuk menjadi vokalis mereka. Selepas itu, persembahan siaran langsung pertama mereka merupakan satu kejayaan besar, dan mereka buat debut rasmi mereka sebagai pancaragam "Given".
Dalam proses ini, Ritsuka sedar bahawa dia menaruh perasaan terhadap Mafuyu dan mereka mulai bertemu satu sama lain. Sementara itu, Haruki sudah beberapa tahun menaruh perasaan pada Akhihiko secara rahsia, namun Akihiko masih menjalin hubungan dengan rakan sebiliknya, pemain biola Ugetsu Murata. Cinta Haruki, Akihiko dan Ugetsu mencetus di skrin besar dan mulai mara ke depan.
Language : Japanese
Subtitles : English / Chinese / Malay
No of Disc: 1
Region Code : All / Worldwide
- 100% Brand New And Sealed unless otherwise stated.
- Locally pressed items are produced by govt certified licensed manufacturer with hologram sticker and b-cert(DVD).
- Imported items are new and sealed with limited quantity in hand.
Remarks : All orders are on first come first serve basis as we sell on multiple marketplaces locally as well as internationally, therefore, order may subject to cancellation (refund will be made) or waiting for replenishment when stock has become unavailable.
| Zone | Weight | Delivery Fee (RM) |
| --- | --- | --- |
| West Malaysia | First 0.50 kg | 8.00 |
| | Extra 0.50 kg | 2.00 |
| East Malaysia | First 0.50 kg | 13.00 |
| | Extra 0.50 kg | 3.00 |
| Hong Kong | First 0.60 kg | 50.00 |
| | Extra 0.10 kg | 5.00 |