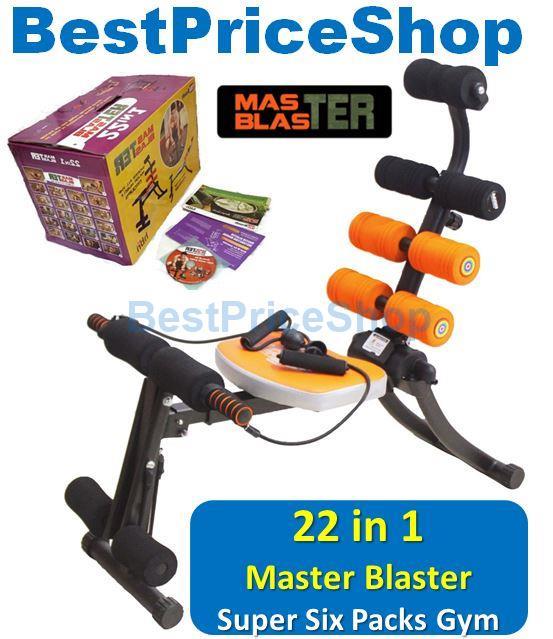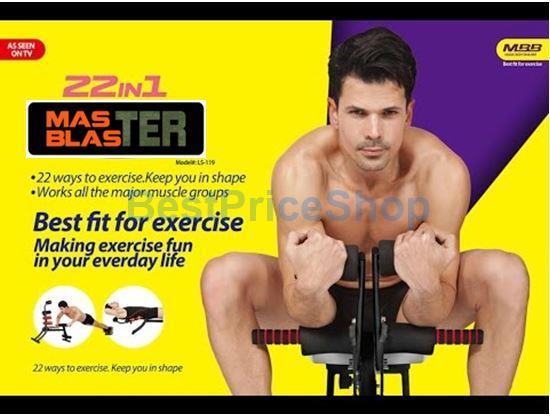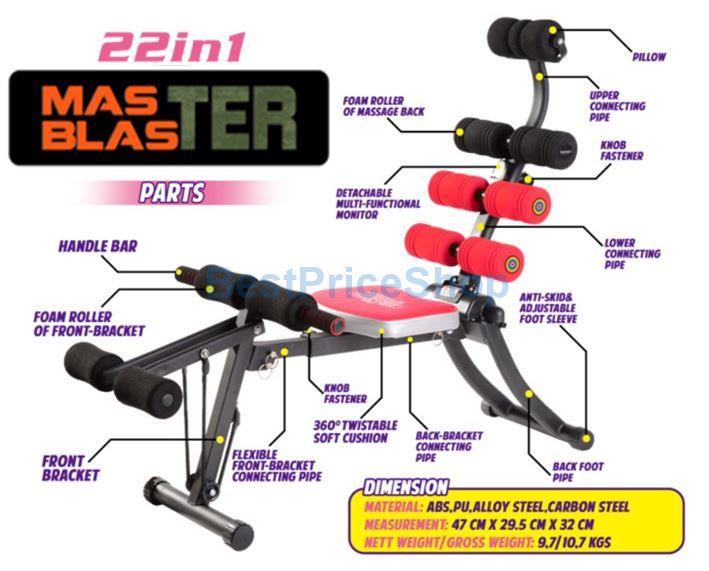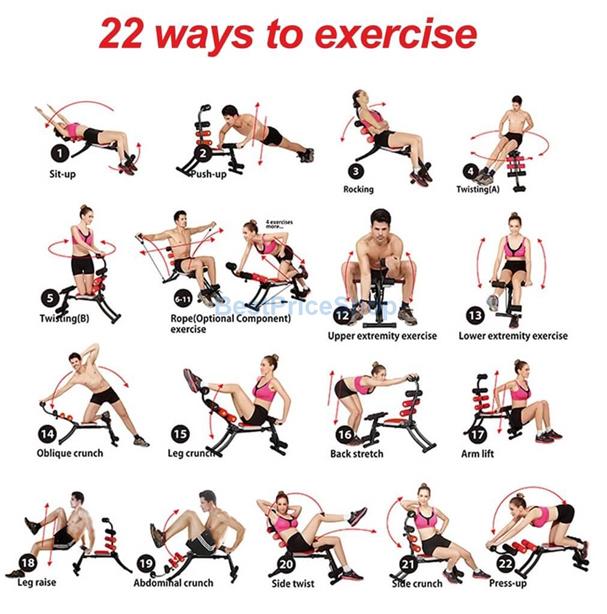 New 22 in 1 Super ABS Six 6 Packs Care Master Blaster Sit Up Gym Bench Station
WOULD YOU like to reduce 5kgs? 10kgs? or even 15 kegs? Or much more than that: 20,25 or EVEN 30kgs yes you heard that right , this is now possible without changing your daily routine.
You will reduce your weight, your body will get toned, you will reduce your belly, your muscles will be defined, your joints will be stronger, body will become flexible and you will improve your endurance & stamina.
This is world's first revolutionary exercising equipment that by far has no comparison. This one equipment is enough to complete your whole exercise routine. It gives you an incredible fat blasting & core blasting workout. Now no need to spend endless hours at the gym, we bring to you a perfect combination of resistance training & core conditioning exercises The Master Blaster. It's like having an entire gym in one compact portable chair.
Why Master Blaster Beats All Other Machines:
Reduce belly fat

Easy way to lose weight

Create rock hard Abs

Build strong core muscles and back

180 degree range of motion

Outstanding versatility of 22 exercises in one machine

Only 20 to 25 minutes exercise is required for effective results

1 year warranty on manufacturing defect

Easy to store, fits in modest space

Save time and money – no need for a gym
With the help of the Master Blaster you can do over 22 different exercises. it targets below zones:
Push-Up

Rocking

Twisting A & B

Lateral Raise

Single Arm Row

Shoulder Press

Front Raise

Bicep Curl

Robe Fly

Upper Extremity

Lower Extremity

Oblique Crunch

Leg Crunch

Back Stretch

Arm Lift

Leg Raise

Abdominal Crunch

Side Twist

Side Crunch

Press-Up
New 22 in 1 Super ABS Six 6 Packs Care Master Blaster Sit Up Gym Bench Station
Use it daily for 5 to 10 min and your fat will reduce, cellulite will disappear, muscle strength will improve, your stamina and endurance will get better. So why wait, get ready to get a new look & recharge your confidence.
FEATURES:
1. The master blaster has been designed to give you the ultimate comfort & luxury while you exercise.
2. To support your neck there is an adjustable neck rest with rolling cushions that can be adjusted up to 3 levels.
3. The high base ensures good balance while you exercise.
4. As per your height, the length of the Master Blaster can be adjusted up to 3 levels.
5. Soft rolling cushions provide support and massage you back as you exercise.
6. Industrial strength spring provides resistance for upper body exercises.
7. Strong reflex rubber provides resistance for lower body exercises.
8. Variable & flexible seating positions that can be used to do a range of exercises..
9. It is compact and folds away for easy storage.
Package Including:
1 x 22 in 1 Master Blaster Six Packs Gym Bench
1 x Instruction Manual
1 x Recipe Guide
1 x Workout DVD
Buy ONE Free TWO Offer
Buy 22 in 1 Master Blaster Before 10th of FEB 2016
and get below 2 Products FREE
(While Stock Last)
| | | |
| --- | --- | --- |
| Zone | Weight | Delivery Fee (RM) |
| WM | First 2.00 kg | 7.50 |
| WM | Additional 1.00 kg | 1.50 |
| EM | First 2.10 kg | 9.80 |
| EM | Additional 1.00 kg | 4.50 |