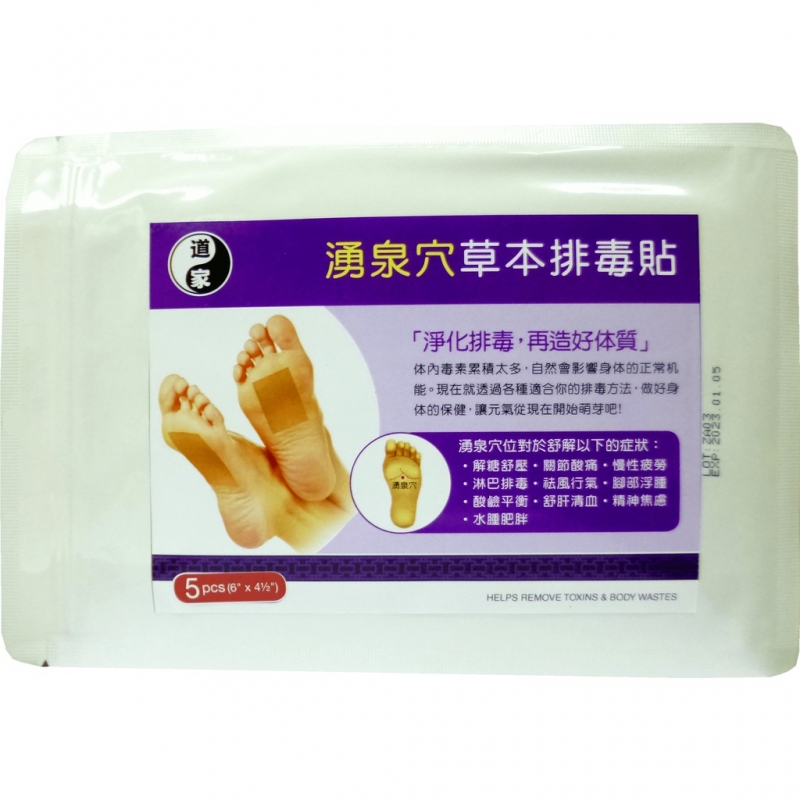 Function: Remove Toxins
Suitable for:
·Lowering Blood Sugar & Pressure
·Joint Pain
·Chronic Fatigue Syndrome
·Lymphatic Detoxification
·Expelling wind & promoting qi-flowing
·Edema Of Foot
·Acid-Base Balance
·Soothes liver & clean blood
·Anxiety
·Edema Obesity
Ingredients
Volatile oil of old Sweet Tea Olive,Aeruginous Turmeric Rhizome,Caulis Tinosporae Sinensis,Radix Ranunculi Ternati,Blackberry Leaf,Black seed oil,Menthol,Semen Sesami Nigrum.
Usage
1.Clean and wipe dry Yongquan point(KD 1 Acupuncture Point).
2.Cut patch to suitable size(suggest cut to 6 piece).
3.Apply before sleep,remove the pacthes from your feet in the next morning.
4.Continuous using 45 days will be more effective.
5pcs(6' x 4.5')
保健功效:
·解糖舒压
·关节酸痛
·慢性疲劳
·淋巴排毒
·祛风行气
·脚部浮肿
·酸碱平衡
·舒肝清血
·精神焦虑
·水肿肥胖
主要成份:
广西老龄肉桂树皮挥发油层,泰国黑心姜,苦藤,猫爪草,黑莓叶,黑子油,乳香(制)薄荷脑,麻油。
使用方式
1.清洗及擦干患部。
2.将足贴切割为所需尺寸。(建议切割成6小片)
3.每晚临睡前,将足贴贴在涌泉穴,翌日起床后可卸下足贴,或保留在足部,每片可使用至24小时。
4.若每个疗程连续45天,效果更明显。
Information provided herewithin is intended for REFERENCE only.Please consult with your doctor, or other qualified health care professional before using any
注:以上保健信息仅供参考,不能作为诊断医疗依据,任何健康问题应咨询专业医护人员,任何疾病治疗请遵医嘱。
| Zone | Weight | Delivery Fee (RM) |
| --- | --- | --- |
| West Malaysia | First 1.00 kg | 4.80 |
| | Extra 1.00 kg | 2.00 |
| East Malaysia | First 1.00 kg | 13.00 |
| | Extra 1.00 kg | 9.00 |
| Australia, New Zealand | First 0.50 kg | 56.56 |
| | Extra 1.00 kg | 48.10 |
| Austria, Denmark, Finland,Mexico,Ireland, Switzerland | First 0.50 kg | 58.82 |
| | Extra 1.00 kg | 40.91 |
| Brunei, Cambodia, Laos | First 0.50 kg | 51.01 |
| | Extra 1.00 kg | 51.98 |
| Belgium,France, Germany, Netherlands, Spain, U.K | First 0.50 kg | 64.19 |
| | Extra 1.00 kg | 36.71 |
| China | First 0.50 kg | 42.18 |
| | Extra 1.00 kg | 33.78 |
| Bangladesh,Brazil,Iraq, Pakistan,Qatar, Russia, S.Arabia, UAE | First 0.50 kg | 59.32 |
| | Extra 1.00 kg | 43.21 |
| Ghana, Mongolia,South Africa | First 0.50 kg | 70.68 |
| | Extra 1.00 kg | 61.37 |
| Philippines | First 0.50 kg | 44.79 |
| | Extra 1.00 kg | 33.86 |
| Canada, United States | First 0.50 kg | 60.55 |
| | Extra 1.00 kg | 43.09 |
| Hong Kong | First 0.50 kg | 31.95 |
| | Extra 1.00 kg | 28.42 |
| India | First 0.50 kg | 51.01 |
| | Extra 1.00 kg | 40.15 |
| Indonesia | First 0.50 kg | 51.38 |
| | Extra 1.00 kg | 42.37 |
| Japan | First 0.50 kg | 45.74 |
| | Extra 1.00 kg | 39.48 |
| Macau | First 0.50 kg | 55.46 |
| | Extra 1.00 kg | 38.50 |
| Singapore | First 0.50 kg | 32.83 |
| | Extra 1.00 kg | 26.99 |
| Taiwan | First 0.50 kg | 36.17 |
| | Extra 1.00 kg | 33.20 |
| Thailand | First 0.50 kg | 39.41 |
| | Extra 1.00 kg | 31.73 |
| Vietnam | First 0.50 kg | 60.55 |
| | Extra 1.00 kg | 39.82 |