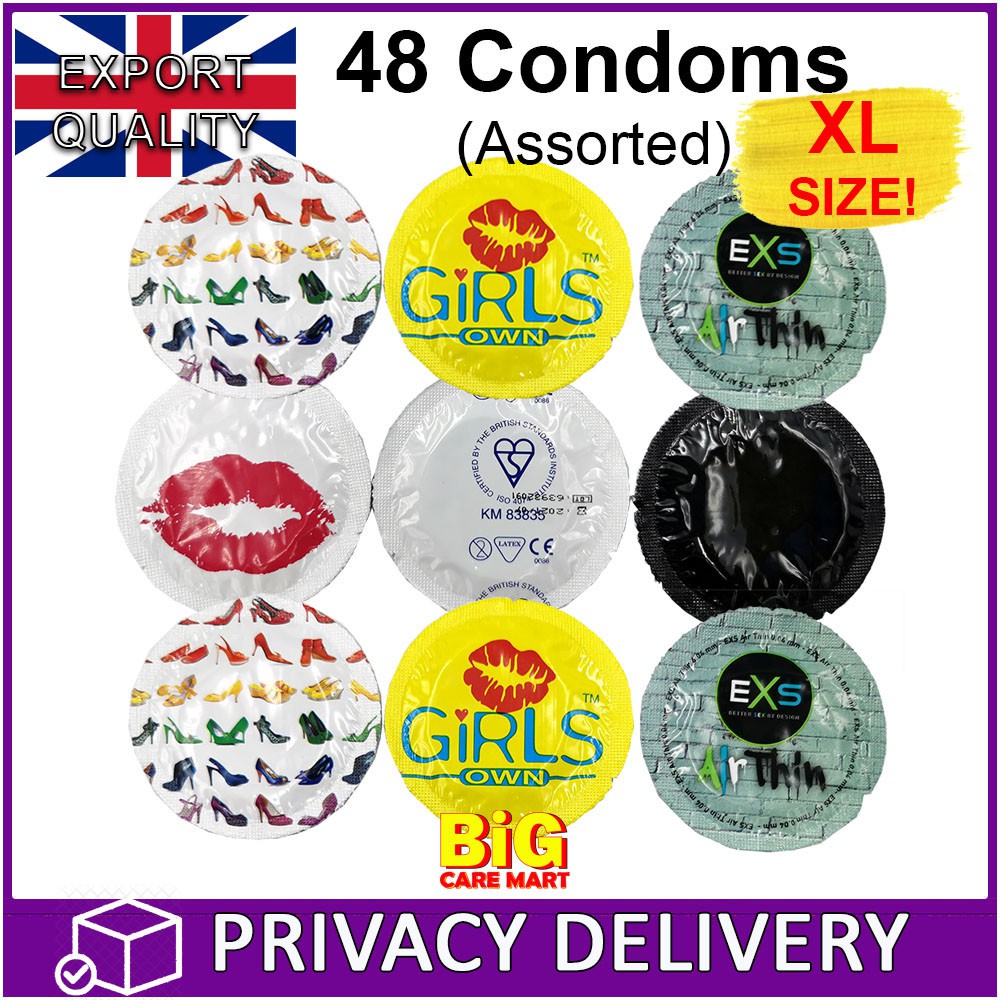 48 EXPORT UK QUALITY CONDOMS

SUPERB QUALITY
BEAUTIFUL ROUND CONDOMS FOIL DESIGNS
MIX OF FLARED AND EXTRA THIN CONDOMS
SWEET SMELL - NO LATEX SMELL
SUPER COMFORTABLE
THIS SET CONTAINS :

EXS AIRTHIN CONDOMS

Nominal Width : 56mm

Mixed of Colourful Foil Designs

The EXS Condom is thin for extra sensitivity so both the partners.

This condom is only around 45 microns and is thus among the thinnest available condoms.

The EXS condom is flared at the head giving more room for comfort and is 56mm wide down the rest of the shaft. Its length is 193mm which means that it will fit most men comfortably. The condom has a silicone based lubricant that adds to the comfort and pleasure of both the partners.

The condom does not smell of latex which avoids the distraction that an unpleasant rubbery smell might bring.
| Zone | Weight | Delivery Fee (RM) |
| --- | --- | --- |
| West Malaysia | First 3.00 kg | 6.00 |
| | Extra 1.00 kg | 1.50 |
| East Malaysia | First 1.00 kg | 16.00 |
| | Extra 1.00 kg | 10.00 |
| Thailand | First 0.50 kg | 70.00 |
| | Extra 0.50 kg | 10.00 |
| Singapore | First 0.50 kg | 50.00 |
| | Extra 0.50 kg | 10.00 |
| Vietnam | First 0.50 kg | 70.00 |
| | Extra 0.50 kg | 10.00 |
| Australia | First 0.50 kg | 85.00 |
| | Extra 0.50 kg | 10.00 |
| USA | First 0.50 kg | 85.00 |
| | Extra 0.50 kg | 10.00 |
| Hong Kong | First 0.50 kg | 75.00 |
| | Extra 0.50 kg | 10.00 |
| Japan | First 0.50 kg | 75.00 |
| | Extra 0.50 kg | 10.00 |