What's in the box:
2 x Hera & Eve Internal Care (15's)
2 x Hera & Eve Femimine Essential Oil (10ml)
There is only lazy woman in this world, so woman must love yourself!
Eve's is the goddess intimacy product for every woman, provide intensive care from outside to
inside to balance your female hormones, nourish your body and ignite your feminine power again!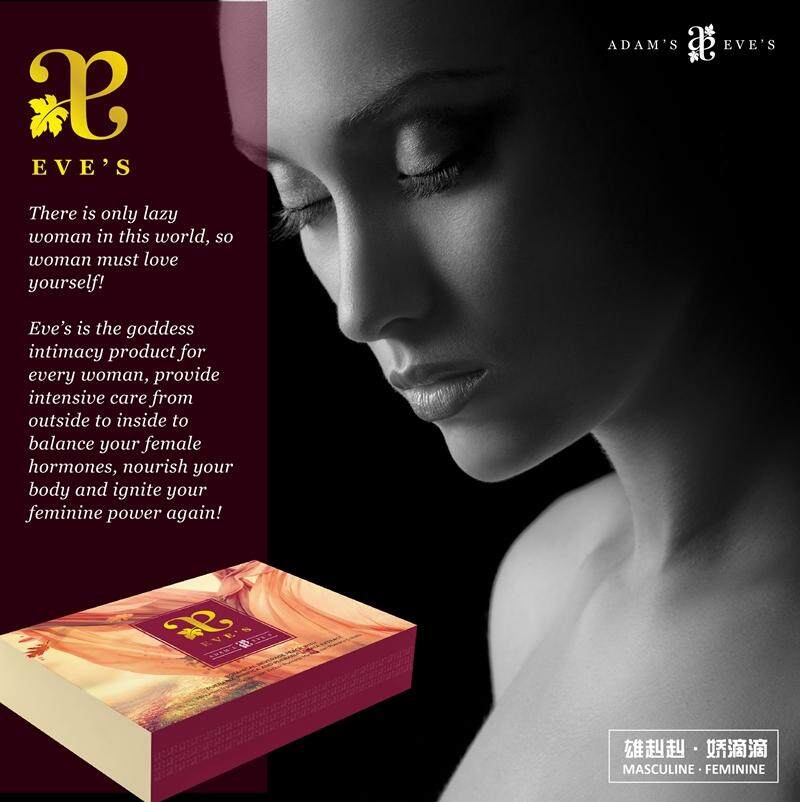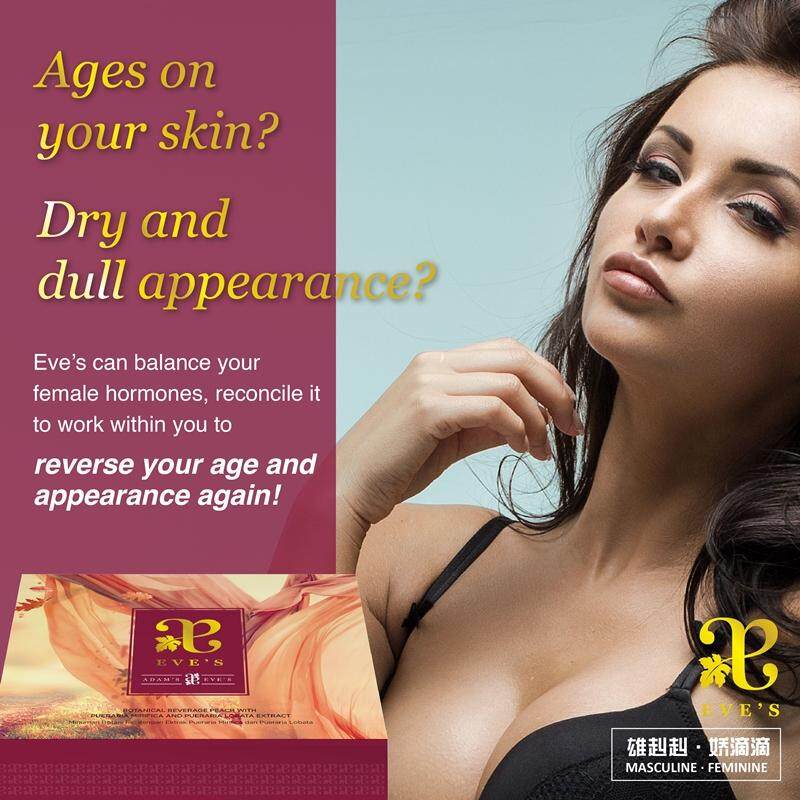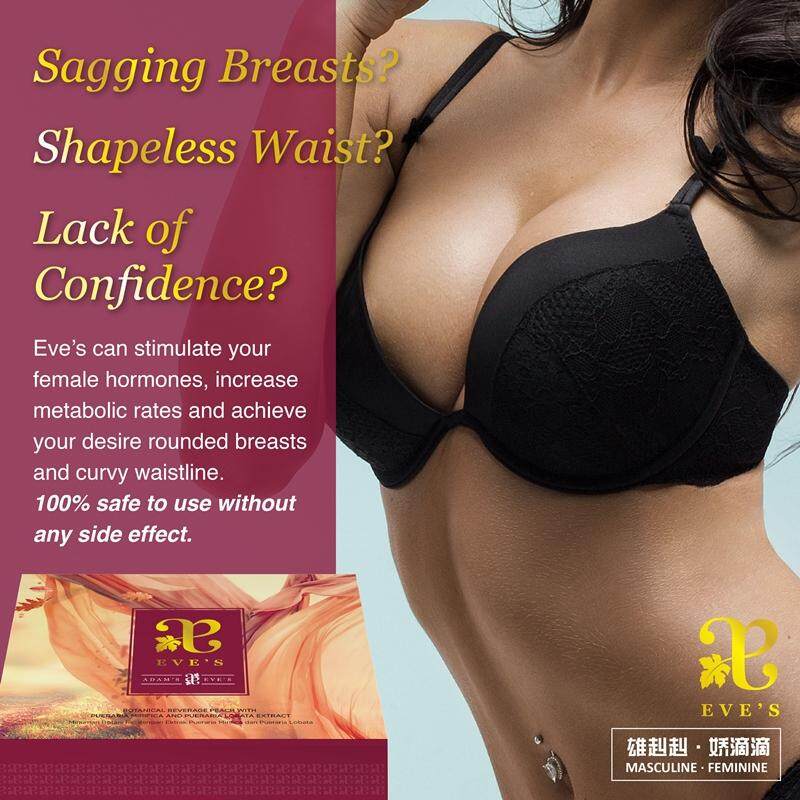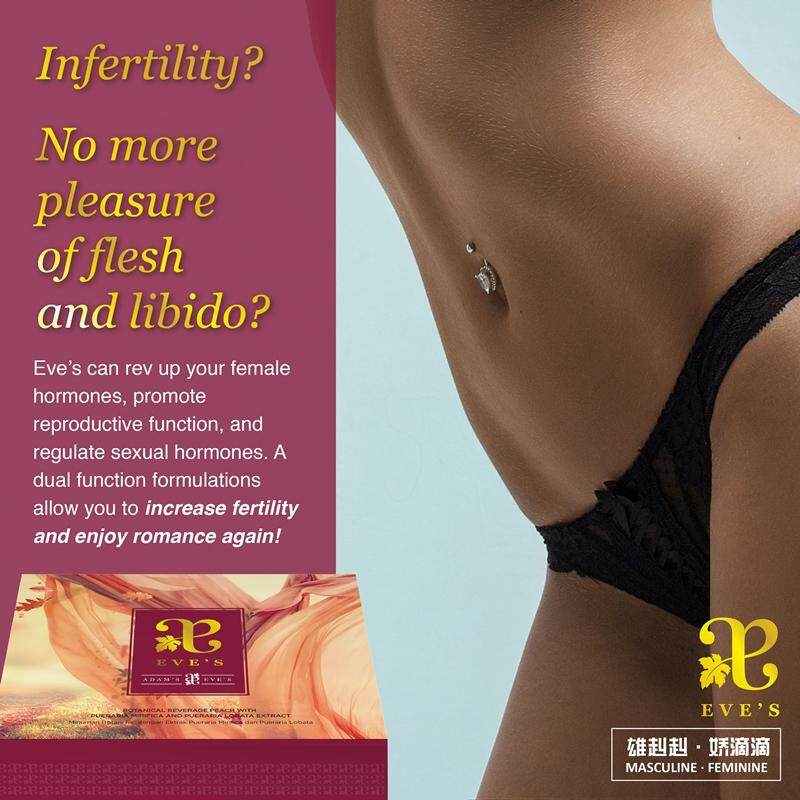 Happiness ≠ S3xual satisfaction
The concept of women's care now comprise from internal to external, taking care of herself equals taking care of her love ones; let's begin from daily intimate care for a healthy and happy life! Beauty comes from confidence; and confidence comes from having good health. After 35 years of age, the reduction of estrogen secretion causes ovarian functions to decline; women start aging faster and are prone to diseases, drastic changes show in their quality of life and attractiveness. They say: A healthy ovary keeps a woman young!
Causes of aging ovarian
1. Bad lifestyle
2. Poor menstruation and obstetrical history
3. genetics, post-surgery
4. Environmental Factors
5. infection factor
6. Psychological Factors
Effects of aging ovarian
1. Sagging of breasts
2. Low sex drive
3. Early menopause
4. Hyperplasia
5. Menstrual discomfort
6. Insomnia
7. Gynaecological inflammation
8. Rough aging skin
9. Infertility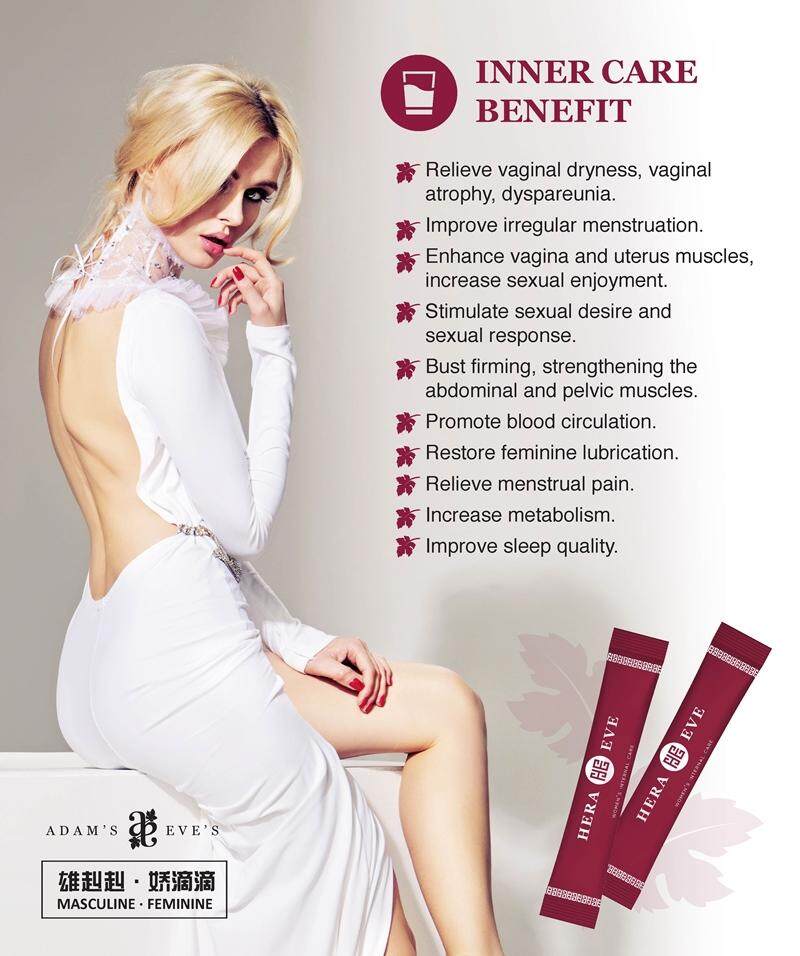 The main benefit of internal care:
1. Relieve vaginal dryness, vaginal atrophy, dyspareunia
2. Improve irregular menstruation
3. Enhance vagina and uterus muscles, increase s3xual enjoyment
4. Stimulate s3xual desire and s3xual response
5. Bust firming, strengthening the abdominal and pelvic muscles
6. Promote blood circulation
7. Restore feminine lubrication
8. Relieve menstrual pain
9. Increase metabolism
10. Improve sleep quality
11. Delay menopause
Eve Women's Internal care
Special Declaration / Precaution ~ Do not exceed the recommended dose. ~ Pregnant ladies and lactating women are not allowed to consume this product. ~ This product is only for people above 18 and below 65 years of age. ~ Not recommended for survivors or people with high risk of breast or uterus cancer.
(Berries Powder Peach flavour)
Ingredients: Peach Juice Powder, Soy Isoflavone, Pomegranate Extract, Licorice Extract, Manjakani Extract, Pueraria Mirifica Extract, Gingko Extract.
Direction: Direct consume 1 sachet orally after breakfast. Or mix with 150ml of warm water, stir well and drink.
Storage
● Store in cool, dry places.
● Do not expose to direct sunlight.
● Keep away from children.
Serving Size: 3g x 15 sachets per box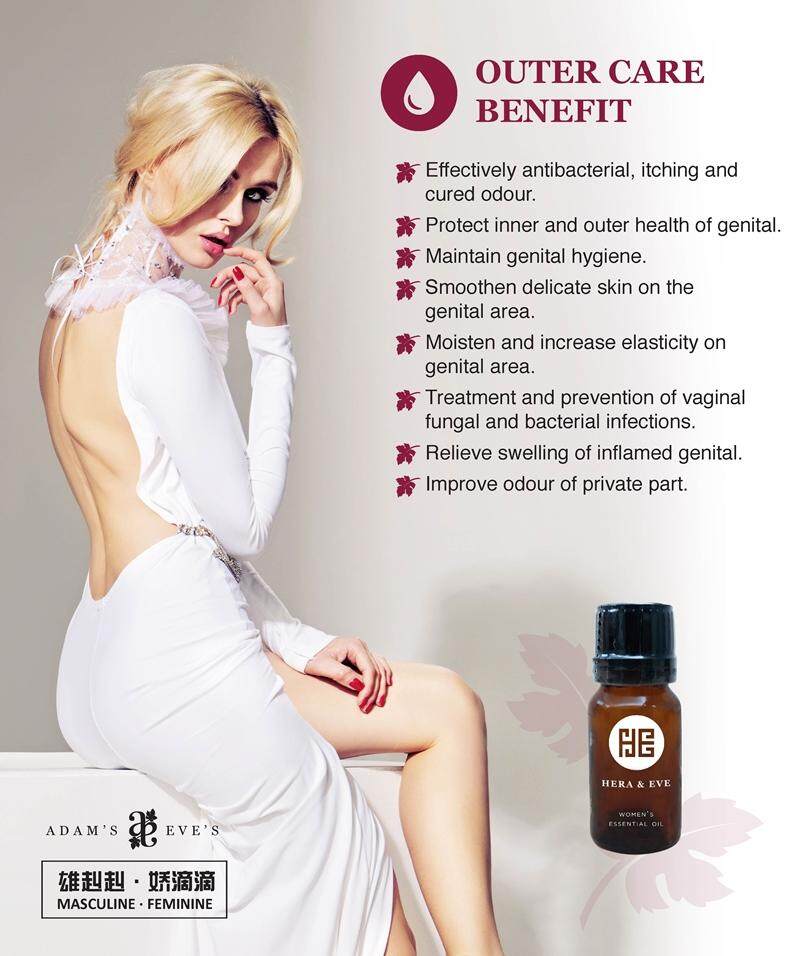 The main effect of the external care:
1.Effectively antibacterial, itching and cured odour
2.Protect inner and outer health of genital
3.Maintain genital hygiene
4.Smoothen delicate skin on the genital area
5.Moisten and increase elasticity on genital area
6.Treatment and prevention of vaginal fungal and bacterial infections
7.Relieve swelling of inflamed genital
8.Improve odour of private part
Eve 100% Vaginal Hygiene Essential Oil
Special Declaration / Precaution ~For external use only
Ingredients: Melaleuca, citrus lemon, lavender angustifolia, basil
Direction:
1. Daily use: 2-3 drops on panty liner, take off after 2 hours.
2. Intensive Hygiene care: Use as feminine wash 2-3 times a week. 2-3 drops on warm water and wash the private part during shower.
Storage
● Store in a cool, dry place.
● Do not expose to direct sunlight.
● Keep out of reach of children.
Serving Size: 10 ml/bottle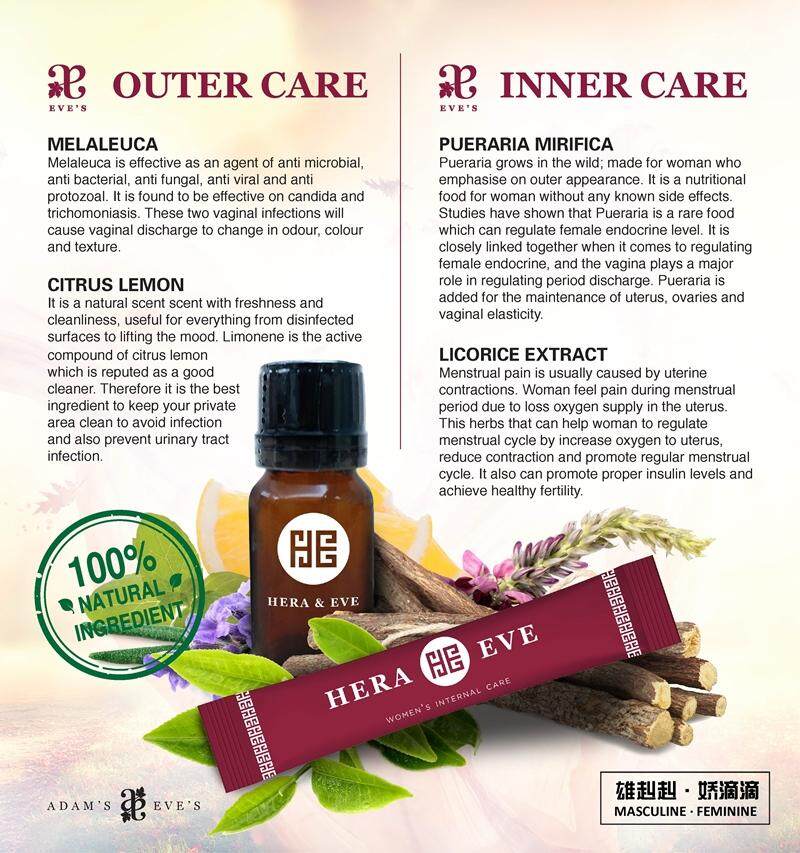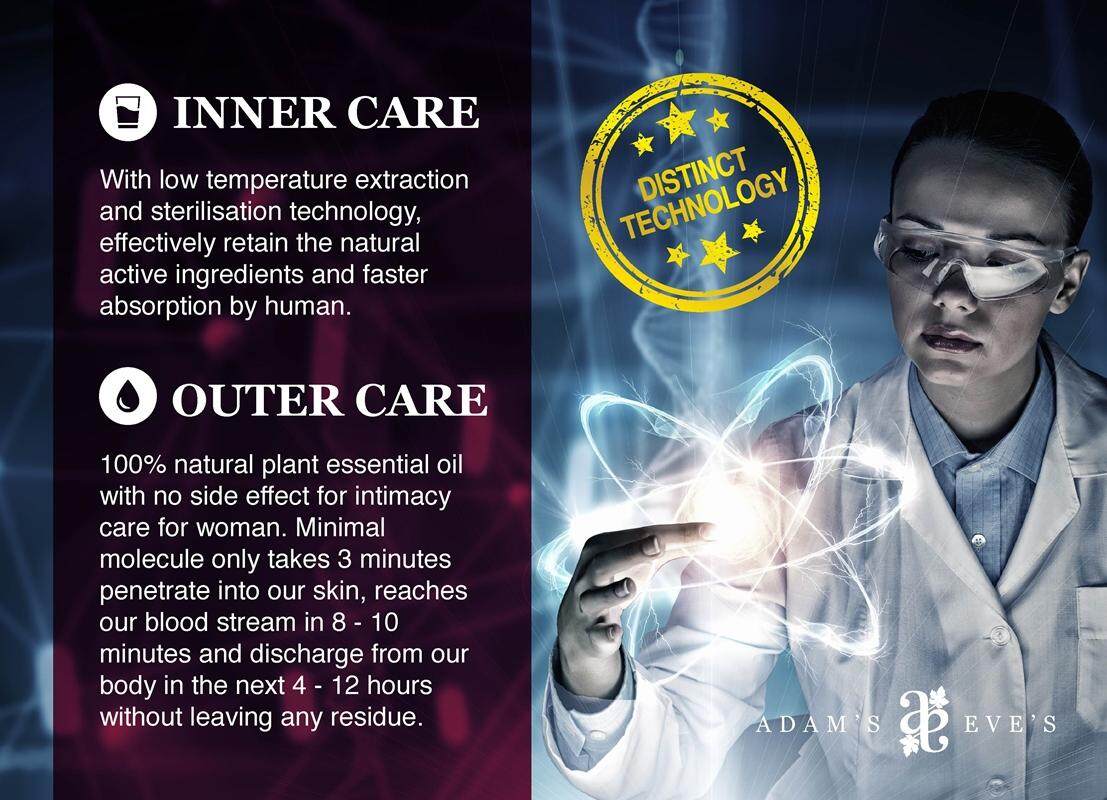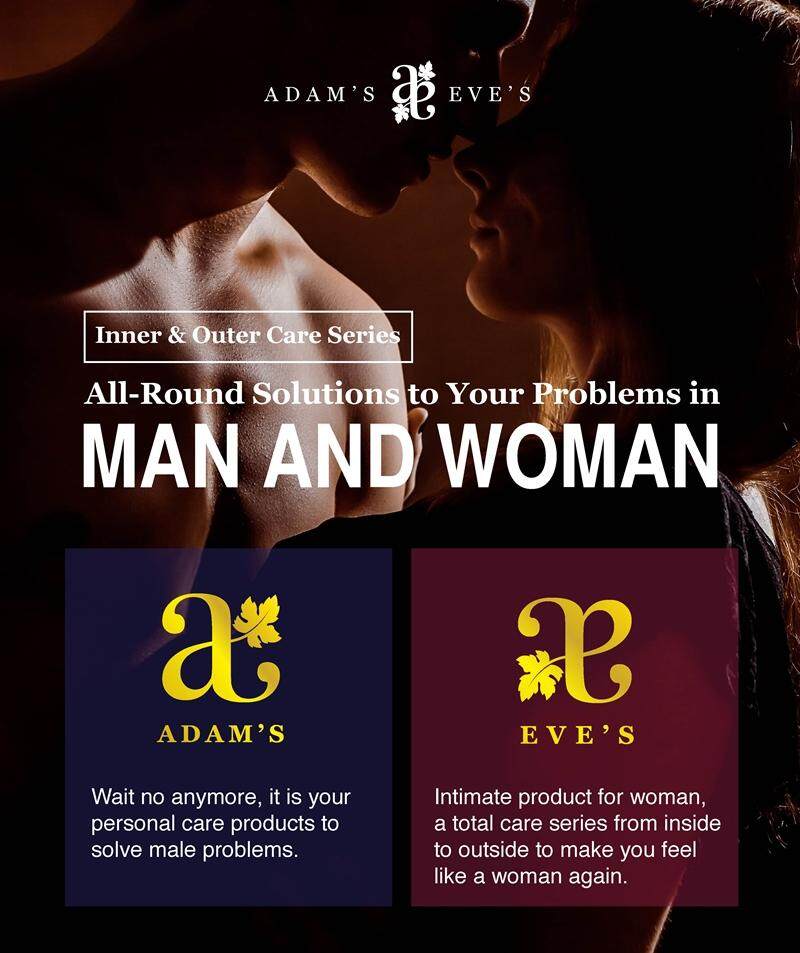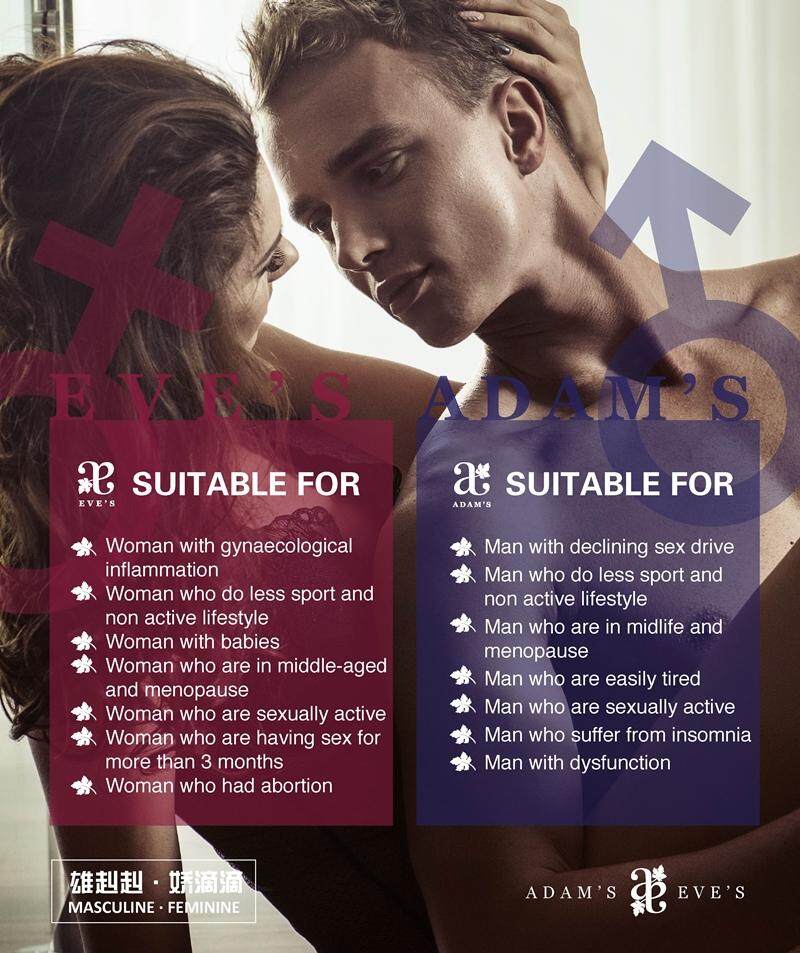 Frequent Asked Questions
1. Can a person without gynecological diseases take Eve Comprehensive Women's Care?
Yes, Eve Comprehensive Women's Care helps tightening the vagina, increase libido, rejuvenating women to the tightness during their teens, comprehensively increase the quality of intercourse.
2. Can postmenopausal women take Eve Comprehensive Women's Care?
Yes. Through the stimulation of cells in the ovaries, it restores the level of estrogen secretion, improving the balance of endocrine, reproductive system, gynecological diseases at the same time relieving backache, sore legs. The benefits vary from person to person.
3. How long after surgery and childbirth would be considered safe to take Eve Comprehensive Care?
Generally, it would be appropriate to start taking after 30 days.
4. Can menopausal women take Eve Comprehensive Care? What are the benefits?
Yes, menopausal women experience deterioration of ovaries, decrease of estrogen level, and disorder of secretion due to aging. Eve Comprehensive Care reverses aging by improving vitality, balancing yin and yang, regulating endocrine, also restoring the uterus and ovarian to its youth.
5. Why is there an increased amount of white discharge after taking Eve Comprehensive Women's Care?
The increased amount of white discharge is a good sign; it is the discharge of wastes during self-repair of glandular cells and inflammatory substances. This helps to keep the vagina moist for improved sexuality.
6. How is Eve Comprehensive Women's Care effective against freckles?
The health of a female reproductive system is directly reflected in the face, Eve Comprehensive Women's Care can improve vitality, regulating the endocrine system, balancing the environment and detoxify gynecological virus; when the inside is cleansed, the same shows on the outside, fading pigmentation and unseemly spots.
7. Why is Eve Comprehensive Women's Care effective for bust lifting?
It is because the size of the breasts is closely related to the secretion of progesterone. Eve Comprehensive Women's Care can smoothen the flow in the meridians, promoting blood circulation nutrients supply to the breast, so as to achieve the benefits of bust lifting.
8. Will we be dependent on Eve Women's Care after long term consumption?
No, because Eve Women's Care is made of natural herb extracts, which promotes detoxification, blood circulation, regulate ovarian function, balance secretion of various hormones.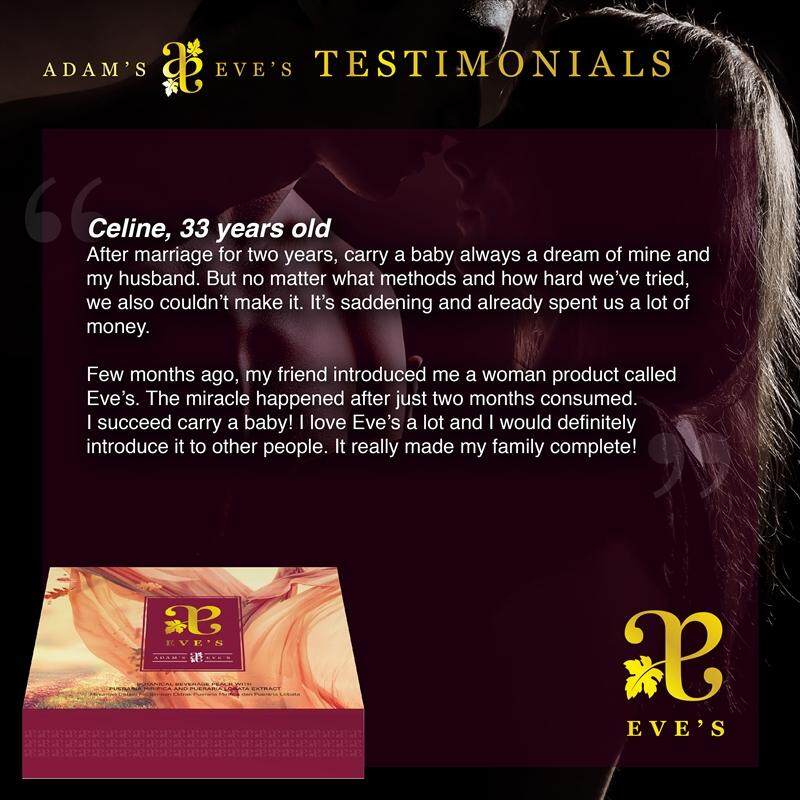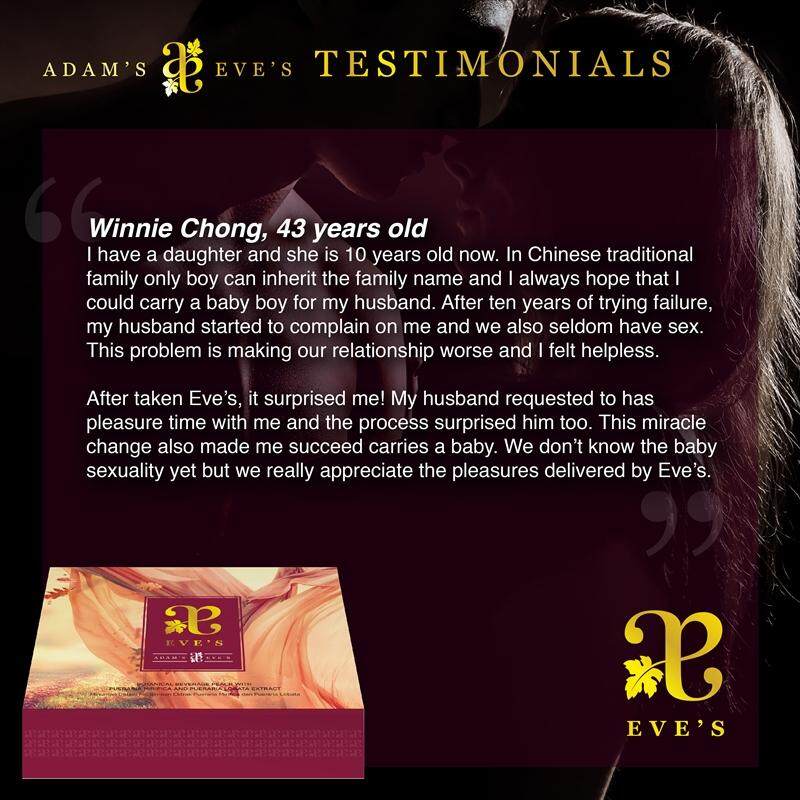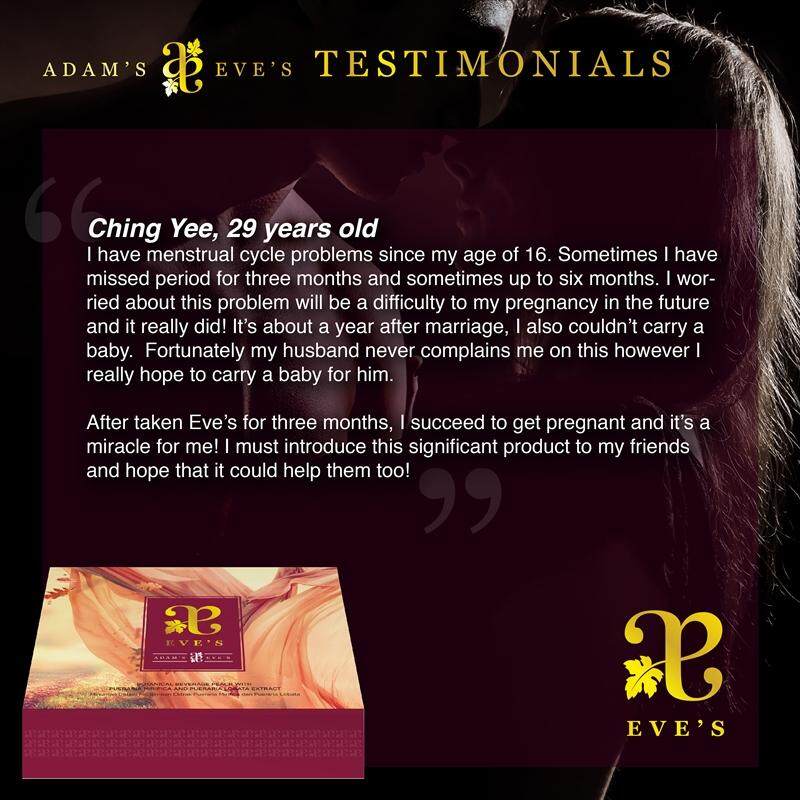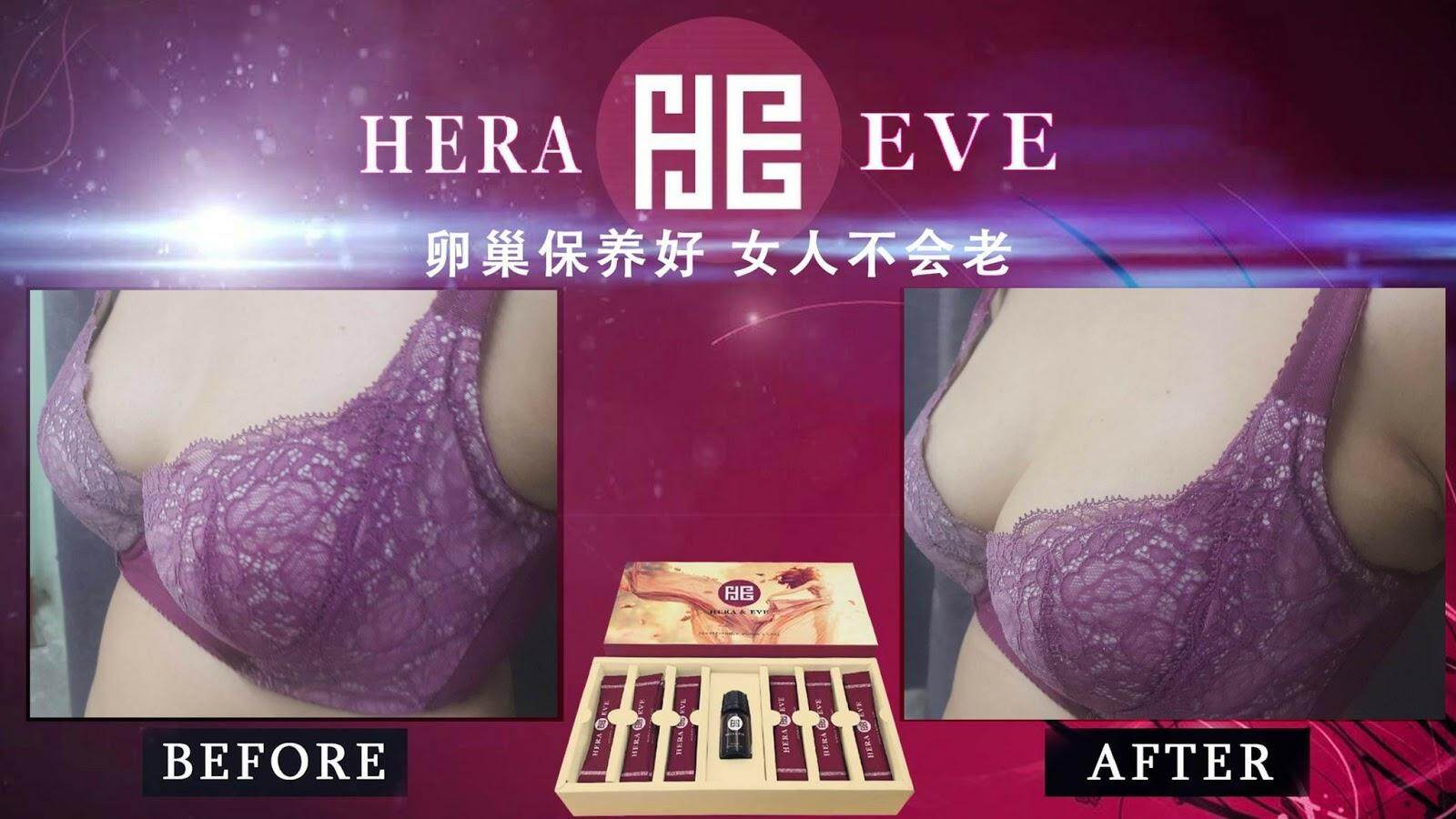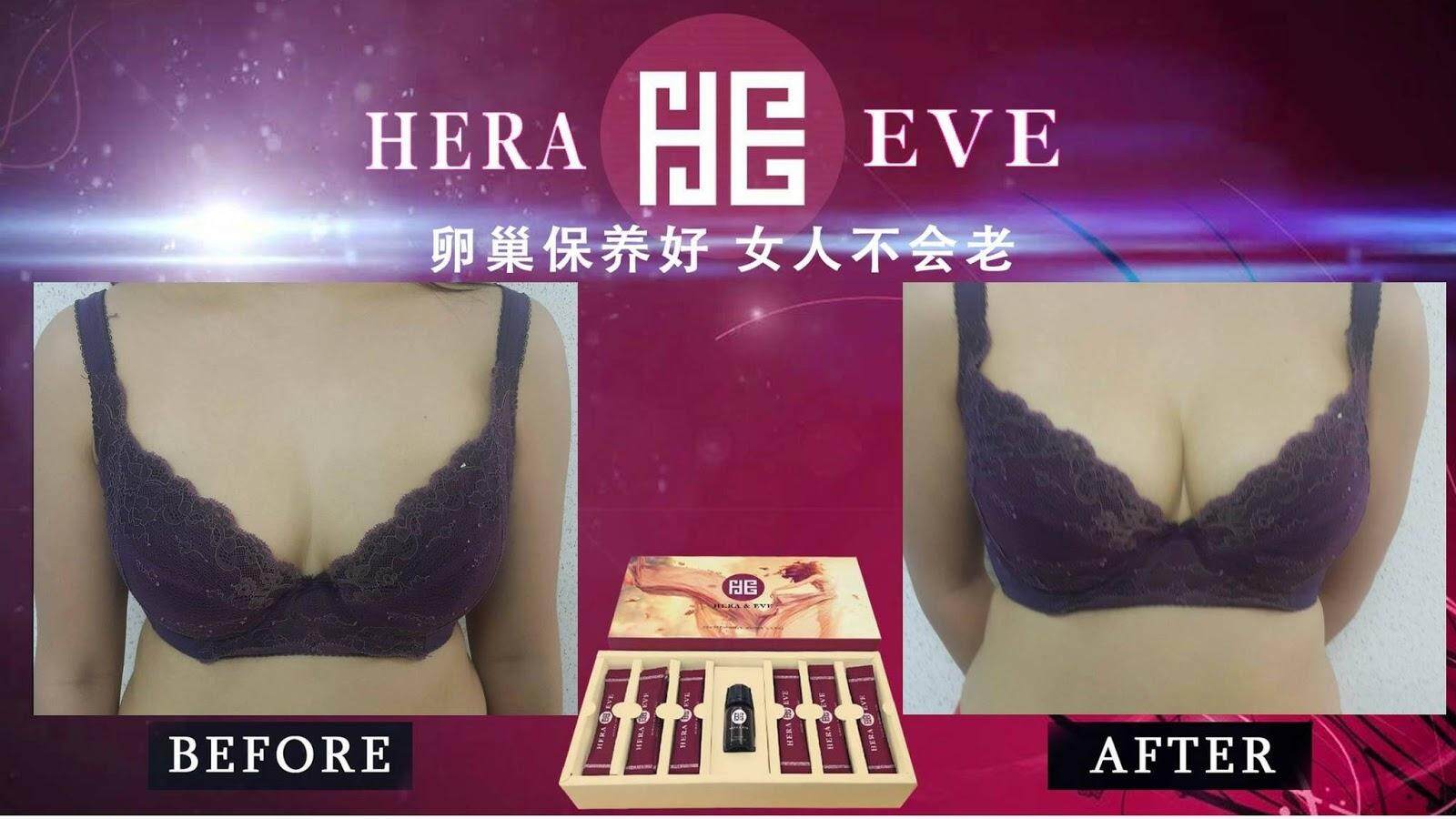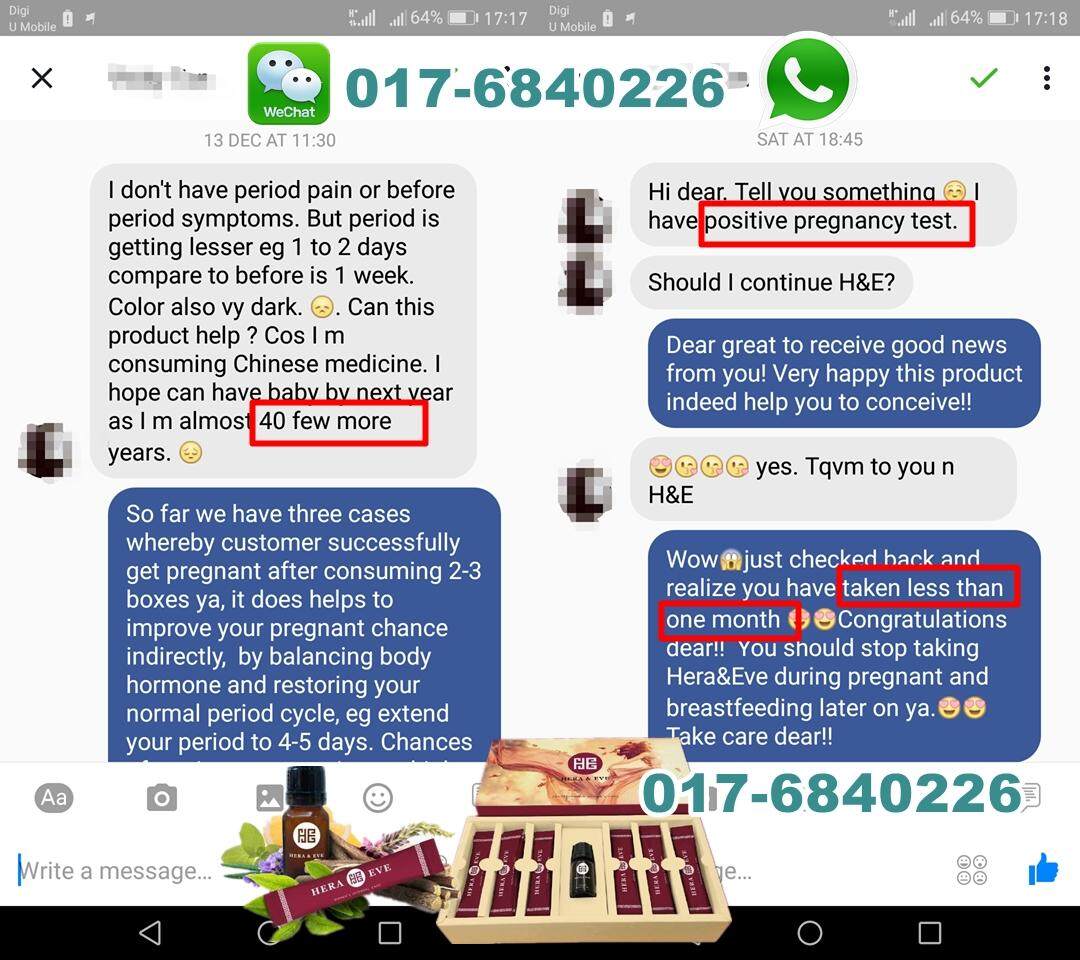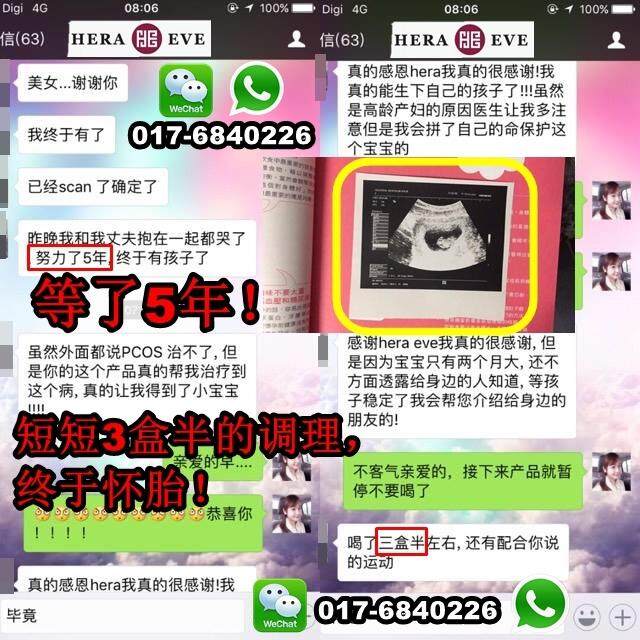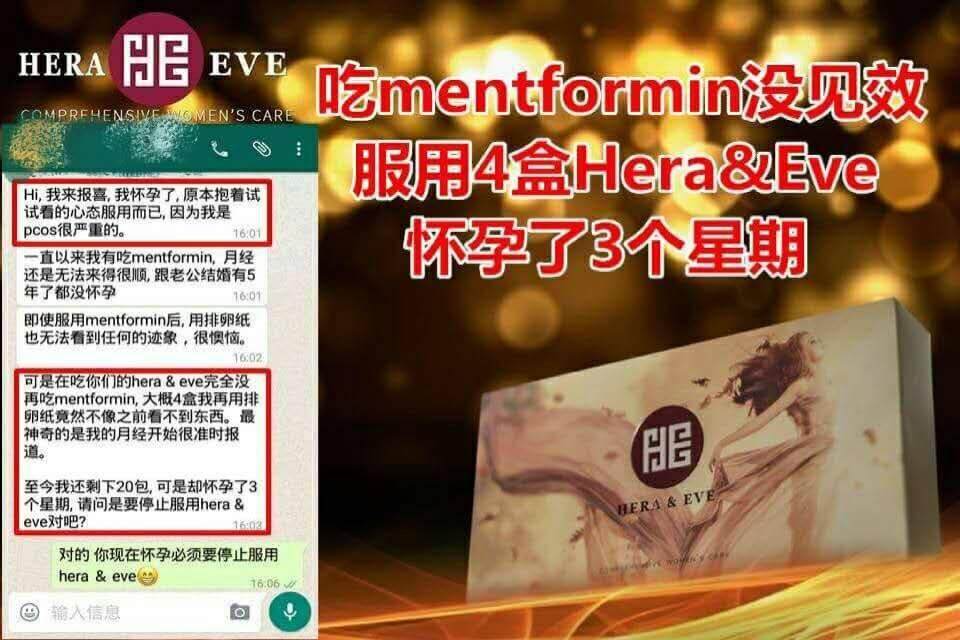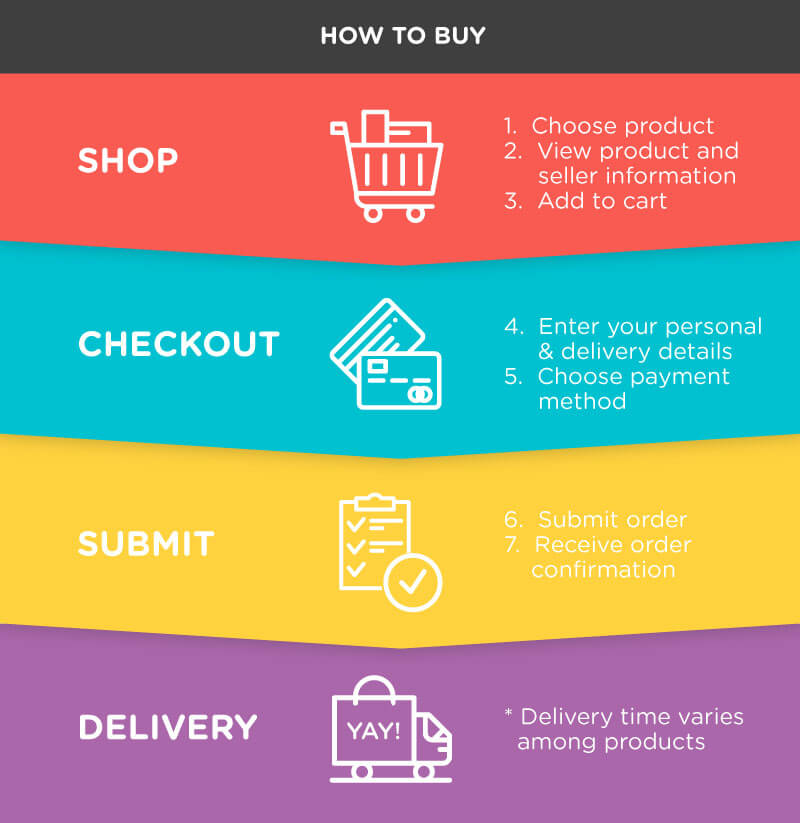 All items listed here are ready stock.
Delivery by Pos Laju or Skynet.
We will choose the best courier service based on your location.
Expected number of days to receive the order:
West M'sia: 1-3 working days

East M'sia: 2-4 working days
P/S: We will notify under product description if item takes longer than above period.
Postage Charges:
West M'sia: RM7 for the first 1kg, add on RM3 for subsequent 0.5kg.

East M'sia: RM10 for the first 1kg, add on RM5 for subsequent 0.5kg.