For the love of Bath-time
EnviroHome Top to Toe Wash is formulated to be gentle enough for newborns and babies' sensitive skin. Made from a cleansing complex featuring mineral salts, sea water extract and coconut oil, this 100% natural ingredient cleanses gently without irritation or drying, leaving baby's skin and hair clean, soft, moisturized while smelling baby-fresh.
Why We Love it?
EnviroHome Top to Toe Wash provides a safe and "tear-free" environment for you and your baby, make bath time more fun for kids. For babies who are facing eczema and sensitive skin, kindly apply a very thin layer on his/her affected area after shower, to speed up the healing process.
Blogger Review:
1. Red Lee's daughther has sensitive skin, and had eczema on her face and body since she was a baby. With EnviroHome Top-to-Toe Baby Wash for just 2 days, red rash on her back has cleared up.
3. Eugein "accidently" use EnviroHome Top-to-Toe Baby Wash to remove makeup on hand, and it works!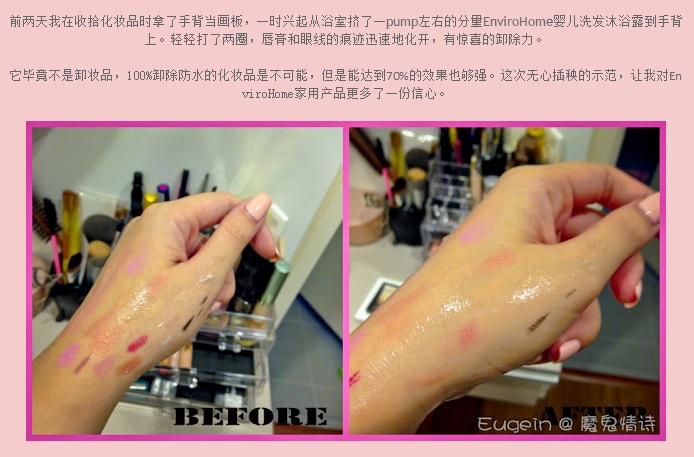 1. Orders placed before 2pm together with payment prove will be sent out on the same day. If not, orders will send on the next working day.

2. Normal shipping process will take about 1-2 working days for Peninsular Malaysia and 3-5 working days for East Malaysia to reach you. Please do contact us if you did not receive your orders after 5th working days.

3. Delivery is made during normal working days (excluding Saturday, Sunday & Public Holiday). Our delivery team will send a notify email together will tracking number after we sent out your order. However, orders still can be made on Saturday, Sunday & Public Holiday.

4. We are not responsible if customer have given us an undelivered address or contact number thus causing the parcel to be rejected. Customer will have to bear the additional shipping costs for resending the parcel. We shall not be liable for any losses, liabilities, costs, damages, charges or expenses arising out of late delivery.

5. If you need help with your order, please feel free to contact us at 03-6151 5588 or drop an email at [email protected] We are ready to serve you!