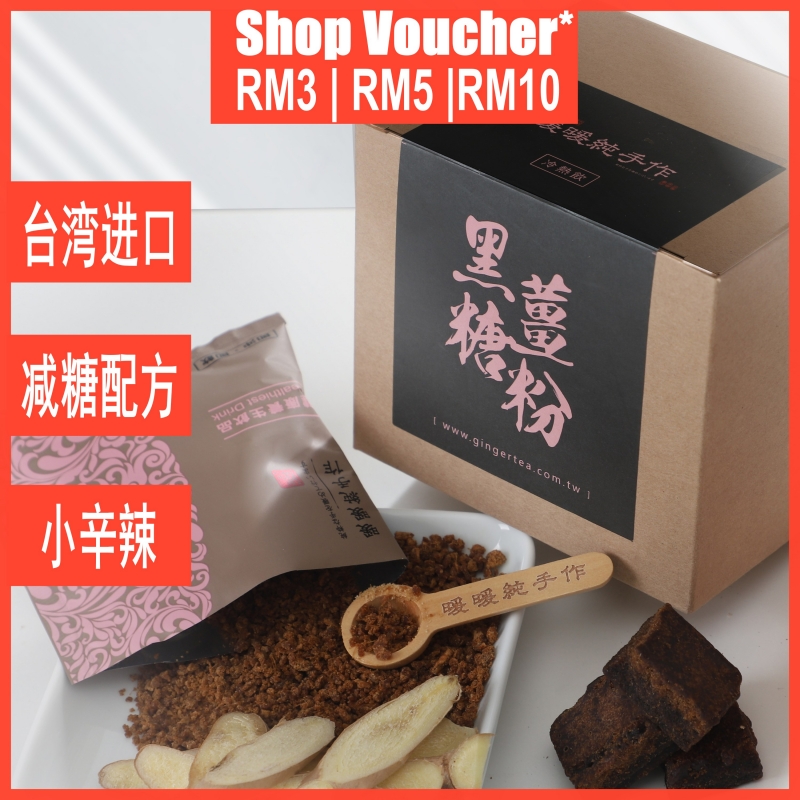 [减糖姜茶 小辛辣] Reduced Sugar Brown Sugar Ginger Tea Powder 姜茶 红糖姜茶 黑糖姜茶 黑糖薑母茶 臺灣姜母茶 上等竹姜 台湾进口
#无香精 #无防腐剂 #最天然 #即泡即喝 #过年过節送礼最佳选择 #上等竹姜
品牌: 暖暖纯手作
产地: 台湾
包装方式: 独立包装
净含量: 12x 30g
成份: 上等竹姜,黑糖, 砂糖、麥芽糖
生产日期: 2020年9月10日
保质期:2年
合格认证:SGS合格通过373种测验是证明是零农药残留
辣度: 小辛辣
1. 具有通畅月经、暖胃祛风、缓急止痛、补中益气的作用 - 因此对于产后妇女以及生理期女性特别适宜食用
2. 营养价值高非常适合各年龄层,尤其老人及孩童都可用于补充体力、补气补血
3. 生理期女性喝了可以起到消除疲劳、通畅输卵管、缓解痛经、化掉瘀血生新血的好处
4. 上等竹姜 - 研究显示,它的香气和姜味比文冬姜/老姜还要更呛辣浓郁,同时抗氧化剂和营养活性成分更高!竹姜每100g就有751mg的姜辣素,文冬姜每100g只有460mg的姜辣素,老姜更少!竹姜有助于舒缓痛经。对女性而言,来月经最痛苦的莫过于经痛。传统的舒解经痛的方式就是吃竹姜。这个传统疗法如今也被证实,姜纾解经痛的功能不亚于甲芬那酸和布洛芬等止痛药。
功效:暖胃祛风,活血补血,通畅月经、缓急止痛
适用于:手术后、贫血、头晕、月经不调、低血糖、妇产后、痛经、经血点点滴滴褐色或深暗色女性,常喝红糖姜茶可以暖宫,让经血通畅,改善痛经,还可以补血补虚
喝法: 【1包】黑糖姜粉,【350ml】热开水,【0分钟】等待。早上1杯
------------------------------------------------------
This Ginger Tea is made with Taiwan Bamboo Ginger, which has a higher gingerol and aroma than Old Ginger/Bentong Ginger. The ginger tea brewed from the full bamboo ginger has a rich flavour and full of ginger slices, which is different than the ordinary Brown Sugar Ginger Cube on the market. High re-purchase rate up to 90%!
#Zero Additional Flavoring #Zero Preservative #Reduced Sugar Formulation #Best Gift Choice For Your Loved One #Grade A Taiwan Bamboo Ginger
Brand: 暖暖纯手作
Country of Origin: Taiwan
Packing: Individual Packing
Net Weight: 12g x 30g
Ingredients: Premium Bamboo Ginger, Brown Sugar, Granulated Sugar, Maltose
Production Date: 10th November 2020
Shelf Life: 2 Year
Qualified certification: SGS has passed 373 tests to prove that it is zero pesticide residue
Spicy: Moderately Spicy
1. It has the functions of relieving menstrual pain, warming the stomach and dispelling wind, relieving pain, relieving pain, and replenishing Qi. So it is especially suitable for postpartum women and women with menstrual periods.
2. It has high nutritional value, very suitable for all ages, especially the elderly and children can be used to replenish physical strength, Qi and blood.
3. Drinking during menstrual period can relieve fatigue, unblock the fallopian tube, relieve dysmenorrhea, remove blood stasis and produce new blood.
4. Research has shown that Taiwan Bamboo Ginger has higher aroma and ginger taste which is more spicy than Bentong Ginger/Old Ginger. It has higher antioxidants and nutritional active ingredients too! Bamboo Ginger has 751mg of gingerol per 100g, and Bentong ginger has only 460mg of gingerol per 100g. Old ginger is even less!
5. Bamboo Ginger can help relieve menstrual cramps. The traditional way to relieve menstrual pain is to eat Bamboo Ginger. This traditional treatment has also been confirmed now that ginger's function in relieving menstrual pain is no less than that of painkillers such as mefenamic acid and ibuprofen.
How to drink
Take 1 sachet and brew in 350ml hot water. Stir well and drink. 1 cup in morning
| Zone | Weight | Delivery Fee (RM) |
| --- | --- | --- |
| West Malaysia | First 1.00 kg | 4.80 |
| | Extra 1.00 kg | 2.00 |
| East Malaysia | First 1.00 kg | 13.00 |
| | Extra 1.00 kg | 9.00 |