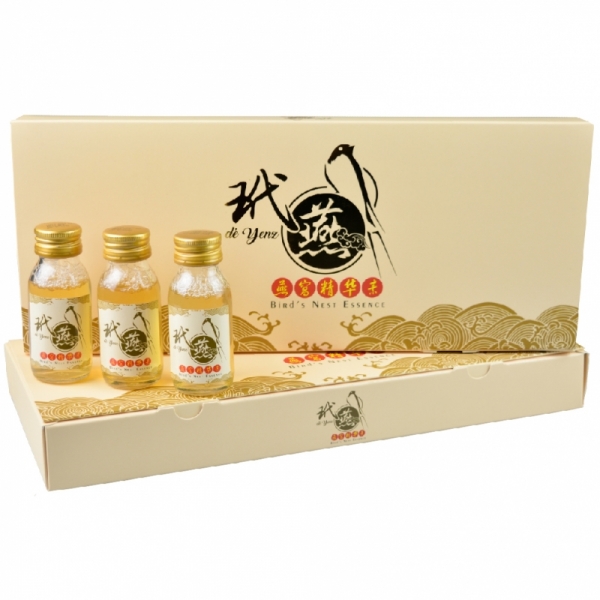 *Quality assured. Contain birds nest sialic acid nano-extract by patented biotechnology
*100% fast & efficient absorption by body.
*100% natural. No addition of preservatives.
*Convenient. Direct consumption without further cooking
*Benefits:
(1) brain development
(2) beautifying skin
(3) boost up immunity
---------------------------------------------
Edible bird's nest has been proven with long history in benefiting human health.
With biotechnology, we are specialised in producing the first functional bird's nest nano-essence functional drink, by isolating the most important active compound - sialic acid, from the edible bird's nest, with our patented extraction technology.
What so special on this Bird's Nest Essence Functional Superdrink?
1) Functional - Enzyme hydrolysis method to totally isolate and preserve the sialic acid content from the bird's nest. Sialic acid is scientifically proven to be good for (1) brain development, (2) beautifying skin, and (3) boost up immunity.
2) Nano-sized - Easy to be absorbed by the body by enhancing the efficacy
3) Clean & Safe to consume - Remove the heavy metal and nitrite that might presence naturally in the bird's nest
| Zone | Weight | Delivery Fee (RM) |
| --- | --- | --- |
| West Malaysia | First 0.50 kg | 8.00 |
| | Extra 0.50 kg | 6.00 |
| East Malaysia | First 0.50 kg | 11.00 |
| | Extra 0.50 kg | 9.00 |
Tel No : 1-300-300-300