What's in the box:
15 sachets 10gram (15 Days Supply)
Lose Weight Fast with X-DETOXX Fibre Clean and Clear 100% Natural Ingredients
X-DETOXX 100% NATURAL, HEALTHY, EFFECTIVE, NUTRITIOUS, SAFE
X-Detoxx is natural, nutrient yet low-calorie delicious drink. The formulation of X-Detoxx was claimed to have miracle effects which are rich in chlorophyll, fiber, vitamins, minerals, and enzymes that can improve digestives system. It is also a complete colon-management system.
8 ACTIVE NATURAL INGREDIENTS THAT HELP TO DETOX YOUR BODY:-
PSYLLIUM HUSK
Psyllium husk is a soluble fiber which is easily dissolved. It contains a spongy fiber that has been widely used for health problems like reduces appetite; improves digestion; cleanses your system of harmful toxin; to lower blood sugar level; to reduce the risk of high cholesterol; prevent colon cancer; and etc.
SPIRULINA
Spirulina is a single celled blue green alga, which contains 10 vitamins, 8 minerals, and 18 amino acids. It is an easy-to-digest vegetable protein. Spirulina is an ideal anti-aging food; concentrated nutrient value and loaded with antioxidants; it has been found help reduce weight, and help with many allergies, visual problems, carbohydrate disorders, anemia and many other disease conditions.
FIBER
Fiber essentially a carbohydrate and is found solely in plants. The main function of fiber is to keep the digestive system healthy and functioning properly, which will aid and speeds up the excretion of waste and toxins from the body. Besides, fiber also gives benefits like preventing heart diseases, controlling high blood pressure and diabetes, constipations problems and preventing colon cancer.
WHEATGRASS
Wheatgrass is high in Magnesium and it great at fighting constipation as well as improving fertility. It is also high in oxygen which is great for brain and body tissue function.
CHLOROPHYLL & ALOE VERA
The Chlorophyll found in wheatgrass benefits those with blood sugar problems and also neutralizes toxins. Aloe Vera contains enzymes, minerals, anti-microbial, amino acids, and sugars. The main benefits of Aloe Vera are used to aid digestion, reduce inflammation, destroy strong bacteria, control the stomach acids, stimulates tissue regeneration, cleanse and soothe the body.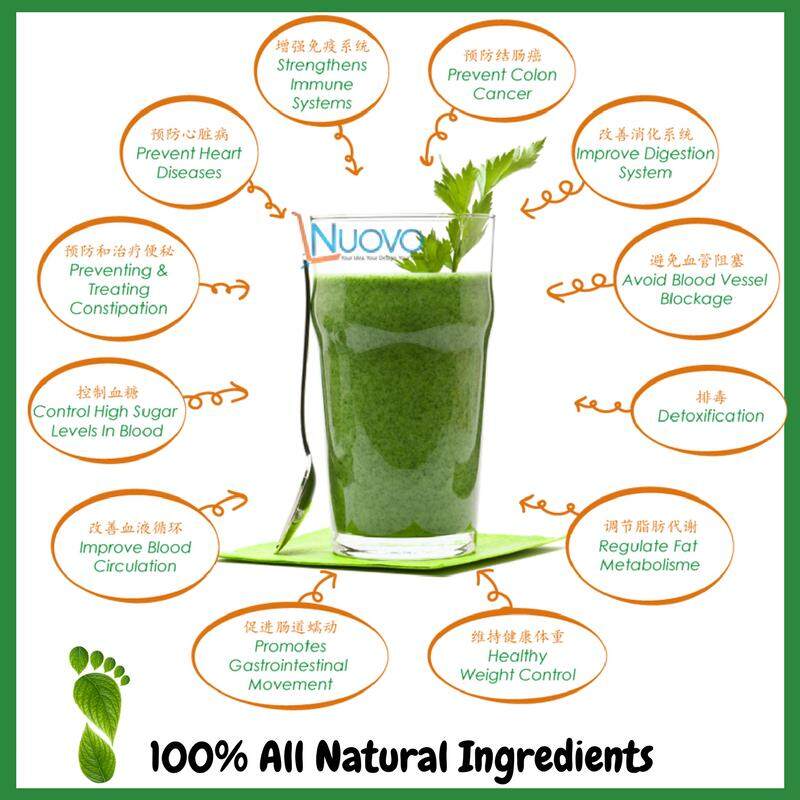 OLIGOSACCHARIDES
Oligosaccharides are carbohydrates which have 3-10 simple sugars linked together. It is prebiotic that helps promote the growth of "good" bacteria in the colon. It also helps to minimize viral and bacterial diarrhea; inhibit the growth of many harmful bacteria and help to produce nutrients, especially vitamin B and digestive enzymes.
L-CARNITINE
L-Carnitine declines significantly after the age of 40. Therefore, we can L-Carnitine through supplement which benefits are to regulate fat metabolism, to lower blood fats associated with high cholesterol, help to weight loss, improves poor circulation, and helps fight coronary heart disease.
BENEFIT OF X-DETOXX
PROMOTES GASTROINTESTINAL MOVEMENT
IMPROVE DIGESTION SYSTEM
PREVENTING & TREATING CONSTIPATION
PREVENT COLON CANCER
STRENGTHENS IMMUNE SYSTEMS
CONTROL CHOLESTEROL (LDL&HDL)
HEALTHY WEIGHT CONTROL
CONTROL HIGH SUGAR LEVELS IN BLOOD
IMPROVE BLOOD CIRCULATION
AVOID BLOOD VESSEL BLOCKAGE
PREVENT HEART DISEASES
Ingredients: Psyllium husk, Spirulina, At Fiber, Soy Fiber, Wheat Fiber & Inulin Fiber, Wheat grass & Chlorphyll Aloe vera, Oligosakarida, L-carnitine
TESTIMONIAL:: BEFORE & AFTER X-DETOXX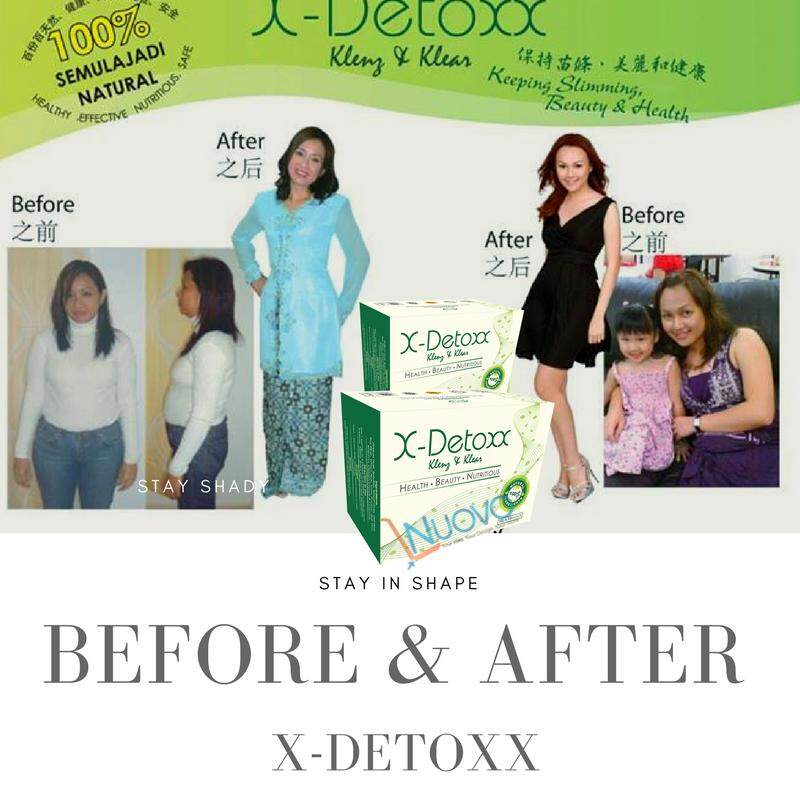 Our Certificate and Quality Assurance:
Our brand is being produced under a strict manufacturing standard and comply to the following to ensure that it is 100% safe to consume:-
The Highest Quality Ingredients Used
Manufactured in compliance with Good Manufacturing Practice (GMP)
Approved by the Ministry of Health in Malaysia
Manufactured according to International Standards like HACCP/WCS Standards
Recognised by ISO 9001:2000
"HALAL" Certified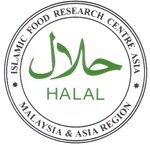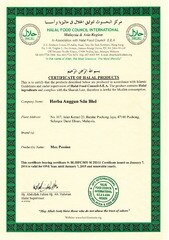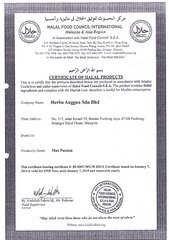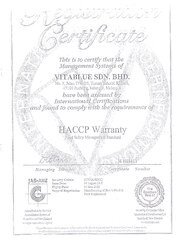 | | | |
| --- | --- | --- |
| Zone | Weight | Delivery Fee (RM) |
| WM | First 1.00 kg | 8.00 |
| WM | Additional 1.00 kg | 2.00 |
| EM | First 1.00 kg | 17.00 |
| EM | Additional 1.00 kg | 16.00 |