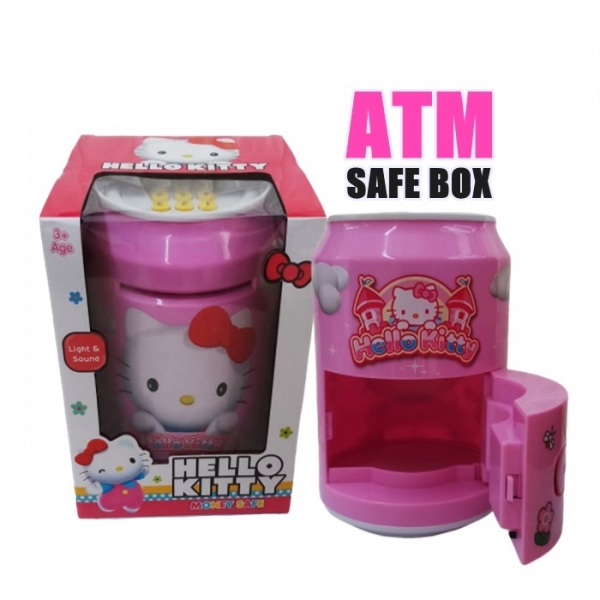 Material: ABS
Recommended Gender: Unisex
Kids ATM Coin Bank Password Saving Box Tabung Atm Coin Saving Children Saving Coin Box Tabung Password
• Increased Storage Space: space of large capacity, storage to meet children desire, at the same time also can hold some private small items.
• Automatic paper money scroll: Put the paper money on the Scroll, it can be rolled into the machine automatically. (Not for folded ragged money).
• Rotary switch: enter the correct password then the light turns green, the ATM can be opened. (if the password is wrong, the light turns red, please try again).
• Password Key: The default password is 0000 ,you can change to another 4 digits password. If you forget the password, just take out the batteries and restart,it will automatically return to 0000.
• Powered by: 3 * AA batteries (Not Included).
Use Guide:
To open the safe, you first need to enter a four-digit password. Safe default password is: 0000
Follow these steps to use safe:
1. Enter the four-digit password, and green lights. If you enter the wrong password, the red light will be lit, and will issue "PLEASE TRY AGAIN" voice tells you
2. Clockwise knob, opened the door. Green light for about 10 seconds, you will hear the creak of the door opening. If the door is open for longer than 10 seconds, the green light is off, and beep sound once every 20 seconds. To stop the beep, you can close the door
3. Banknote banknotes into the mouth, the bill can be directly admitted. Then press the password can withdraw money
4. When you are finished, close the door lock is good
Change the password, follow these steps:
1. Enter the current password (default 0000) to open the safe door
2. Hold the "*" button down, both green and red lights flash
3. Within 15 seconds, enter the new 4-digit password, press "#" to confirm to store the new password. Light stops flashing
Note: If the new password is not entered within 15 seconds, the program will stop, you must restart the program
4. Release the "*" character button and close the door
*Have password to open the box
*Have songs when you deposit the money paper
*Have various design to choose
*Rechargable battery
*Perfect gift for your kids
*Perfect to teach your kids for saving money
*Package dimension size: 16.5*16.5*22cm
---------
Kanak-kanak ATM Coin Bank Kata Laluan Penjimatan Peti Tabung Atm Coin Saving Kanak-kanak Menyimpan Kotak Syiling Tabung Kata Laluan
• Peningkatan Ruang Penyimpanan: ruang kapasiti yang besar, penyimpanan untuk memenuhi keinginan anak-anak, pada masa yang sama juga dapat memegang beberapa barang kecil swasta.
• Skrin wang kertas automatik: Letakkan wang kertas pada Skrol, ia boleh dilancarkan ke dalam mesin secara automatik. (Bukan untuk wang yang terlipat).
• Suis putar: masukkan kata laluan yang betul maka cahaya menjadi hijau, ATM boleh dibuka. (jika kata laluan itu salah, cahaya menjadi merah, sila cuba lagi).
• Kata Kunci Kata Laluan: Kata laluan lalai adalah 0000, anda boleh menukar kata laluan 4 digit yang lain.
| Zone | Weight | Delivery Fee (RM) |
| --- | --- | --- |
| West Malaysia | First 0.50 kg | 8.00 |
| | Extra 0.50 kg | 2.50 |
| East Malaysia | First 0.50 kg | 13.50 |
| | Extra 0.50 kg | 5.00 |