NEW Product Launch !!
Ready Stock Available !
Hurry, grab it now to try out this special collagen candy. It's so easy to "eat" collagen anytime, anywhere, without the hassle of mixing powder with water.
~~~~~~~~~~~~~~~~~~~~~~~~~~~~~~~~~~~~~~~~~~~~~~~~~~~~~~~~~~~~~~~~

Key to UNLOCK the GOLDEN DOOR of Beauty.
Maintain your Youthful and Beautiful appearance, ANYTIME and ANYWHERE conveniently.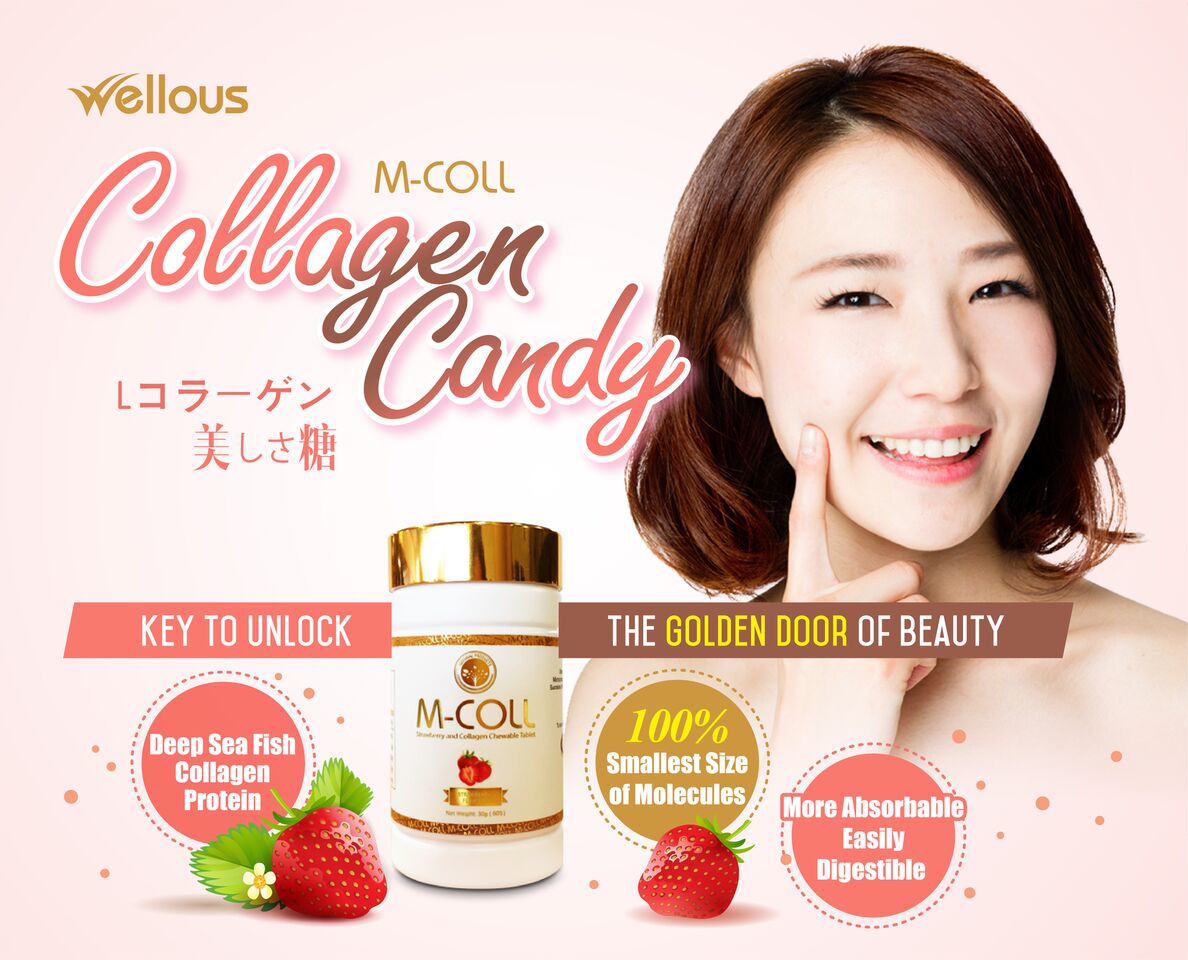 This Collagen Candy is made for woman above the age of 20; that is when our body losing collagen & elastin at the rate of about 1% each year as we age. The collagen & elastin responsible for tight skin are found in the deepest part of the skin, just above the fat layer which lies beneath our skin.
Each bottle of M-Coll contains 60 tablets forms of Candies to be taken twice a day before food.
Preferably before Breakfast and Dinner. Each tablet contains 1000mg of Deep Sea Fish Collagen Protein!
Consumption together with your daily vitamins and amino acids may boost the collagen synthesis of your body.
*Suitable for Pregnant Women.

Recommended dosage: 2 candies daily; or 4 candies daily for faster result. To be chew in mouth whenever desired for refreshment
Clear, firm, glowing skin begins inside your body, so it's true that YOU are what you EAT.
Collagen has been seen as a very important ingredient for skin care over the years.
Uniqueness of M-COLL Collagen Candy
• Formulated in Japan for Asians. • Made of natural ingredients.
• Contains hydrolyzed marine collagen with smallest molecular structure (1,000 daltons) which enables deep penetration into the dermis and increases the digestion and total absorption for effective results.
• Coupled with powerful antioxidant ingredients rich in Vitamin A, C and E which significantly activate skin elastin and brighten the skin.
• Using the most advanced production technology, collagen extracted from deep sea fish have been found to be free from any heavy metals, pesticides and microbiological contaminants, ensuring the highest degree of safety and purity.
*Ingredients of M-Coll Collagen Candy:
Fish collagen, strawberry powder, grape powder, orange powder, wheat flakes,
maltodextrin, microcrystalline cellulose, sucralose, magnesium stearate, silicon dioxide
(No side effect & dependency)


INTERNATIONAL PRESTIGE BRAND AWARD

Some reviews from customers after M-Coll:
| | | |
| --- | --- | --- |
| Zone | Order Price Range (RM) | Delivery Fee (RM) |
| WM | Above 40.00 | 7.00 |
| EM | Above 20.00 | 9.00 |