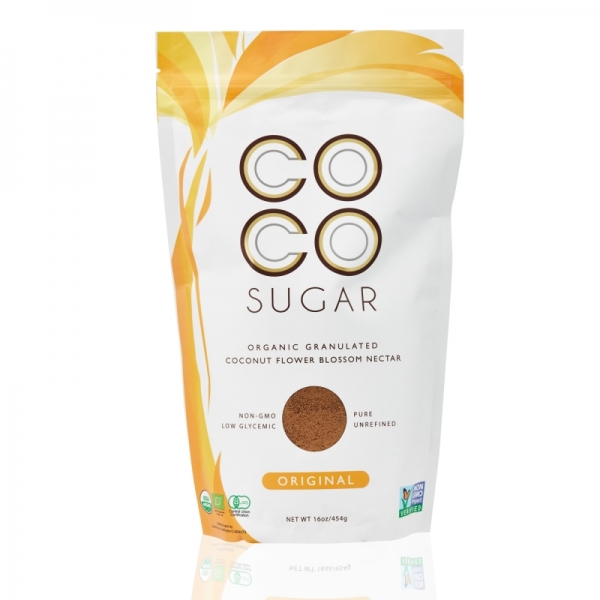 SUSTAINABLE HEALTH, FAIR TRADE, VERTICAL INTEGRATION
* Certified Organic * Non-GMO * Vegan * Low Glycemic *
Many traditional communities throughout the world consider coconut trees the "Tree of Life" as they provide a variety of accessible products from which they earn their livelihoods. One of the useful parts of the coconut tree is the sap. We harvest the sap of the best coconut trees in Java. Besides the quality of the trees itself, to get the best quality of the sap, we also harvest it multiple times daily to maintain high level of freshness. The most nutritious of the possible sweetener is coconut sugar from the best resource through full-hearted process.

Benefits:
* Organic Granulated Coconut Flower Blossom Sugar is naturally low on the Glycemic Index (GI). It provides slow release energy, which sustain the human body through your daily activities without the regular sugar "highs" and "lows" and it is high in nutritious minerals. Organic coconut sugar has healthy content of Potassium, Magnesium, Zinc and Iron. It is also a natural source of vitamins B1, B2, B3, B6 and amino acids.
* Organic Granulated Coconut Flower Blossom Sugar are pure and unrefined just as nature intended. Our organic coconut sugar is processed naturally, unbleached, and does not contain any other ingredients but pure coconut sugar from our organically grown coconut tree sap.
*It is made only from pure organic coconut flower blossom nectar without additives. There is no chemicals nor preservatives added, and there is absolutely no genetic modification. We adhere to USDA, EU, and JAS international organic standards.
* It has a slight hint of caramel which enhances and accentuates the smooth flavor curve. Not only looks good, it is also taste good!
* It is the best alternative to sugar. It can be used 1:1 as a substitute for any sugar. It offers a unique caramel sweetness with a full, round character.
* Food and Agricultural Organizational (FAO) recognizes coconut sugar as the most sustainable form of sugar.
Product Features:
1. USDA-NOP Organic (National Organic Program)
2. EU Organic
3. JAS Organic (Japanese Agricultural Standard)
4. Halal
5. Non-GMO Project verified
6. Vegan verified
7. Kosher
8. PALEO certified

Ingredient:
100% Organic coconut flower sap

Origin: Indonesia

Recommended Dose & Usage:
Use as 1-to-1 sugar replacement in hot or cold beverages, good for cooking and baking. It dissolves and melts the same way.

Storage:
Store in clean dry place at room temperature, out of direct sunlight.
| Zone | Weight | Delivery Fee (RM) |
| --- | --- | --- |
| East Malaysia (Sabah & Sarawak) | First 1.00 kg | 18.00 |
| | Extra 1.00 kg | 15.00 |
| Peninsular Malaysia | First 2.00 kg | 10.00 |
| | Extra 1.00 kg | 3.00 |
| Singapore | First 1.00 kg | 38.00 |
| | Extra 0.50 kg | 12.00 |
| Brunei, Indonesia, Philippines & Thailand | First 0.50 kg | 89.80 |
| | Extra 0.50 kg | 25.40 |
| Vietnam & Cambodia | First 0.50 kg | 149.60 |
| | Extra 0.50 kg | 36.00 |
| Laos & Myanmar | First 0.50 kg | 224.40 |
| | Extra 0.50 kg | 52.40 |
Order & Delivery Schedule
Delivery fee for each purchase will be determined by the weight and delivery destination based on the delivery rate and to be paid by the recipient.
All orders will be delivered via City-Link.
No delivery over weekends (Saturday and Sunday) and / or Public Holiday. Delays in delivering your order might be incurred due to holidays, extreme bad weather or any type of natural disaster.
No order accepted for delivery to any P.O. Box address.
We will deliver order to the delivery address specified in the online order form; hence, in the event of any unsuccessful delivery due to either absence in receiving order and / or wrong , incomplete delivery address; We will not be held responsible and / or bear any cost to re-route and /or to re-deliver parcel. It is therefore important to ensure delivery address filled in the form is correct.
We will also not be held responsible to refund full payment of order after paid and /or replace products if missing during the re-routing and / or re-delivery process due to wrong and /or incomplete delivery address given.
Delivery address cannot be changed / modified once order's transaction has been approved.
City-Link Express:
http://www.citylinkexpress.com
City-Link Express Hotline: 1-300-88-2489