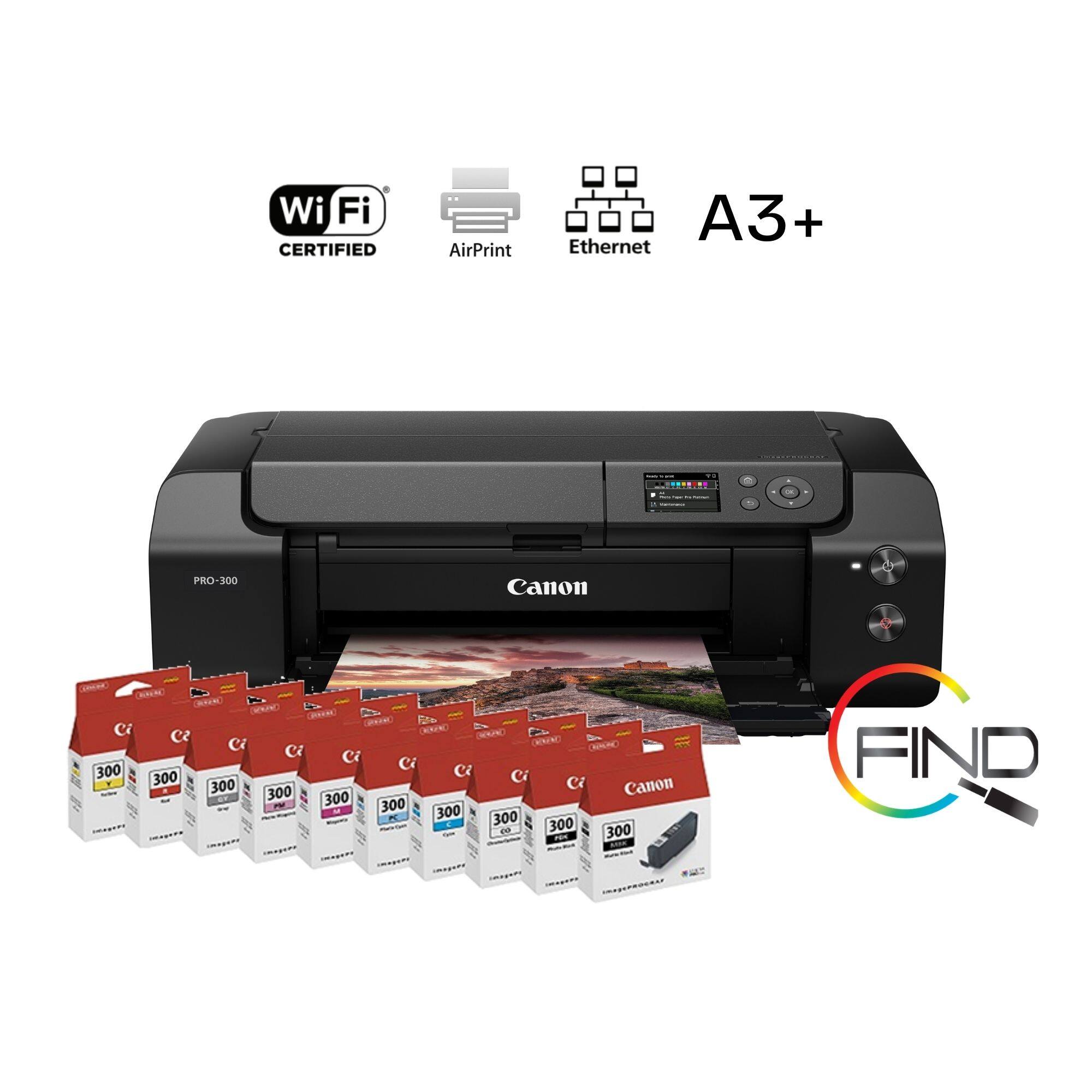 What's in the box:
not specified

imagePROGRAF PRO-300
Professional A3+ Photo Printer for Photographers with 10-colour inks system
This 10-colour pigment ink printer featured LUCIA PRO ink for unprecedented print quality. Dedicated channels for both Matte and Photo Black inks provide deep blacks on matte, fine art and photo papers. Unique Chroma Optimizer gives photographs a uniform glossiness which regulates surface reflection to prevent bronzing effect for a professional-lab look and feel.
Print

Photo print speed (4 x 6"): 1 min 45 sec (borderless)

Wireless, Wired LAN, Wireless Pictbridge, Mopria, AirPrint, Direct Wireless

Printer

| | |
| --- | --- |
| | Number of Nozzles |
| Type | Permanent |
| Number of Nozzles | Total 7,680 nozzles |
| Ink Cartridges | PFI-300 (Cyan / Magenta / Yellow / Red / Photo Cyan / Photo Magenta / Grey / Photo Black / Matte Black / Chroma Optimizer) |
| Maximum Printing Resolution | 4800 (horizontal)*1 x 1200 (vertical) dpi |
| | Print Speed |
| Photo (11 x 14" image on A3+ with border)(Black & White / Colour, PT-101) | Approx. 4 min 15 sec |
| Photo (A4 / 8 x 10" image on A4 with border)(Colour, PT-101) | Approx. 2 min 30 sec |
| Photo (4 x 6", borderless)(Colour, PT-101) | Approx. 1 min 45 sec |
| | Maximum Printable Paper Length |
| Top Tray | Top Tray: 322.2 mm (12.7")Borderless Printing: 329 mm (A3+ / 13") |
| Manual Feed | Manual Feed: 323.4 mm (12.7")Borderless Printing: 329 mm (A3+ / 13") |
| | Printable Area |
| Borderless Printing*3 | Top/Bottom/Right/Left margin: each 0 mm |
| Bordered Printing | Top margin: 3 mm, Bottom margin: 5 mmLeft/Right margin: each 3.4 mm (LTR/LGL: Left: 6.4 mm, Right: 6.3 mm)Recommended Top/Bottom/Left/Right margin for Fine Art Paper: each 25 mm |
| | Support Media |
| Top Tray | Plain PaperPhoto Paper Pro Platinum (PT-101)Photo Paper Plus Glossy II (PP-201, PP-208)Photo Paper Pro Luster (LU-101)Photo Paper Plus Semi-Gloss (SG-101)Matte Photo Paper (MP-101)HagakiLightweight Photo PaperJapanese Paper WashiCanvasRed Label Superior 80 g/mCanon Oce Office Colour Paper 80 g/mHeavyweight Fine Art PaperInkjet Greeting CardCardstock |
| Manual Feed | Photo Paper Pro Platinum (PT-101)Photo Paper Plus Glossy II (PP-201, PP-208)Photo Paper Pro Luster (LU-101)Photo Paper Plus Semi-Gloss (SG-101)Matte Photo Paper (MP-101)Photo Paper Pro Premium Matte (PM-101)Premium Fine Art Smooth (FA-SM1)Premium Fine Art Rough (FA-RG1)Lightweight Photo PaperHeavyweight Photo PaperExtra Heavyweight Fine Art PaperHighest Density Fine Art PaperJapanese Paper WashiCanvasBaryta PaperInkjet Greeting CardCardstock |
| Multi-Purpose Tray | Printable Nail Sticker (NL-101)Printable Disc |
| | Paper Size |
| Top Tray | A3+, A3, A4, A5, B4, B5, LTR, LGL, Ledger, Hagaki, 7 x 10", 12 x 12", Square (5 x 5"), 3.5 x 5", 4 x 6", 5 x 7", 8 x 10", 10 x 12", 210 x 594 mm[Custom size]width 89 - 329 mm, length 127 - 990.6 mm |
| Manual Feed | A3+, A3, A4, B4, LTR, LGL, Ledger, 12 x 12", 8 x 10", 10 x 12", 210 x 594 mm[Custom size]width 203.2 mm - 330.2 mm, length 254 mm - 990.6 mm |
| Multi-Purpose Tray | 120 x 120 mm |
| Paper Size (Borderless) | A3+, A3, A4, LTR, Ledger, 7 x 10", 12 x 12", 5 x 7", 3.5 x 5", 4 x 6", 8 x 10", 10 x 12", Square (5 x 5"), 210 x 594 mm |
| | Paper Handling (Top Tray)(Maximum Number) |
| Plain PaperPhoto Paper Pro Platinum (PT-101)Photo Paper Plus Glossy II (PP-201)Photo Paper Pro Luster (LU-101)Photo Paper Plus Semi-Gloss (SG-201)Matte Photo Paper (MP-101)Photo Paper Plus Glossy II (PP-208)HagakiLightweight Photo PaperJapanese Paper WashiCanvasRed Label Superior, 80 g/mCanon Oce Office Colour Paper, 80 g/mHeavyweight Fine Art PaperInkjet Greeting CardCardstock | LTR/A4/A5/B5 = 100, B4/A3/LGL/LDR = 504 x 6" = 20; A3/A4 = 10, 10 x 12"/A3+ = 14 x 6"/Square (5 x 5") = 20, A3/A4 = 10, A3+ = 1A4/A3 = 10, A3+ = 14 x 6" = 20, A4/A3 = 10, A3+ = 14 x 6" = 20, A4/A3 = 10, A3+ = 1A4/A3=10, 4 x 6" = 2020LTR/A4/A3/A3+/LDR/210 x 594 mm =1LTR/A4/A3/A3+/LDR/210 x 594 mm =1LTR/A4/A3/A3+/LDR/210 x 594 mm =1A4 = 100A4 = 80LTR/A4/A3/A3+/LDR/210 x 594 mm =1LTR/A4/7 x 10" = 1LTR/A4/12 x 12" = 1 |
| | Paper Handling (Manual Feed)(Maximum Number) |
| Photo Paper Pro Platinum (PT-101)Photo Paper Plus Glossy II (PP-201)Photo Paper Plus Glossy II (PP-208)Photo Paper Pro Luster (LU-101)Photo Paper Plus Semi-Gloss (SG-201)Matte Photo Paper (MP-101)Photo Paper Pro Premium Matte (PM-101)Premium Fine Art Smooth (FA-SM1)Premium Fine Art Rough (FA-RG1)Lightweight Photo PaperHeavyweight Photo PaperJapanese Paper WashiCanvasExtra Heavyweight Fine Art PaperHighest Density Fine Art PaperInkjet Greeting CardCardstockBaryta Paper | A4/A3/A3+ = 1A4/A3/A3+ = 1A4/A3=1A4/A3/A3+ = 1A4/A3/A3+ = 1A4/A3/A3+ = 1A4/A3/A3+ = 1A4/A3/A3+ = 1A4/A3/A3+ = 1LTR/A4/A3/A3+/LDR/210 x 594 mm = 1LTR/A4/A3/A3+/LDR/210 x 594 mm = 1LTR/A4/A3/A3+/LDR/210 x 594 mm = 1LTR/A4/A3/A3+/LDR/210 x 594 mm = 1LTR/A4/A3/A3+/LDR/210 x 594 mm = 1LTR/A4/A3/A3+/LDR/2 10 x 594 mm = 1LTR/A4/7 x 10" = 1LTR/A4/12 x 12" = 1LTR/A4/A3/A3+ = 1 |
| Paper Handling (Multi-purpose Tray)(Maximum Number) | 1 (Multi-purpose Tray) |
| | Paper Weight |
| Top Tray | Plain Paper: 64 - 105 g/mCanon genuine paper (max.): approx. 380 g/m |
| Manual Feed | Canon genuine paper (max.): approx. 380 g/mPaper Thickness: 0.1 ~ 0.6 mm or less |
| Ink End Sensor | Dot count |
| Print Head Alignment | Auto/Manual |

| | |
| --- | --- |
| Protocol | SNMP, HTTP, TCP/IP (IPv4/IPv6) |
| | Wired LAN |
| Network Type | IEEE 802.3 10base-TIEEE 802.3u 100base-TX |
| Data Rate | 10 Mbps/100 Mbps (Auto switching) |
| Security | IEEE 802.1X (EAP-TLS/EAP-TTLS/PEAP) |
| | Wireless LAN |
| Network Type | IEEE802.11n/g/b/a |
| Frequency Band | 2.4 GHz/5 GHz |
| Channel*5 | 2.4 GHz: 1 - 13 (US: 1 - 11)5 GHz: W52/W53/W56/W58*6 |
| Range | Indoor 50 m (depends on the transmission speed and conditions) |
| Security | WEP 64/128 bit)WPA-PSK (TKIP/AES)WPA2-PSK (TKIP/AES) |
| Direct Connection (Wireless LAN) | Available |

| | |
| --- | --- |
| AirPrint | Available |
| Windows 10 Mobile | Available |
| Mopria | Available |
| Canon Print Service(for Android) | Available |
| PIXMA Cloud Link(from smartphone/tablet) | Available |
| Easy-Photo Print Editor | Available |
| Canon PRINT Inkjet/SELPHY(for iOS/for Android) | Available |

| | |
| --- | --- |
| | Windows 10 / 8.1 / 7 SP1(operation can only be guaranteed on a PC with a pre-installed Windows 7 or later)OS X 10.11.6 , macOS 10.12macOS 10.15 |

Operation Panel

Display

3.0-inch/7.5 cm Colour LCD Display

Language

33 Languages Selectable: Japanese / English (mm & inch) / German / French / Italian / Spanish / Dutch / Portuguese / Norwegian / Swedish / Danish / Finnish / Russian / Czech / Hungarian / Polish / Slovene / Turkish / Greek / Simplified Chinese / Traditional Chinese / Korean / Indonesian / Slovakian / Estonian / Latvian / Lithuanian / Ukrainian / Romanian / Bulgarian / Thai / Croatian / Vietnamese

Interface

Hi-Speed USB 2.0

PictBridge (Wireless LAN)

Available

Operating Environment

Temperature

5 - 35C

Humidity

10 - 90% RH (no dew condensation)

Recommended Environment

Temperature

15 - 30C

Humidity

10 - 80% RH (no dew condensation)

Storage Environment

Temperature

0 - 40C

Humidity

5 - 95% RH (no dew condensation)

Quiet Mode

Available

Acoustic Noise (PC Print)









| Zone | Weight | Delivery Fee (RM) |
| --- | --- | --- |
| West Malaysia | First 1.00 kg | 4.80 |
| | Extra 1.00 kg | 2.00 |
| East Malaysia | First 1.00 kg | 13.00 |
| | Extra 1.00 kg | 9.00 |
| Australia, New Zealand | First 0.50 kg | 56.56 |
| | Extra 1.00 kg | 48.10 |
| Austria, Denmark, Finland,Mexico,Ireland, Switzerland | First 0.50 kg | 58.82 |
| | Extra 1.00 kg | 40.91 |
| Brunei, Cambodia, Laos | First 0.50 kg | 51.01 |
| | Extra 1.00 kg | 51.98 |
| Belgium,France, Germany, Netherlands, Spain, U.K | First 0.50 kg | 64.19 |
| | Extra 1.00 kg | 36.71 |
| China | First 0.50 kg | 42.18 |
| | Extra 1.00 kg | 33.78 |
| Bangladesh,Brazil,Iraq, Pakistan,Qatar, Russia, S.Arabia, UAE | First 0.50 kg | 59.32 |
| | Extra 1.00 kg | 43.21 |
| Ghana, Mongolia,South Africa | First 0.50 kg | 70.68 |
| | Extra 1.00 kg | 61.37 |
| Philippines | First 0.50 kg | 44.79 |
| | Extra 1.00 kg | 33.86 |
| Canada, United States | First 0.50 kg | 60.55 |
| | Extra 1.00 kg | 43.09 |
| Hong Kong | First 0.50 kg | 31.95 |
| | Extra 1.00 kg | 28.42 |
| India | First 0.50 kg | 51.01 |
| | Extra 1.00 kg | 40.15 |
| Indonesia | First 0.50 kg | 51.38 |
| | Extra 1.00 kg | 42.37 |
| Japan | First 0.50 kg | 45.74 |
| | Extra 1.00 kg | 39.48 |
| Macau | First 0.50 kg | 55.46 |
| | Extra 1.00 kg | 38.50 |
| Singapore | First 0.50 kg | 32.83 |
| | Extra 1.00 kg | 26.99 |
| Taiwan | First 0.50 kg | 36.17 |
| | Extra 1.00 kg | 33.20 |
| Thailand | First 0.50 kg | 39.41 |
| | Extra 1.00 kg | 31.73 |
| Vietnam | First 0.50 kg | 60.55 |
| | Extra 1.00 kg | 39.82 |