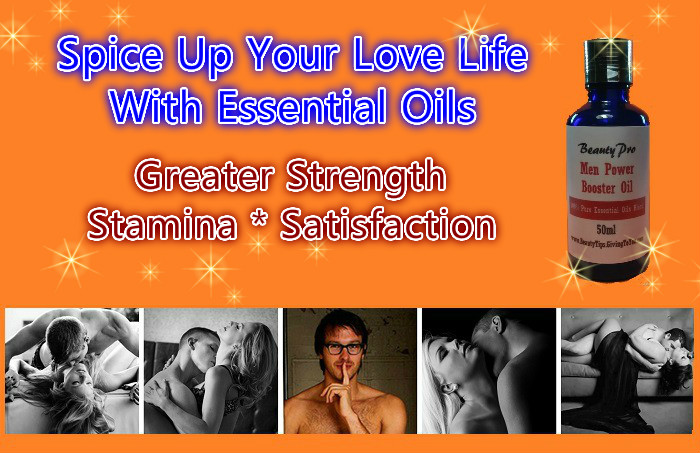 Men Power Booster Oil -激活性动力油
100 % Pure Essential Oils Blends- 100%纯精油配方

Main Action of Men Power Booster Oil

Enhances Libido
Prevent Premature Ejaculation
Improves Blood Circulation

Improves Physical Health
Enhances Sexual Ability
Prevent Erectile Difficulties

Stimulates the Production of
Sex Hormones








Men Power Booster Essential Oil Blend was created to help relieve impotence. The oils help stimulate the senses and increase sexual desire with the use of earthy and sweet essential oils. A sweet, earthy scent to get your sexual energy flowing which is necessary when you are impotent.


Men Power Booster Essential Oil Blend contains a proprietary blend of these essential oils:-






Basil Essential Oil - Arouses sexual instincts in both men and women.

Cedarwood Essential Oil - Calms fears and anxieties relating to sexuality.

Clary Sage Essential Oil - Helps improve sexual desire; decreases inhibitions, arousing the emotions. Regulates and balances hormones in women. It may help with problems relating to impotence and frigidity.

Ginger Essential Oil -Heats up libido and increases sex drive.

Jasmine Essential Oil - Deeply soothing and calming. It may help with erectile dysfunction, fidgety, and premature ejaculation. Jasmine enhances the feeling of sensuality and self- worth.







Juniper Essential Oil - Enhances self -confidence and openness by arousing and awakening love and sexuality.

Lavender Essential Oil - Produces sexual excitement in many people and may help balance the hormones. Reduces anxiety and balances energy.

Patchouli Essential Oil - Helps release sexual fears by decreasing inhibitions. Helps to improve communication on a physical and emotional level.








Orange Essential Oil - Mild aphrodisiac properties. Systematic and regular use can cure problems such as frigidity, erectile problems, impotence, loss of interest in sex, and decreased libido.

Sandalwood Essential Oil- Helpful with sexual problems due to its aphrodisiac properties. Enhances feelings of sexuality and openness. Stabilizes root chakra.

Ylang Ylang Essential Oil- Enhances sensuality, increases libido, and attraction between lovers, due to its aphrodisiac properties. The scent of Ylang Ylang elevates sexual energy and enhances relationships. May also be helpful with impotence and frigidity.


Suggested Usage for Men Power Booster Oil

Apply every day after bath for one month straight. Pour 10 to 15 drops of the oil mixture into the palm of your hand and gently massage it to the penis area and apply near the lower back.
(Avoid apply at the urethral meatus)

In general, it takes about 2 to 4 weeks for better result. You may use on alternate days after the condition improve.







Product Shelf Life :

2 years under well storage situation and stored away from direct sunlight.
| | | |
| --- | --- | --- |
| Zone | Order Price Range (RM) | Delivery Fee (RM) |
| West Malaysia | Above 20.00 | 3.00 |
| East Malaysia | Above 20.00 | 5.00 |