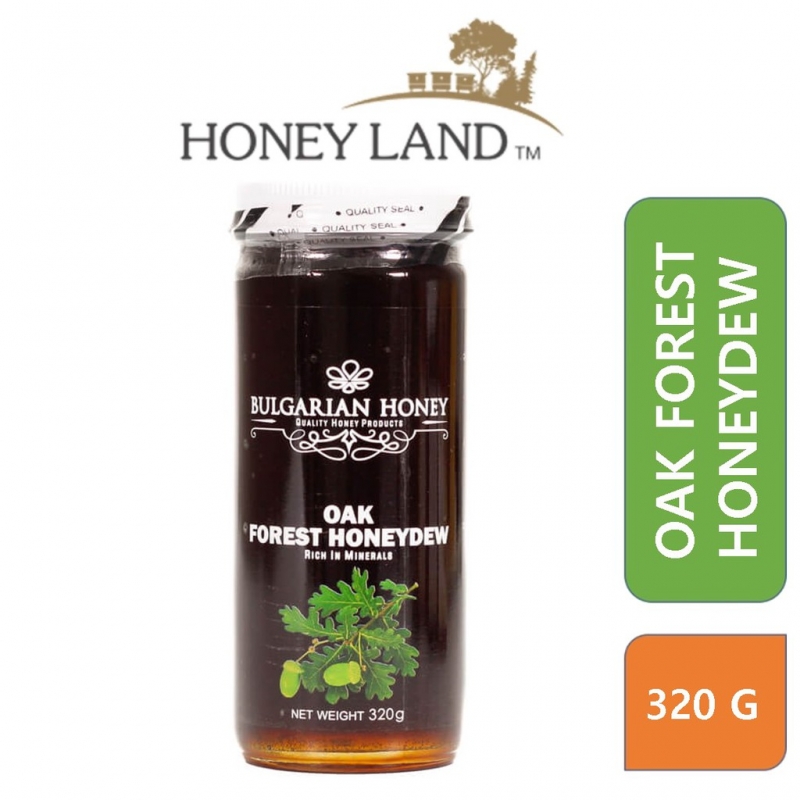 Expiry Date: More than 15 months
[For deliveries to Sabah, Sarawak & Labuan. Kindly choose courier other than J&T to avoid any inconvenience]
Region : Bulgaria
Price range : Mid, mid-high, high, exclusive
Colour : Dark
Crystallization : Very slow (hard crystallization, because of its high glucose content)
Taste : Earthy (woody and warm)
Sweetness : Medium
Most suitable for: Use the same way as Manuka honey
👍Bulgarian Honeydew Honey which is harvested in Strandja Mountain is one of the best in the world. Produced in oak forests, as the Strandja Mountain Oak Massif is the second largest in Europe and was declared as a national natural reservation area.
👍The Strandja Mountain honeydew honey has dark to black color and distinctive aroma. The honeydew honey contains a large number of free amino acids, more important of which are aspartic acid, alanine, arginine, cysteine, glycine, glutamic acid, histidine, lysine, methionine and others. The most significant difference between honeydew honey and blossom honey is in its mineral substances. In this type of honey they are from 5 to 9 times more. Honeydew honey contains huge amounts of antioxidants that have anti-cancer effect and increases the hemoglobin.
👍Healing / Medical Benefits
The Bulgarian Honeydew Honey is a rich in minerals and vitamins. It has anti-inflammatory and diuretic effect. Very useful for colds, diseases of the upper respiratory tract, the kidneys and bladder. Soothing the nervous system. Lowers blood pressure, stimulates blood circulation and has a strengthening effect on the heart. Honeydew honey contains a huge amount of antioxidants having antitumour action. In use of honey dew in a person's blood increases hemoglobin.
Extremely rich in minerals. Honey dew contains iron, calcium, sodium, potassium, magnesium, phosphorus. Microelements in it are almost in the same proportion as in the human blood. It contains monosaccharides – glucose and levulose, which are absolutely necessary for normal function of the liver, as well as vitamins B1, B2, PP, B12 (about 16 times more than in apples and apricots), B6, folic acid, biotin, etc.
👍Recommended Use
The rich mineral composition of honeydew honey determines its alkalizing effect, which is why it is recommended to sportsmen, workers and all activities related to exercise, to prevent muscle soreness and fatigue.
👍Generally recommended 15-20 grams of honey dew daily 1-2 hours before eating. The therapeutic dose can also be greater. For the treatment of cardiovascular and liver diseases honey is taken dissolved in hot water – 3 times a day, one tablespoon, one hour before eating.
| Zone | Weight | Delivery Fee (RM) |
| --- | --- | --- |
| West Malaysia | First 1.00 kg | 4.80 |
| | Extra 1.00 kg | 2.00 |
| East Malaysia | First 1.00 kg | 13.00 |
| | Extra 1.00 kg | 9.00 |
Delivery Information:
Our standard courier / delivery duration is 3 to 5 working days.
All orders must be placed before 12.00 p.m. local time to ensure that your order is processed within the same day. Do note that certain items may not be deliverable within the specified delivery time frame due to stock unavailability.
When will my order ship?
Orders are processed and shipped 9:30 a.m.- 4 p.m. Monday through Friday. Orders placed after 12 p.m. are processed the next business day. Orders placed on Saturday and Sunday will begin processing on Monday. All standard Malaysia Public Holidays apply.
How long will it take to arrive?
When shipping by ground methods, shipping time will vary based on the "ship to" destination. We work with a secure and trusted courier service in order to ensure your order is delivered on time and in perfect condition. However, in cases of unforeseen circumstances, we will engage alternative courier services. Please allow 3-7 business days for ground shipments. To ensure there are no delivery delays please review your address and advise us immediately if you notice an error. Once a parcel has been dispatched we are unable to rectify any mistakes in the delivery address. It is Honeyland Company's policy not to replace items that are lost because an incorrect address was supplied.
How much does HoneyLand charge for shipping?
We extend our discounted carrier rates to our customers. Simply enter your shipping address and our shopping cart will automatically calculate the rate for you.
Can I ship to a P.O. Box?
We do not ship to P.O. Box.
Does HoneyLand Ship to East Malaysia?
Yes, we ship to East Malaysia. Please note: Delivery time may be longer than expected.
Do You Accept Return & Refund?
We are committed to your satisfaction and will make every effort to ship your order accurately. In the event that there is a manufacturing defect or our team had shipped an item that does not match the order, you may return unopened product for replacement within 5 days from item receipt. For these cases, we will bear the return shipping fee. Gift-with-purchase items are not eligible for return, replacement, credit or refund. All Shipping charges are not refundable.
How do I return an order?
Get in touch with our Customer Service representative via e-mail at orders@bulgarianhoney.com.my to arrange a return request to Honeyland Headquarters. Please include your order details along with photos of the products in the e-mail for the verification and quality inspection purposes.
After receiving and inspecting the condition of your returned item(s), we will process your replacement or refund request. Please allow at least 5 days from receipt of your item(s) to process your request. Refunds may take 1 to 2 billing cycles to appear on your credit card statement, depending on your credit card company. We will notify you by email when your return has been processed.
If your purchase was made at one of our retail locations, please contact our Customer Experience team by email orders@honeyland.com.my.
Purchases made from entities other than honeyland Company are not eligible for replacement, credit or refund. Please contact the retailer where the Honeyland item was purchased and inquire about their exchange or return policy.
If you have questions concerning your return, please email us at orders@bulgarianhoney.com.my