Book Title: Building Wealth (Benji Franklin Kid Zillionaire)
ISBN: 9789673762934
Author: Raymond Bean

Synopsis:
BENJI FRANKLIN KID ZILLIONAIRE BUILDING WEALTH (AND SUPERPOWERED ROCKETS!)
After inventing a best-selling computer app, Benjamin "Benji" Franklin becomes a ZILLIONAIRE! This twelve-year-old tycoon has the world in the palm of his hand. But when a meteor threatens Earth, Benji will need all his riches (and a superpowered rocket ship) to save the planet from certain doom!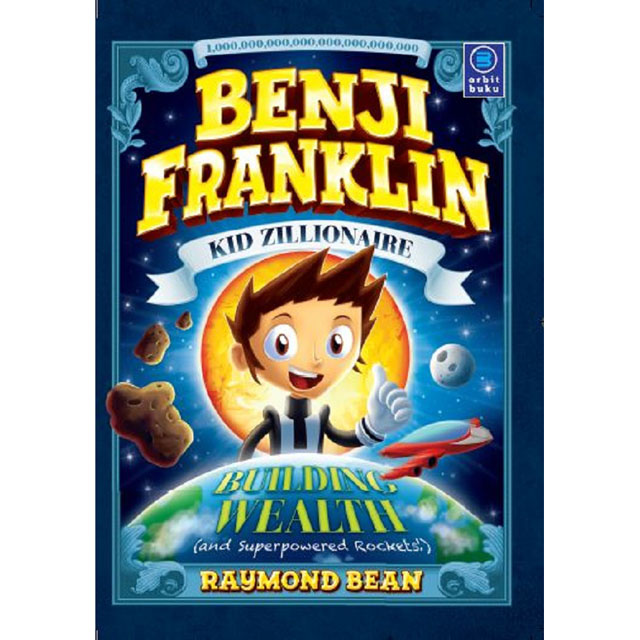 Benji Franklin Kid Zillionaire Series:
Investing Well
Buying Stocks
Saving Money
Building Wealth
| Zone | Weight | Delivery Fee (RM) |
| --- | --- | --- |
| West Malaysia | First 3.00 kg | 6.00 |
| | Extra 1.00 kg | 2.00 |
| East Malaysia | First 0.50 kg | 14.30 |
| | Extra 0.50 kg | 5.10 |
| Australia, New Zealand | First 1.00 kg | 159.77 |
| | Extra 0.50 kg | 52.65 |
| Austria, Denmark, Finland, Ireland, Switzerland, Russia | First 1.00 kg | 157.78 |
| | Extra 0.50 kg | 34.31 |
| Brunei, Cambodia, Laos, Mongolia | First 1.00 kg | 175.10 |
| | Extra 0.50 kg | 87.14 |
| Belgium,France, Germany, Netherlands, Spain, U.K | First 1.00 kg | 150.94 |
| | Extra 0.50 kg | 30.46 |
| China | First 1.00 kg | 96.44 |
| | Extra 0.50 kg | 25.35 |
| Bangladesh, Brazil, Iraq, Pakistan, Qatar, S.Arabia, UAE, Sri Lanka | First 1.00 kg | 118.52 |
| | Extra 0.50 kg | 24.96 |
| South Africa | First 1.00 kg | 118.52 |
| | Extra 0.50 kg | 24.96 |
| Philippines | First 1.00 kg | 91.42 |
| | Extra 0.50 kg | 15.29 |
| Canada, United States, Mexico | First 1.00 kg | 162.58 |
| | Extra 0.50 kg | 35.90 |
| Hong Kong | First 1.00 kg | 80.63 |
| | Extra 0.50 kg | 29.06 |
| India | First 1.00 kg | 113.30 |
| | Extra 0.50 kg | 22.28 |
| Indonesia | First 1.00 kg | 107.35 |
| | Extra 0.50 kg | 24.87 |
| Japan | First 1.00 kg | 112.97 |
| | Extra 0.50 kg | 35.03 |
| Macau | First 1.00 kg | 92.93 |
| | Extra 0.50 kg | 13.82 |
| Singapore | First 1.00 kg | 74.75 |
| | Extra 0.50 kg | 21.49 |
| Taiwan | First 1.00 kg | 94.42 |
| | Extra 0.50 kg | 34.76 |
| Thailand | First 1.00 kg | 94.10 |
| | Extra 0.50 kg | 28.25 |
| Vietnam | First 1.00 kg | 98.94 |
| | Extra 0.50 kg | 14.34 |