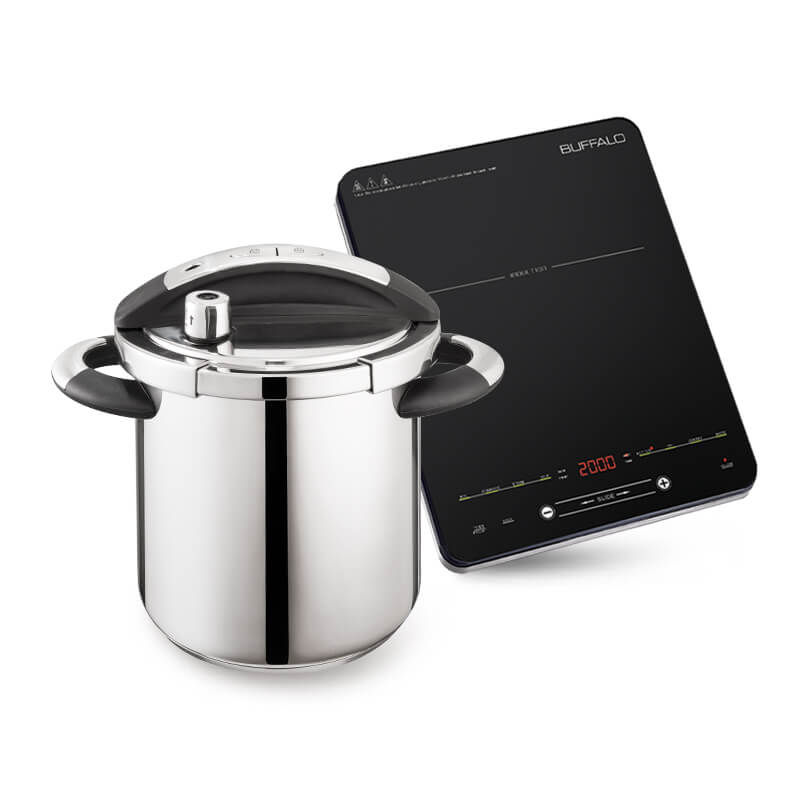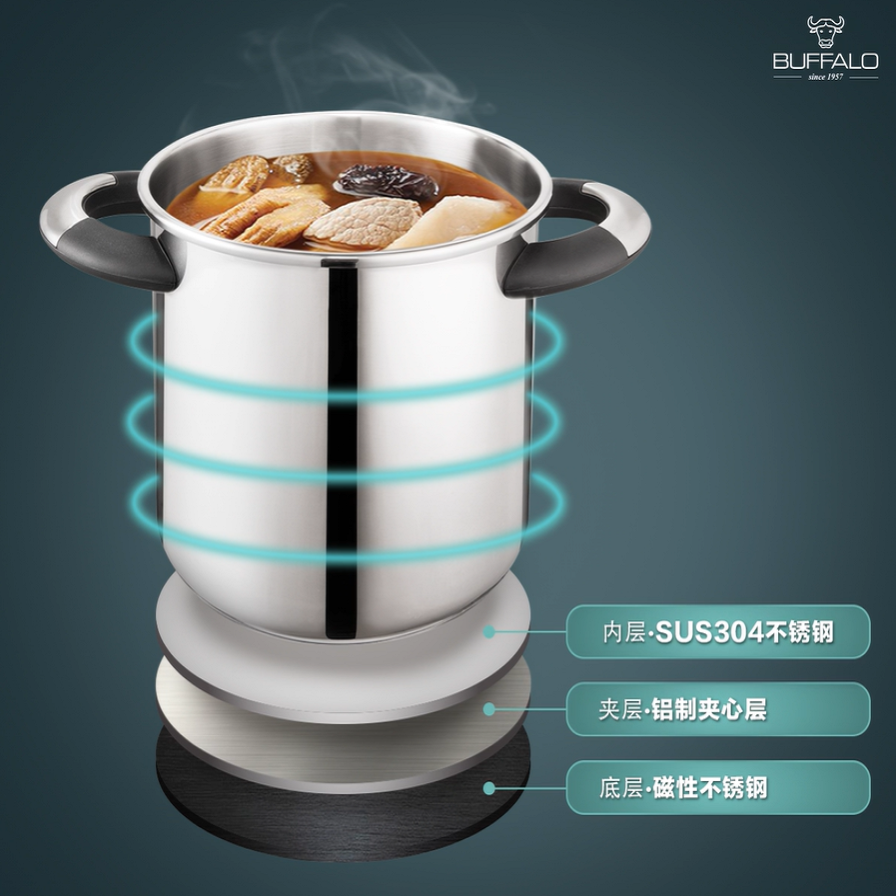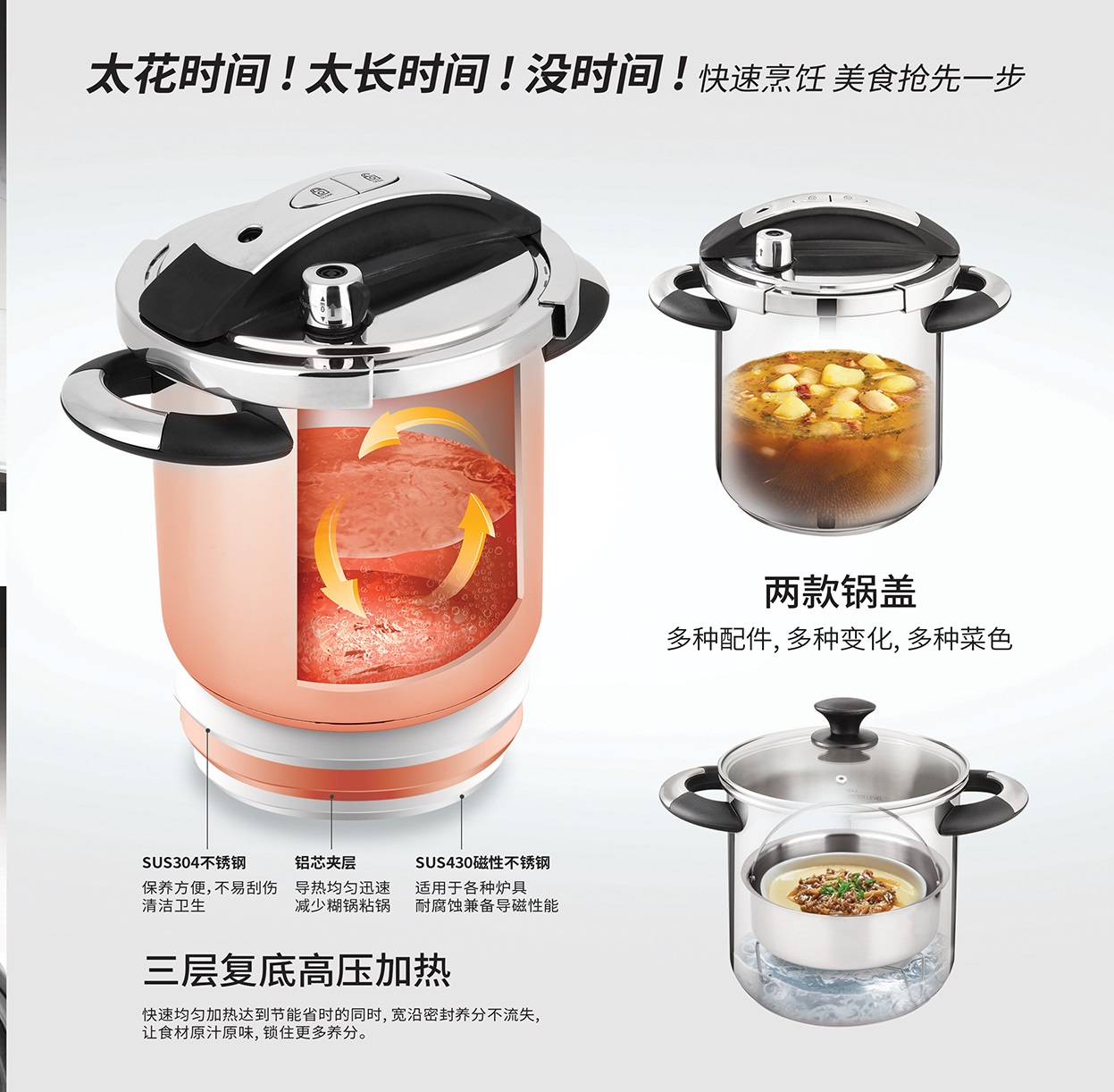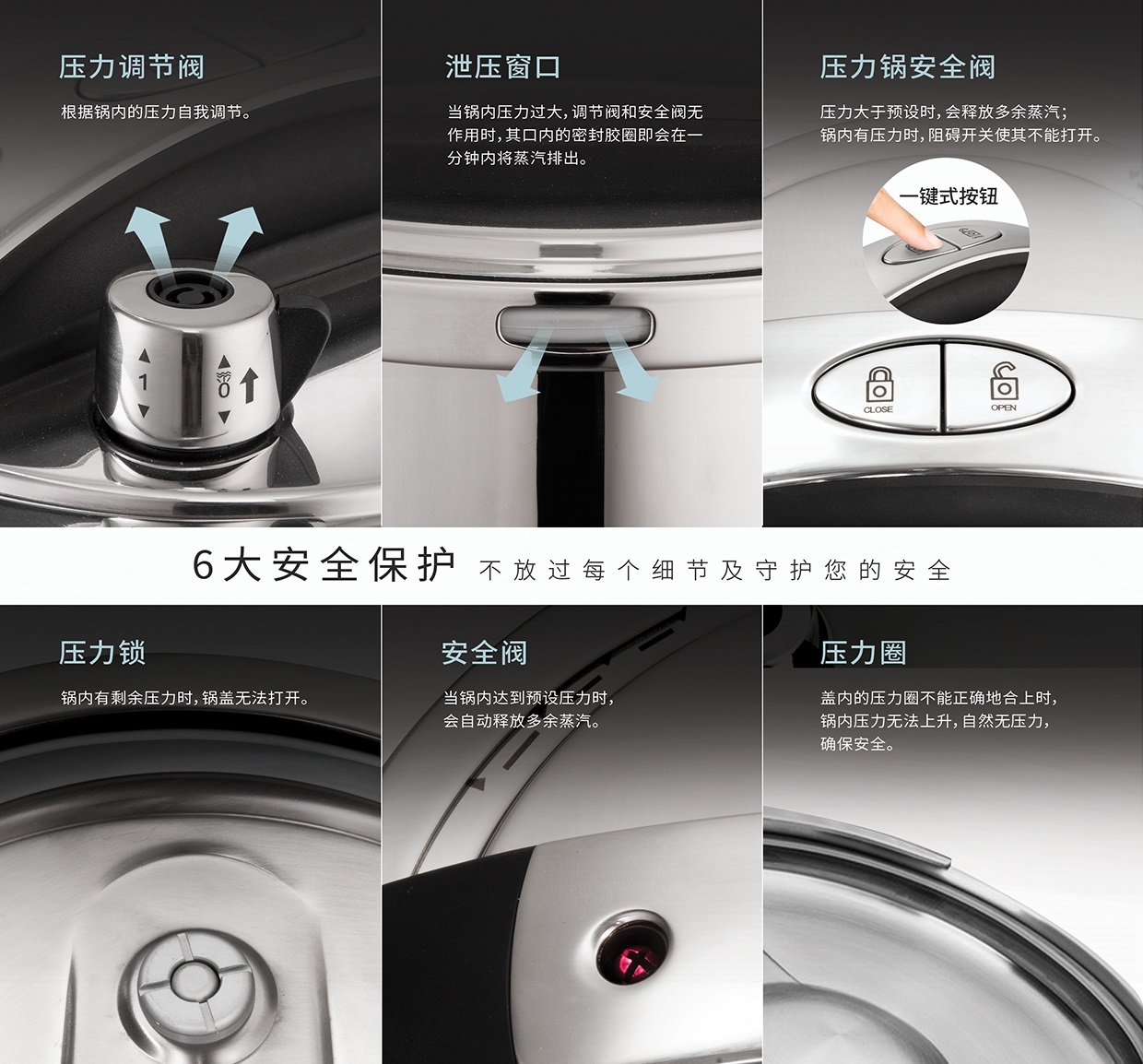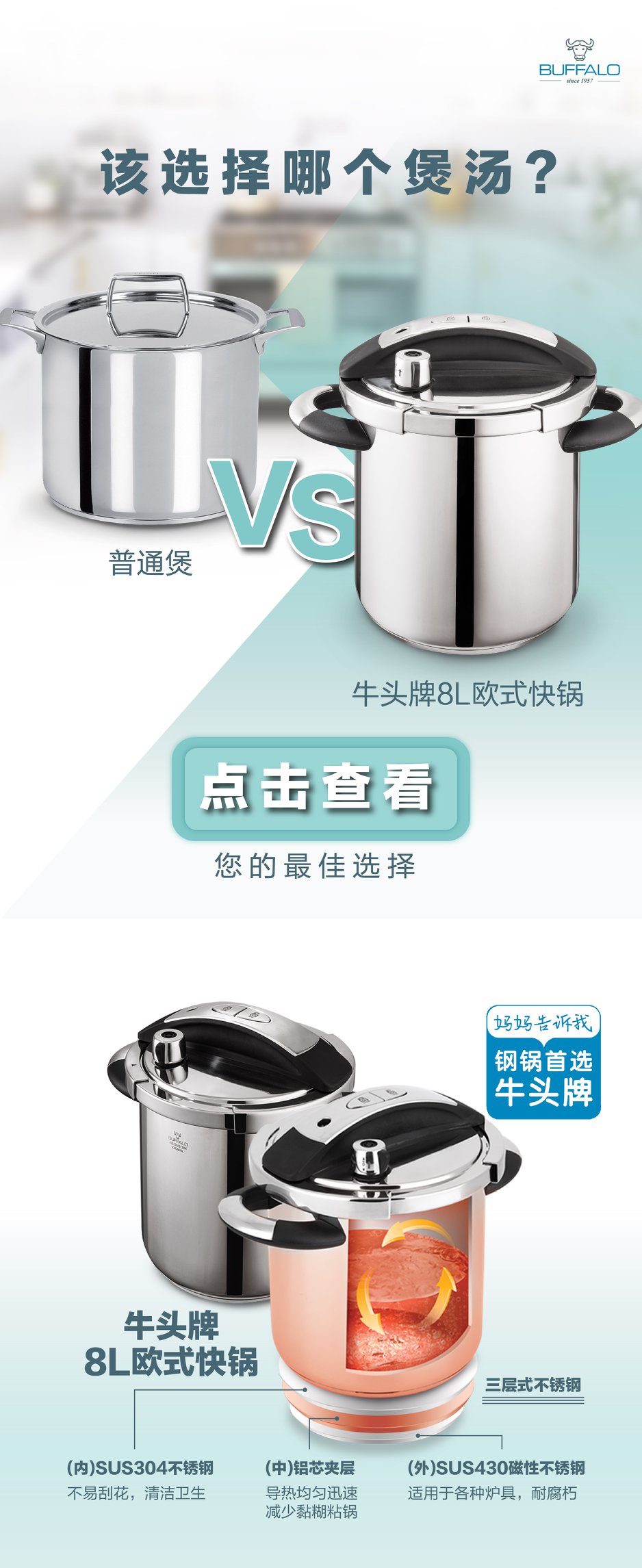 Just imagine if you could have a bowl of soup for a quick and filling dinner after work 😋

With Buffalo 8L Pressure Cooker, your favorite soup can be done 3 to 4 times faster than a normal pot.

What's more? It is made using tri-ply construction
✨Outer – SUS430 Stainless Steel, can be used on any cooktop
✨Middle – Aluminum layer, transfers heat evenly throughout the bottom and sides of the pot
✨Inner – SUS304 Stainless Steel, resists scratches & easy to clean

【民以食为天,食以器为先。】
想象一下,若每天回到家都能在短时间炖出一碗营养、原汁原味的热汤,那就太棒了 😋

牛头牌8L欧式快锅,采用高温高压密闭烹煮,烹煮时间比普通锅具快3-4倍,让全家人都能更快速的享用热腾腾的幸福 🍲

Pressure cooker is so convenient that different delicious foods can be done in a press 😍 meanwhile we're afraid that the steam released from pressure cooker can accidently hurt ourselves?
Introducing a safe and delicious cooking experience with Buffalo! The perfect combination of Buffalo 8L Pressure Cooker and Induction Cooker, safety is no longer a worry ~ 😉
✅Buffalo 8L Pressure Cooker - prevent steam leakage
✅Buffalo Induction Cooker - timer to control heat
Now you can enjoy different delicious foods in a press without worry!

高压锅真的很方便,只要轻松按下按钮就可以煮出各式各样的美食😍 但又害怕蒸汽泄漏会伤害自己?
牛迷们别害怕,让我们为你提供安全又美味的烹饪方法!有了牛头牌【8L欧式快锅 电磁炉】这两个神仙搭配,就犹如后裔和嫦娥的天作之合。
✅牛头牌8L欧式快锅 - 防止蒸汽泄漏
✅牛头牌电磁炉 - 一个按钮轻松控制火候
让您安心煮美味佳肴啦~ 😉


[Buffalo NEW 8L Pressure Cooker BL10]
-Pressure Cooking is a method of cooking in a sealed vessel or pot that does not permit air or liquid to escape below a preset pressure. The pressure built up inside the cooker allows the liquid in the pot to rise to a higher temperature before boiling.
-Pressure cooker cooks up to 3 to 4 times faster than normal pot which consume less time and energy. Therefore, it can reduce your cost significantly.
-Buffalo Pressure Cooker consist of safety features that always keep you safe and comfortable throughout your cooking process.
-Buffalo Pressure Cooker obtained ISO 9001: 2000 and Safety Goods (SG) Certificate from Japan.
-Specifications light-weight design compatible with all types of stoves.
[Buffalo New Induction Cooker KW83]
LCD display for individual function : Keep warm, Reheat, Steamboat, Stir Fry
Energy efficient compare to conventional cooker Durable glass surface, easy cleaning Safety lock function
LCD 显示单个功能功能:保温、再加热、蒸锅、翻炒 与传统炊具相比节能 耐用的玻璃表面,易于清洁 安全锁定功能
✅8 Multi functions
✅Strong fire power & convenience
✅German technology induction heater makes food faster and more convenience.
✅German high technologies : Boil, poriddge, steam and soup by auto functions and safety devices by self-detection.
✅Nature friendly : Do not make harmful has during cooking.
✅Stylish design and smart touch panel.
✅Material Glass, ABS Plastic
✅220-240V, 50/60 Hz, 2000W
✅Product Size : 290 X 370 X 38 mm
| Zone | Weight | Delivery Fee (RM) |
| --- | --- | --- |
| West Malaysia | First 1.00 kg | 4.99 |
| | Extra 1.00 kg | 2.00 |
| East Malaysia | First 0.50 kg | 14.30 |
| | Extra 0.50 kg | 5.10 |
Shipping:
We ship out all orders in the same or next working day.

Tracking number will be provided to buyer once the order shipped out.

Delivery normally takes around 3 to 7 working days to reach buyer.

Please check the tracking in the courier tracking website to avoid item returned back to us for fail delivery.

Resending of the return item will be charged accordingly.
Thank you!