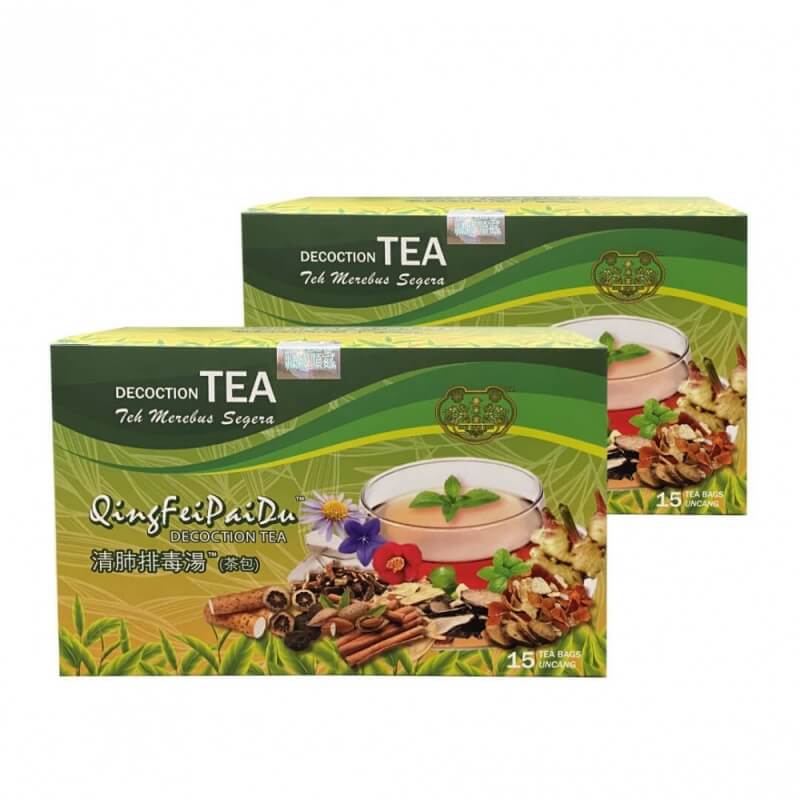 Certified by:
Malaysian Health Ministry Food Safety and Quality - MeSTI
Department of Islamic Development Malaysia (JAKIM) - HALAL
Traditional remedy to help improve
lung uncomfortableness, breathing difficulties, airway problem, coughing with phlegms, overdrinking and oversmoking habits, symptoms caused by haze and flu and cold.
Frequently Asked Questions :
1. Is it suitable for those with high blood lipid and high blood glucose?
A : Yes
2. Is it suitable to women during menstruation period?
A : Yes
3. Is it suitable for elderlies?
A : Yes
4. When over consumed, will it damage internal organs such as liver, spleen, lungs and kidneys?
A : Everything has to be consumed in moderation even plain water. This specially blended tea by TCM is safe for consumption.
5. Which group should consume with care?
a. Those with rare sickness or on long-term medication, please consult your doctor before consumption.
b. Pregnant women and children below 3 years old are not recommended
6. What if your body is showing some reactions after consumption?
a. During the course of consumption, the predicaments should be eased and you will get better.
b. Reactions such as minor rashes, coughing, phlegms, diarrhoea, more frequent urination and sweating are considered as normal body detoxing process.
c. Should the condition become serious, please seek advice and treatment from doctors.
7. What is the recommended consumptions?
A: TCM normally recommends one packet a day just like the normal herbal drinks. For those with symptoms, it is recommended to take 5-6 packets daily.
INGREDIENT:
Black Tea Leaves, liquorice, Almond, Cinnamon Twig, Alismatis Rhizoma, Umbrella Polypore, Atractylodes (White) , Poria Bupleurum root, Chinese Skullcap, Pinellia, Ginger, Tatarinow's aster, Coltsfoot, Balloon Flower, Chinese yam, Bitter orange, Chen Pi, Patchouli, Catnip, Common Duckweed, Stevia.
DIRECTION OF USE
Put 1 teabag in 100 hot water, steep for 10 minutes and serve hot.
Teabag can be reused till it has no more taste.
If needed, can use 2 teabags at a time. Take 1 to 2 times a day.
Nutrition Information
Serving Size : 10g
Serving Per Package : 15
Content
Per Serving
Per 100g
Energy
6 kcal
25 kJ
60 kcal
250 kJ
Carbohydrate
Total Sugars
0.3 g
0.024 g
10.2 g
0.696 g
Protein
0.1 g
2.75 g
Fat
0.0 g
0.0 g
Dietary Fiber
0.1 g
1.0 g
STORAGE CONDITION:
Keep in cool and dry place.
This product is suitable for vegetarian
| Zone | Weight | Delivery Fee (RM) |
| --- | --- | --- |
| West Malaysia | First 1.00 kg | 4.80 |
| | Extra 1.00 kg | 2.00 |
| East Malaysia | First 1.00 kg | 13.00 |
| | Extra 1.00 kg | 9.00 |