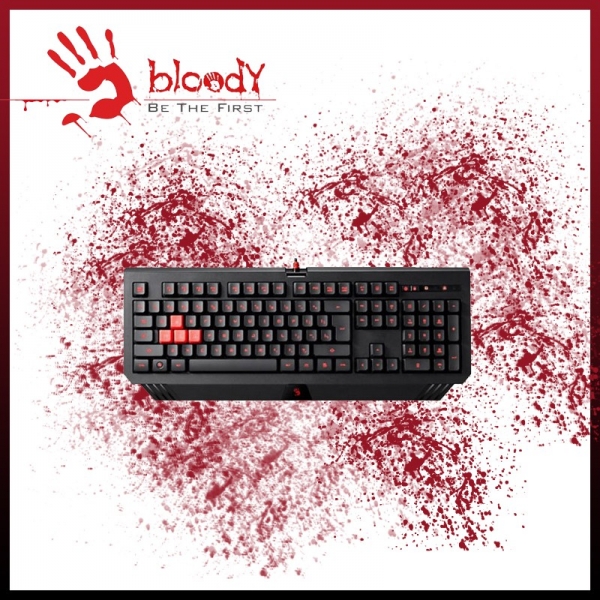 Size (length*width*height): 48cm x 5cm x 22cm
Connectivity Technology: USB
Warranty Period: 1 year
Wireless: No
Warranty Type: Local Manufacturer Warranty
BASIC SPECIFICATIONS:
Transmission: Wired
Letter LED: 5 Levels of Brightness
Bloody Logo: Illuminated in Red
Connector USB (2.0/3.0)
System supports: Windows XPNista/7/8
Cable length: 1.8 m
B120 Dimension/weight (g): 458 x 180 x 37 ( mm) / 1694 (g)
OUTLINE:
◆ All types of Gaming Genres requires to continuously click a key or hold-on to a key on a keyboard. With our exclusive "Auto/Turbo Shot" Function, it allows users to set any key to such function.
◆ Extreme 1MS Key Response is the key to our success compared to normal gaming keyboards in the market. Bloody sends the signal to computer less than 1ms while others require 18ms. Be ahead of your enemy is most important in a game.
◆ No More Accidental-Click with Slant angle keycap design lowers the probability of accidental-click among the keys.
◆ Electronic Sealed + Water-Drain Hole Greatly prolonged the lifetime of keyboard
◆ Fully supports FPS games with 3 ANTI-GHOST KEYS: No conflict between 3 sets of weapons
◆ Keycaps are made with the highly scratchable black finish, letters illuminated through 5 Levels of LED Brightness.
#onlineshoppingmalaysia #bloody #gaminggear #gamingkeyboard #wiredkeyboard #a4tech #computeraccessories #keyboard #black #clearancesale #trustedseller #style #terbaik #others #readystock #sales #cheapprice
| Zone | Weight | Delivery Fee (RM) |
| --- | --- | --- |
| West Malaysia | First 1.00 kg | 4.80 |
| | Extra 1.00 kg | 2.00 |
| East Malaysia | First 1.00 kg | 13.00 |
| | Extra 1.00 kg | 9.00 |
| Austria, Denmark, Finland,Mexico,Ireland, Switzerland | First 0.50 kg | 58.82 |
| | Extra 1.00 kg | 40.91 |
| Brunei, Cambodia, Laos | Extra 1.00 kg | 51.98 |
| Belgium,France, Germany, Netherlands, Spain, U.K | First 0.50 kg | 64.19 |
| | Extra 1.00 kg | 36.71 |
| China | First 0.50 kg | 42.18 |
| | Extra 1.00 kg | 33.78 |
| Bangladesh,Brazil,Iraq, Pakistan,Qatar, Russia, S.Arabia, UAE | First 0.50 kg | 59.32 |
| | Extra 1.00 kg | 43.21 |
| Ghana, Mongolia,South Africa | First 0.50 kg | 70.68 |
| | Extra 1.00 kg | 61.37 |
| Philippines | First 0.50 kg | 44.79 |
| | Extra 1.00 kg | 33.86 |
| Canada, United States | First 0.50 kg | 60.55 |
| | Extra 1.00 kg | 43.09 |
| Hong Kong | First 0.50 kg | 31.95 |
| | Extra 1.00 kg | 28.42 |
| India | First 0.50 kg | 51.01 |
| | Extra 1.00 kg | 40.15 |
| Indonesia | First 0.50 kg | 51.38 |
| | Extra 1.00 kg | 42.37 |
| Japan | First 0.50 kg | 45.74 |
| | Extra 1.00 kg | 39.48 |
| Macau | First 0.50 kg | 55.46 |
| | Extra 1.00 kg | 38.50 |
| Singapore | First 0.50 kg | 32.83 |
| | Extra 1.00 kg | 26.99 |
| Taiwan | First 0.50 kg | 36.17 |
| | Extra 1.00 kg | 33.20 |
| Thailand | First 0.50 kg | 39.41 |
| | Extra 1.00 kg | 31.73 |
| Vietnam | First 0.50 kg | 60.55 |
| | Extra 1.00 kg | 39.82 |
| INT | First 0.50 kg | 48.56 |
| | Extra 1.00 kg | 40.10 |